Here Comes the Sun: The Art of Terry Frost 1948 - 2003
Past exhibition
"ONE OF BRITAIN'S GREATEST ABSTRACT PAINTERS"
Tate Publishing on Terry Frost
Celebrating its 10th anniversary, 3812 Gallery is pleased to

present the first solo exhibition of Sir Terry Frost RA (

1915-2003

) in Asia. The exhibition will display 20 oil on canvas and Acrylic and collage paintings, created by this seminal figure in Modern and Postwar British art between 1948 and 2003.
---
Take a virtual tour
---
Terry Frost was a British abstract artist. He was inspired by the fascinating natural landscapes of St Ives, Cornwall, in the southwest of England. He is known for creating colourful abstract works inspired by the sun, moon and glittering water, as well as boats and the female form, all figuring prominently in his compositions, abstracted into sensuous circles and curves. He is also an important member of the St Ives School, the Modern British art movement that originated in the Cornish town of St Ives, in the 20th century. Despite starting his career as an artist rather late in life, aged 30, his works have become synonymous with Modern British art and are studied extensively, and Frost is now viewed as one of the most recognized abstract artists in Britain.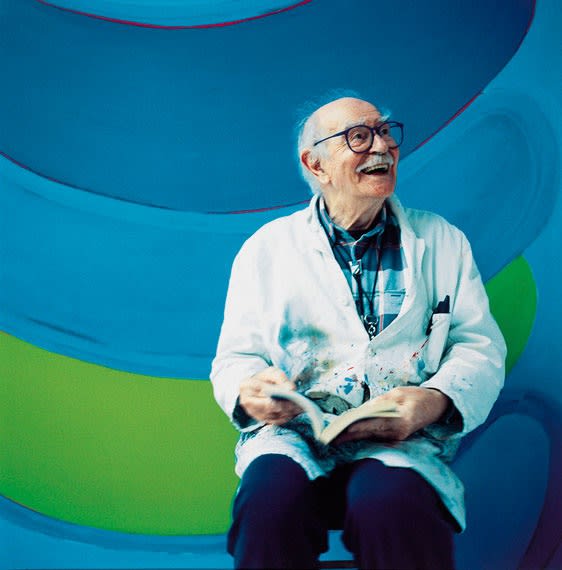 Sir Terry Frost (RA). Image courtesy of the Estate of Terry Frost
ROOTED AND ROUTED: THE ART OF TERRY FROST
By Philip Dodd
"In the prisoner-of-war camp... I got tremendous spiritual experience, a more aware or heightened perception during starvation, and I honestly do not think that that awakening has ever left me. There are moments when I can tune into the 'truth', contact the other part of us and nature."
Terry Frost, on learning to paint in a Prisoner of War Camp during World War II.
For ten years Pablo Picasso kept open in his studio a book of Qi Baishi's paintings. He wanted to understand how the Chinese artist could conjure up fish with so few marks. Picasso may have been rooted in France for much of his working life but his imagination and the resources he drew on routed him across the world.
As a newly globalised artworld unpicks the fantasy that Western art is the benchmark and unravels the categories 'east' and 'west', it is now easier to see that the most interesting artists, whether western or Asian, are both rooted and routed.
This is the case with the important British abstract painter Terry Frost whose work is in the collection of many museums from London's Tate through New York's Metropolitan to Canada's National Museum and whose 3812 Gallery exhibition marks his first appearance in Asia.
(i)
The orthodox way of talking about Terry Frost is to reference St Ives in England where he lived during critical points of his life - not only a small town in the south-west of England but an engine for artistic modernism; a location which attracted artists from Japan, Russia, Hong Kong as well as London. In honour of the town's artistic importance, Tate opened Tate St Ives in 1993.
Frost himself recognised that some of his work was prompted by his experience of the seascape which surrounds St Ives. In one sense, but the most limited one, some of Frost's works can be described as the place where abstraction meets landscape. But to root him too much in St Ives is to underestimate the work. St Ives and Terry Frost were open to international influences, Mark Rothko came to St Ives to visit Frost amongst others; the Russian Naum Gabo, with his Constructivist loyalties stayed there during the war; and tellingly when Terry Frost was asked to choose a work from the Tate collection to complement his own retrospective, he chose Malevich's magisterial 1915 Black Square. Poetry meant a lot to the artist, and not merely English poetry. Frost made a fine suite of prints inspired by the Spanish poet García Lorca. Frost may have been rooted but he was also routed.
It's also the case Asian thought was not foreign to St Ives. The great English potter Bernard Leach, who was born in Hong Kong, moved to St Ives in the 1920s together with the Japanese potter Shoji Hamada. They brought with them Buddhist ideas and feelings out of which grew aesthetic commitments. The historian of abstraction, and former Tate curator, Paul Moorhouse has even gone so far as to say that Western abstraction cannot be understood without reference to Eastern philosophy.
(ii)
This may or may not be true (although just bear in mind how indebted to Chinese calligraphy is American abstract expressionism). But Terry Frost's first exhibition in Hong Kong allows us to see him in a new context and that context may enable us to see things difficult to see if he is framed as a modern British artist.
Just place Terry Frost's 60s work next to that of the same period by the Chinese artists Hsiao Chin and Hon Chi-fun - and notice their shared fascination with geometry, and particularly with circles. Or Terry Frost and Hsiao Chin's common understanding of the relationship between space travel and abstraction- see Frost's "Yellow (moonship)" (P. 31); or their common friendship with Mark Rothko. Look at Terry Frost's 'black' paintings in Asia and his exploration of the richness of black makes them seem at home here – after all black ink on white paper is the bedrock of Chinese art.
But the connections are not simply formal, Like Rothko and Hsiao Chin, Frost wanted to make painting a spiritual matter – he wanted to grasp the glory of life, his experience of that glory, but also acknowledge its brevity. Too often Frost is seen simply as an uncomplicated celebratory painter. But it is more complex than that.
There is something overripe about Terry Frost's line and colour, a tension between equilibrium and disequilibrium in his paintings. As he himself said he sometimes 'wedged' red into his painting to separate black and white. The suspended forms which are a regular riff in Frost's work should be seen not only in spatial terms but in temporal terms too. The equilibrium (the suspense) is transitory. It is not fanciful to quote with regard to Frost the great Chinese philosopher Laozi: everybody understands the beautiful to be 'beautiful' / but this only creates the concept of 'ugly'… / there can be no existence without nonexistence/ no difficult without easy / no high without low.
Compare that with Frost's own words of a sublime experience he had – he described his 'contact with forever, being part of everything and being nothing'.
In terms of auction houses, Terry Frost may presently be filed under 'Modern British Art'. But to see him in Hong Kong is to liberate him from that category, to see him as an artist whose connections and aesthetics are not simply rooted but routed. To Asia as well as to elsewhere. Welcome home Terry Frost.
February 2021
Quotations from Terry Frost are taken from Chris Stephens, 'Terry Frost' (London, 2000).
Terry Frost, Mark Rothko, Mell Rothko and Peter Lanyon at Paul Feiler's Cornwall home. Image courtesy of the Estate of Terry Frost.
BY APPOINTMENT ONLY
---