Although affected by the epidemic and many different factors, some local galleries in Hong Kong have not stopped expanding their businesses. Instead, they opened new gallery spaces, a new trend which has developed in the art industry, in 2021.
Celebrating its 10th anniversary, 3812 Gallery Hong Kong recently inaugurated their new space with the first solo exhibition of the famous British modern abstract artist, Sir Terry Frost RA (1915-2003) in Asia, entitled "Here Comes the Sun - The Art of Terry Frost, 1948-2003". Below is the exclusive interview with Calvin Hui, the gallery co-founder, by Phoenix Art.
Q: As a well-known cultural entrepreneur, art consultant, curator and collector in Hong Kong, you have been committed to promoting contemporary Chinese art, especially ink art, for many years. We know that you have held art fairs such as Fine Art Asia, Ink Art, INK NOW, etc., and you are also the co-founder of 3812 Gallery. Do these multiple identities and platforms bring you pressure or motivation? What was the original intention of working so hard?
CH: In fact, from the time when I was doing art fairs, starting INK NOW in more recent years, as well as running 3812 Gallery for ten years, I have always hoped to turn the pressure into motivation. The pressure comes from the hope to achieve the best in every project and exhibition
As a driving force behind the art platforms or gallery, I think the pressure or motivation comes from the need to express a cultural stance or attitude, and the value ​​of art. Therefore, we need to constantly urge ourselves to consider how we can express the standpoint, or view, through each exhibition or collaboration with artists.
On the other hand, the artists we collaborate with may also have their own vision, and for the collectors who are close to us, we also need to continue to communicate with, and be responsible to them. Therefore, the pressure comes from our hope to build a professional platform and good connection between the artists and collectors.
As we work in the art industry, the way we present a project reflects our interpretation and understanding of art and culture. It has a far- reaching impact. When we share our views on the platforms, publish a catalogue or hold an exhibition, we are exporting the cultural value. That's why I think we need to maintain continuity and professionalism when building these cultural platforms or galleries, whether in the aesthetics or curatorial aspects, or the cultural vision we express.
As we are actively promoting Chinese contemporary ink art and works that carry the cultural cognition of the East, there is a need for us to highlight our professionalism in a market with Western contemporary art as the mainstream, and promote outstanding artists and artworks in the international market. This is the pressure I have always put on myself, and it is this motivation that allows me to develop my career with art as my original purpose.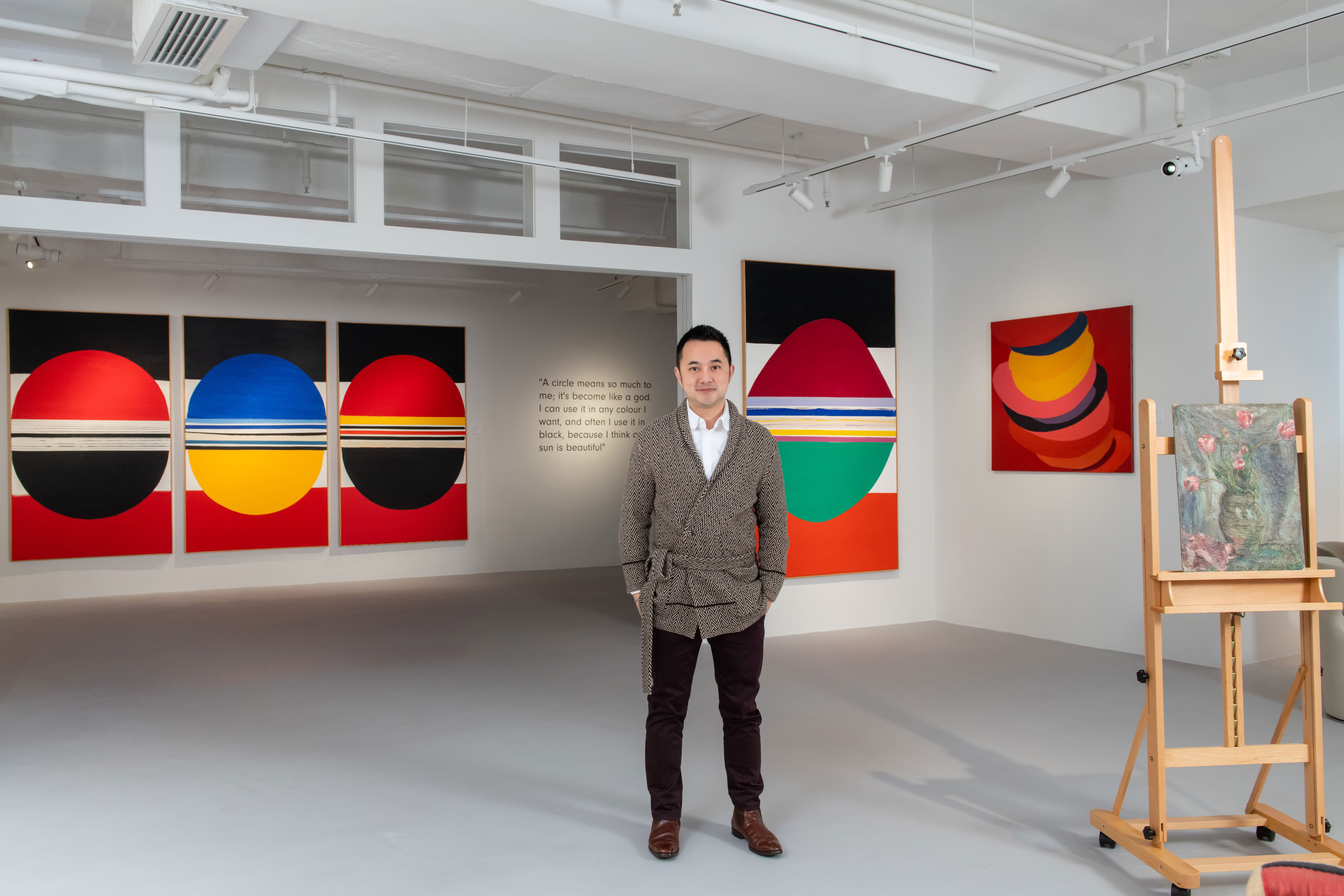 Q: Since the beginning of 2020, the global art market has been hit by the epidemic. What is the current situation of the Hong Kong art market? What makes you open a new gallery space at this moment?
CH: With the impact of the pandemic on social events in the past two years, the art market in Hong Kong has indeed been greatly impacted. I think everyone will agree that the global art market seems to have entered a state of suspension. However, I think from another point of view, the Hong Kong art market will take this time to slowly recover. This period allows every stakeholder in the market to plan for their future and to reflect on themselves and the market. For example, will the Hong Kong art market take a new direction after the pandemic? I think everyone can think about this and have a review at this time.
I stayed in Hong Kong in 2020 due to the pandemic. In the past few years, I rarely stayed in Hong Kong because of the business in London, Shanghai, Taipei, Macau and other places. That's why I cherish the time spent here now. It gives me a chance to reflect on how I should face the changes in the art market, with Hong Kong as my home and the base of my gallery. I am confident that the Hong Kong market, including the art market, will have a great rebound and develop positively after the pandemic. With the time I have spent in Hong Kong, my professionalism and recognition by the market, and my exposure to the international market, I think it is a good time to shift the focus back to Hong Kong and open a new gallery space to celebrate our 10th anniversary. I have been intensively preparing for half a year. The pressures, and challenges are huge as no one knew when we would see hope again. However, I still have confidence in the Hong Kong market. The pandemic will eventually end, so I took advantage of this time to find a larger space in Central and relocated our flagship space to Hong Kong.
Q: As the co-founder of 3812 Gallery, can you give us a brief introduction to the development of the gallery and the related space in London and Hong Kong?
CH: 3812 Gallery was named after I went to the infamous La Vallée Blanche in Chamonix for my first off-piste skiing experience in 2010. When I was at an altitude of 3812 meters, a new height for me, the new discovery inspired me and provoked a lot of thought. When I returned to Hong Kong and decided to open a gallery, I suddenly remembered 3812 meters, a memorable moment, a driving force that pushed me forward, so I named it 3812 Gallery.
I opened a contemporary art space of about 7,000 square feet in Wong Chuk Hang, Southern District in 2011. At that time, the Southern District had not yet developed a concentration of art galleries. We settled in the district very early. In the past few years, we slowly established our curatorial direction and the kinds of artists we wanted to cooperate with. 2018 was an important year for us as we opened the first international space of 3812 Gallery in the exclusive St James' arts district, meaning that we grew from a local gallery to an international art brand. We were also the first local Hong Kong gallery to enter the European market, specializing in Chinese contemporary and ink art in London. In the same year, I started actively developing my art career, including the launch of INK NOW in Taipei and Shanghai in 2019, and for the past few years have acted as the curator and art consultant for the "Chairmans Collection" for MGM Cotai in Macau. At the same time, I also worked closely with different institutions around the world on cooperative curatorial and academic projects.
One of the reasons for choosing London is that the other co-founder of the gallery, Mark Peaker, is from London and has certain experiences and knowledge of the London market, including personal connections, local cultural development, and collectors' aesthetic preferences. Therefore, we decided to take an important step and opened a gallery in St James' arts district, a perfect location in London, with a two-story building. We can see that the galleries in Hong Kong and London have similarities and differences in the business format. Both Hong Kong and London are international markets and are among the three largest art markets in the world. We have galleries in both Hong Kong and Europe. This strategy is very important to us. 3812 Gallery is not a local gallery in London, and the Chinese contemporary and ink art that we specialize in, is also very unique. But for us, we have certain degree of familiarity in the London market because one of the founders is from the United Kingdom. I am from Hong Kong, and Hong Kong and London have had close ties in political, economic and historical development over the years. The fascinating thing about London is that the wealthy, cultural and artistic people from all over the world will travel and work here, as well as gain inspiration from this international city. We met a lot of new friends and collectors in London. We can find "Old Money" in London - some traditional big families and collectors. At the same time, we also met many new generations who are studying and living there, as well as the second-generation and friends who love art from all over the world.
For Hong Kong, we are a local gallery with our mission being to promote the core value of "Eastern origin in contemporary expression". Our curatorial direction for Hong Kong and London will be executed through this vision. Whether it is in the international or local market, it is very important that the gallery should be able to develop freely in all directions, but at the same time establish our unique image. Therefore, at our 10th anniversary, we decided to open a new gallery space in Hong Kong and start our international development with our London gallery.
Terry Frost, Blue Surge, 2002, Acrylic and collage on canvas, 127 x 153cm
Q: Congratulations to 3812 Gallery for its 10th anniversary! It is understood that 3812 Hong Kong Gallery has been specializing in Chinese contemporary art since its establishment in 2011. What are the considerations for the first exhibition of the new space and the selection of artists?
CH: We have officially opened a new space this month. In line with the launch, and on the occasion of the 10th anniversary, we announced a new curatorial direction, which is a concept of balancing the East and West. We will introduce this new concept in the opening exhibition. We choose to present the first solo exhibition of an important British modern art master, Sir Terry Frost RA (1915-2003) in Asia. We promote Chinese contemporary artists, new Hong Kong ink artists, and the development of Chinese contemporary ink art, whilst giving a resounding voice to Chinese art and culture in the London market. We have built a strong, unique identity in the Hong Kong market over the past ten years, and have gained local art and cultural resources from London. Through our Hong Kong gallery, we will introduce British modern art that people are not familiar with, to the Asian market. British modern art is a new area of the Asian market. According to my knowledge, British modern art had a certain influence on the development of British and European art in the post-war and 20th century. However, in the past decade, Asian collectors have focused on French post-war art, American post-war and contemporary art, and European contemporary art. They are relatively unfamiliar to British (modern) art. We think this is an opportunity to bring British modern art to Hong Kong through 3812 Gallery in London and Hong Kong, and introduce the development of British modern art in the 20th century and its importance. We would like to take this opportunity to announce our exclusive representation of the artist estates of three renowned British modern painters in Asia. The first artist we will represent is Terry Frost. The exhibition is his first solo exhibition in Asia, entitled "Here Comes the Sun - The Art of Terry Frost, 1948-2003". It will display a selection of his wonderful works created between 1948 and 2003. Terry Frost's works are lively and colourful. The sun, moon and nature provided his creative inspiration. We have brought Frost's works to Asia and present it from an eastern perspective to show our new curatorial direction, bringing together the East and West.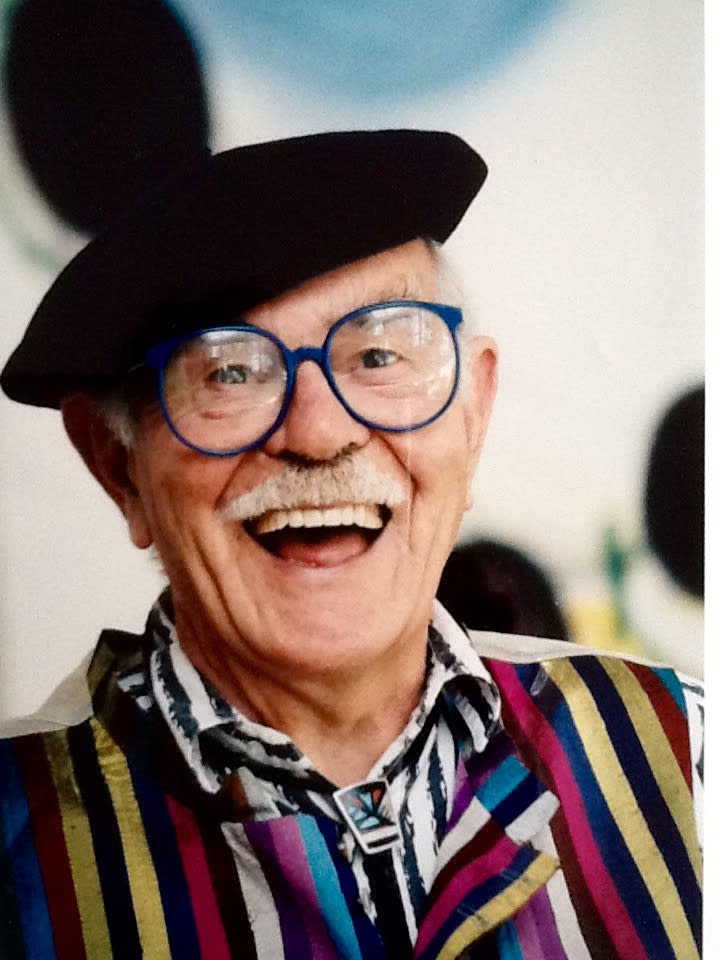 Sir Terry Frost, RA
Q: How do you understand "Eastern origin in contemporary expression"?
CH: "Eastern origin in contemporary expression" is the theme I set up in 2018 for INK NOW and 3812 Gallery. It has been reported many times before. To put it simply, this is a cultural standpoint for me, a cognition of culture. As the development of the art market becomes more and more internationalized and globalized, the cultural identity and vision of artists and institutions needs to be clearer. "Eastern origin" is an important recognition for one's cultural identity. With this underlying concept we can achieve groundbreaking moments which distinguish us from others. We execute "contemporary expression" through creative and innovative ideas. "Relevance" is very important in contemporary expression. What is the relevance of contemporary expression in the future? By combining eastern origin and contemporary expression, we are able to express our philosophy and cultural values, and the artists we choose to collaborate with, on an international platform.
Q: In the post-pandemic era, what are your predictions and expectations for the future development of the art market?
CH: It's hard to define a "prediction", but more appropriate is an "expectation". First of all, I have great confidence in the development of the art market, especially the Hong Kong market, but there are too many uncertainties, e.g. geographical, political and economic factors. We need to look before we leap, and carefully plan our future development. But what is certain is that the art market will need to strike a balance between globalization and localization, and the tension between the two will become increasingly strained. For art development, whether it is developement of the artworks, or the promotion by galleries or art platforms, it is necessary to obtain an accurate judgment between locality and globality. I think that the Asian art market is mainly led by the Chinese art market, and it is necessary to increase its openness. If the art market is only open to local development, it will slow down the development of the entire art and cultural market. That's why I have confidence in Hong Kong and Hong Kong as a window into the international market. Western art can enter the mainland through this window, and the mainland can take a glimpse of the overseas market to enter the international market. Therefore, the Hong Kong market has its own unique features. We are fortunate to have a gallery in Hong Kong and we have also opened up new markets in London. Brexit has made the relationship between the United Kingdom and the European Union more complicated. Our London business can receive first-hand information from the international market, and flexibly promote artists and artworks on the front line in accordance with current situation. Therefore, I think that openness will be important to the development of art in the future. Market openness can help works with cultural characteristics, cultural identity, local art and aesthetic appeal to attract people's attention when it is placed in the world that has developed with contemporary expression. On the other hand, the market will look for more excellent artworks and artists, including those temporarily forgotten and underestimated by the market. I believe this principle will not be changed. We understood our advantages and decided to introduce British modern art to the Asian market through our Hong Kong gallery. British art is underestimated by the market compared to the art of France, Italy, and the United States. What's more, the role of different parties may become unclear. The primary market, second-hand market, auction houses and art fairs each perform their duties, and due to globalization and the advances in information technology, it is easier for collectors to obtain information about art. I think different parties will need to highlight their functions and values ​​in the market. The future will be full of challenges and it will be about the survival of the fittest.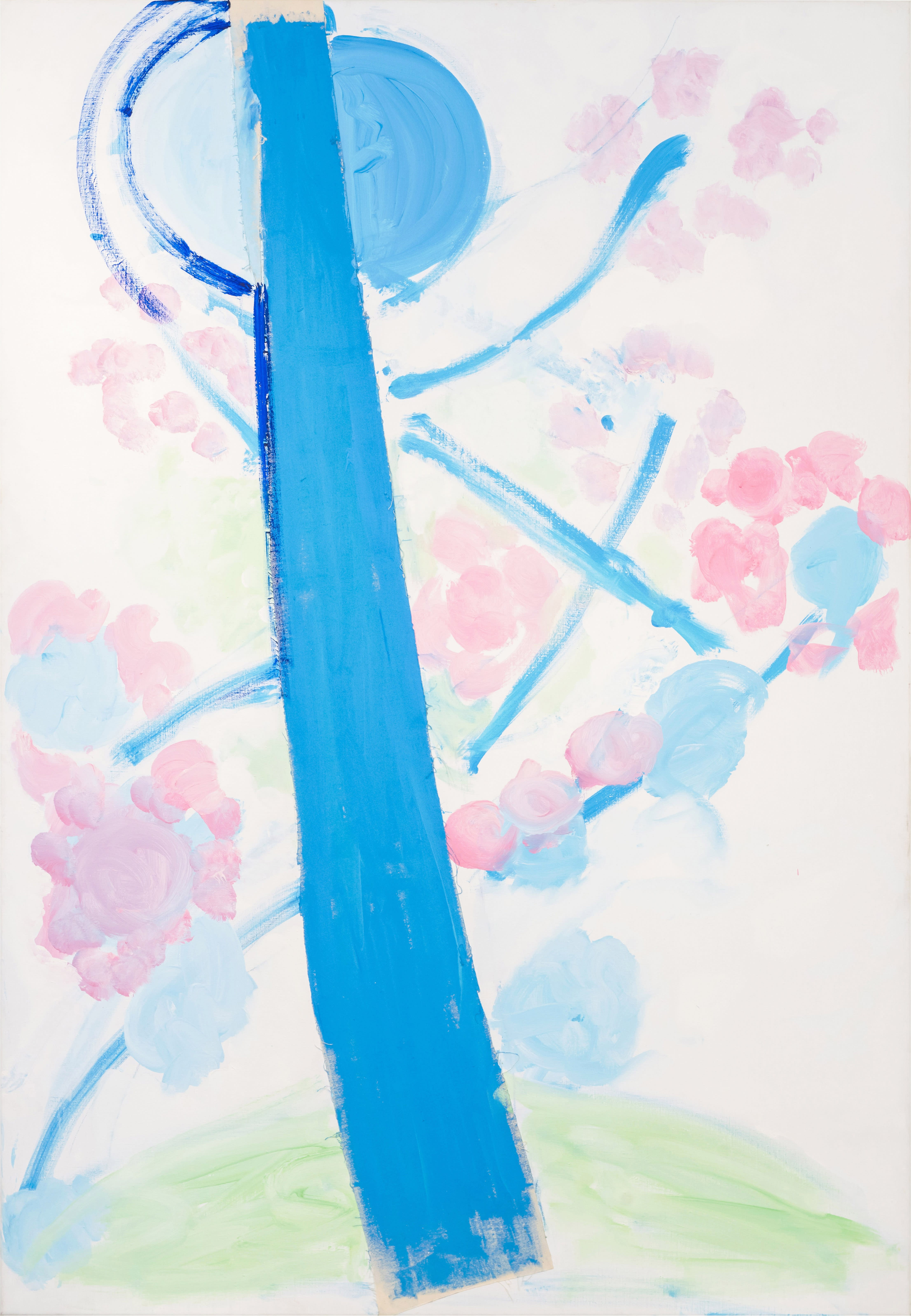 Terry Frost , Blue Moon Tree, 2000, Acrylic and collage on canvas, 208 x 145cm