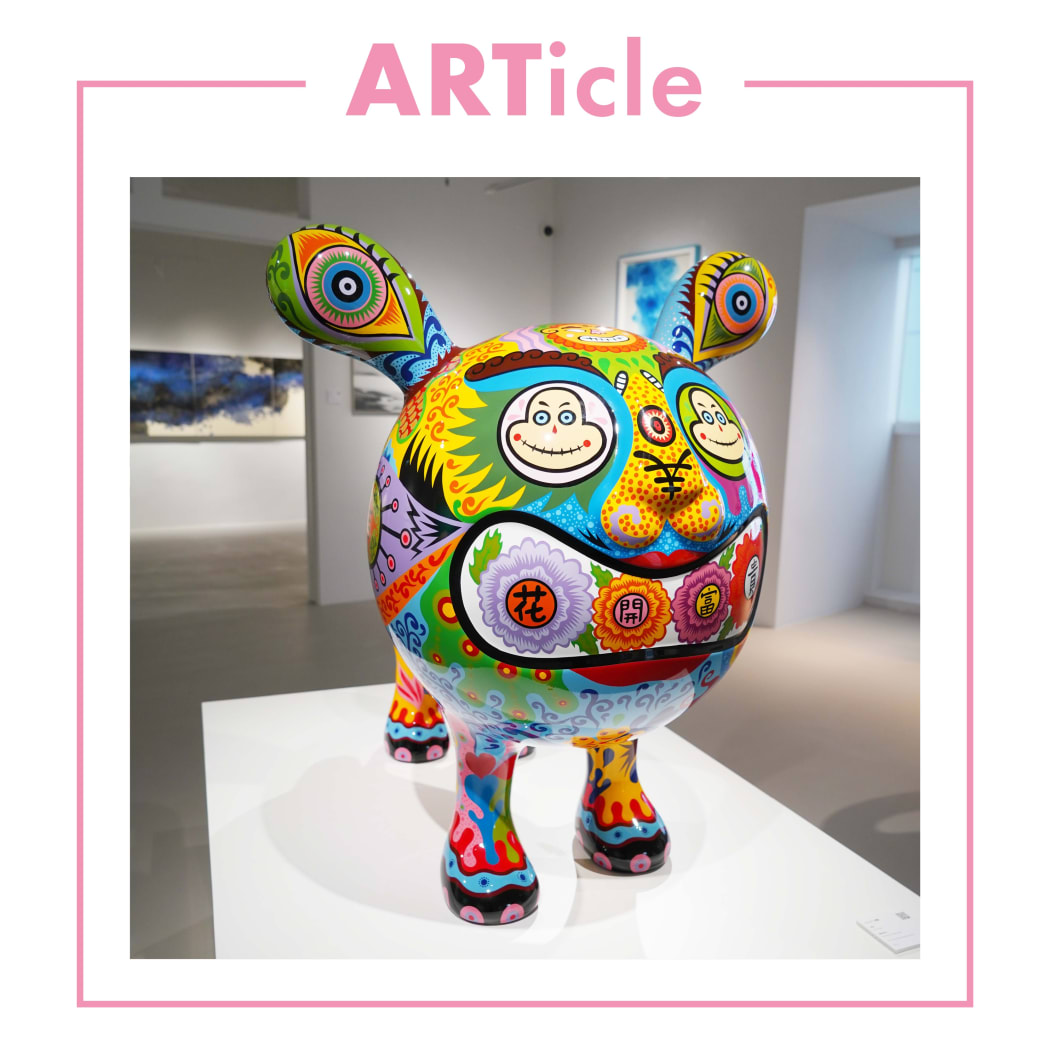 In this ARTicle, we would like to introduce Blessings, an artistic theme shrouded with spiritual meaning for the 12 featured artworks, that resonate with different seasons of the year. With Lunar New Year just around the corner, these artworks symbolise rejuvenation and hope for the coming year, sending our good wishes and positivity to you.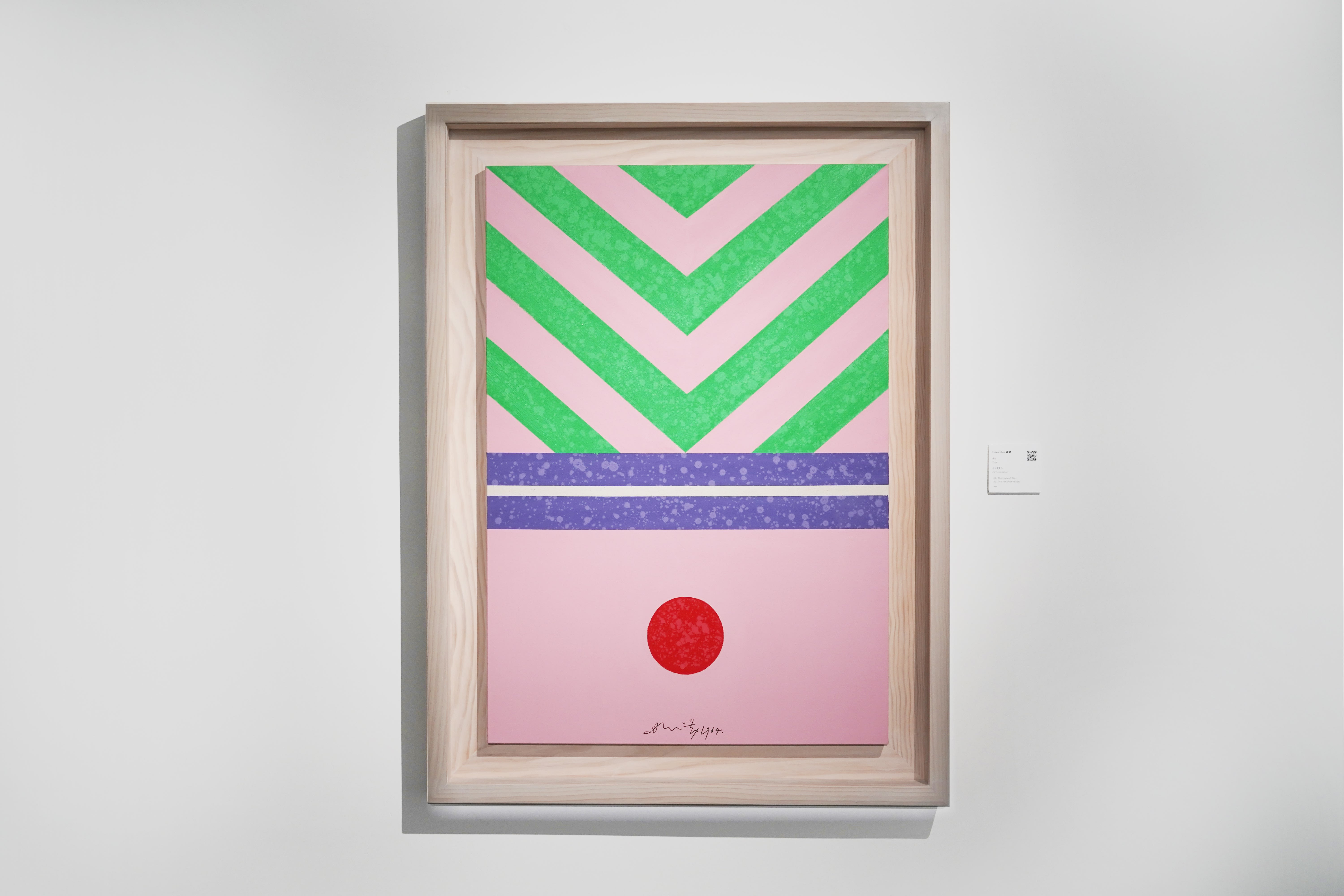 Hsiao Chin, Hope, Acrylic on canvas, 1964, 100 x 70cm
Having lived in Milan for more than half a century, abstract artist Hsiao Chin melded a rational understanding of Ch'an and Daoist philosophy, cultivated since the 1960s, into his post-war abstract art. Hope is an iconic composition created in the '60s when Hsiao co-founded the "Punto International Art Movement". Pink and green arrows contrast with each other, generating a flow of energy from top to bottom. The circular and rectangular symbols seem to echo "heaven is round and earth is square," an Eastern concept of the universe that underpins these works. The lower segment is left blank to evoke a sense of 'void' and the circle represents the primordial chaos from which the artist's artistic journey begins. The artwork channels positive energy and abundant vitality.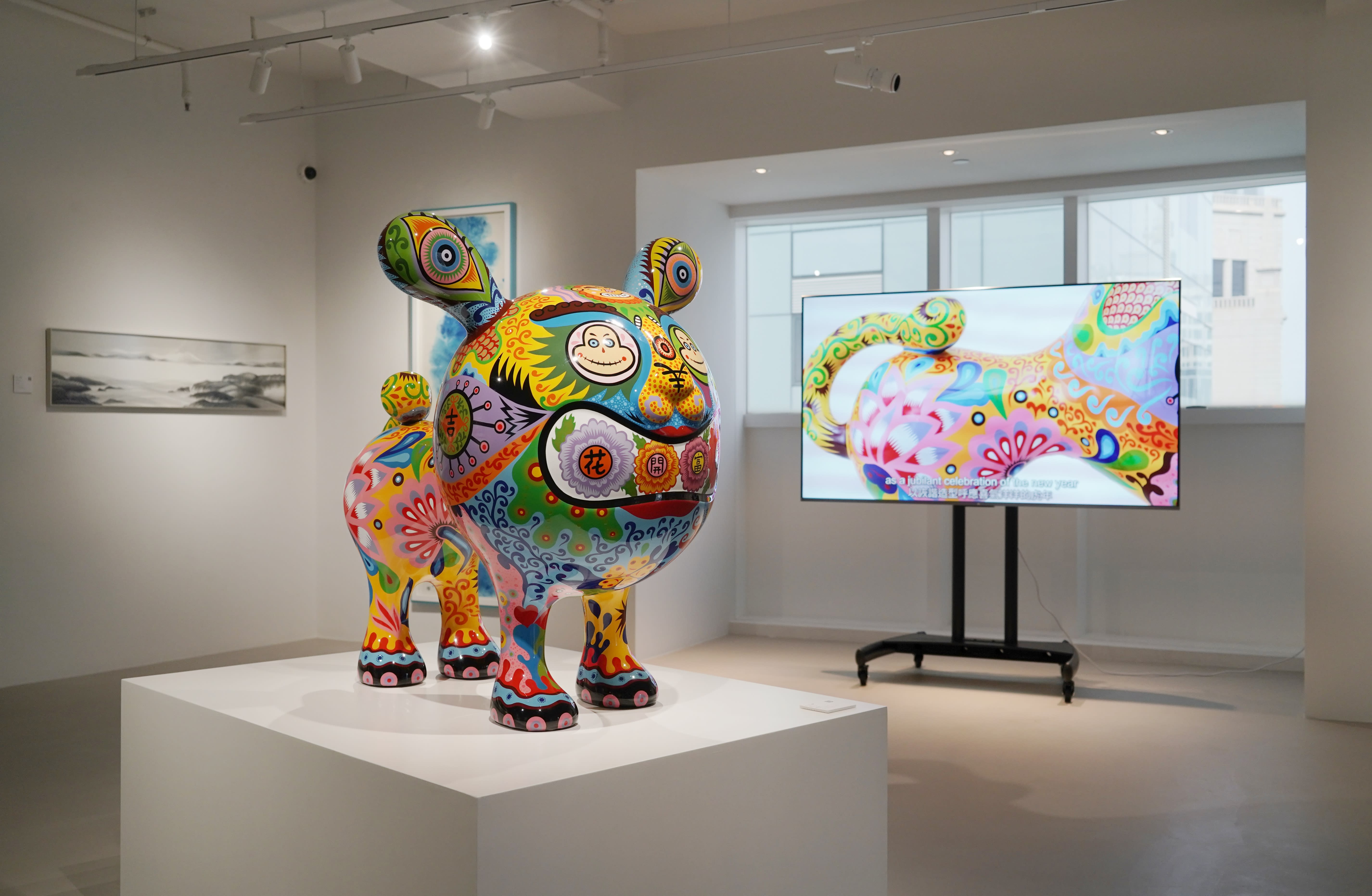 Hung Yi, Rich Tiger, Painting on steel plate, 2010, 99 x 82 x 120cm
Taiwanese contemporary artist Hung Yi takes fascinating elements from traditional symbols to create his works. He is inspired by animals and creates sculptures to convey the spirit of nature. Rich Tiger represents the year of the Tiger. The homonym of "Fu" represents auspiciousness. The artist uses the image of the tiger as a jubilant celebration of the new year and presents it in an exaggerated Pop style. From drawing two-dimensional objects and symbols of nature, such as green leaves and flowers, onto three-dimensional surfaces of animal sculptures, and also featuring auspicious Chinese words, these various cultural elements seem to be disorderly but orderly, showing the artist's creative concept of "secular" but "fresh".

Victor Wong & A.I. Gemini, The Fauvist Dreams of Gemini 01 Artificial Intelligence, Chinese Ink, acrylic & gold paint on rice paper, 2020, 42.5 x 129cm
Victor Wong, Hong Kong TECH-iNK artist, has invented the world's first artificial intelligence ink artist-"A.I. Gemini", leading viewers to reflect on the philosophical questions brought to the fore by artificial intelligence and posthuman transformation. In The Fauvist Dreams of Gemini 01, A.I. Gemini does not place an emphasis on the 'shape', yet instead considers the expressive power of lines and colors. The artist sees A.I. Gemini as a smart machine with learning ability and Wong extracts brush strokes and other disciplines and techniques from painting, to creating formulas based on the genesis of the geological landscape. These formulas allow A.I. Gemini to create works with simplicity, despite being based on data algorithms. The considered brushstrokes and shading of the works are the artist's predictions and at the same time experiments into the future of art.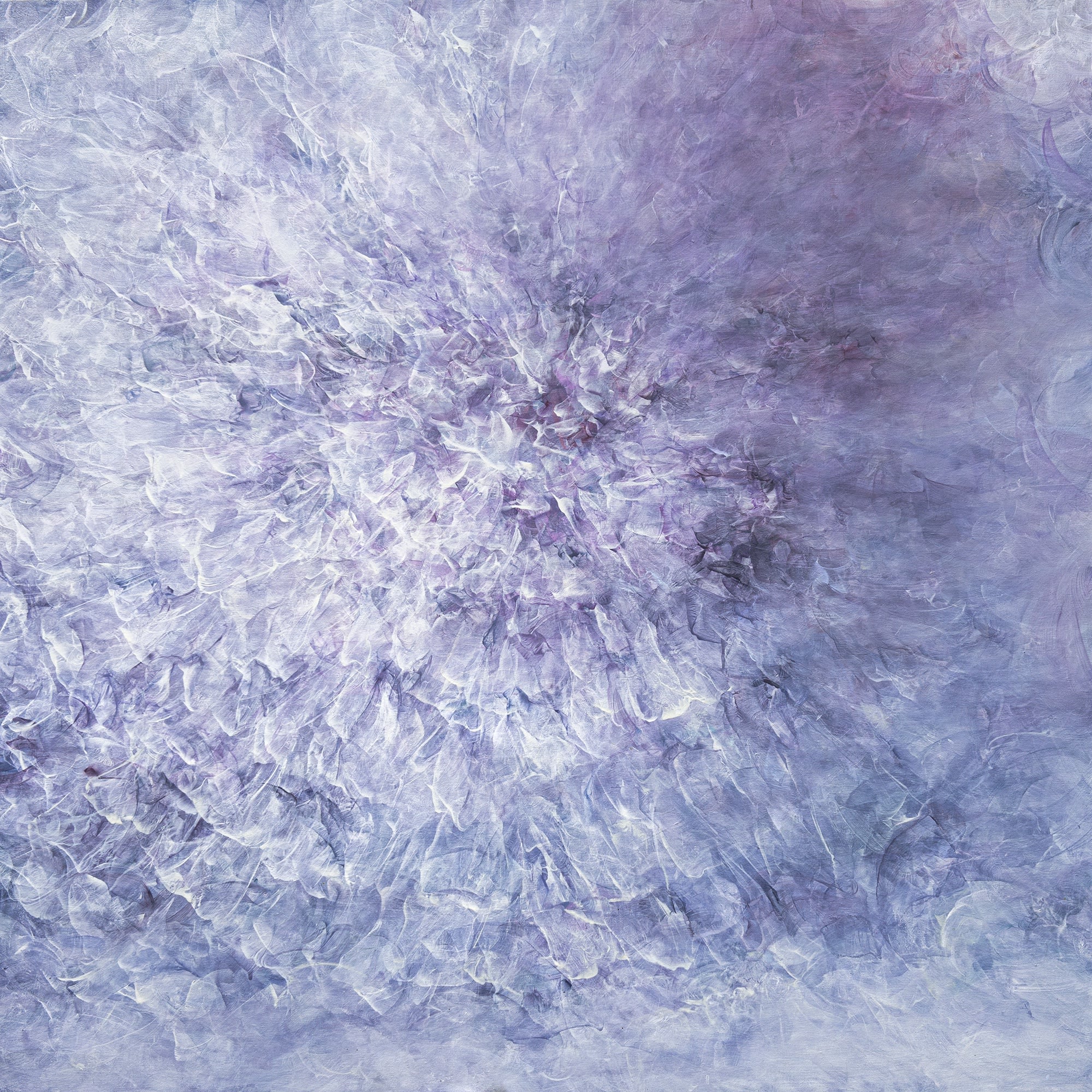 Liu Guofu, Flower No. 9, Oil on canvas, 2020, 150 x 150cm
The gray-blue and purple brushstrokes of Flower No. 9 are interlaced and random, without following a fixed rule. These 'phantom brushstrokes' applied by Liu Guofu, exploit the penetrative qualities of ink, to form transparent yet rich textures. In his "Flower" series, the artist captures the fleeting light and spring showers, creating an atmospheric impressionist style. Liu Guofu's works are both the illusion and reality of life, and the 'traces' he leaves on the canvas, announce the presence and rebirth of self, a symbol of renewal.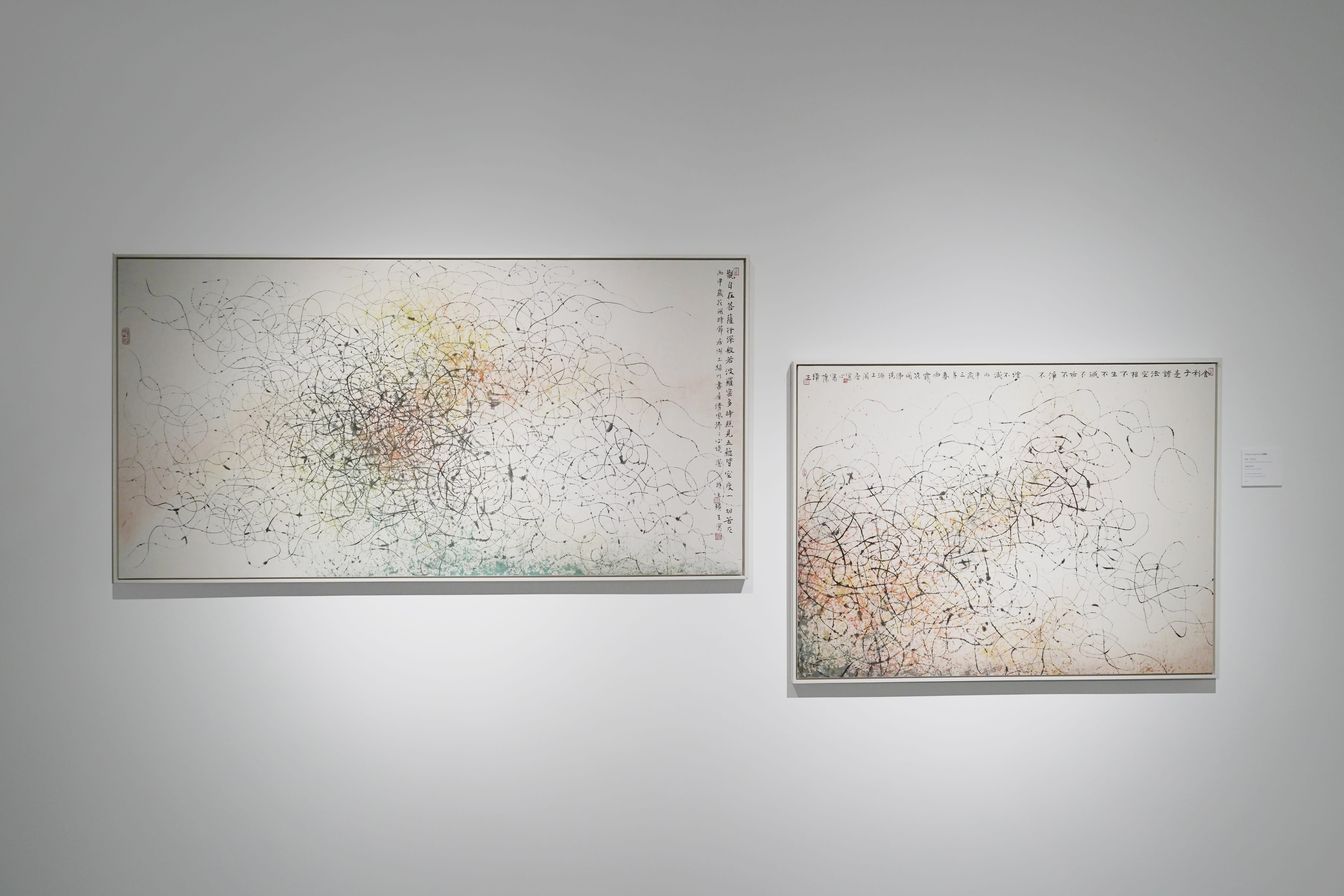 Left: Wang Huangsheng, Moving Vision: Avalokiteśvara, Ink and colour on paper, 2017, 69 x 138cm
Right: Wang Huangsheng, Moving Vision: Neither dying or being, Ink and colour on paper, 2017, 70 x 95cm
Moving Vision: Avalokiteśvara was created by Wang Huangsheng whilst he was living on a lake during the Spring blooming season. Wanting to express the practice of Vipassanā meditation, the artist tempered the exquisite lines of Chinese painting and traditional calligraphy into his own abstract language. The free, undulating lines of ink create uninterrupted spatial movement, combining fortuity and spontaneity with primitive forces and the artist's deepunderstanding of Tao and Ch'an. The red, orange, yellow, and green hues convey the joy of the four seasons, and the composition, colours, and the unpredictable, continuous ink lines confirm the artist's consciousness of living within the wisdom of the Tao.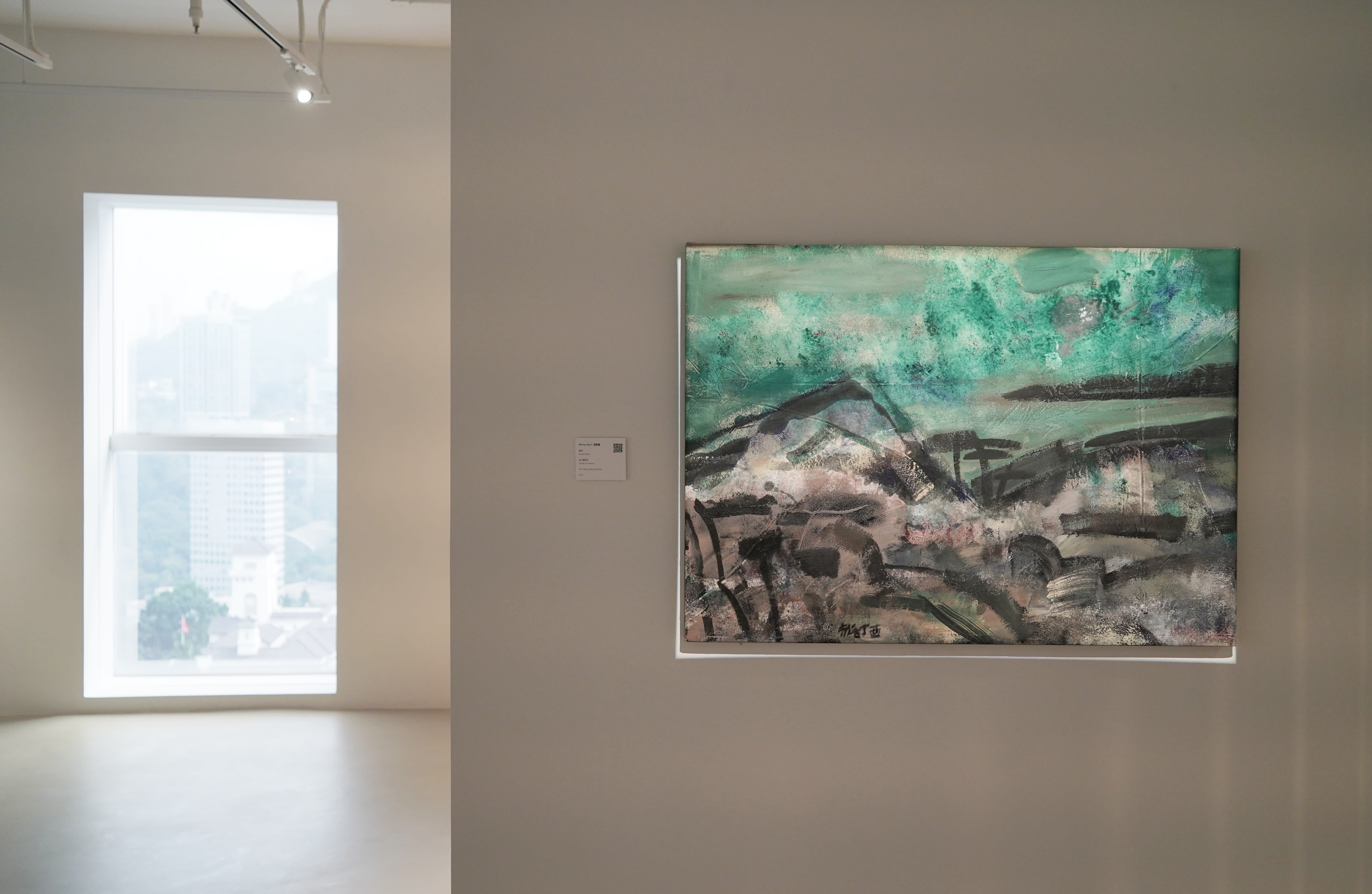 Wang Jieyin, Green Skies, Acrylic on canvas, 2017, 73 x 100cm
Throughout his practice, Wang Jieyin has utilised the creative techniques of printmaking, oil painting and ink painting and carried out experiments in Chinese abstraction. In Green Skies, we can see traces of pigments, multiple layers built over time. The artist adopts a horizontal composition and emphasizes 'spirituality' over shape or form whilst the tranquil landscape and the green sky are outlined with a silhouette. The artist applies large areas of ​​matte acrylic and although dominated by green tones, the painting exudes feelings of ink art, echoing ancient literati paintings, and conveying a simple and romantic passion for life.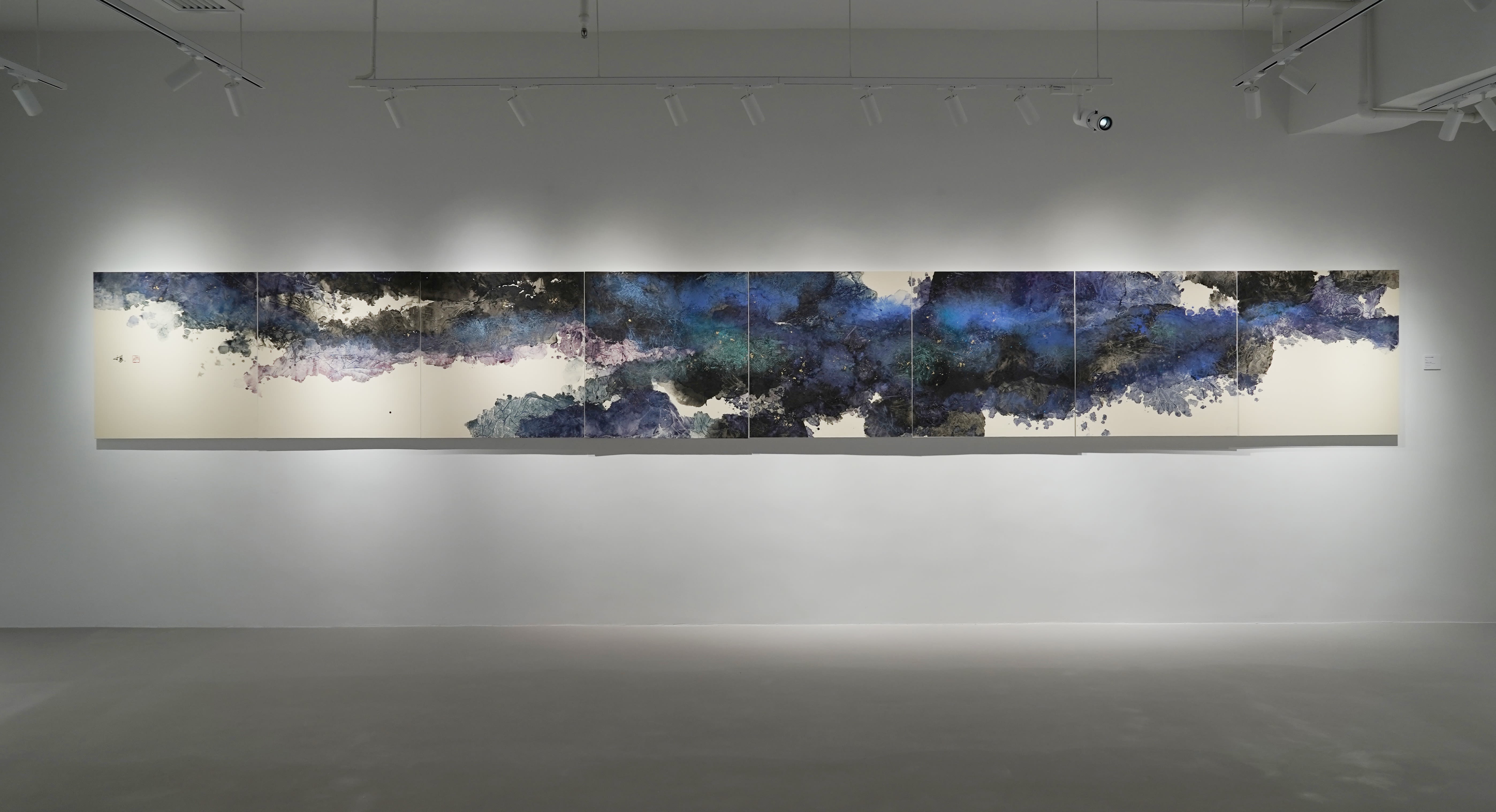 Raymond Fung, Our Land, Ink and colour on paper (Polyptych), 2021, 90 x 720cm
Renowned Hong Kong artist and architect Raymond Fung Wing Kee presents contemporary transformations of ink to explore issues such as our living environment and environmental consciousness, and life. He has developed a creative, contemporary ink approach which coexists with both an international perspective and Eastern spirit. The polyptych work Our Land shows the artist's multi-dimensional concept of space. Canvases are arranged consecutively to represent "windows", giving his ink works a sense of broadness. Fung's abstract brushstrokes and elegant colours of ink and pigment, recreate a majestic life energy and atmosphere on the canvas which is reminiscent of Shanshui landscapes. During Fung's artistic process, he covers the pigments with a very common everyday product – cling wrap. The deep textures within the ink are formed when the artist massages and manipulates the wrap, at first inhibiting the drying process, and then gradually allowing the pigments to evaporate naturally.
Chloe, Narcissus in Blue, Chinese Ink and acrylic on paper, 2019, 210 x 57cm
New generation artist Chloe Ho investigates a bold and distinctive creative style by experimenting with a diversity of materials such as ink, acrylic, and coffee. Narcissus is quite different from other flowers, generally dormant in summer, growing buds in autumn, and blooming late in the winter. The autumn has therefore become a key stage for the narcissus to nourish and develop vitality. In Narcissus in Blue, Ho's abstract form of a narcissus, reveals this vitality in an abstract expressionist style, and refers to the ascendence of life. Ho's selection of this particular hue of blue, is perhaps inspired by Yves Klein and Zhang Dai-chien. Her creative approach embodies both Chinese and Western thoughts and culture, highlighting her multicultural background and a unique artistic vision. It is the reconciliation of Chinese culture and Western contemporary art under globalisation.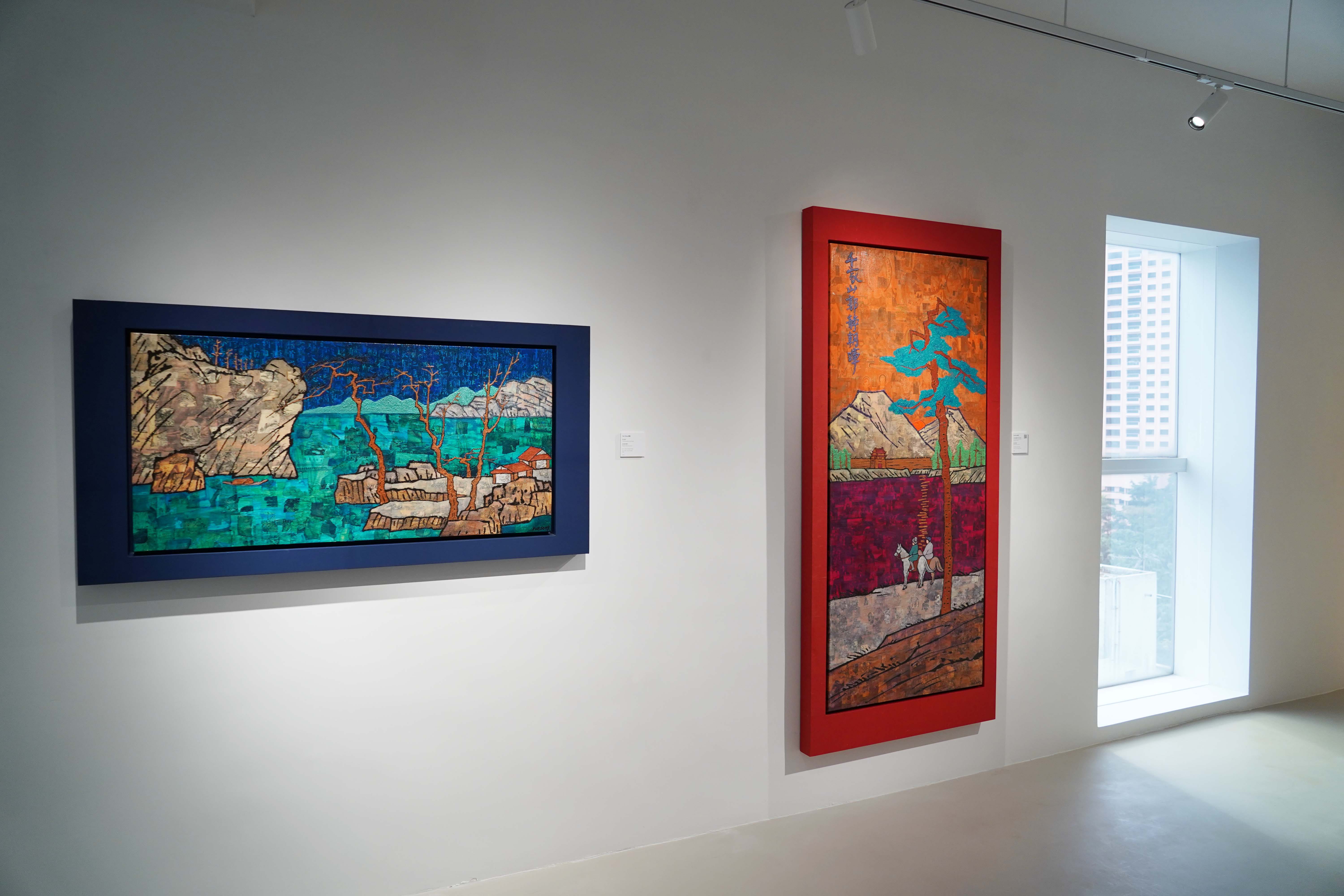 Left: Xue Song, The Blue-green Landscape, Mixed media on canvas, 2016, 60 x 120cm
Right: Xue Song, The Silent Morning in Autumn - Feng Zikai's Poetry, Mixed media on canvas, 2018, 180 x 80cm
Xue Song is one of the leading artists of contemporary Chinese Pop Art. He burned remnants of past work, books and other belongings, collaging them and painting them to create dramatic conflicts, exhibiting a humanistic attitude closely related to history. The title of this collage work is quoted from Autumn Meditations, eight poems by Du Fu, and it depicts people welcoming the sunrise, a thousand homes of a mountain town are visible in the serene glow of dawn. Selecting symbols close to the artist's life brings meaning to this work. Colour blocks of the orange sky and blue pines that appear "untimely" in the canvas are all well-designed by Xue Song, dramatically expressing the freshness poetic quality of autumn season.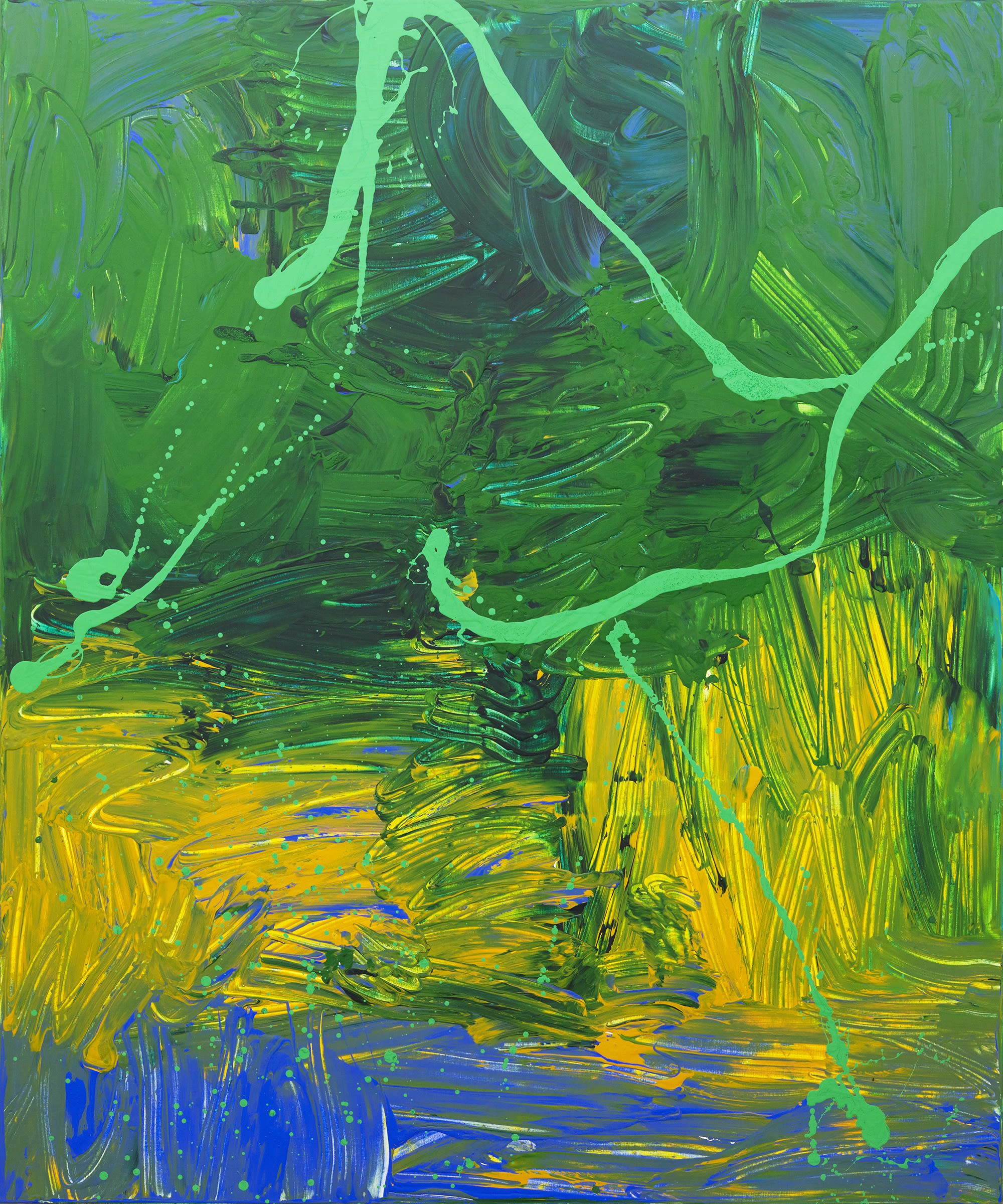 Li Lei, Mad Water - 20, Acrylic on canvas, 2017, 180 x 150cm
Chinese contemporary artist Li Lei expresses the ontological questions of life within abstract paintings. Mad Water - 20 illustrates the tension between the inner mind and the core concept of a pure and tolerant mindset, that is embodied in the essence of "water" in the Chinese philosophies of Confucianism, Buddhism, and Taoism. The painting is created layer after layer with expansive fields of vivid colours of green, yellow and blue, that articulate the virtue and vitality in all lives nurtured by "water", and embraces poetic and Ch'an sentiment. Li's creative style and use of splattering techniques is borrowed from Western abstract expressionism and fused with the undulating lines inspired from Chinese calligraphy. Together they achieve an inherent intuition that brings poetry and musicality in the visual.

Kassia Ko, Tracking Light Series #11, Ink and color on paper, 2020, 36 x 138cm
Kassia's fondness for Hong Kong's city and landscapes is depicted in her painting. In Tracking Light Series #11, the artist depicts mountains and landscapes. The bands of ink capture the momentary feeling of satin-like light and shadow Ko experienced whilst sketching, alongside horizontal spatial depictions of landscape. Undulating mountains and the deliberate choice to leave 'white space' make the paintings a wonderland. The subtle ink dots resemble raindrops and the textured, hemp-fiber strokes express the misty colours of the plains and mountains. These raindrops and textured strokes have an implicit "Mi Fu" style that highlights the inner spirit of nature and landscape.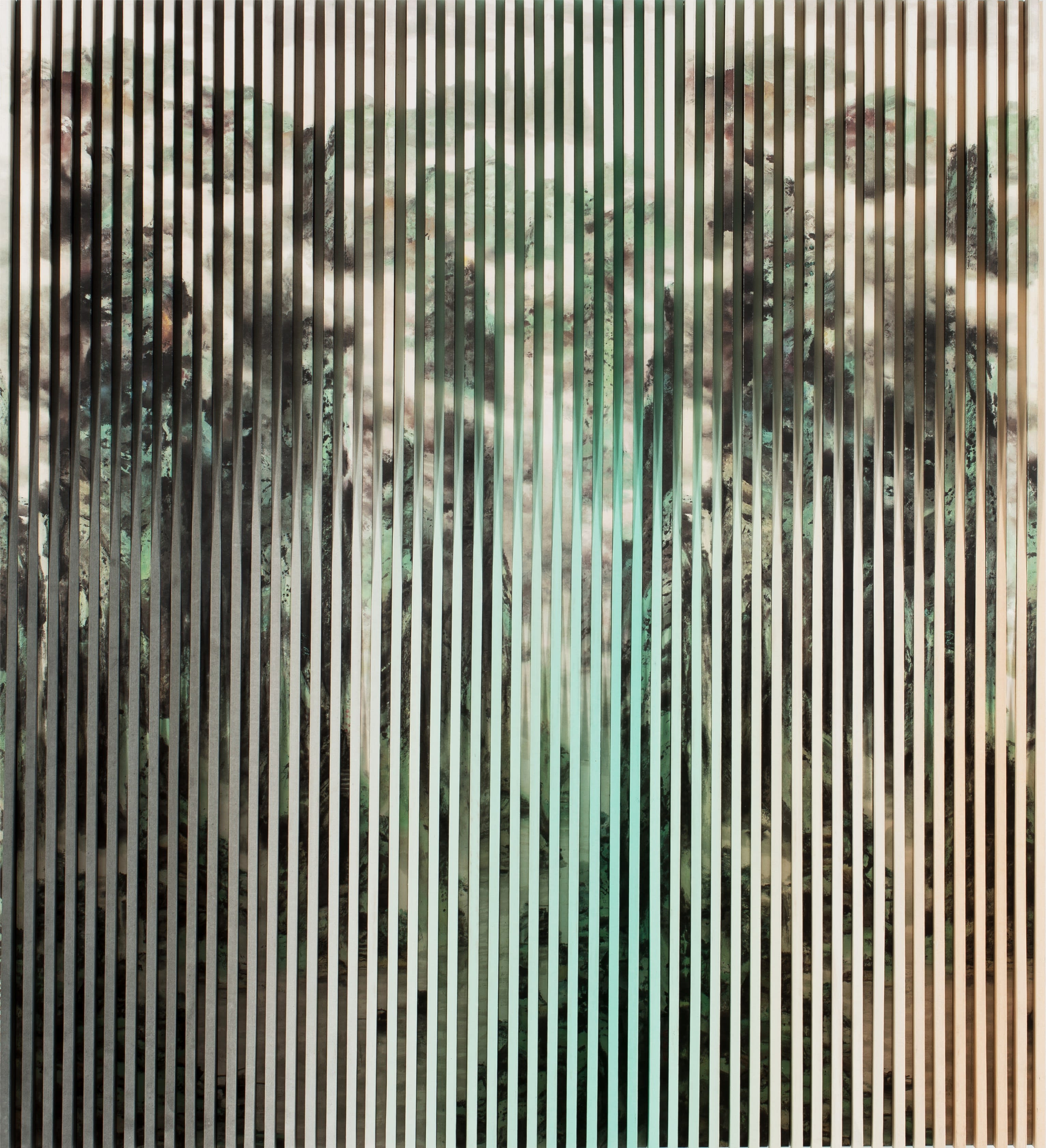 Yu Yang, Ink Object - Green Gradient, 2019, Ink and colour on paper, reproduction painting, wood, 110 x 100 x 7.4cm
Yu Yang is a Chinese contemporary artist and a co-founder of the avant garde art group COLD INK. The mixed media painting installation Ink Object - Green Gradient is a reinterpretation of Gao Zongyuan's The Blue and Green Landscape. Echoing the mountains, clouds, water and fog in Gao's landscape painting, Yu composes his works by organising and layering painted wooden strips, adding a physical space onto two-dimensional canvas that constructs depth and optical illusion. Reconstructing and renewing landscape scenery is commonly seen in Chinese architectural discipline. It resonates to the presence of real and unreal in Chinese abstraction, and the realms of heaven and earth.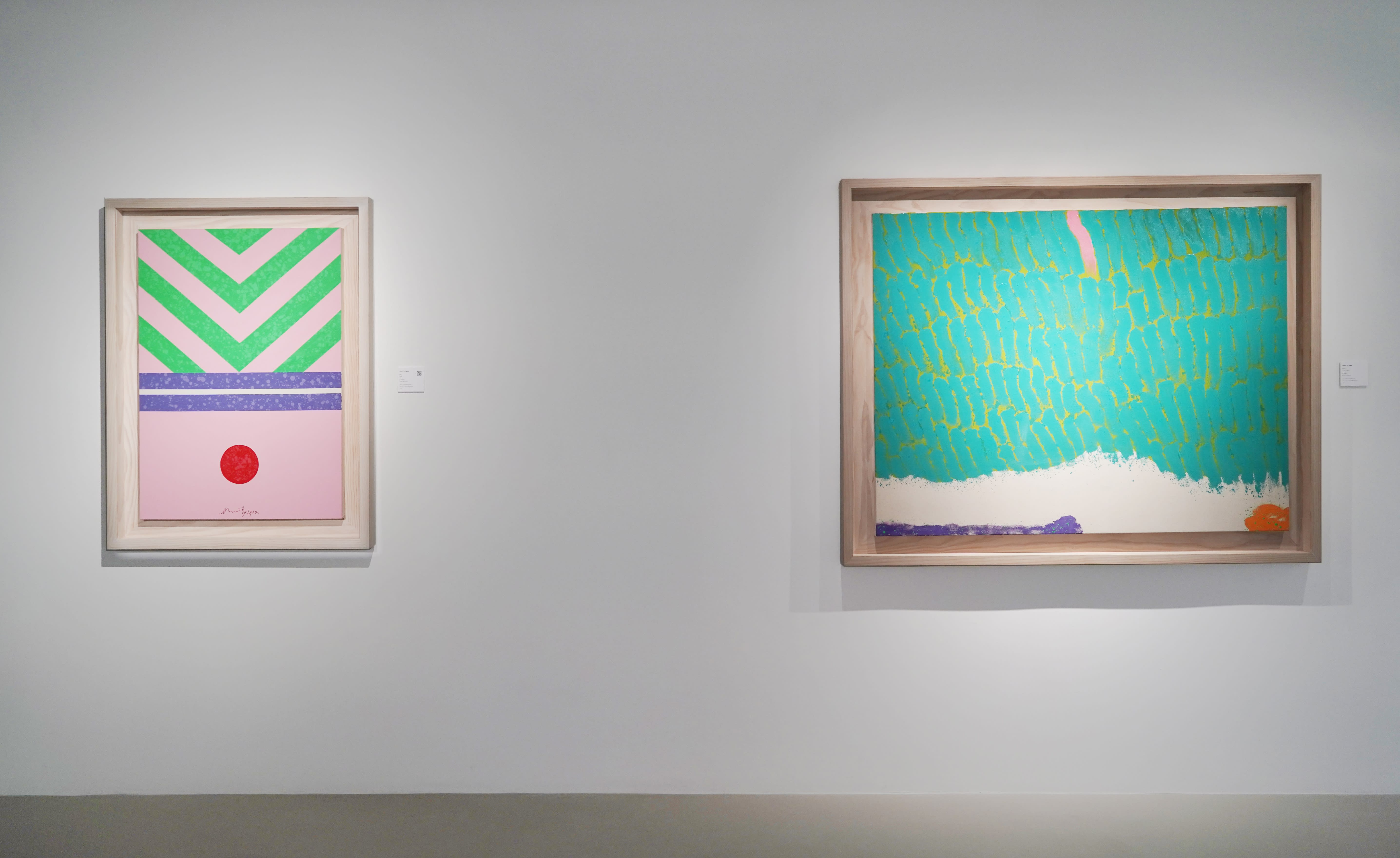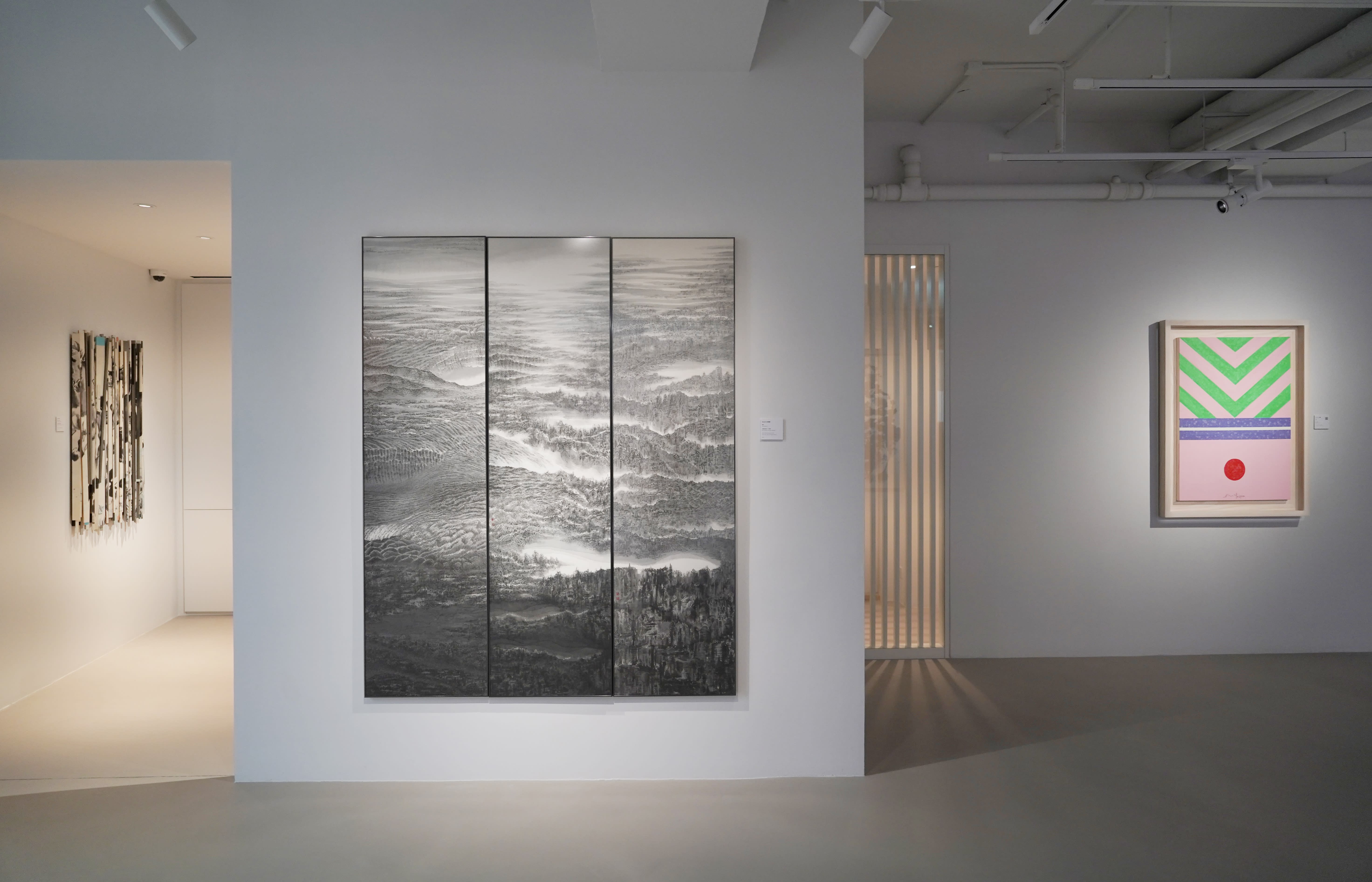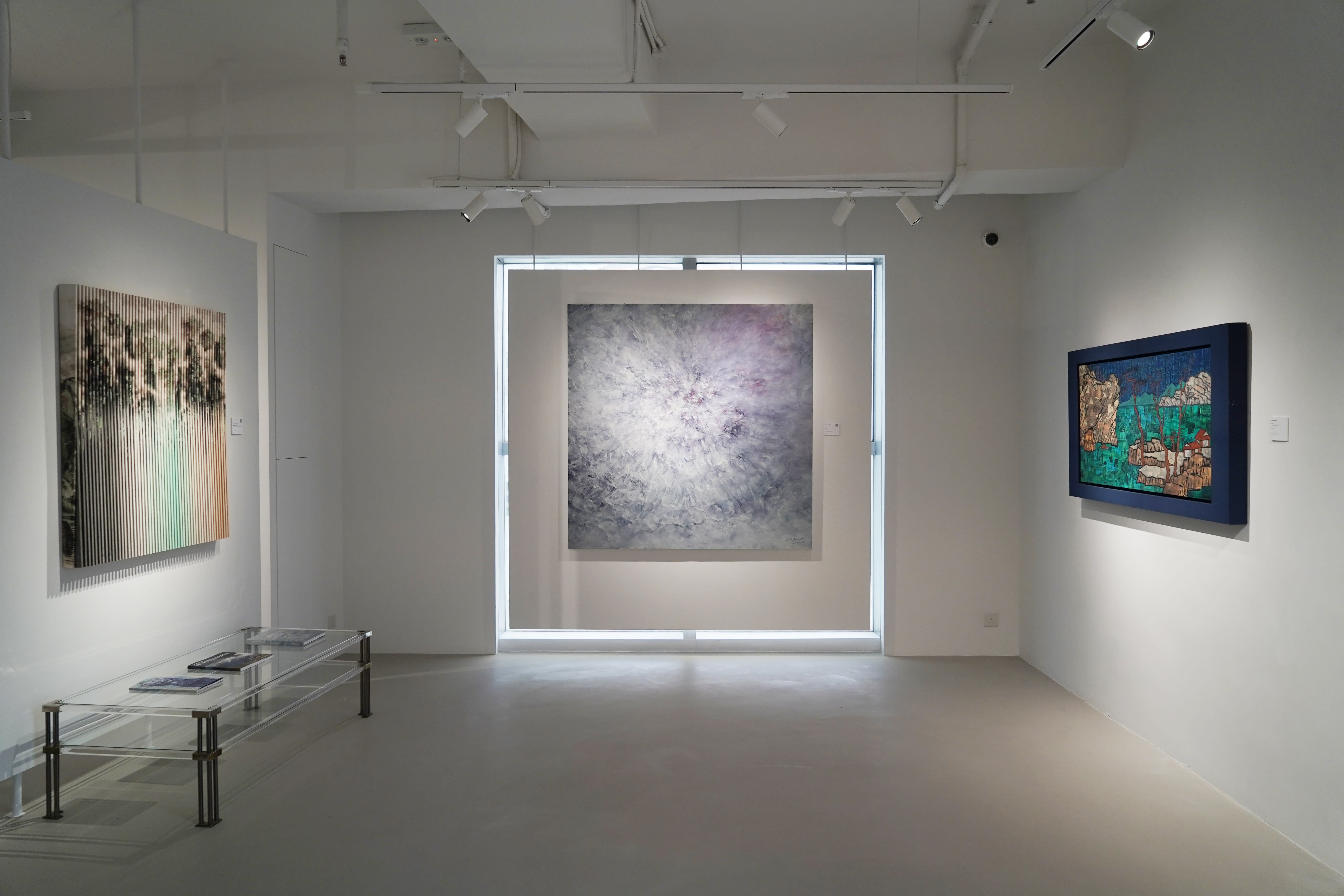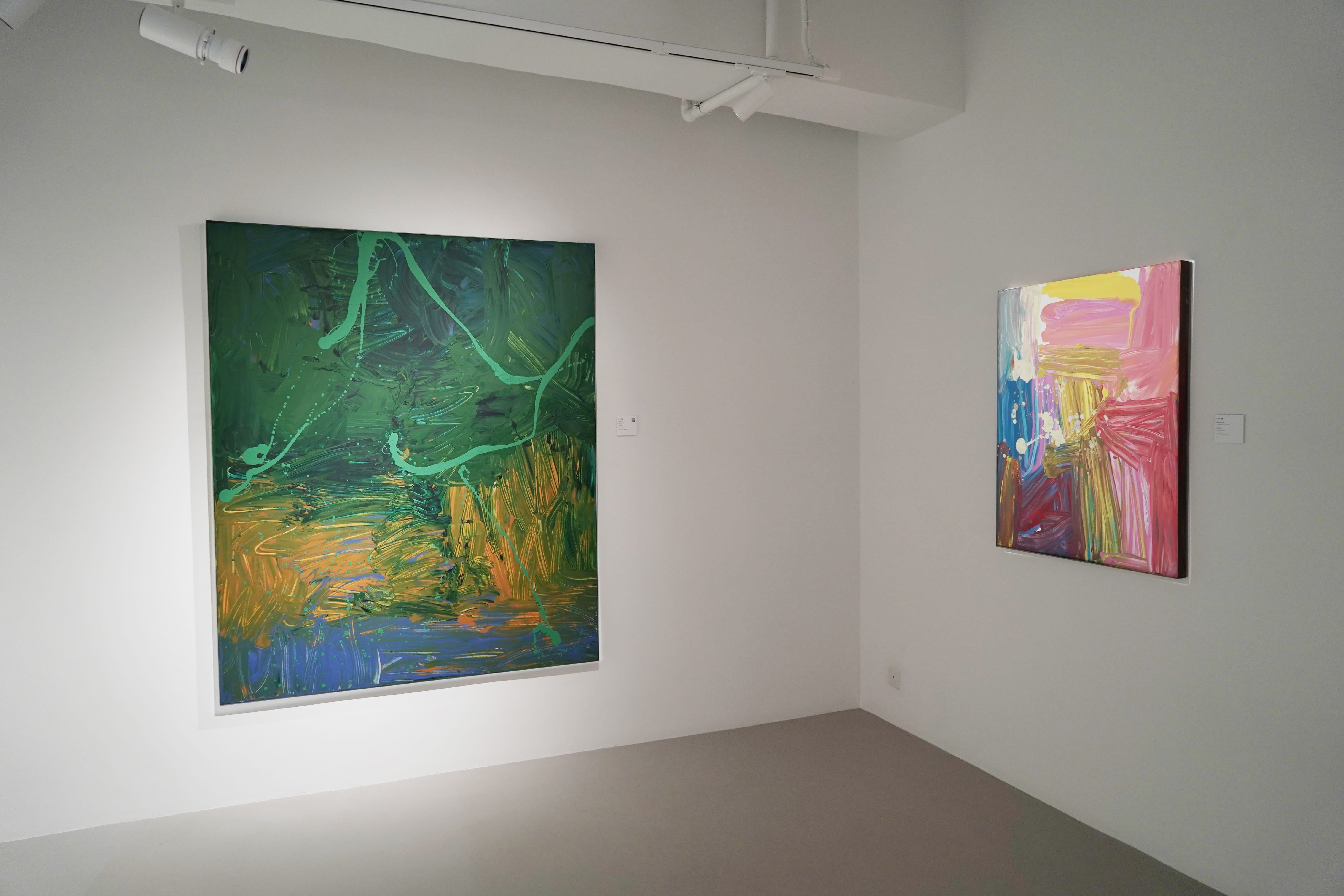 Installation at 3812 Gallery Hong Kong