TO MARK THE LAUNCH OF MIND-SCAPE VI AT 3812 GALLERY LONDO
N (UNTIL MAY 5TH 2023)
, WE ARE REVISITING AN EXCERPT FROM PROFESSOR XIA KEJUN'S WANG JIEYIN'S GRAND LANDSCAPE: RECONSTRUCTING THE DEPTH OF NATURE ESSAY, PUBLISHED IN THE EXHIBITION CATALOGUE GRAND LANDSCAPE IN 2019.

Mind-Scape VI, 3812 Gallery London, April 2023
Wang Jieyin's contribution to the original language of painting
Modernity requires a quaint temporality to mend its fundamental fragmentation and nihilistic feeling. Yet how to carry this out through the language of painting? This requires a return to the base of life, nature's elementariness and context of cultural historical memory, which have to be integrated internally. Such integration is the spirit, the artistic concentration. Each revolution in painting is about returning to an original language, finding new aesthetic principles and inaugural elements, breaking existent historical routines, discovering new pure language. Mr. Wang Jieyin makes fundamental contributions to representing "original language" through contemporary Chinese painting, which amounts to contemporary representation of Chinese cultural spirit.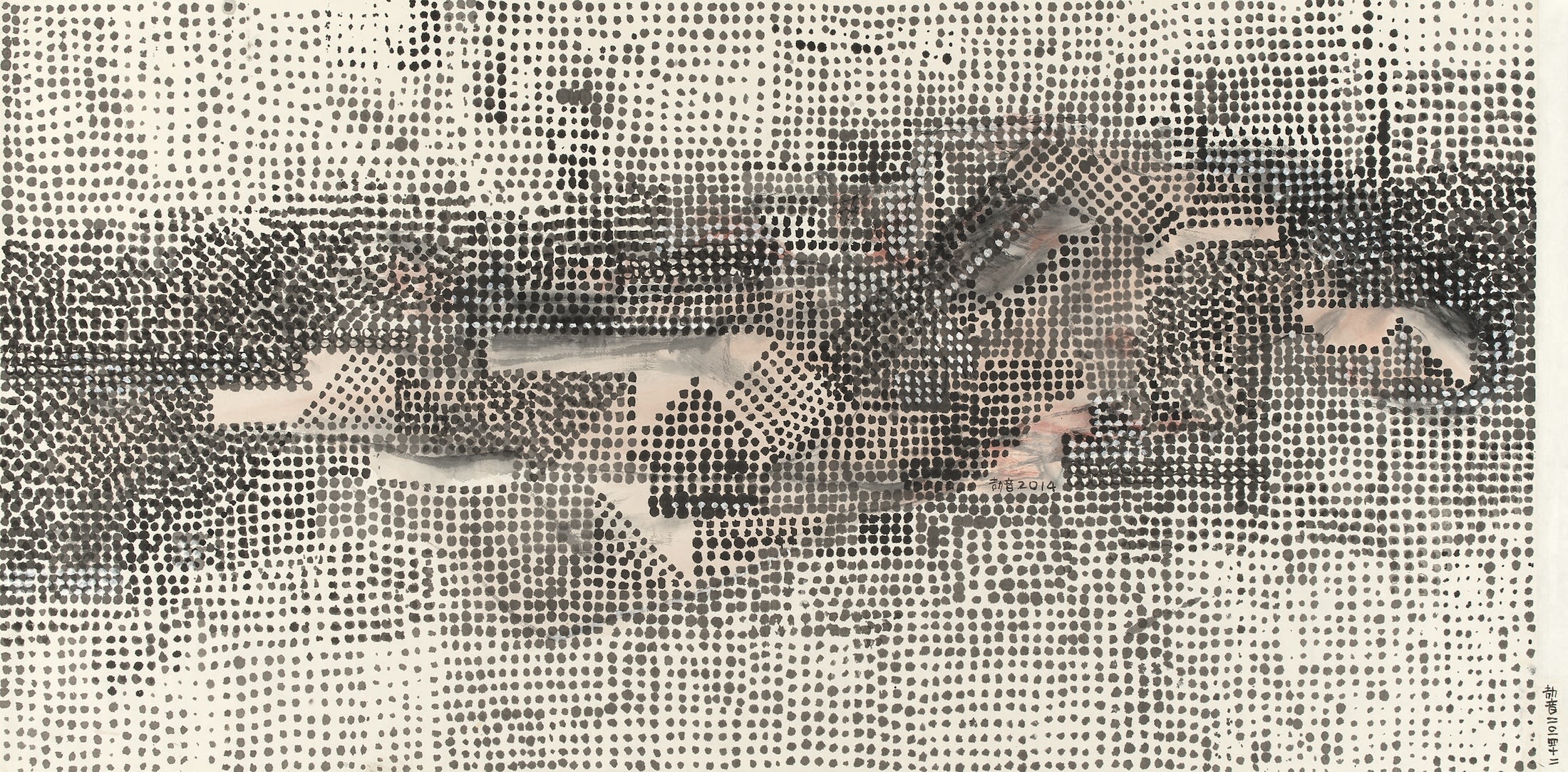 Ethereal No.12, 2014, Ink on paper, 70 x 138cm
Already in his early printmaking days, Wang Jieyin was creating shanshui and nature as he understood them. He continued with individual creation of modern oil paintings and shanshui sketches with ink and gigantic works with folded spaces. From flowers with the antique charm of the Dunhuang murals to acrylic oil series of grand landscapes, and grand ink landscapes with quaint, desolate state and hallucinatory vision, he established his individual language or "original language" step by step. The basic original language of Wang Jieyin's painting is formally simplified writing and rhythm-making, the mural texture and lofty quaintness of palette, the abstract dots composing original language and the fantastic folded space. The sense of writing and abstractness are combined into infra- image painting.
Ethereal No. 9, 2013, Ink on paper, 70 x 138cm
Wang Jieyin's painting has its own way of shifting original language: he finds new links between views of nature and notions of life. With his carefree character and ordinary plainness of painting, his passion for a piece of discarded canvas and Xuan paper, his intuition for the blankness of an ancient landscape, and memory of ancient mural traces, he starts from the handmade feeling and tone of his original black-and-white woodcut prints, and revives a quaint, simple yet profound and fantastic state, the classical vivid spirit resonance and poetic artistic state. These are done through construction with abstract dots in the contemporary era and montage of meandering urban spaces. He creates his own language of painting in the way he outlines mountains and the decorative delight of simplified branches.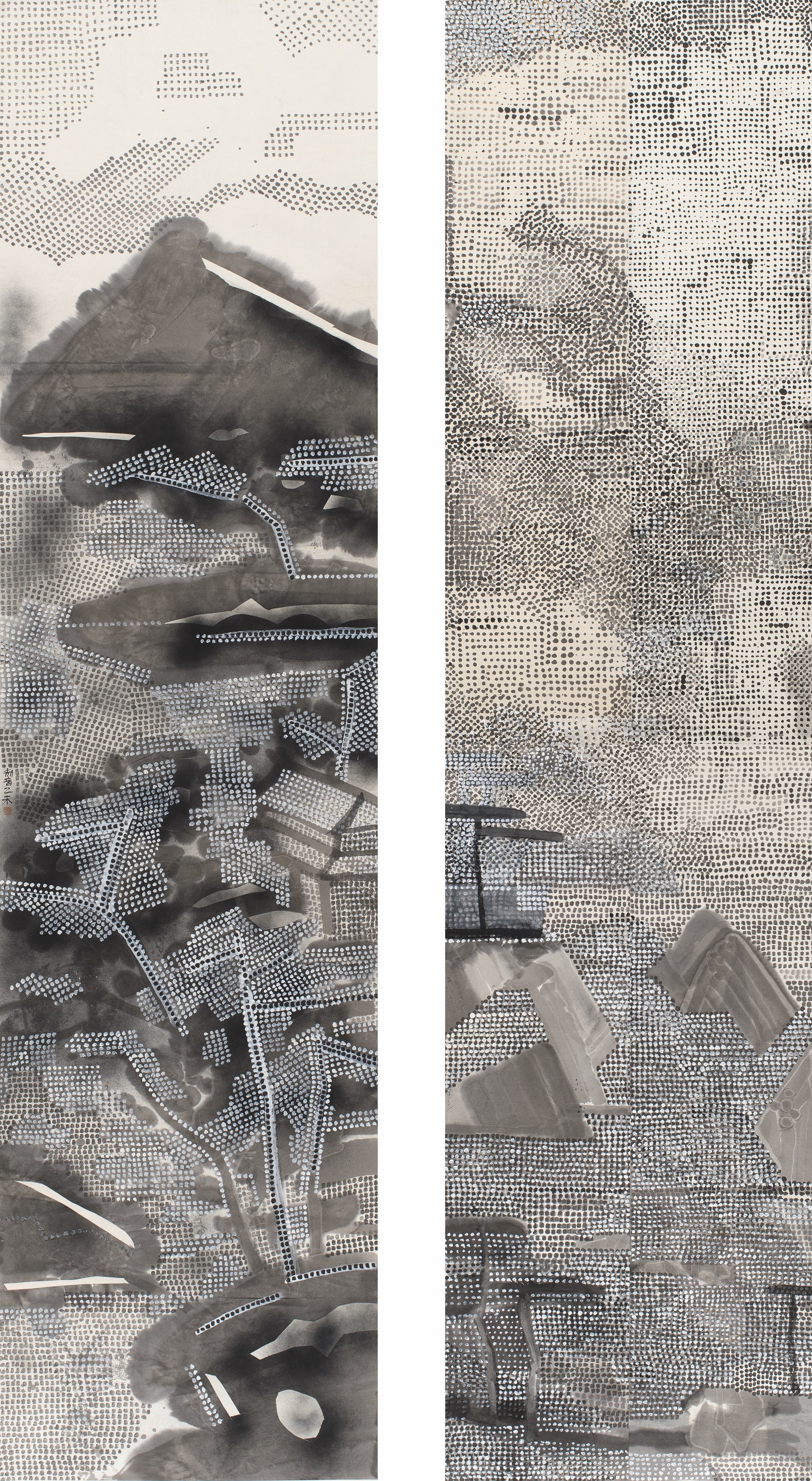 Landscape Notes No. 43 (2013) & No. 44 (2015) Ink on paper, 276 x 70 cm
The aesthetics of Wang Jieyin's painting reveals the significance of Chinese painting in the contemporary era. It is finding an almost impossible fusion between traditional Chinese imagery and Western abstract, between abstract composition and mist in nature, between memories of quaint images and cursive blurriness, between improvisational happenstance and dignified elegance, carefree play and rhythmic construction, and between a sense of hardship and childlike primitiveness, therefore creating a quaint and forceful state of life. For the painter Wang Jieyin, painting means reflection of memory. The world has become withered and yellow, just like an ancient tableau. He has to restart and regain childlike clear vision. Looking at Mr. Wang's works, we feel the divine grace exerted upon Chinese painting again. We feel the strong renaissance of original, simple and elegant charm of Chinese classical landscape and flowers. The contribution of contemporary Chinese painting is awakened again; the long-gone beauty of nature is expressed through the flowers' eternal manners on branches through a form which looks like ruins yet provokes implicit redemption.
Artwork details:
Landscape Notes No.44 & 43
, 2015
Only by totally accepting ancient and profound temporality can contemporary painting resist frivolous and foam-like instances of modernity and appease our contemplation. Such is the principle of life fed by immersion in the landscape. Wang Jieyin's painting is so naive and strong; it also reconstructs the particular "verdant and elegant" Chinese cultural aesthetic in the contemporary world. Contemporary Chinese painting differs from Western painting in its full acceptance of hazy traces left by time and history as well as memory of natural evolution. Between the carefree strokes and high antiquity, painting's inner force allows for inner purity and peace. Specifically, Wang Jieyin's works incarnate the redemption value of modernity through such "ink spirit."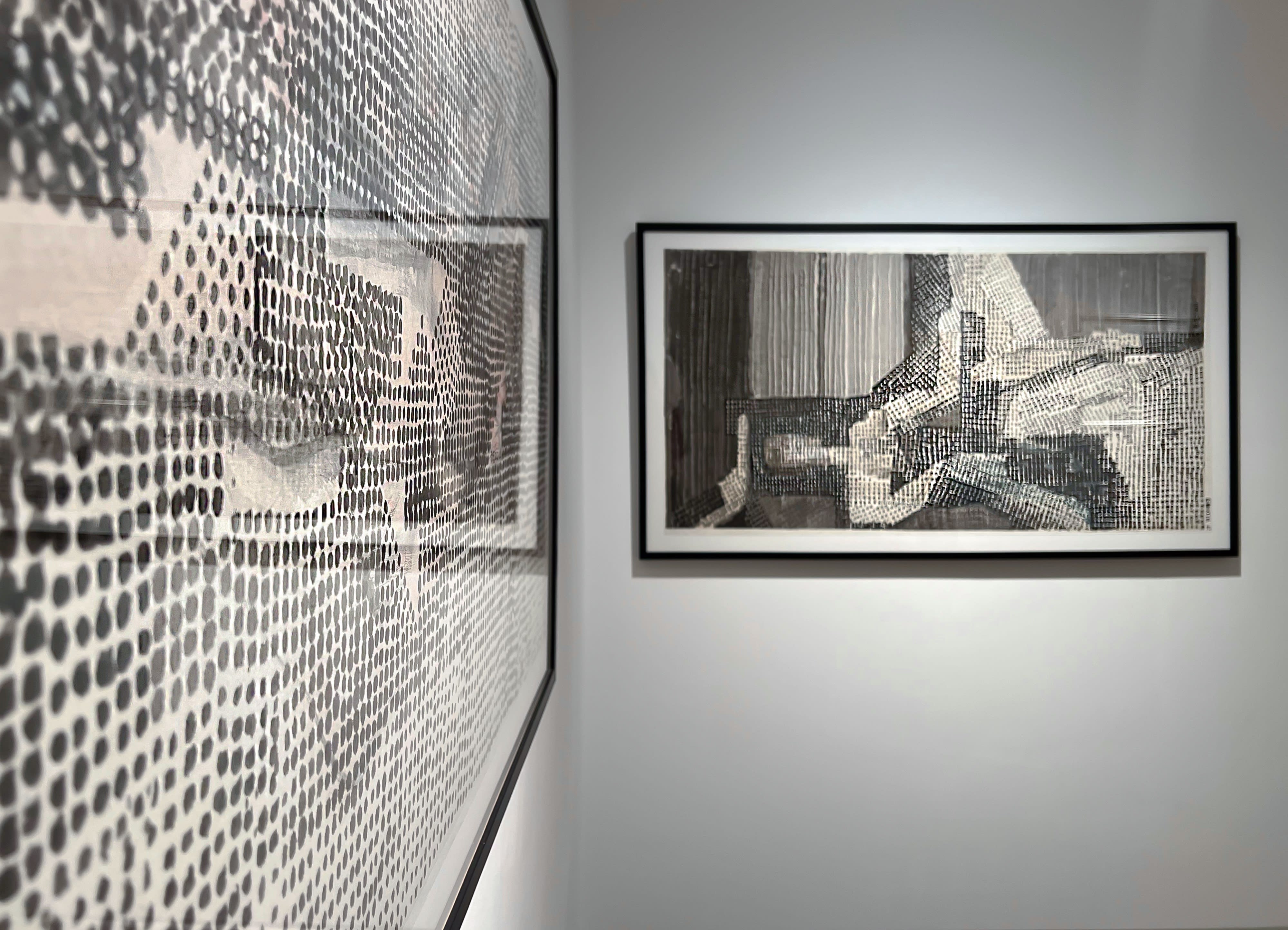 Ethereal No. 12, 2014 & No.9, 2013, Mind-Scape VI, 3812 Gallery London
Read more about Mind-Scape VI at 3812 Gallery London until 5th May