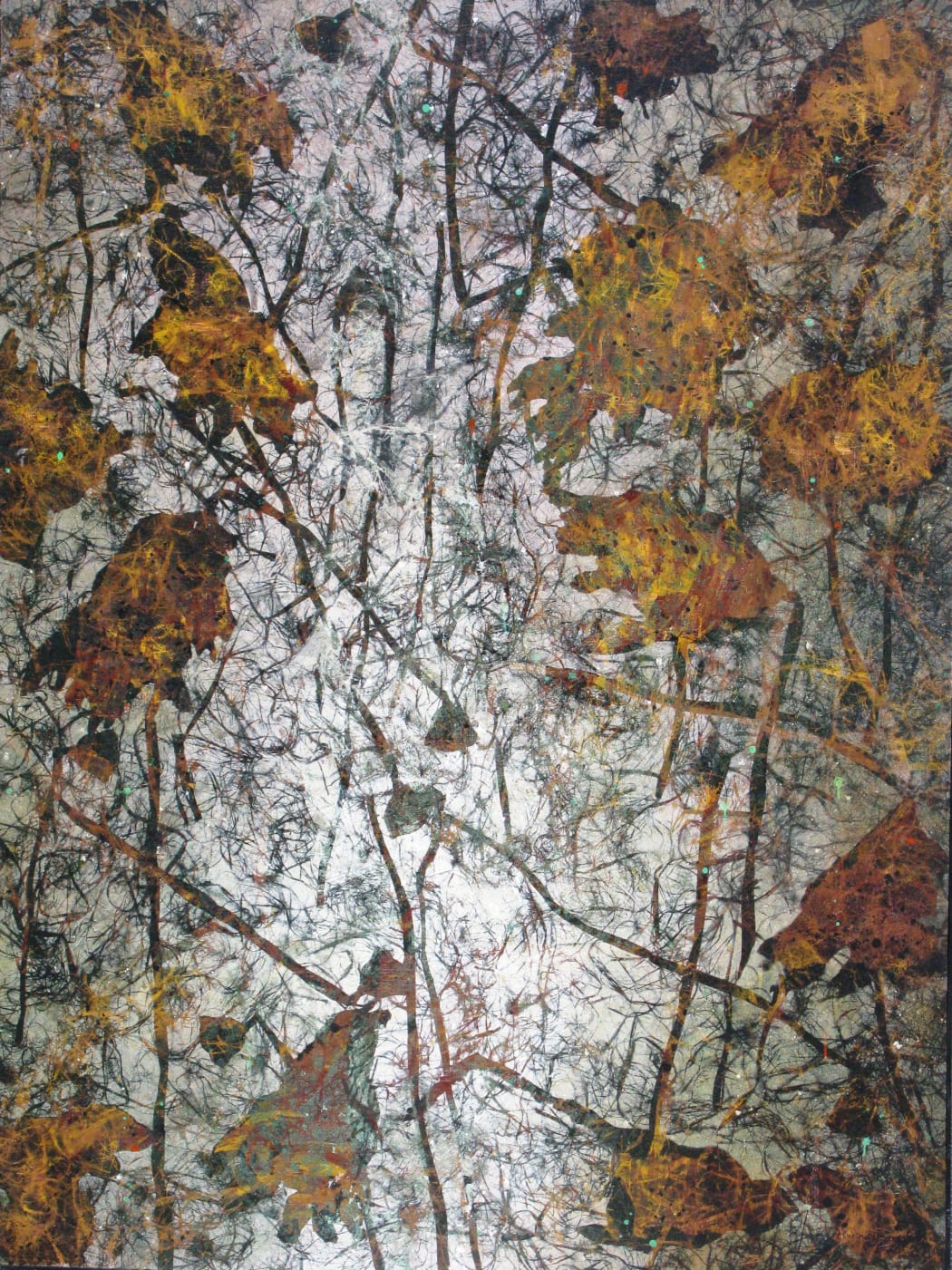 In the biweekly series ARTpiece, we are highlighting one artwork from 3812 Gallery's collection, to inspire you to add it to yours.
This week, we examine the painting Golden Lotus Pond 2 by Beijing-based artist Huang Guanyu, to inspire you to add this beautiful work to your collection. Here we compare Huang's painting with an oil on canvas work entitled Red Dragonfly by one of the great founders of Modern Chinese Painting, Wu Guanzhong.
The Lotus flower is the symbol of purity, delicacy and elegance in Chinese culture. Its beauty has been a common subject in traditional Chinese paintings, from the expressive and freehand style of Ming dynasty master Xu Wei and the daring and idiosyncratic compositions of Bada Shanren from the Qing dynasty, to two of the most influential modern Chinese painters Qi Baishi and Zhang Daqian, who respectively rendered red flower with ink leaves and coloured lotus with splashed ink.

Huang Guanyu paints lotus flowers and seed pods with his unique touch. Unlike many other paintings commonly depicting lush lotus ponds under a moonlit faint-blue sky, Huang utilises this theme to reflect on painting itself by presenting a somewhat different scene - a withering, bleak and deconstructed lotus. Broken stems interweave with withered leaves and seed pods in his work Golden Lotus Pond 2. Huang's work toes the line between abstract and figurative aesthetics; the layered composition itself is evocative if not naturalistic. He strengthens the pictorial flatness and composition of the painting, instead of using an objective and realistic way of expression. Huang does not dedicate much of the canvas to any naturalistic details, while the lotus remains firmly recognisable in the composition.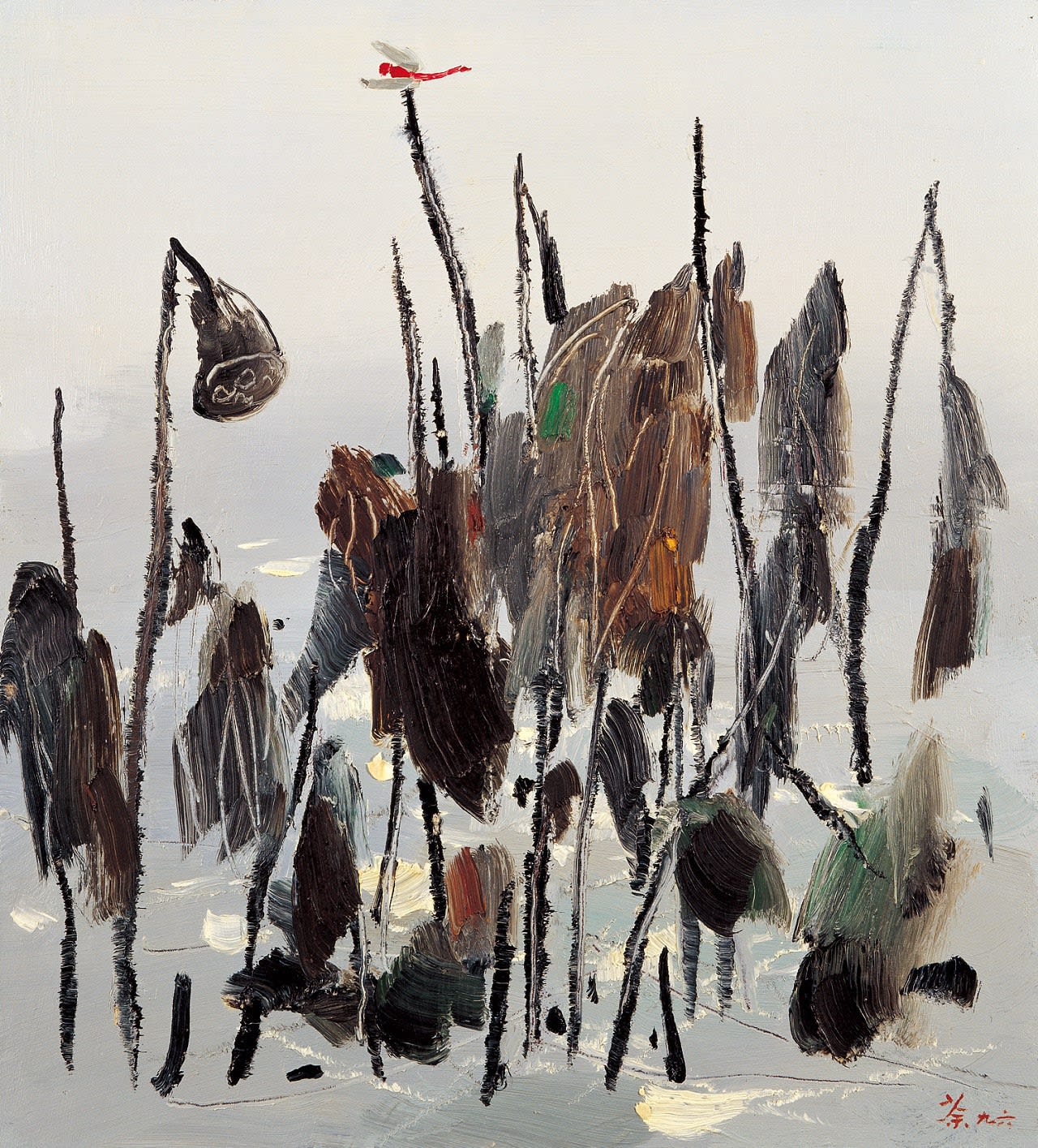 Wu Guanzhong, Red Dragonfly, 1996
Oil on canvas, 60 × 54 cm
Lotus, reed, weed, and tendrils are vividly extracted and condensed as minimal visual symbols in Huang's painting, with dynamic and interweaving movement. The lotus's delicacy and beauty are juxtaposed in different shapes across his exquisite canvas. The true yet illusory conception of life is combined with the artist's abstract approach, to depict the aesthetics of emptiness imbued with "Tao" meaning through the disarranged composition. Absorbing the techniques and tropes of Eastern painting and inheriting the revolution of the modern Chinese painters Lin Fengmian, Zao Wou-ki and Wu Guanzhong, Huang's "lotus", as a conventional Eastern symbol, has become a unique visual language by his application of Western techniques. Through the bleak lotus, he intensely expresses the subjective feelings and shared emotion of human beings toward life, nature and redemption.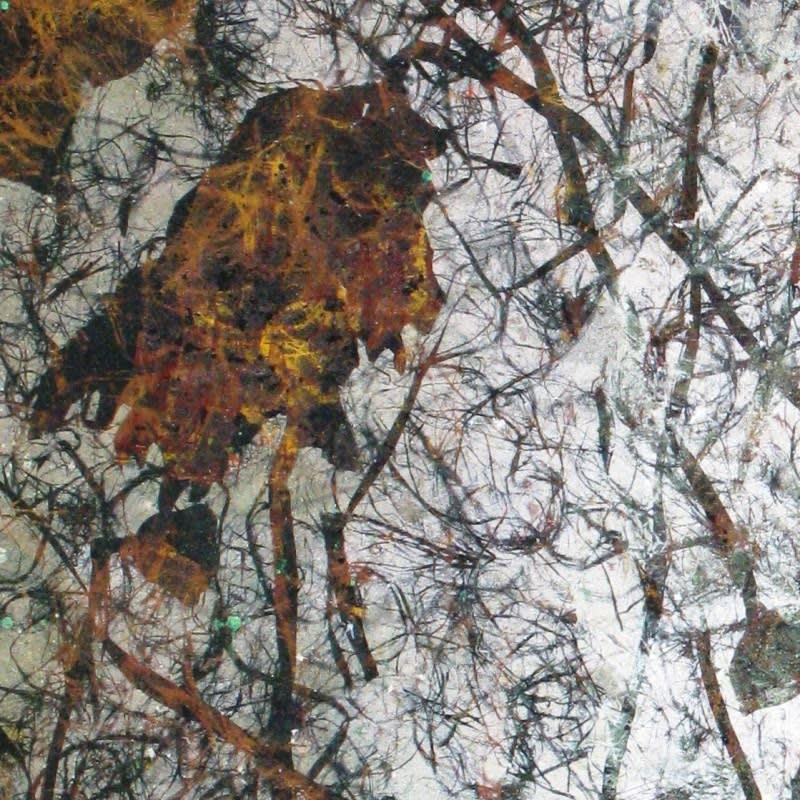 Huang Guanyu, Golden Lotus Pond 2, 2007
Detail shown

As an eternal imagery in Chinese painting, the lotus is rendered in a somewhat different style in Wu Guanzhong's Red Dragonfly. Compared to Huang's bleak lotus, Wu's lotus pond is surrounded by the casting of interweaving shadows between the layered leaves. Destroyed by freezing snow and frost, the lotus becomes withered. A red dragonfly in the centre standing on the tip of the leaf, is a traditional symbol representing an artist's life experience and spirit.
Wu Guanzhong, Red Dragonfly, 1996
Detail shown
The lotus of Huang Guanyu and Wu Guanzhong reveal different fusions of Chinese and Western painting. While the modernity of revolutionary Chinese painting is implied in Wu's work with a minimal representation of the lotus pond, Huang further condenses the lotus with his use of Expressionism and abstract art, expressing his emotion aroused by the scenery in the most direct and realistic way. It is not only his personal practice of "drawing artistic inspiration from both within and without", but also the origin of his painting imbued with Eastern aesthetics and contemporary characteristics.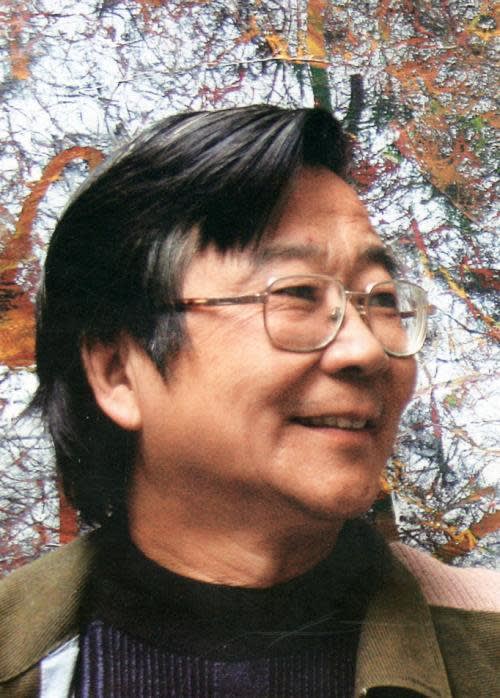 HUANG GUANYU
Huang graduated from Central Academy of Craft Art in 1969. He was the student of renowned Chinese modern artist Wu Guanzhong. Huang was an important member of the Tongdairen ("Contemporaries") group, which pursued the expression of beauty and the self. Huang was also active in the art circles in America and Europe, and had a solo exhibition in the University of Chicago. After returning to China, Huang never ceased to explore the unique artistic language in his oil paintings. Huang receded from the art scene for more than a decade to search for his own path, and his recent quasi-abstract works, which mainly feature silhouettes of lotus and trees rendered in allover compositions, are testimony to his innovative spirit. His works are collected by influential institutions and public collections such as National Art Museum of China (Beijing), Today Art Museum (Beijing), MGM Cotai Chairman's Collection (Macau), etc.