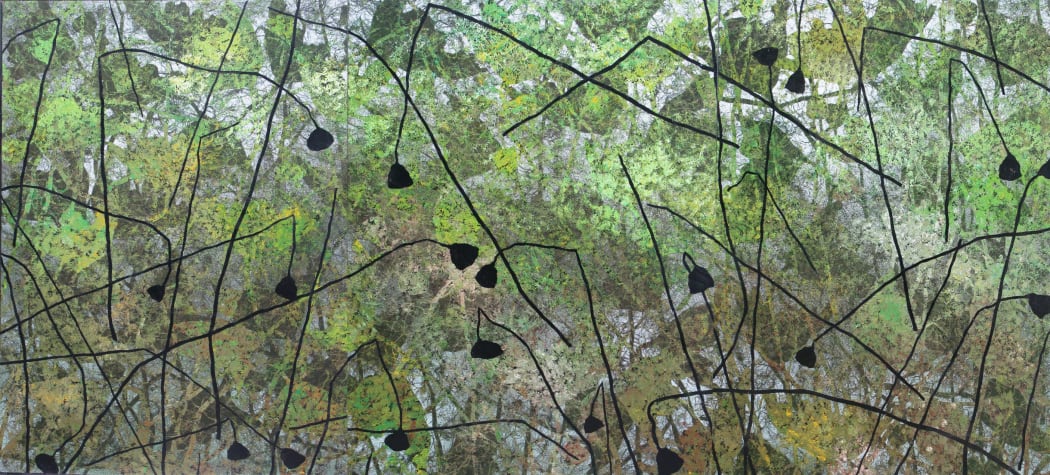 ARTicle is a feature curated by 3812 Gallery, presenting must-read articles by curators, scholars and art critics focusing on Eastern Origin in Contemporary Expression for your weekend digest.
In this week's ARTicle, we hope you will enjoy studying Beijing artist Huang Guanyu's lotus through an essay from his Lotus in Haze exhibition catalogue. Huang's recent quasi-abstract works featuring silhouettes of lotus and trees in large scale compositions, are testimony to his innovative spirit in exploring modern Chinese aesthetics within the creative language of oil painting.
Lotus in Haze
The lotus flower is the symbol of purity, delicacy and elegance in Chinese culture. Its beauty has been a common subject in traditional Chinese paintings, from the expressive and freehand style of Ming dynasty master Xu Wei and the daring and idiosyncratic compositions of Bada Shanren from the Qing dynasty, to the two most influential modern Chinese painters Qi Baishi and Zhang Daqian, who respectively rendered red flower with ink leaves and coloured lotus with splashed ink. Unlike these masterpieces of the noble imagery of lotus, Huang Guanyu's lotus are dark and withering, bleak and disarranged. There are lotus in the pond, but no flower can be seen. Huang Guanyu explained, "To me, it is lotus and it is not lotus. There are many people who paint lotus precisely like a lotus, and there are even more who depict lotus that does not look like one at all, yet there are only a few who are in between, it is a new dimension, my own artistic creation."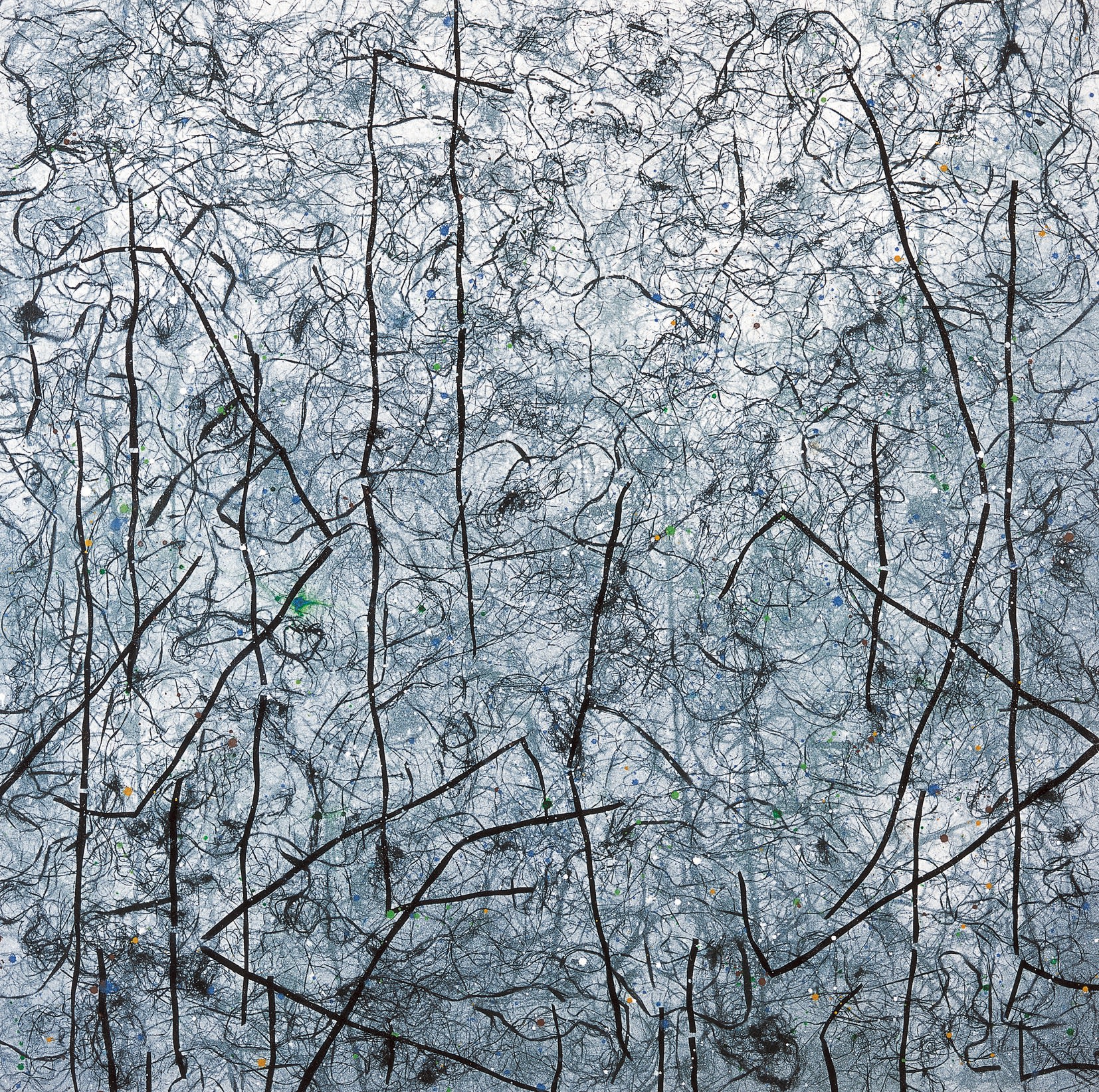 Huang Guanyu, Ripples, 2006, Oil and mixed media on canvas, 180 cm x 180 cm
A lotus, and not a lotus. Between likeness and unlikeness is the backbone of Eastern aesthetics, not only is it the notion that sets Chinese and Western art apart, but it is also a reflection of Huang Guanyu's pursuit of both innovation and artistic ideology. While Huang draws on the Western technique of oil painting, his works evoke a rich sense of Eastern aesthetics, a manifestation of the artist's profound understanding of being in between likeness and unlikeness. The President of The Central Academy of Fine Arts, Fan Di'an, described the art of Huang Guanyu as "The tension between Eastern and Western art". This tension, however, is not a conflict but a creation of painterly concept and individual artistic language cultivated through continued exploration and experimentation.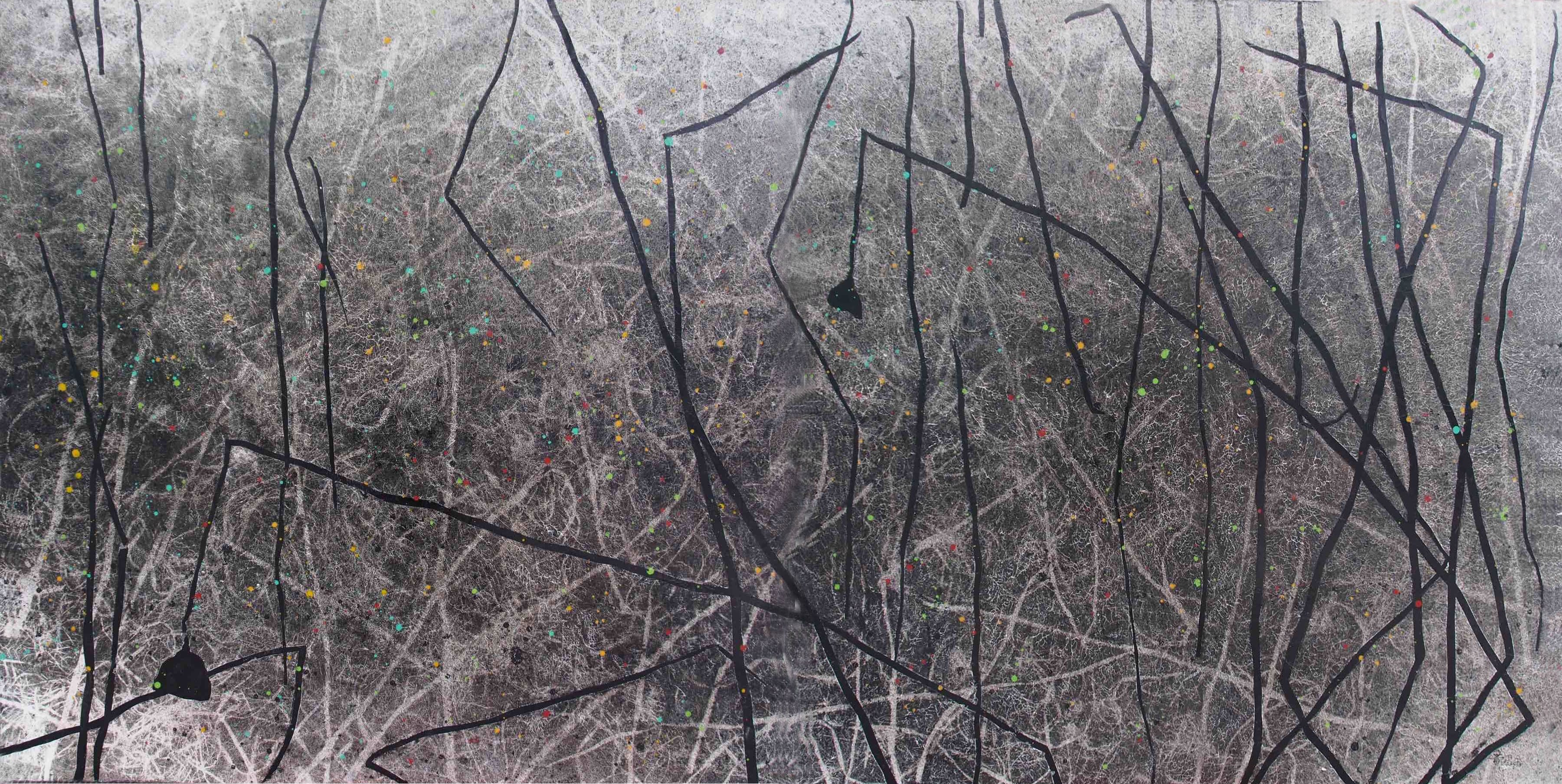 Huang Guanyu, Dynamic Song 2, 2006, Oil and mixed media on canvas, 138 cm x 276 cm
The pictorial flatness of Huang Guanyu's lotus, reed, weed and tendrils establishes a sharp contrast to the visual depth and three-dimensionality of Realism traditionally common in Western oil paintings, yet the artist is able to vividly depict the dynamic and interweaving movement of the plants. The stems of the lotus in Dynamic Song 2 stand firmly in the piercingly cold wind; in Golden Lotus Pond 2, drizzling rain falls on the withering lotus which still imbues a faint fragrance. Facing the end of life, the lotus nevertheless bears a sense of endurance and hope, this anticipation for new life is the beauty of life. From another perspective, these are abstract images composed of dots, lines and planes, in which the artist expresses his passion for life and his admiration of nature. Resonating with the form of the lotus, Huang subconsciously reflects a feeling of tranquility in his abstract expression, which is distinctive of the traditional Chinese concept of poeticism. Huang's quasi-abstraction highlights the essence of Chinese abstract art, setting it apart from Formalism in Western abstract art.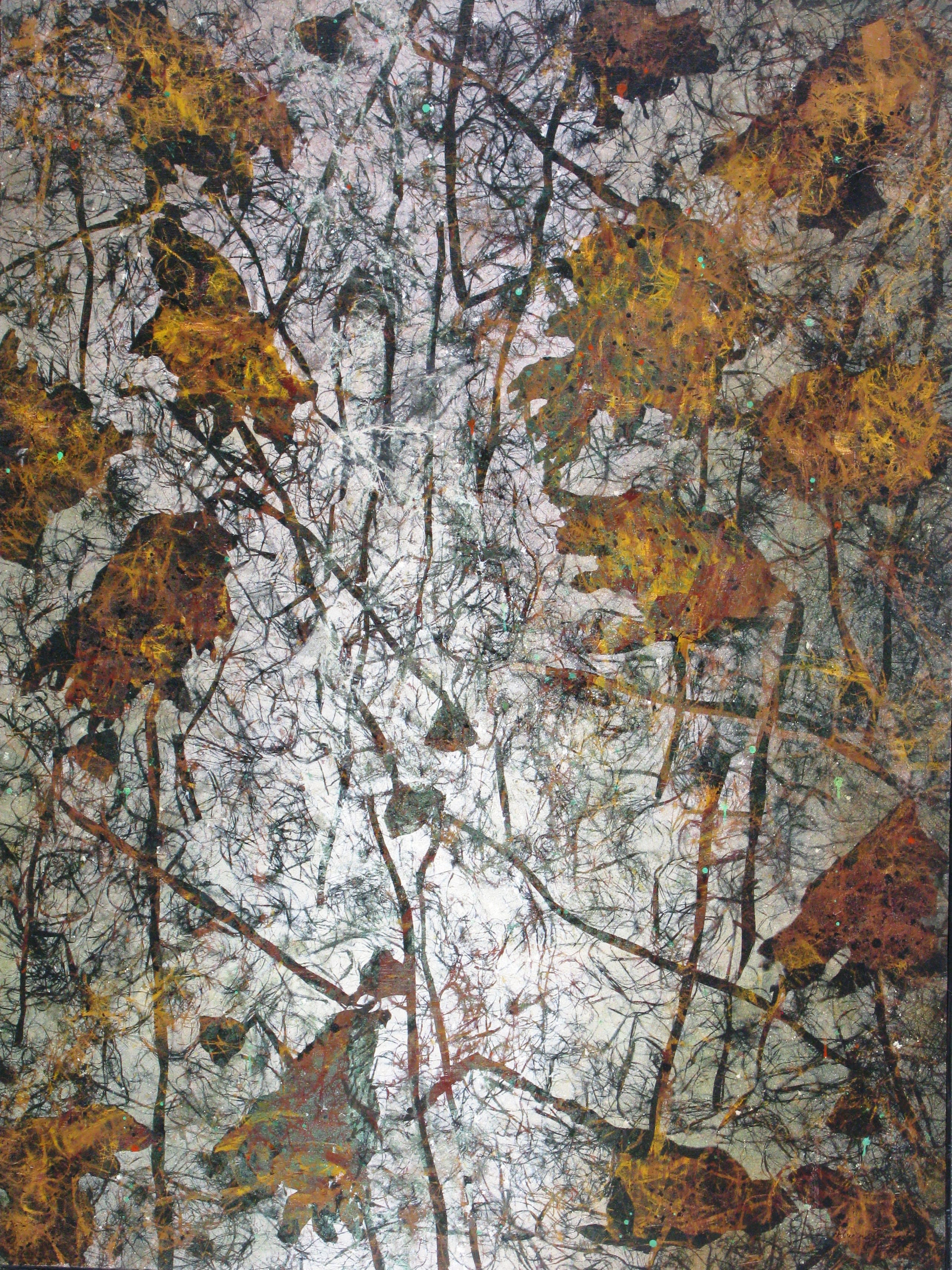 Huang Guanyu, Golden Lotus Pond 2, 2007, Oil and mixed media on canvas, 200 cm x 150 cm
Huang Guanyu, Golden Glow, 2005, Oil and mixed media on canvas, 200 cm x 150 cm
One can see traces of the Abstract Expressionist style of modern Western art in Huang's paintings, but the imagery of Chinese aesthetics brings his art to another dimension. The emphasis on Eastern spirituality through the use of Western medium has harmoniously nurtured his innovation. In his oil paintings, Huang has developed a uniform colour system that suggests the lofty and poetic atmosphere in traditional Chinese paintings, and the dense yet hazy compositions unexpectedly highlight the aesthetics of emptiness. For example, in Lotus in Dream and Monologue, the light, shadows and mist together evoke an elusive emptiness, an essence which is at the core of Taoism. This seemingly empty imagery gains its form through the artist's masterful use of colours and brushstrokes. In between likeness and unlikeness, the forms transcend beyond materialism to a serene state that finds peace in nature.
Huang Guanyu, Lotus in Dream, 2014, Oil and mixed Media on Canvas, 140 cm x 200 cm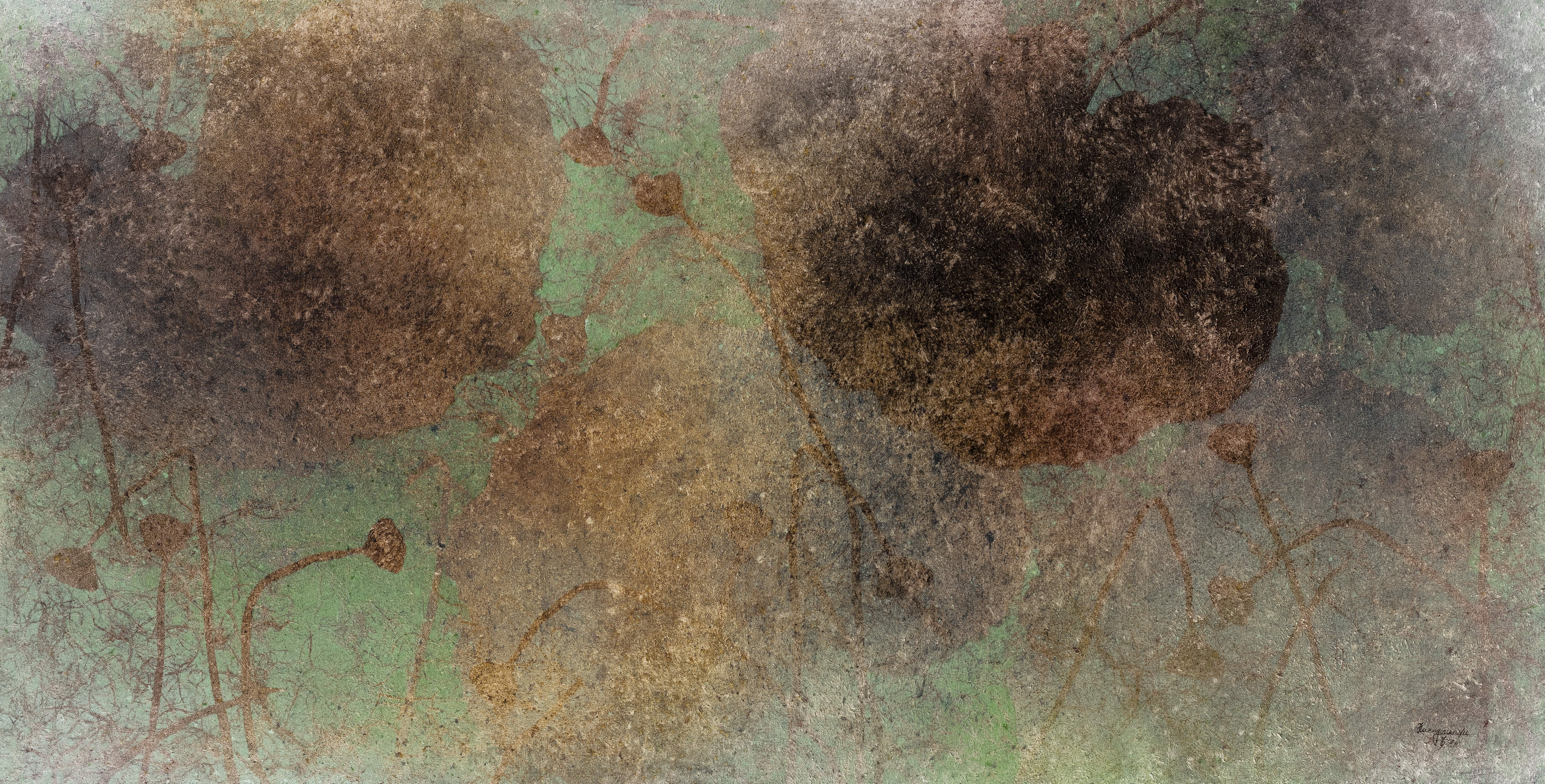 Huang Guanyu, Monologue, 2014, Oil and mixed Media on Canvas, 140 cm x 276 cm
Huang Guanyu's lotus in haze exudes not only the spirit of lotus but also the artist's serenity and individuality.