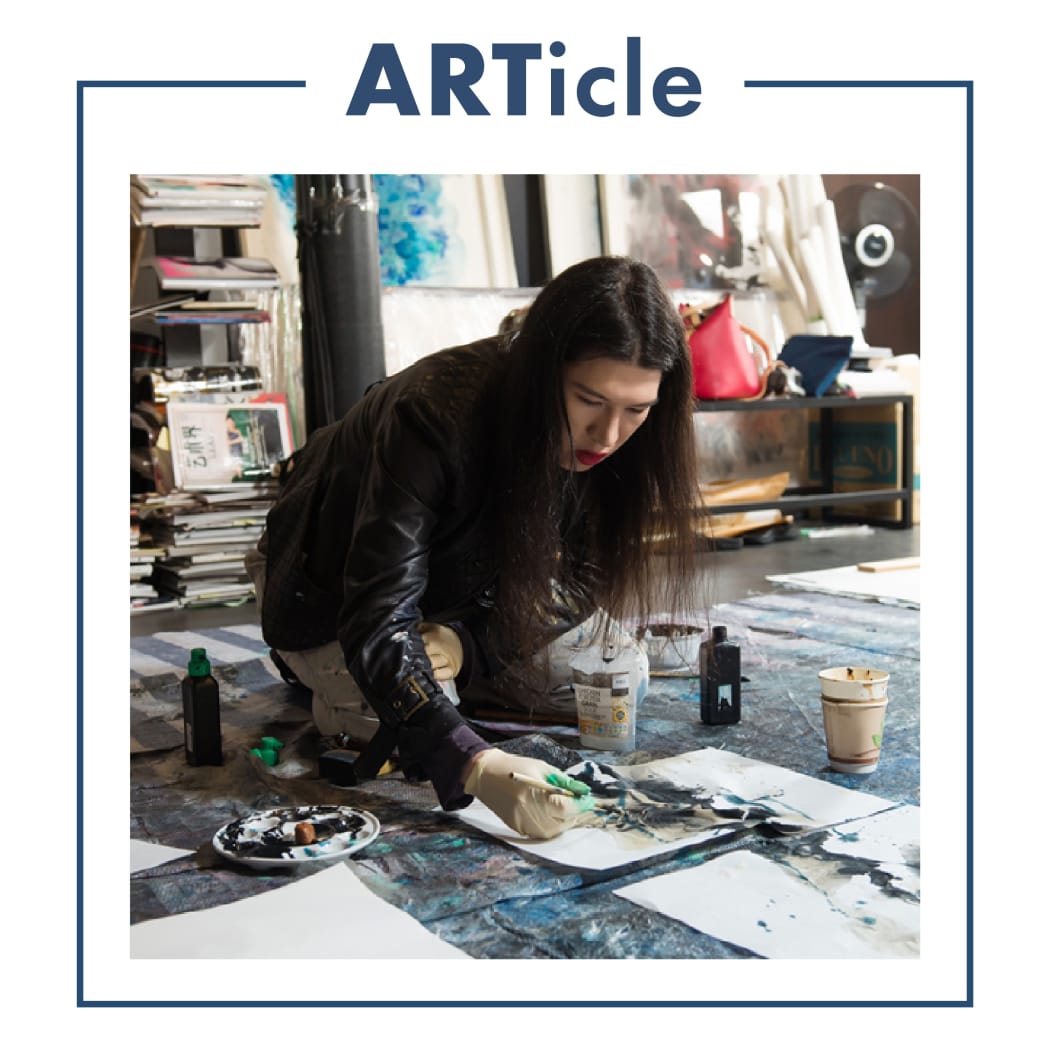 In this ARTicle, we are delighted to present a conversation with artist Chloe Ho. She shares her thoughts, inspirations and creative process and invites us to delve deeper into her ethereal paintings.
3812: How do you define the art of Chloe Ho?
Chloe: In my art, I always express the connection between my life experiences and my visual inferences. While my images are familiar and accessible, they also must hold an ambiguity that allows for the viewers' personal and unique perception of the work. My work melds Chinese tradition, modernity, and bold mediums. I interpret themes of connecting nature, identity and humanity in unexpected ways.
3812: What do you think is unique about you? Where did it come from? What are the differences in this uniqueness?
Chloe: We are all uniquely made as a result of our birth and experiences. Mine are those of a multicultural background - a citizen of east and west, with a foot firmly planted in both places. My world challenges preconceived ideas of how things should be, about life and living. I really move between two different realities and cultures. I'm both a participant and observer, never completely one or the other.
I think my work is reflective of my identity and human identity as I see it - fluid, sometimes transparent, sometimes opaque, sometimes fixed, sometimes teeming. My work is often surprising, and the result of seeing the world from two different perspectives. I want to "visit" unexpected places, eschew boundaries and take creative journeys that always bring me to the brush.
Chloe Ho, Nature Embodied #1, 2013

New Hall Art Collection at University of Cambridge, U.K.
Chloe Ho, Nature Embodied #15, 2013

Searching For Eternity, Rosewood Hong Kong, 2021
3812: Have you experienced failure and ever thought of giving up? Can you share? And how can you get over it? What have you learnt and gained when you look back?
Chloe: I really have learned to focus on the future , everyone has set backs - each setback is a lesson; it strengthens resolve; it can provide inspiration and it intensifies the depth of feelings to be expressed.
3812: Human nature and emotions can be seen through from your work, be them the dark side, or the real side? This sensibility reflects a kind of fragility yet persistence; gentleness yet tension; enthusiasm yet subtlety; compassion yet helplessness; fulfilment yet desolation. Would you agree that you are an observer and interpreter of human nature?
Chloe: I have always been fascinated with the figurative and psychological devolution and evolution of identity - and the frailties and strengths of human nature. From the literal to the abstract, from the personal and microcosmic to the broader and macrocosmic, I am inspired by the energy of life- both good and bad. I think I am a reservoir for that energy and its many forms. It is palpable to me, unavoidable, sometimes welcome, sometimes unwelcome. To me, it is the artist's blessing and curse, but must be expressed.
When I consider my body of work and my exhibitions, the themes all reflect a connection between man and nature, the essence and evolution of identity and a searching for our place in the universe.
It is a searching for self, broadly or personally, it is an expression of human identity entwined with nature. It is a look at the edge of human consciousness poised between wakefulness and sinking into a fragile fluctuating center. There we can find insights into identity, wants, needs and life force. It is a reflection of humankind's journey as we both consider and remake our environments and ourselves, ascending to a new reality.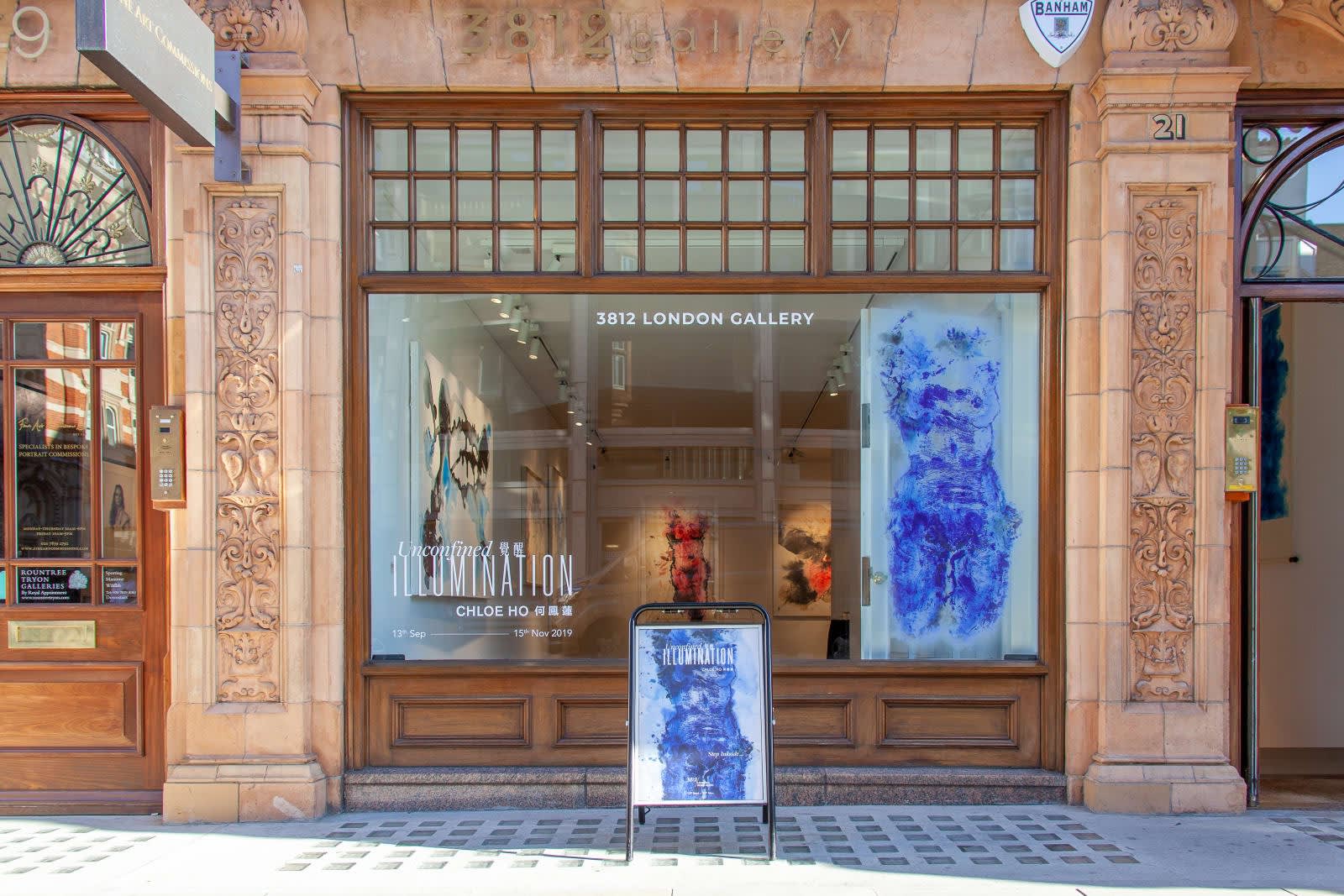 Chloe Ho: Unconfined Illumination

3812 Gallery London, 2019
Chloe Ho, Astral Garden, 2017
Chinese ink, spray paint and acrylic on rice paper
236 x 197cm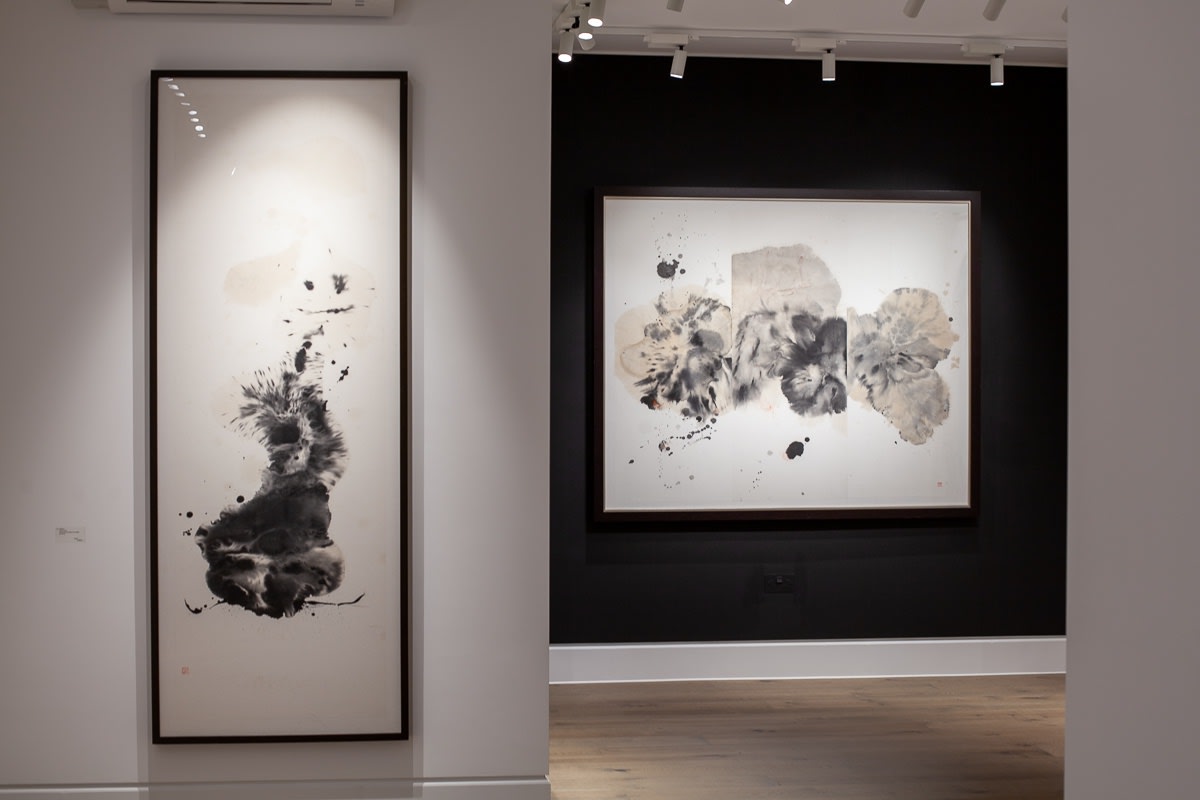 (Left) Chloe Ho, Cat Fish, 2013, Ashmolean Museum Collection
(Right) Chloe Ho, Lion Fish, 2014, Corporate Collection, U.K.
3812: Who/ what contributed to gift you with such sense and sensibility?
Chloe: I always remember as a child being able to see auras and colors around people, to feel energy even before I could really express myself. It an awareness, a connection that is deep and vivid. I think this strong inner and visual sensibility led me to be an artist. It's the way I was made.
Of course, it was important to have had great support and encouragement over the years , from my family , from wonderful mentors and gallerists, and from those who collect and engage with my work.
3812: How do you fit your personality into you work, is it subjective of you?
Chloe: Of course, an artist's work best speaks to the artist. It reveals all through the artist's lens and light. To me, it's the only thing that makes the work authentic .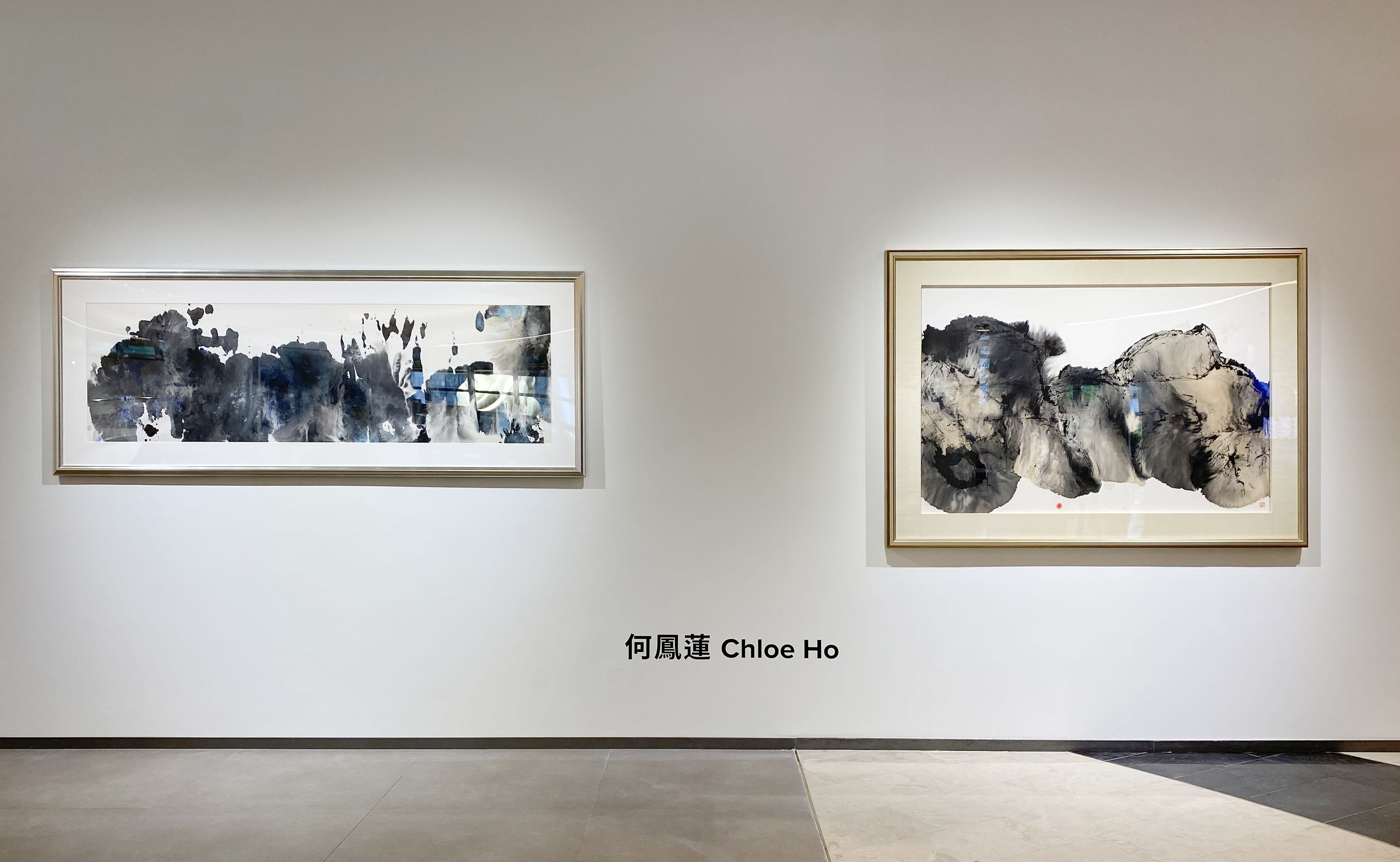 (Left) Chloe Ho, Blue Mountain, 2016
(Right) Chloe Ho, Mountain Rising, 2017

"Awakening" exhibition, MGM Lion Lobby, 2021
MGM Chairman's Collection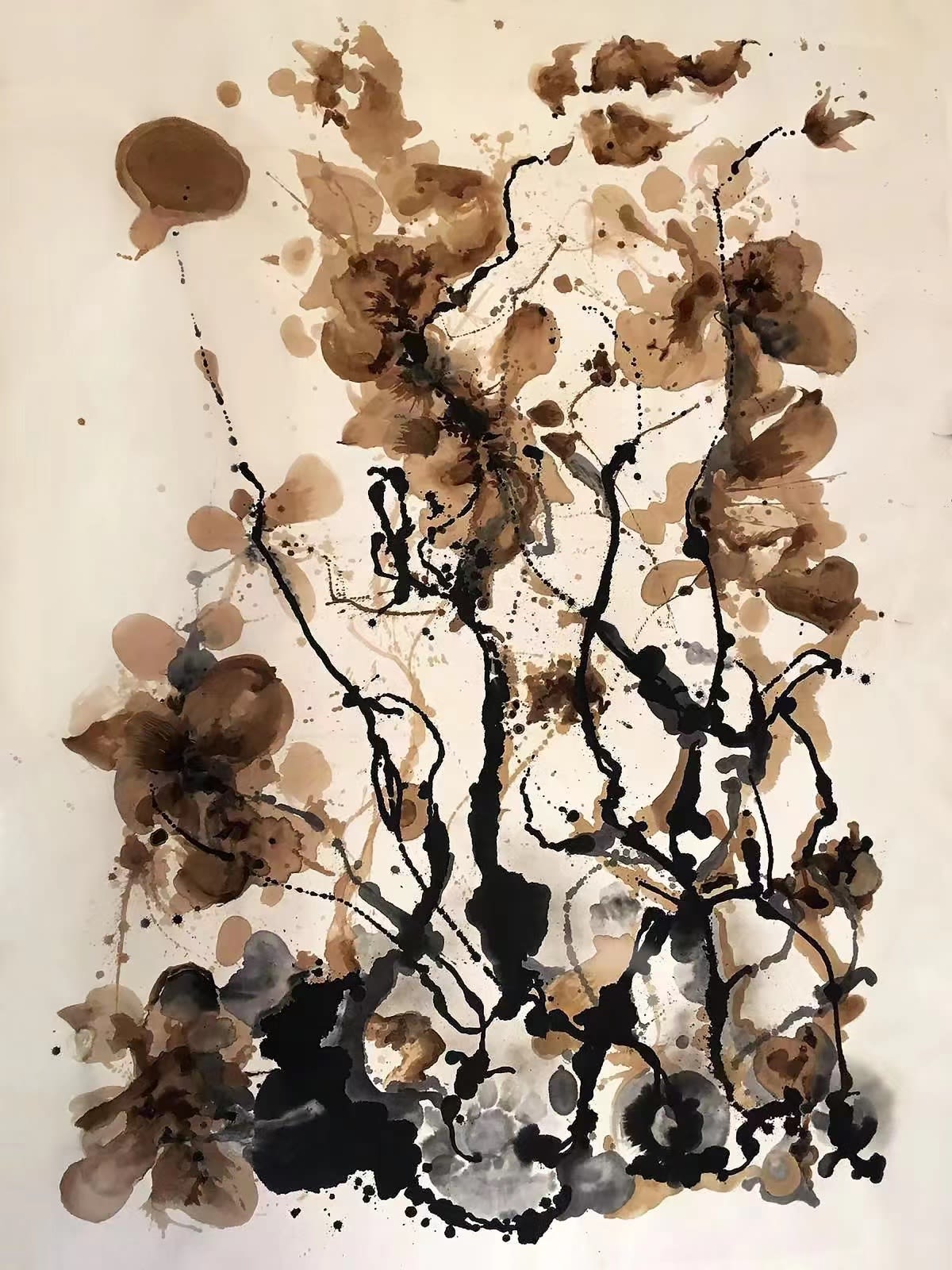 Chloe Ho, Seasons of Serenity, 2017
MGM Chairman's Collection

3812: Can you share what's the thought behind the "Universe" series?
Chloe: The "Universe" series expresses our ever evolving place in the cosmos. I wanted to let the ink and paint flow powerfully, reflecting that we are at once masters and minions in the universe. Only a bold brush, depth of colour and abstract presence can express the concepts of time, multidimensional realities, and mystical forces. It is a natural progression seeking out our connection and identity with our very life forces.
3812: Can you talk about your aesthetics of colour - blue, red, brown, and black?
Chloe: Colour is a language to me , so it's impactful use is a touchstone of my style. It's an aesthetic choice that is bound to my work. I find certain colours "demand" they insert themselves and are inseparable from the desired image in the paintings. From the literal use of coffee in brown, to the intense blues reflecting our planet's life force, to the deep sanguine reds and power of black ink used for image paintings on cloth, they are my voice.
(Left) Chloe Ho, Ocean's Vase, 2015, Private Collection, Asia
(Right) Chloe Ho, Autumn, 2019, Private Collection, United States

3812: You have said in an interview, "For me, ink is almost a religion. I first fell in love with it holding a brush in a Chinese art class at CIS. Since then, my passion has only grown. It is, however, an unforgiving medium. Ink does what it wants to do. Ink is bold and unapologetic, but it can also be subtle and sophisticated. It's something you can't enhance or amend. Ink is naked and unalterable. It's a lot like life – you don't get a do-over." What Ink means to you ? Is it just a medium for you to explore or experiment? Or does it convey any cultural meaning to you?
Chloe: I work primarily in ink because the art form is so beautiful, so demanding and culturally meaningful to me. Every time I pick up the brush, I am reminded of the extraordinary history and tradition of ink. I am reminded of my own heritage, the importance of respecting that heritage and discipline grounded in "Shan Shui".
At the same time, ink flows. It is both rock and water. It is of today and yesterday. It promises all possibilities for the artist. It inspires me, and allows me to express and extend my aesthetic. It is a life's blood.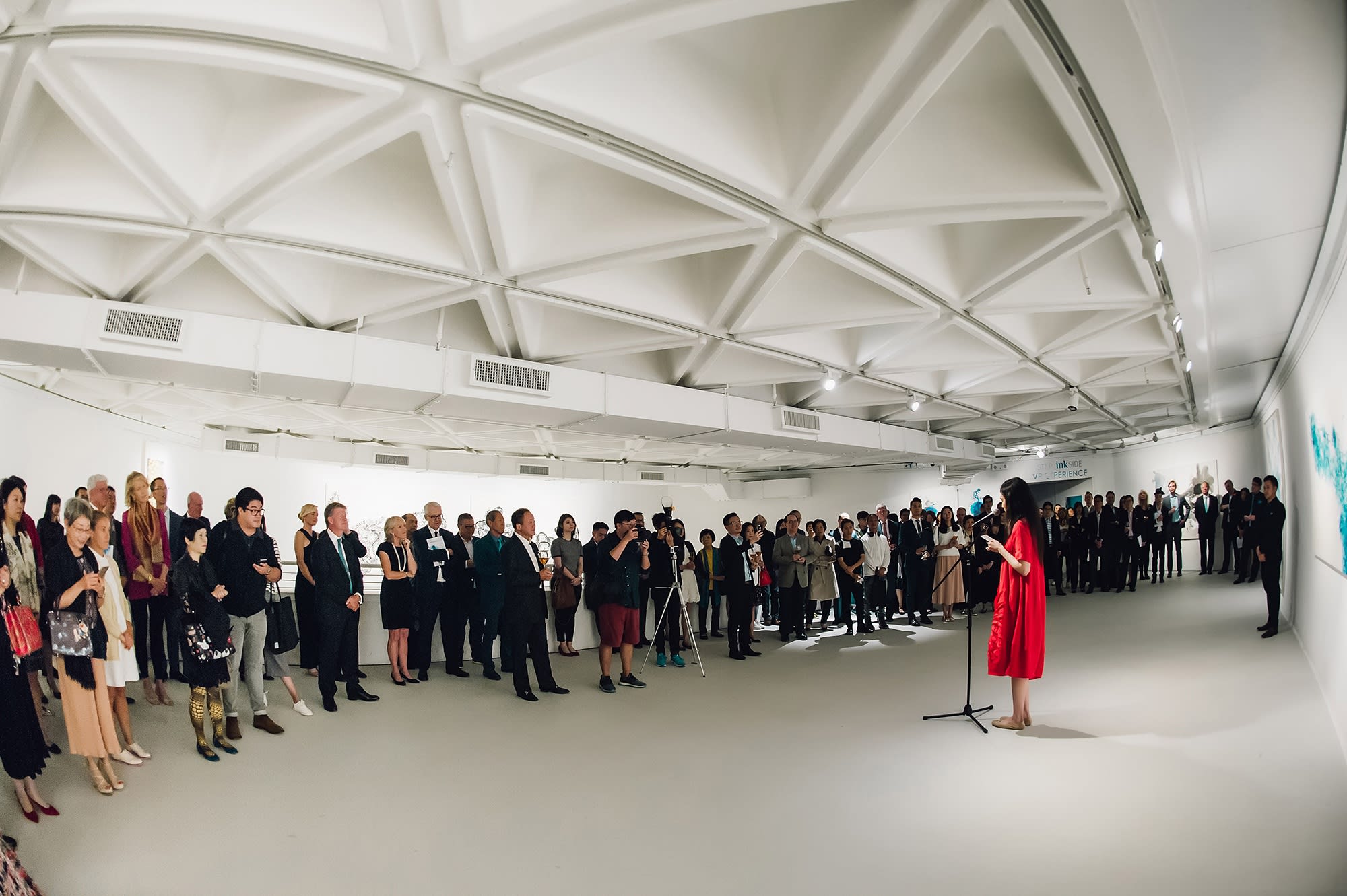 Chloe Ho: Ascendence
Pao Galleries, Hong Kong Arts Centre, 2017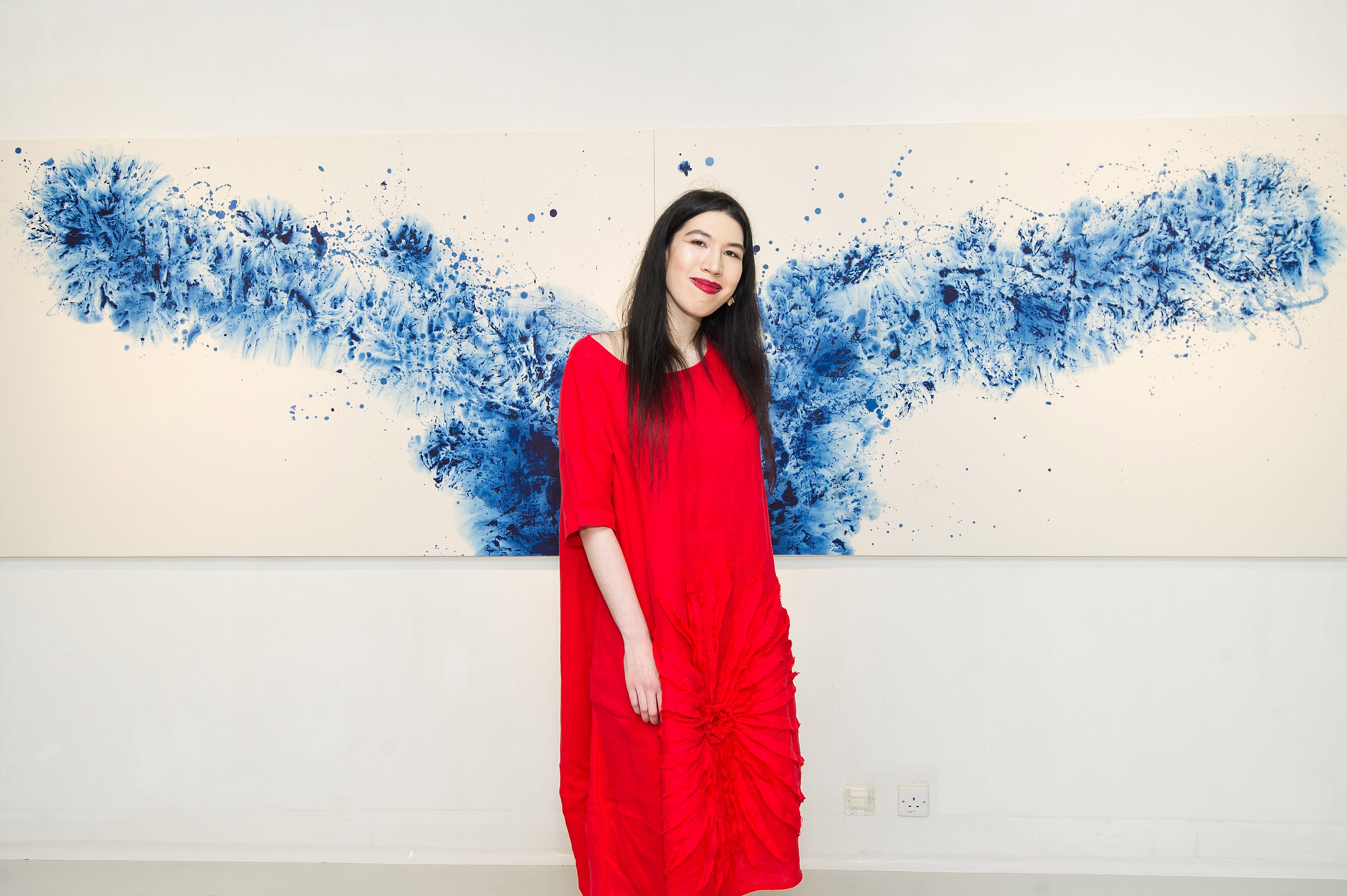 Chloe Ho: Ascendence
3812 Gallery Hong Kong, 2017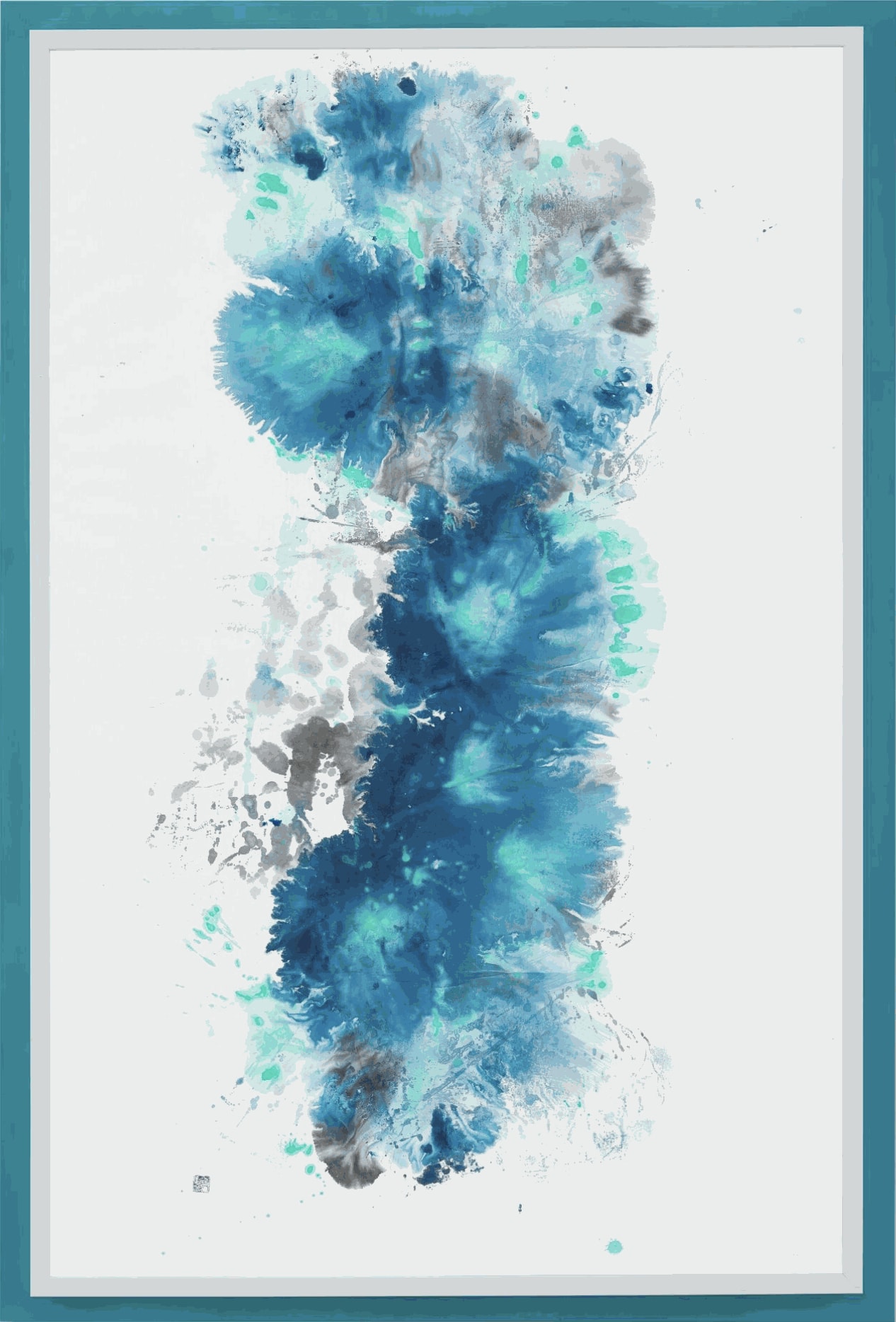 Chloe Ho, Midnight Blooms, 2019
Sotheby's Hong Kong 2020 "EYE/EAST" Sale
Sells for HK$345,000