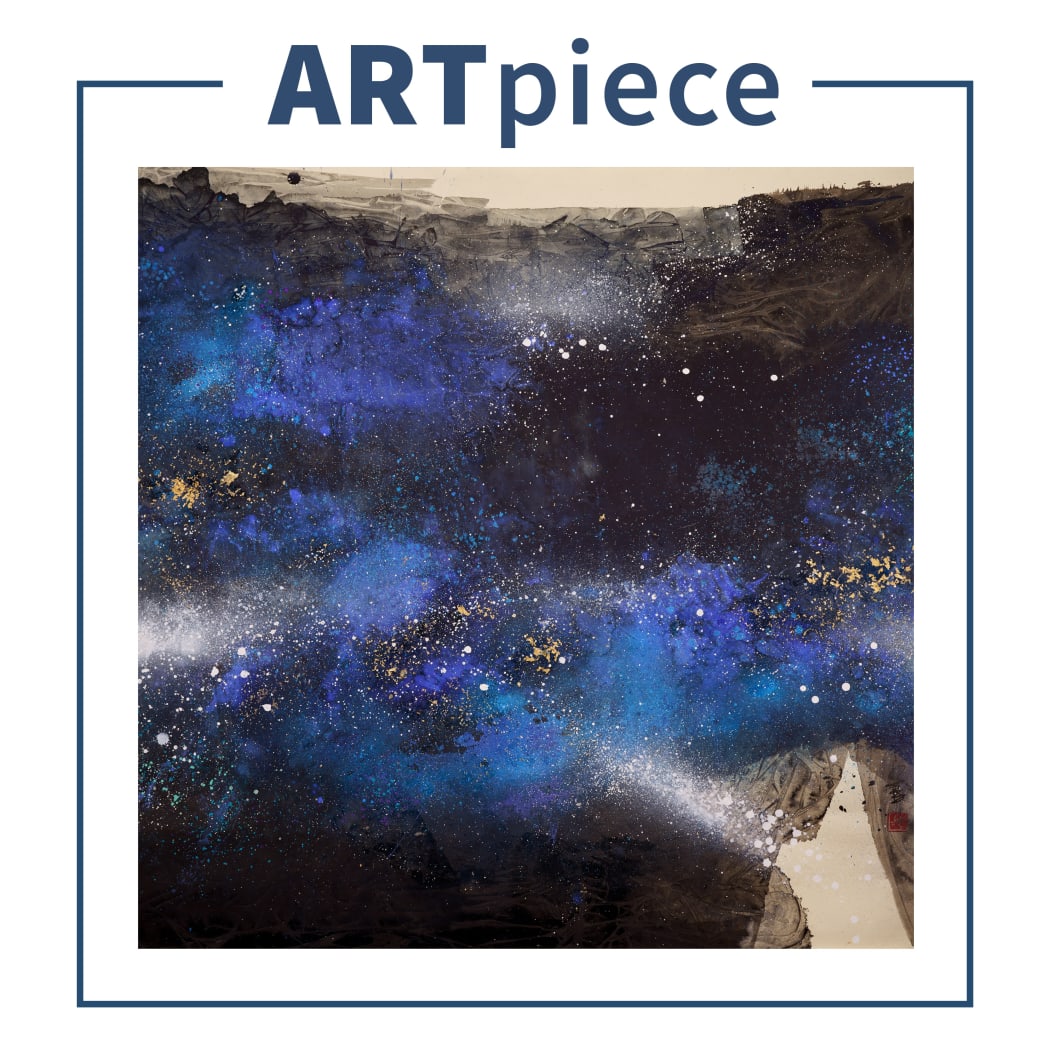 In this week's ARTpiece, we have chosen Raymond Fung's beautiful painting series Breathing, with which the artist hopes to inspire reflection and action on the climate emergency. We are delighted to give you the opportunity to read Raymond Fung's own narrative on this powerful series.
Raymond Fung, Breathing (23), Ink and colour on paper (Triptych), 2021, 90 x 270cm (total)
In this new tetraptych ink painting entitled Breathing 23, Raymond Fung uses plastic film to cover the xuan paper following application of the black and coloured ink, allowing the pigment to evaporate slowly and hence to form texture in an airtight condition. This is also a demonstration of the respiratory process of the magnificent colours. The three consecutive 90 x 90 cm squares are lined-up into a 270 cm-long horizontal format, creating a metaphysical landscape with the overlapping colours and lustres.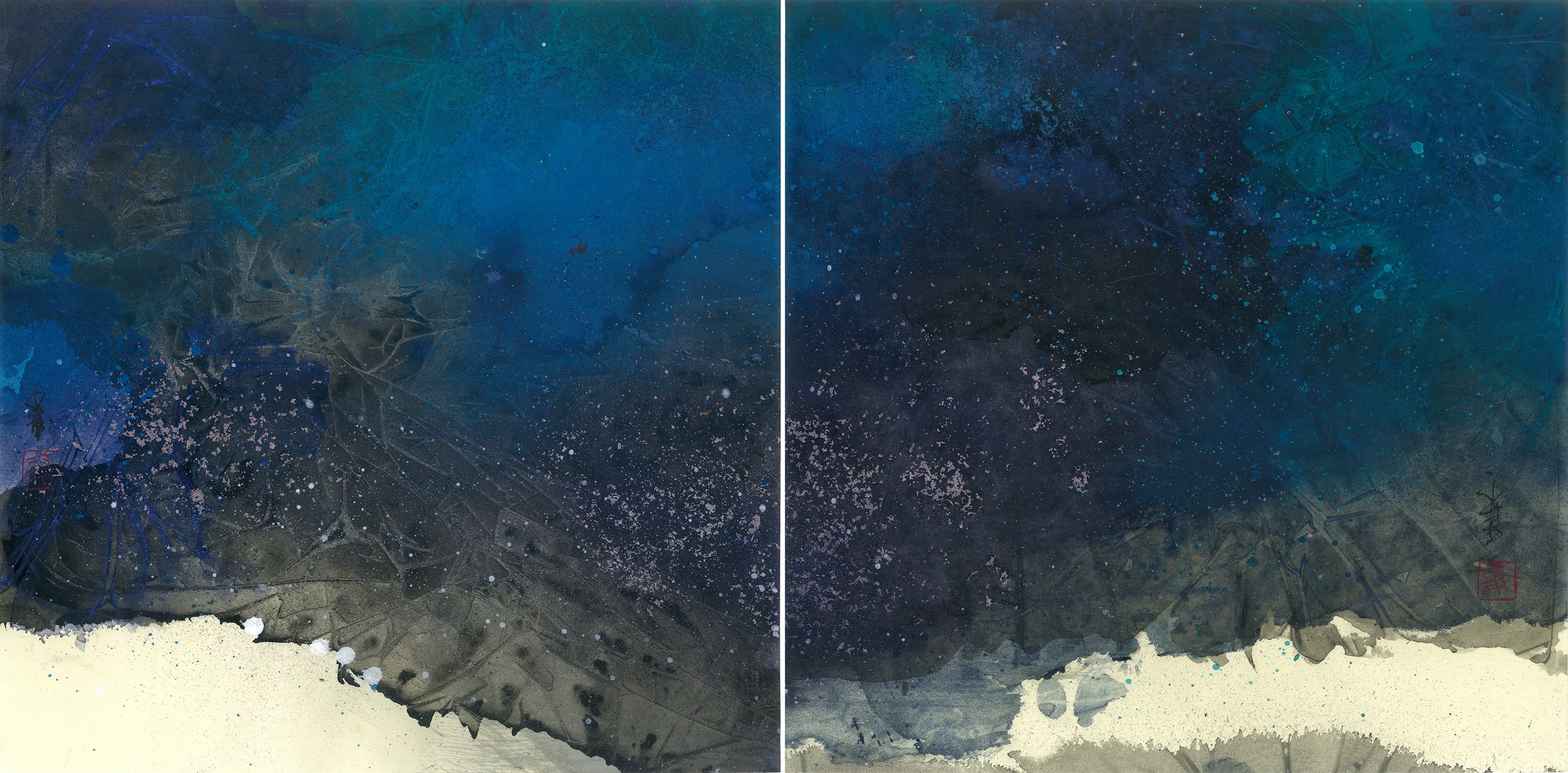 Raymond Fung, Breathing (10)(11), Ink and colour on paper, 2020, 34 x 34cm (x2)
Fung introduces this series, which was created in 2020, by first looking at the literal, scientific meaning of breathing: "the normal respiratory rate for adults is 16 breaths per minute, 23,040 breaths a day. This is an innate behaviour in humans, which requires no prior thought." As inspiration for this series, he takes the process of breathing as a metaphor for our planet's struggle in the climate emergency and for the state of humanity's health in this global pandemic caused by a virus that affects one's breathing.
Fung writes, "On Earth, the presence of sunlight, air and the coexistence of all species are inevitable laws of nature. But when humans affect the natural order, the Earth suffers, just like when we suffer from respiratory diseases and find difficulty in breathing. What's more, perhaps it is too late to realise this and to reverse the damage humans have done to our planet."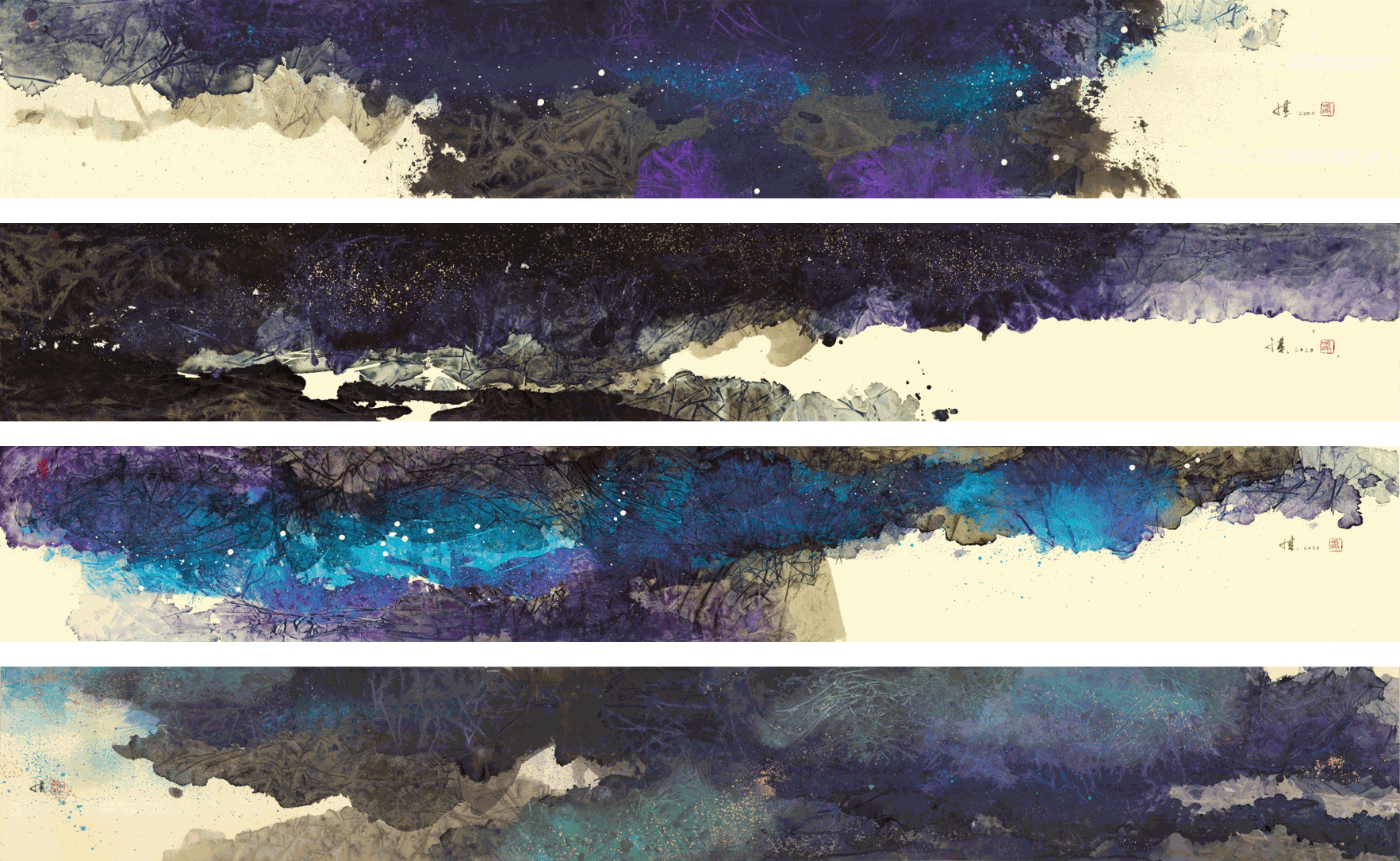 Raymond Fung, Breathing (13)(14)(15)(16), Ink and colour on paper, 2020, 26 x 180cm
The artist addresses the issue of the Earth's ecological crisis under humankind's greedy exploitation, including natural disasters due to global warming: abnormal weather, avalanches, tsunamis, earthquakes; and man-made disasters such as air pollution, marine debris, wildfires; and a global pandemic, which altogether signify the breakdown of natural order and cause suffering to the Earth. He writes "when we suffer from breathing problems today we must realise it is not inevitable, we have been warned about the disruption of normality in nature: the Earth will come to an end, just like our lives." This calls us to question what we can do now to protect the planet, to delay this inevitability, and to let the Earth breathe again.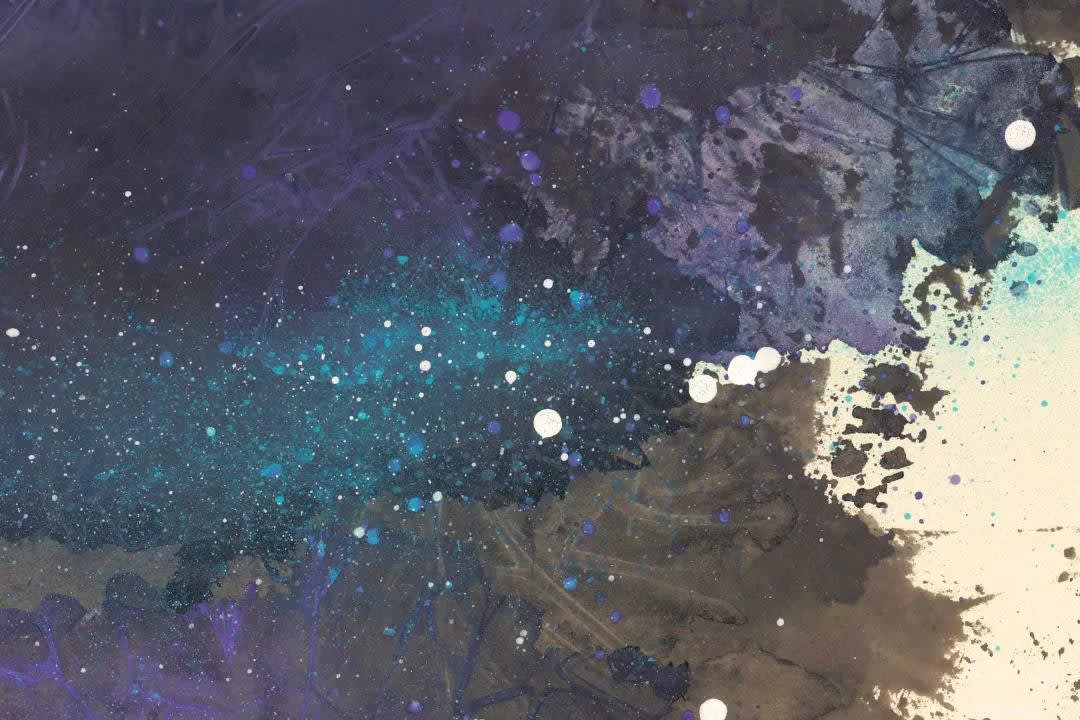 Breathing (13) (Deatil)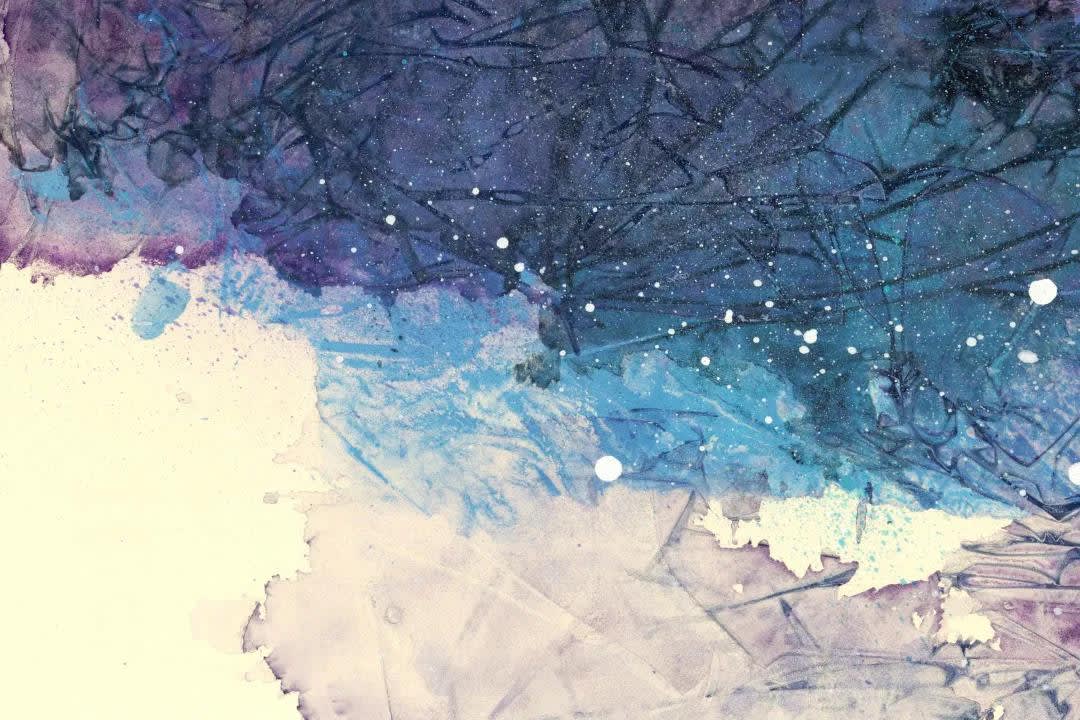 Breathing (15) (Deatil)
Professor Tang Hoi Chiu, Former Chief Curator of the Hong Kong Museum of Art, writes, "Fung's landscape painting focuses mainly on the abstract brush strokes as the contour and outline of the nature, with soft diffusing colours. He never just uses the conventional paper folds to depict the mountain lines, but with minimal dots, clusters and lines together with paper folds to form the enticing visual effect."
Fung is both a successful architect and artist, and his work in each field influences the other. As an architect, he has learned to guide the eye through carefully framed windows to the landscape beyond. In his visual art practice, he employs the same technique. The viewer is offered a window into the artist's inner landscapes. In this particular series, Fung admirably chooses to draw our attention to the most important global issue facing our generation, the climate emergency. Masterfully, the urgency of message is conveyed with an inimitable beauty of form.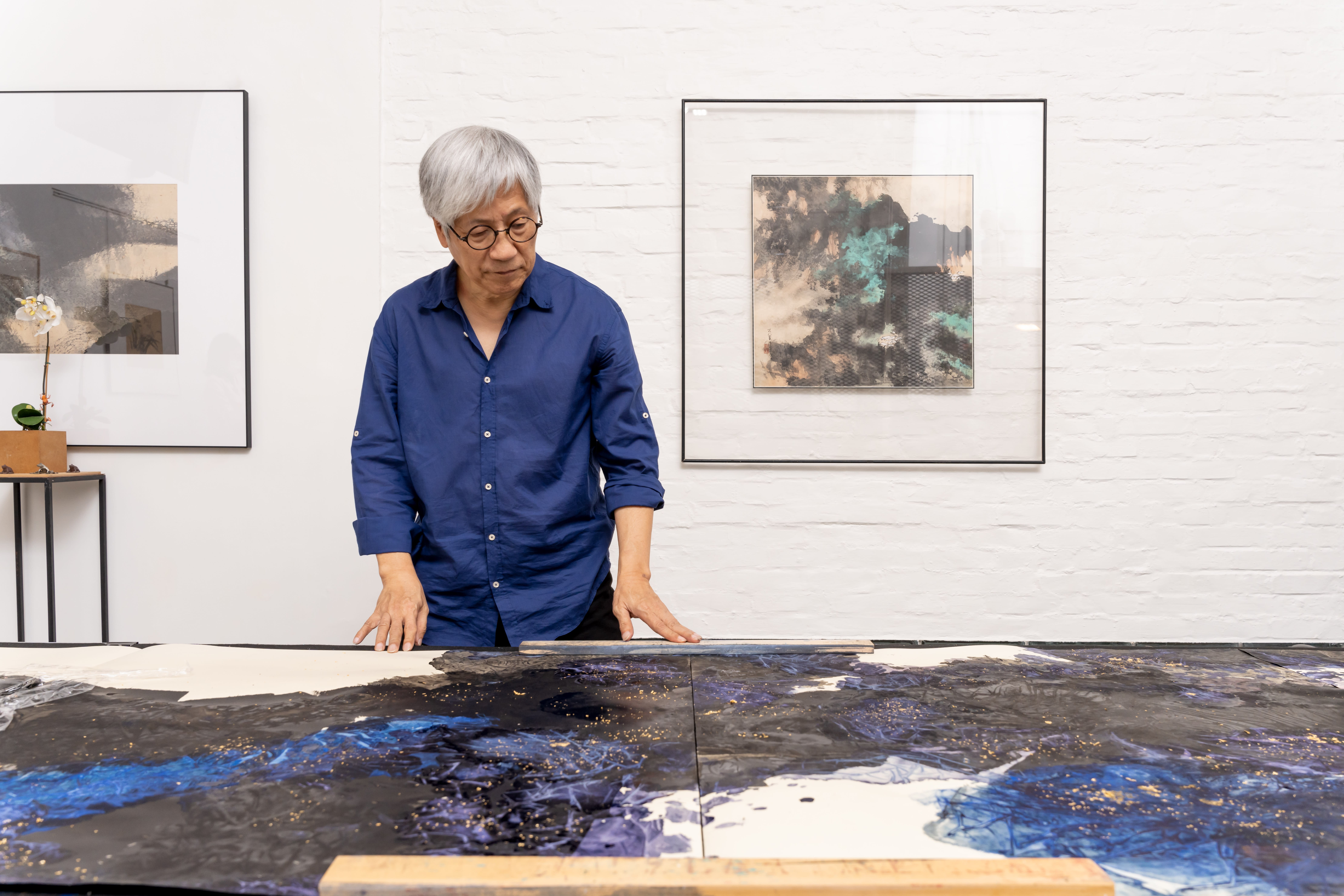 Raymond Fung in his studio
Fung's paintings deal with such matters that affect all of humanity, but they still embody an Easterness by nature of their origin. Fung writes, "an artwork tends to reflect the creator's way of thinking; Eastern paintings always precipitate the essence of traditional Eastern culture. Even more, contemporary ink paintings almost always embody the spirit of Confucianism, Buddhism and Taoism from Chinese culture with profound Chinese aesthetic elements."

Through the discussion of human beings' common sins and the tactile qualities of the work, this Hong Kong artist calls for people to protect the environment and cherish the Earth, and respect the universal values across national boundaries. And by doing so, he hopes that Eastern contemporary art can overcome the barrier between Eastern and Western culture.

Raymond Fung, Breathing (1), Ink and colour on paper (Quadriptych), 2020, 88.5 x 354cm (total)
(Breathing (1) achieved a new world auction record for the artist with HKD 1,000,000 at Sotheby's Hong Kong "Beyond Legends: Modern Art Evening Sale" in April 2021.)
Raymond Fung, Breathing (8), Ink and colour on paper, 2020, 43 x 43cm
3812 Gallery London is delighted to present the first ever solo exhibition of Raymond Fung's contemporary ink landscapes in Europe. On show will be his newest series Breathing and Life, debuting in London from 2 November to 7 January 2022. We look forward to welcoming you to our London gallery soon.