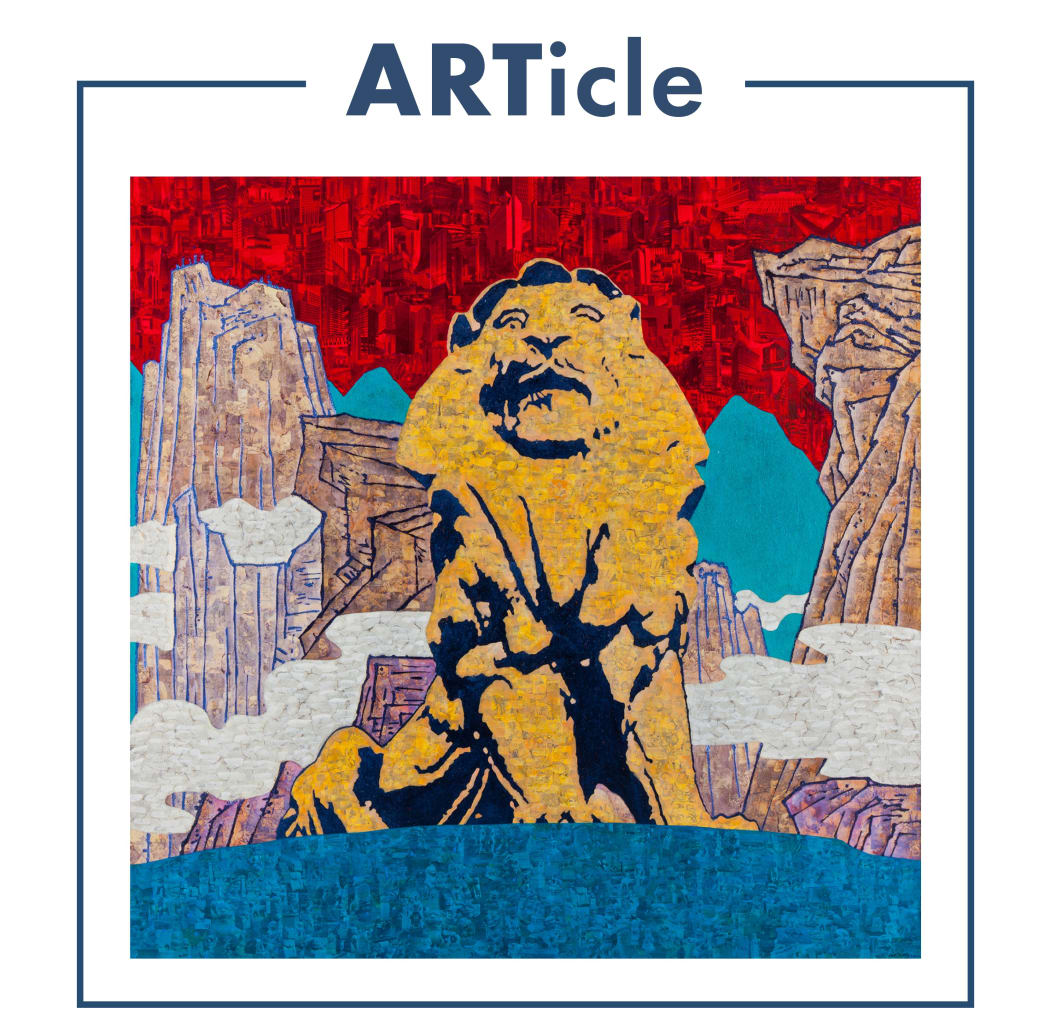 For this edition of ARTicle, we will focus on the curatorial insight of Calvin Hui, co-founder of 3812 Gallery, and the development of MGM Chairman's Collection.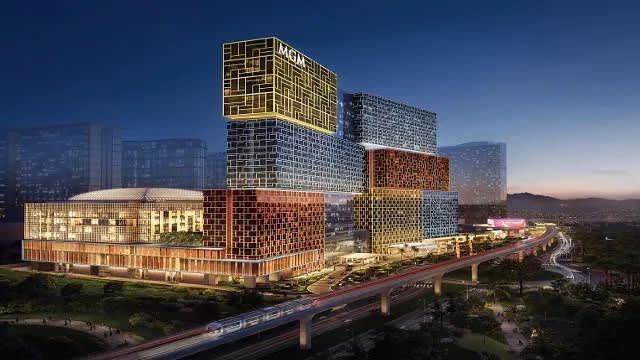 MGM Cotai
Corporate art collections can be dated back through history. Today, these collections have become driving forces for the rapid growth of the global art market. In the late 1980s, corporate collections from across the Pacific followed the trend of collecting art as a means of cultural branding. Macau's MGM China Holdings Limited, a leading figure in its industry, has long tradition in collecting art and supporting cultural development since inception in Macau. The Corporation started developing its renowned art collection in 2015, known as the Chairman's Collection. Over the past six years, this sustainable assemblage has grown from a small, bespoke collection of 10 pieces, to a collection of over 300 artworks. Looking back, the Chairman's Collection has fed MGM's corporate needs while contributing to Macau's cityscape and infrastructures with its advancing cultural and operational strategies. The man behind this is Calvin Hui, the collection's curator and long-term art consultant of MGM China. Born and raised in Hong Kong, he was faced with the challenges of curating a unique collection for the Macau-based corporation that pushes its cultural image, while balancing the need of the region as a cultural-tourism destination. Striking an equilibrium between fulfilling corporate demands and upholding professionalism, Hui's forward-thinking and ground-breaking curatorial insights for the MGM Chairman's Collection are an exemplar for curated corporate collections in the future.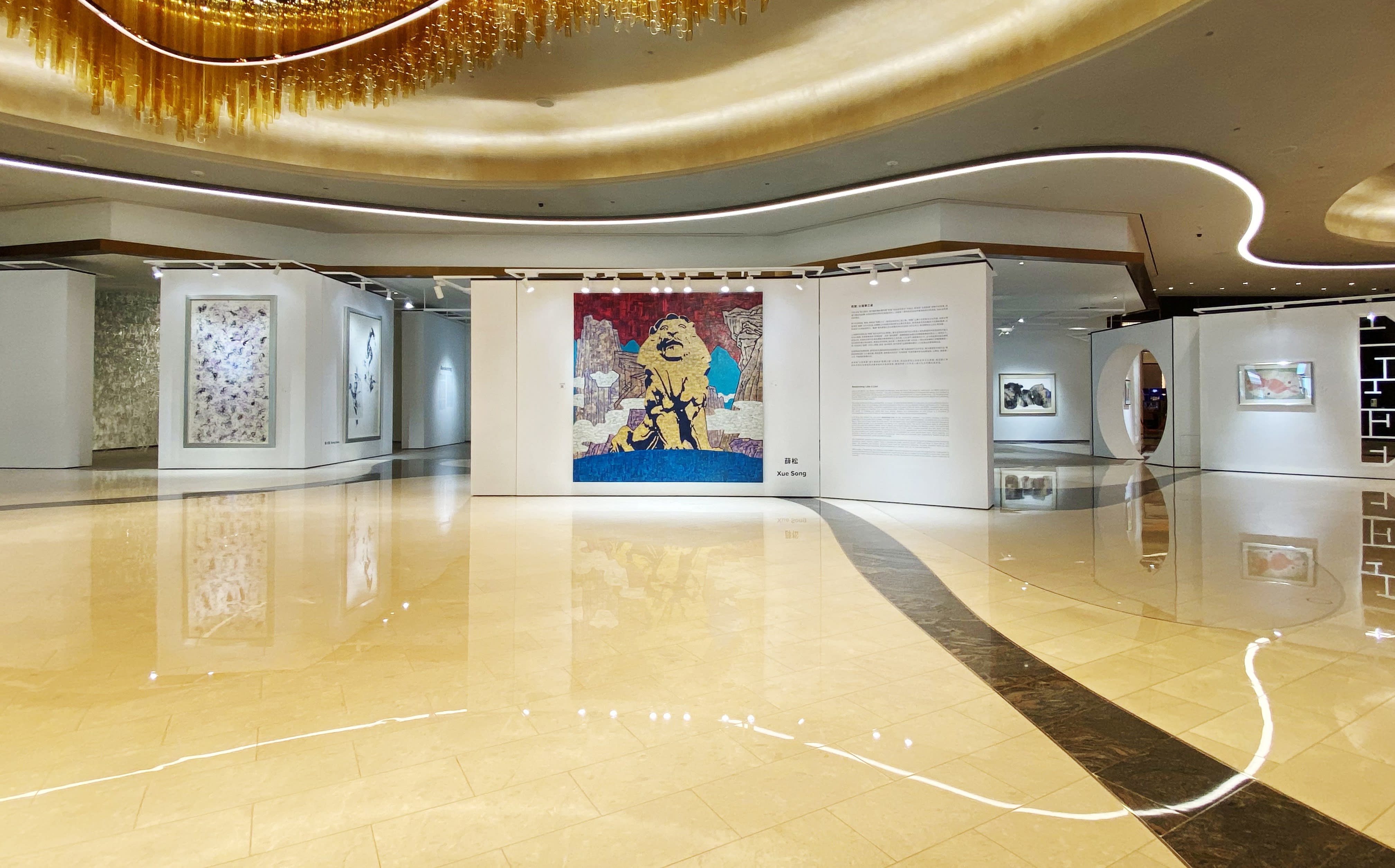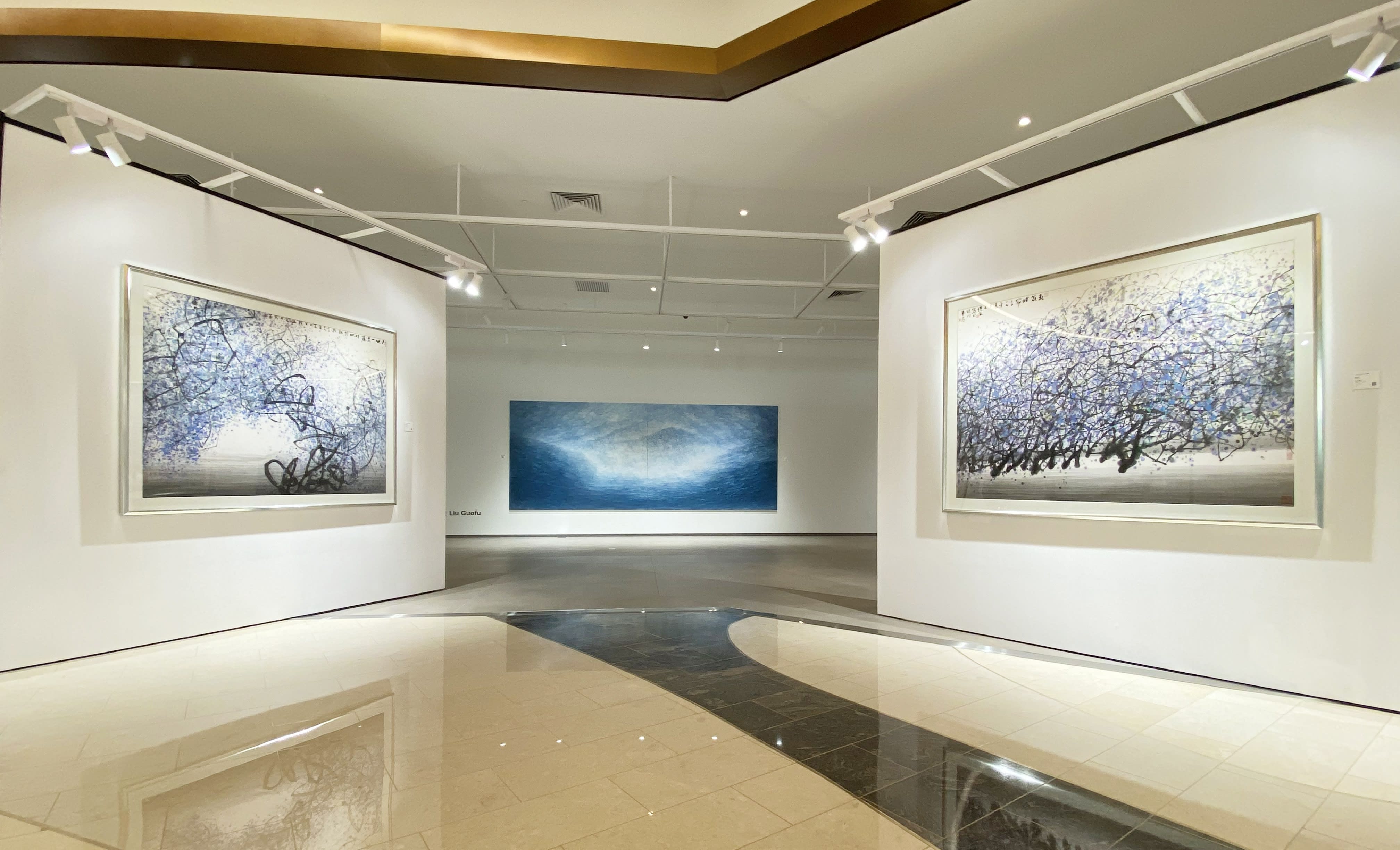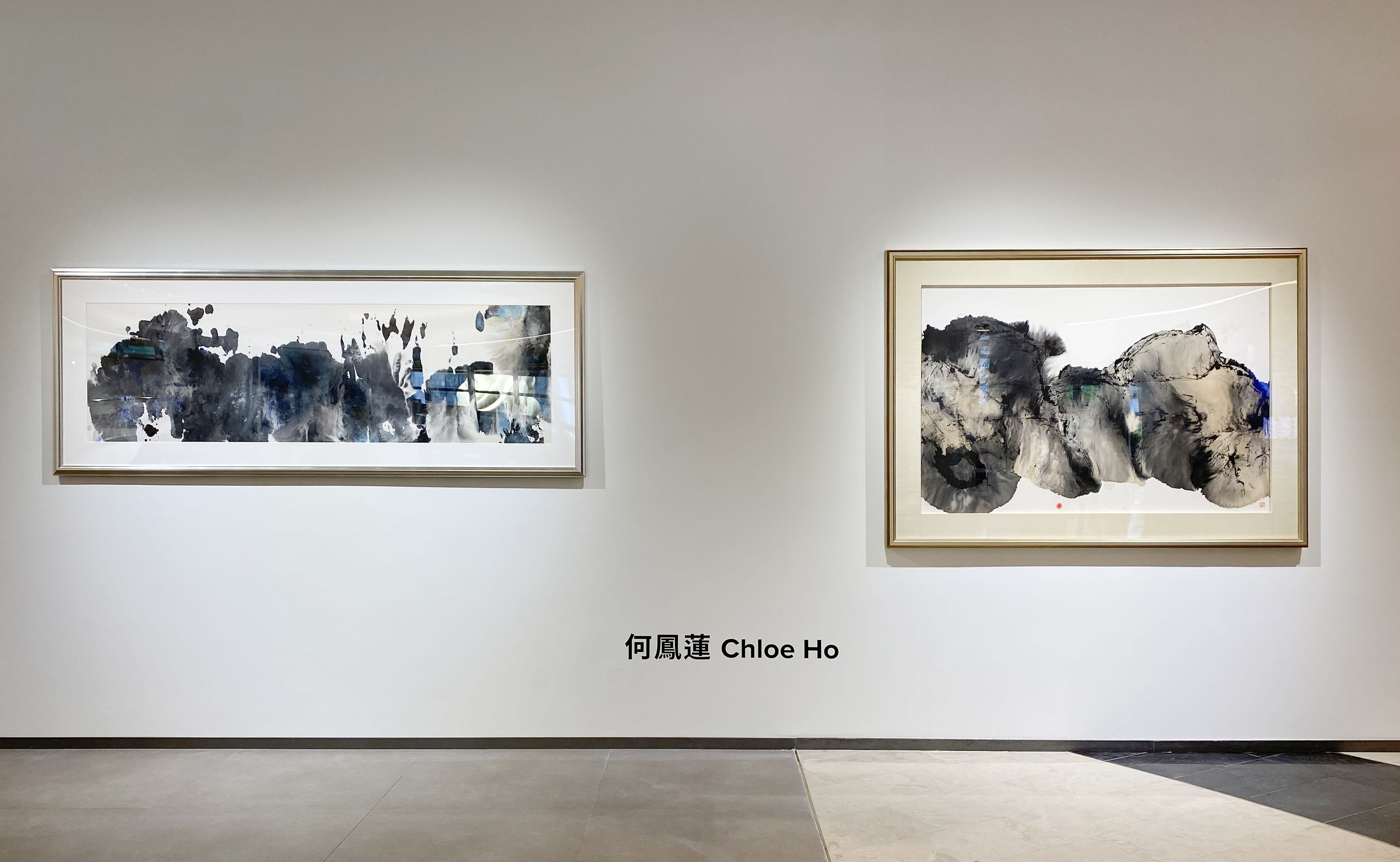 Awakening - MGM Chairman's Collection Exhibition in Lion Lobby, MGM Cotai
The Beginning: A Corporate Collection's Practical Need
To know the full story of MGM Chairman's Collection, we need to go back to 2015, when MGM Cotai was still in development. Pansy Ho, Co-Chairperson and Executive Director of MGM China Holdings Limited, was seeking an expert in art to help plan and launch the collection. Hui, then the Co-Chairman of Ink Asia and founder of INK NOW was a recognised cultural entrepreneur, curator and collector active in Hong Kong and London, dedicated to advocating Chinese culture through contemporary art, especially ink. Sharing his vision with Ho, she named him as the curator and person in charge of the Chairman's Collection. "It was destiny. I was very busy in these years but I was lucky I could share my vision through various platforms and bring new insights on contemporary art. I did this through encouraging public participation and advocating art with "Eastern origin and contemporary expression", said Hui, looking back at his partnership with Ho.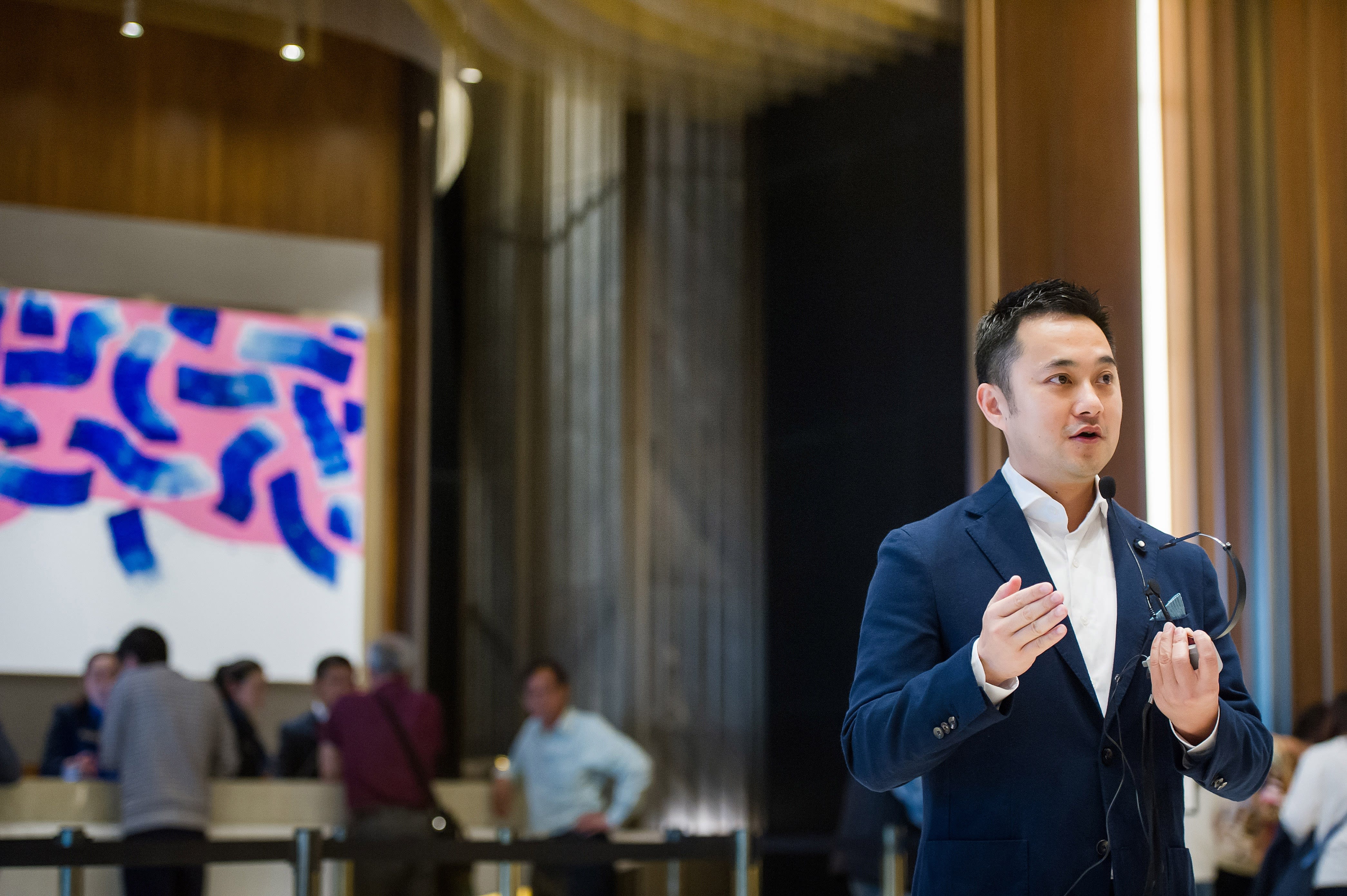 Calvin Hui at the Grand Opening of MGM Chairman's Collection at MGM Cotai in 2018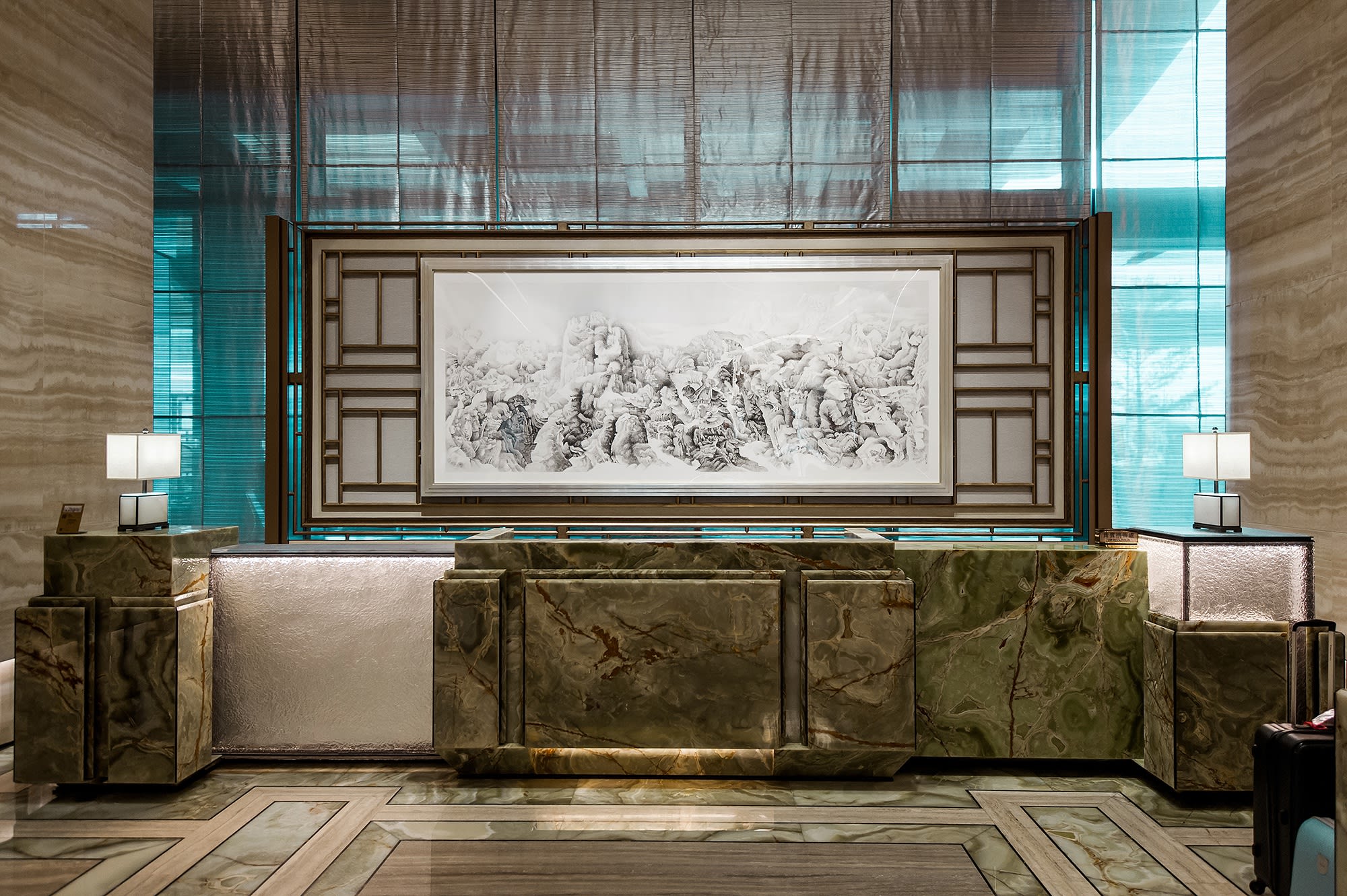 Liu Dan, Contraction and Extension of the Twilight, MGM Chairman's Collection
The MGM Chairman's Collection was initiated to provide the open space in MGM Cotai with ten artworks. In 2016, Pansy Ho decided to expand the collection and, again, appointed Calvin Hui as lead curator. As the corporation's luxury resort and hotel project's, MGM Cotai and The Maison opened in 2018 and 2019 respectively, the collection exponentially grew to include some of the classics in the contemporary Chinese art scene. From antique rugs, contemporary and modern paintings and sculptures to installations, the collection holds over 300 works to date that can be found all over its hotels and luxury resorts that elevate the interior aesthetic. More so, MGM made use of its influence to bring Eastern art onto the international stage. According to Hui, "it is important corporations like MGM make use of their international exposure and share not only with the Macanese, but also the world, what great contemporary Eastern art we have via cultural tourism. Corporate art collections are today so much more than holding exhibitions. I want to encourage a conversation on the development and growing importance of Chinese contemporary art, and its culture in the international community, especially the relationship between the public and industry stakeholders, thus invigorating the practice of art collecting in the contemporary environment".
Cultural Awareness: Branding With A Change of Vision
Calvin Hui is frequently referred to as "Curator" and "Art Consultant" of the MGM Chairman's Collection in news and articles since its launch. But this hasn't restricted him from pushing the collection even further.
The development of the MGM Chairman's Collection can be broken down into three stages: from 2015 to 2017 when it served MGM Cotai; 2018 to 2019 when it began holding more works as a collection in conjunction with the launch of The Maison; and from 2020 to date, launching its first exhibition, 'Awakening', to encourage public participation.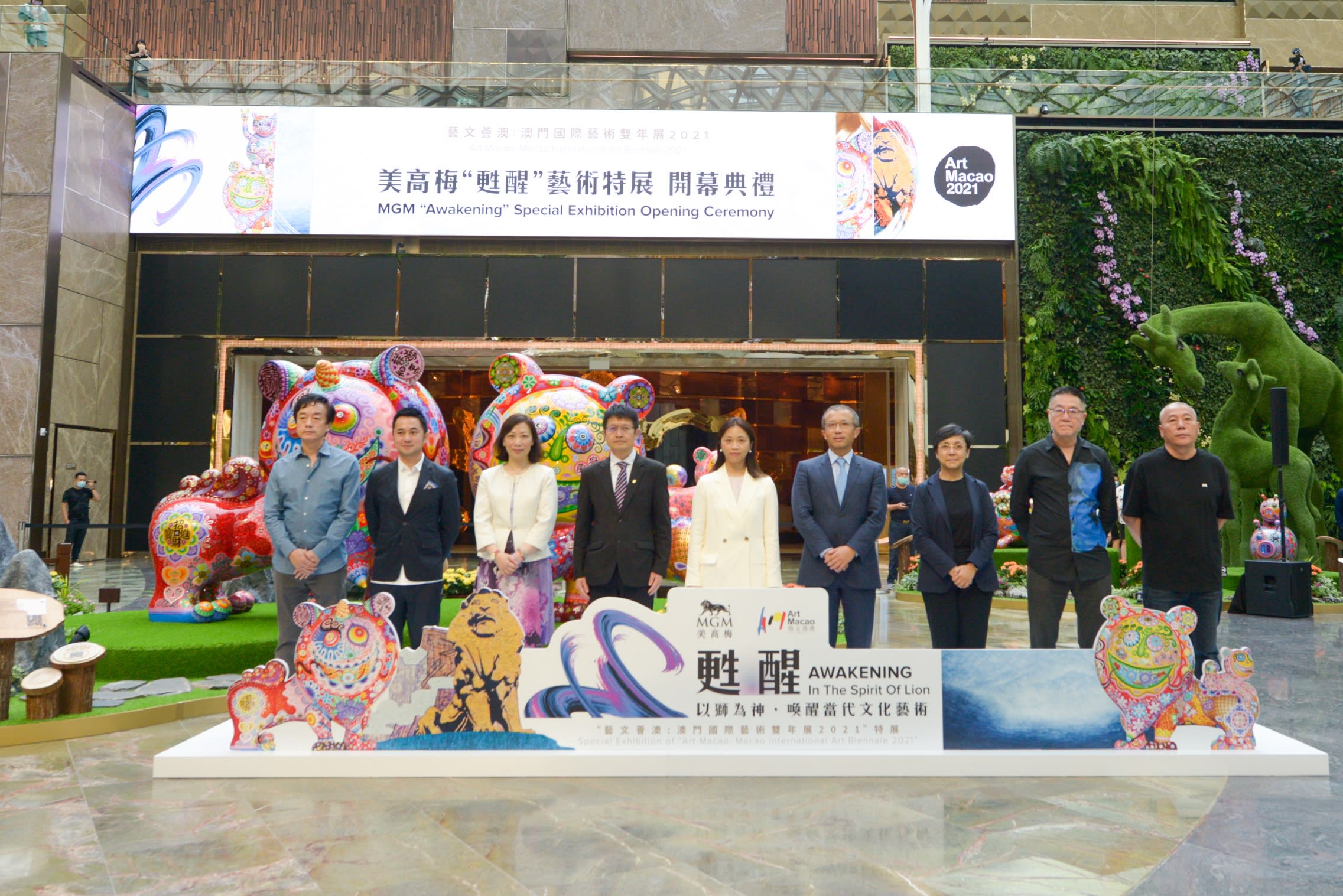 Awakening - MGM Chairman's Collection Exhibition opening ceremony
The collection served as more than décor for the corporation's hotels and saw itself pivotal to MGM and corporate art collections at its early stages. Hui defined the progression as a "journey". Pansy Ho brought her vision of bringing extraordinary experience immersing art, culture and tourism for Macau. Hui adapts the corporate vision, positions the collection marking MGM as Macau's cultural tourism destination, and a bridge to a future that offers exceptional interactive visual experiences to the public. At the same time as looking forward, its roots are inspired by the silk road, dating back to the Song dynasty, that connected East with West. In awe of the rich Chinese culture and history, Marco Polo brought home cultures from the East, shattering the West's orientalist misconceptions. This inspired the curator of the MGM Chairman's Collection, advocating collecting art and promoting art events with "Chinese culture as the mainstream while diverse cultures coexist".
This year, the public have been able to share artworks in 'Awakening' - MGM Chairman's Collection exhibition and learn more about contemporary Chinese art at the Greater Bay Area Art Symposium - Contemporary Dialogues of Chinese Culture Awakening. Dancing Lion (or Awakening Lion), a metaphor for Chinese culture awakening in Lingnan culture and an echo to MGM's emblem, the lion, is Hui's main theme for these two major events. Artists Liu Guofu, Xue Song and Hong Yi were commissioned to create new works for the exhibition with 'Awakening' as their theme, channeling MGM China Holdings Limited regard and gratitude for her mother country.
And what is next for MGM? For Hui, it is to enrich the cultural diversity of the contemporary art scene with an Eastern aesthetic and perspective, and to develop local cultures that complement a contemporary sense of expression. Holding the Chairman's Collection's first public exhibition and the art symposium in 2021 set the cornerstone for it. "Awakening Lion" echoes the Chinese culture awakening, including its philosophies, civilisation and arts, and the development of humanity in the post-pandemic world.
Walking through the three stages of the corporate collection's development, one can see the close-knit relationship between it and modern society. Via exhibitions and symposiums that responds and welcomes a diverse society.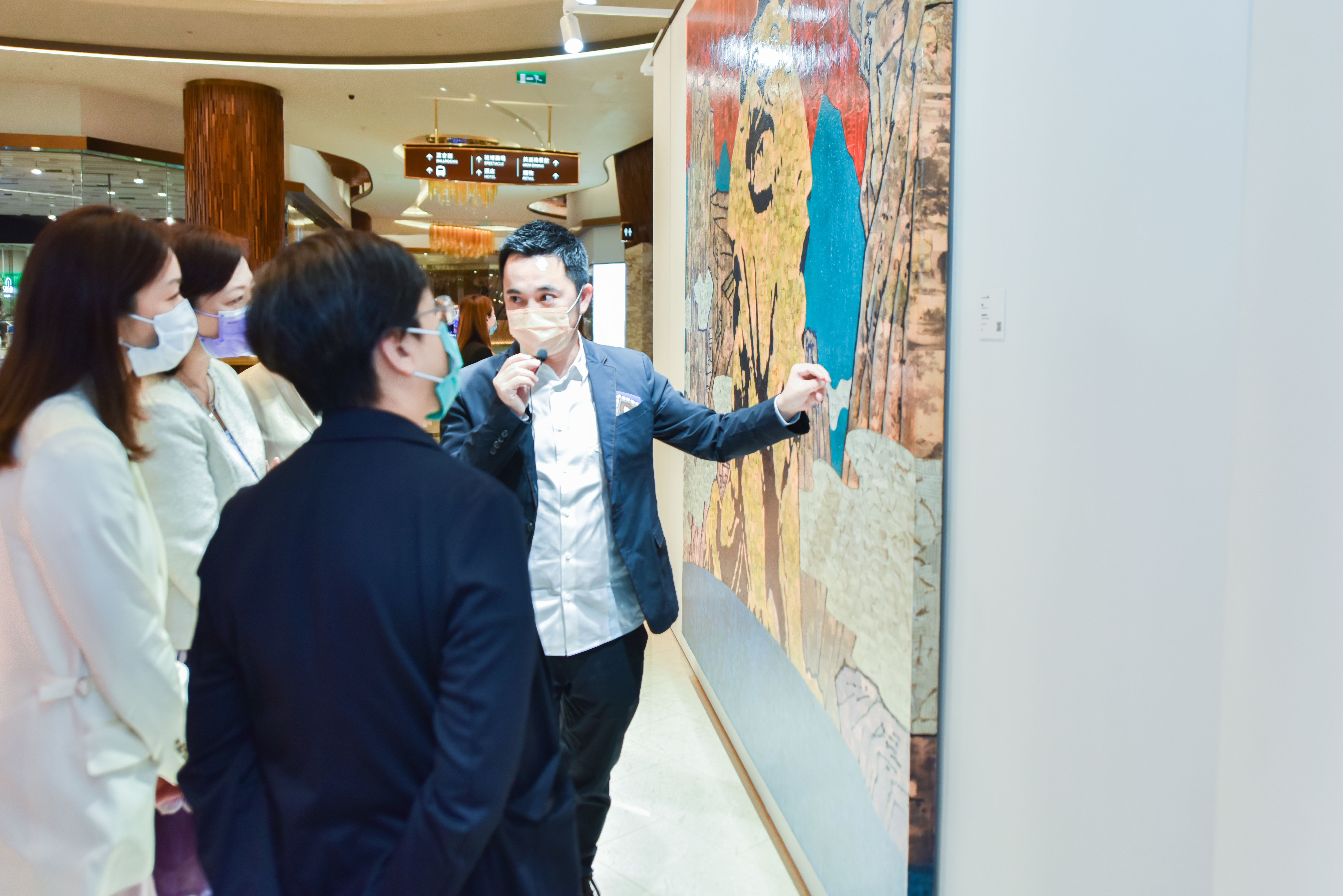 Calvin Hui giving a guided tour at the lion lobby, MGM Cotai
Adapting To The Globalised World: "An Architect Of Cultural Capital"
Calvin Hui proposed MGM to build a collection with works by Chinese artists of the 20th century, many of whom fled to Europe and America due to social unrest. This experience had offered their works a new multicultural depth and a blend of Eastern- and Western-inspired styles that was unique to the artists. The curator aspired to enrich the collection with academic depth, in hopes of building an art collection of "Eastern origin with contemporary expression". Hui sees collecting art as a modern way of investment as the artworks are a testament to history. "These works represented the growth of the artists and the development of contemporary Chinese art. I take not only the cultural and historical value of art into account, but also art as cultural capital as it is what a corporation sees crucial to the future and its development", states Hui. The "art" in handling a corporate collection lies within balancing artistic and commercial considerations. Seeing himself as an "architect of cultural capital", Hui also sees art as a resource that invigorates the corporation that owns them and benefits from research-based exhibitions and the academic-inspired cultural tourism experience they bring. In this sense, not only does the industry profit from cultural tourism business, the audience also gets to benefit from the cultural assets shared by the world. This is an example of collections giving equal weighting to the core values of promoting art and optimising economic efficiency.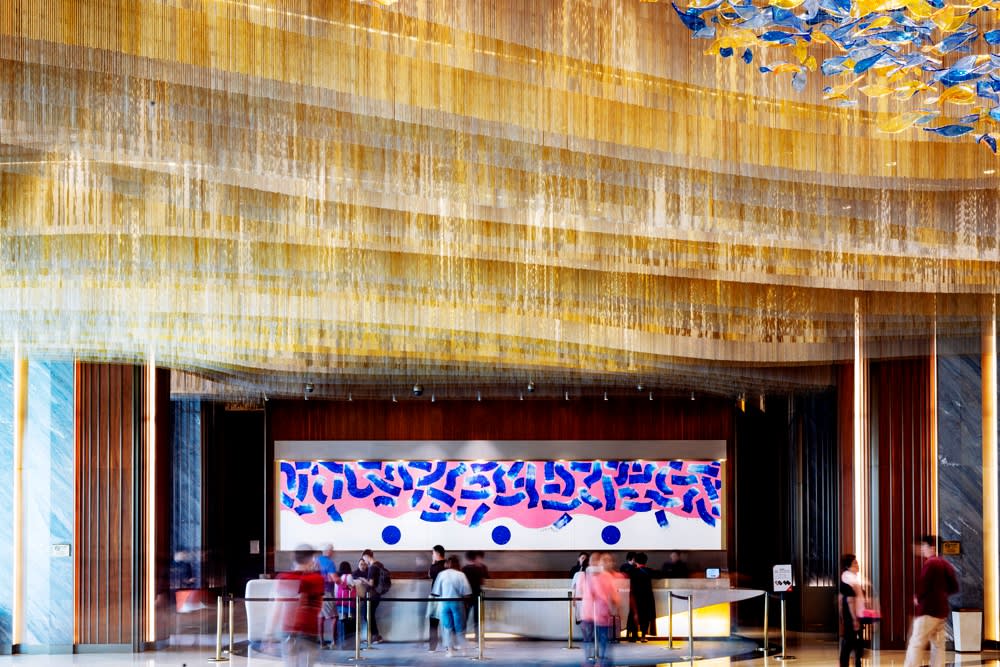 Hsiao Chin, Dancing Light 2016, Acrylic on canvas, 2016, 160 x 900cm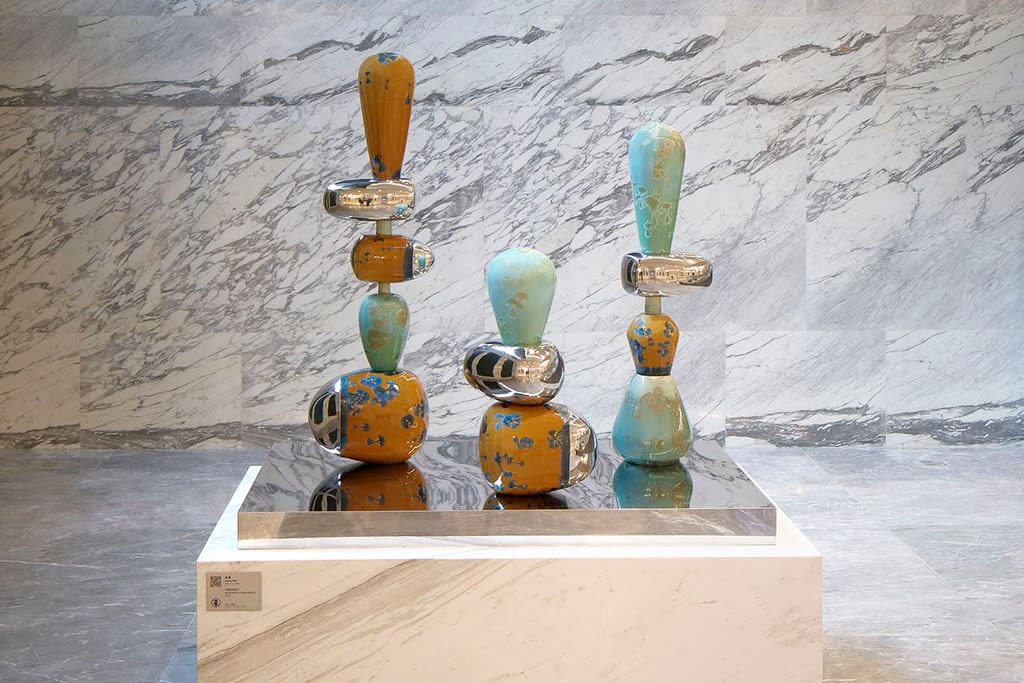 Li Hongwei, Allegory of Balance #1, MGM Chairman's Collection
MGM Chairman's Collection also commissions artists to create art that is tailored to its given space. Calvin Hui sees the interior MGM could provide as a space that conjoins art and details of everyday life in a historical context, in order to optimise visual amusement and user's experience. From the texture of walls, their heights and surroundings, artists took every detail into consideration before putting their ideas into works with reference to enquiries from the collector. "Of course, the freedom of artists' creation of their art would not be restricted by commercial considerations. For instance, when we commissioned the modern master Hsiao Chin to create for the Chairman's Collection, my requirement was as simple as to recreate his Dancing Light series", says the curator. The artist eventually graced the collection with Dancing Light 2016, a brainchild of Hsiao that blends Western aesthetics with philosophical ideas of the East.
Apart from the aforementioned, local customs and beliefs of Macau are also taken into consideration, such as Feng Shui, a Chinese geomancy that is believed by many to have blessed the city with a celestial power. Hui emphasised that communicating with Feng Shui master is, as well, part of his duty. "It is a must to liaise with the Feng Shui master, especially so when it comes to the medium and shape of the sculptures that are to be exhibited. They have to be in cooperation with the space that holds them according to the laws of Feng Shui. We had to give up works that did not tick all the boxes." Transforming a public space into an enormous exhibition centre, Hui brings art to Macau's commercial and cultural scene. He continued to elaborate on the operational relationship between an art collection and the space that hosts it, "it is not about my vision for art and how I, as an individual, conceive art. It is about communicating with the exhibition space the art is given. I observe what the space lacks and fill in the blanks with artworks that complete it. It is through the contemplation of space that a curator sustains his/ her collection."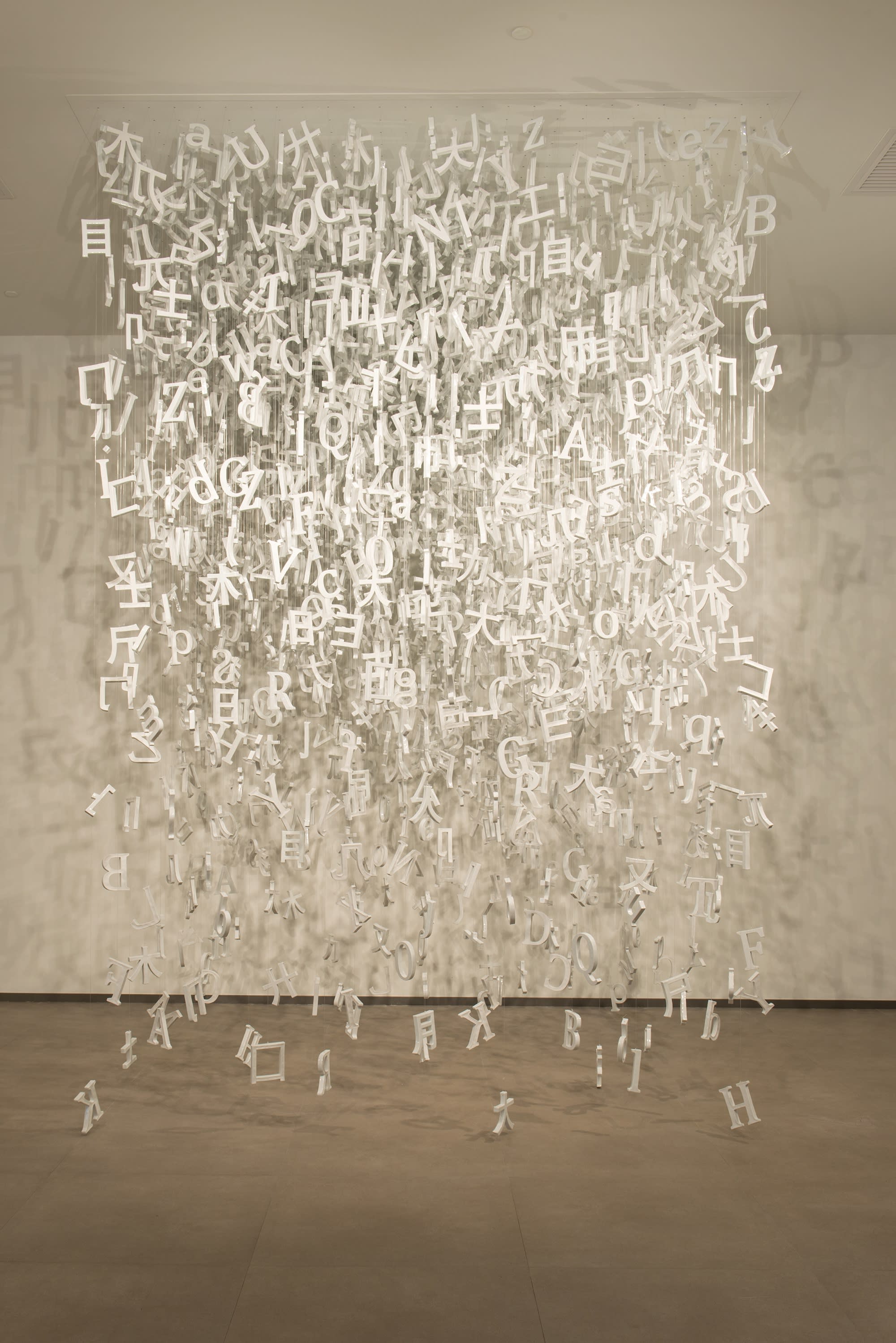 Liu Jianhua, Collected Letters, Ceramic installation, 2016, Variable Size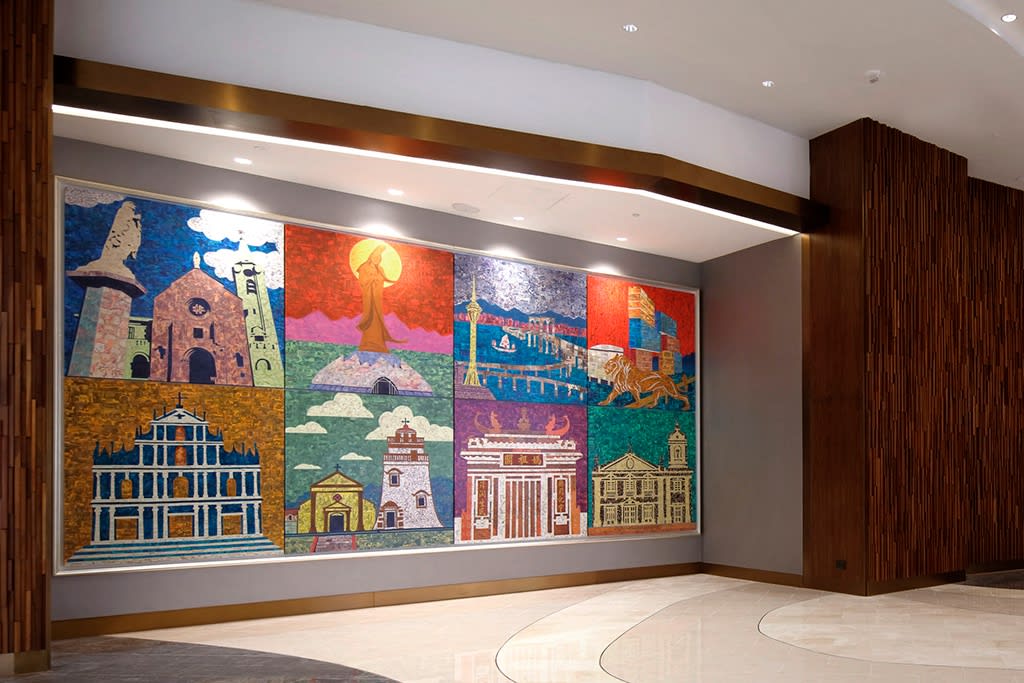 Xue Song, Eight Views of Macau, MGM Chairman's Collection
Stretching Towards The Future: Vision For The City And The Construct Of Its Ecosystem
Macau, China's southern gate, the door to the Pearl River Delta from the westside and a town of strategic importance along the silk road, has long been irreplaceable thanks to its geographic advantage. Today, the city plays an important role in the Greater Bay Area, part of a rising of Chinese economy and culture with its unparalleled influence. Macau is at the forefront of driving the nation's cultural development and opens up new opportunities in its economic and cultural fields. Corporations like MGM China will continue to be the building blocks of Macau's development. A gateway that bridges China and the rest of the world, Macau stays true to its Chinese roots while absorbing the essence of other cultures. Globalisation further facilitates cultural exchange and allows Macau to connect China with the world, offering the Chairman's Collection curatorial depth via its diverse themes and frequent partnerships with other institutions, artists and collectors.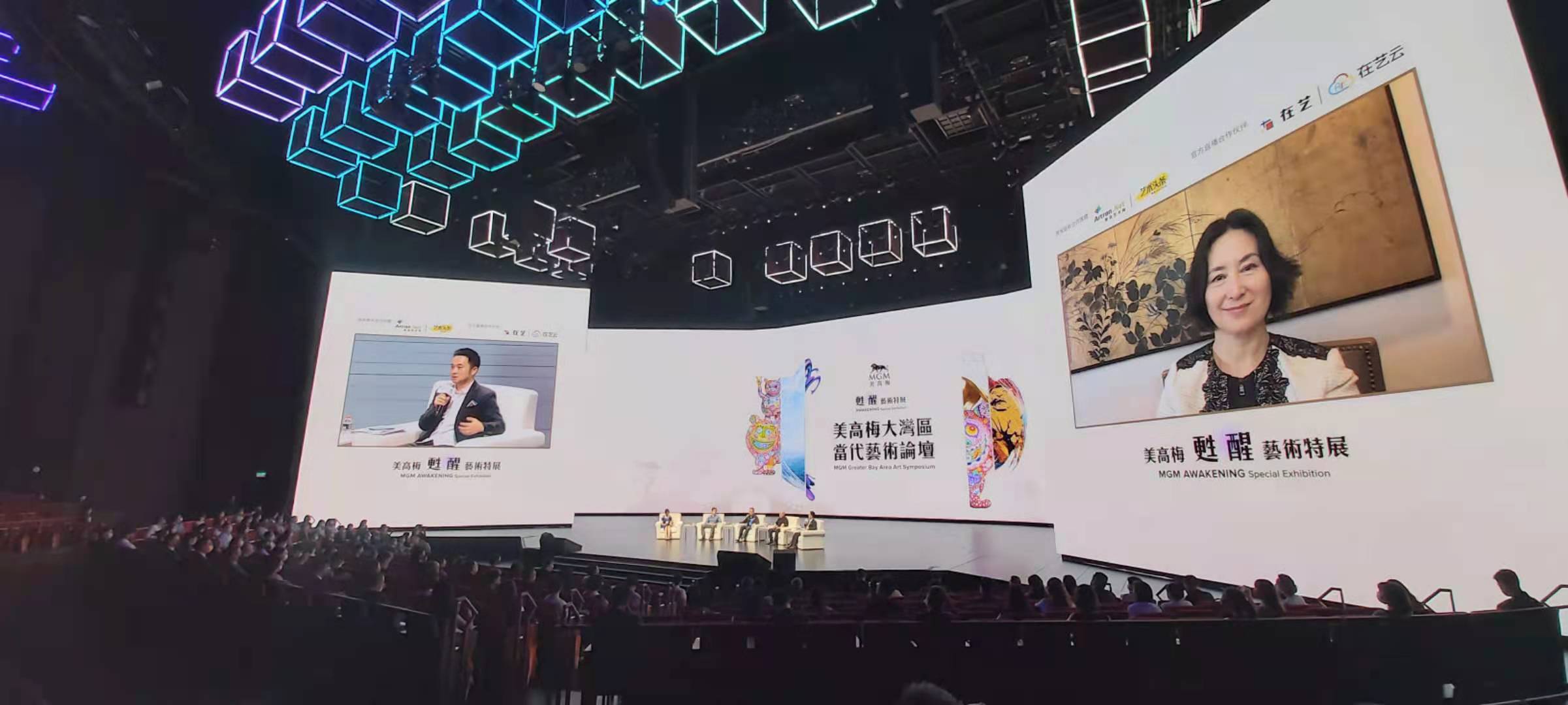 Pansy Ho, Calvin Hui, Wang Huangsheng, Liu Guofu, Xue Song and Xiao Ge at Awakening - MGM Greater Bay Area Art Symposium
Given the topographical advantage of Macau, Hui's curation is both a response to the local community and an entrance into the international art world. The collection keeps up with the local market trends, whilst impressing the world with first-class collectibles that reflect the rising soft power of the city. Over the past six years, the audience has seen multiple events held by MGM Chairman's Collection with 'Awakening' as a retrospective exhibition. Hui sees the collection's future in exhibitions, public educational activities, workshops and collaborations between institutes and other corporations, with a vision of bringing art into the public's eye. "MGM Cotai has its own venues and theatres for public entertainment, which is perfect for building the Chairman's Collection. Through collaborating with institutes, artists, scholars and the press, the collection is more than capable of launching its own campaigns with the backing of the group". He also proposed running the collection with the concept of a self-sufficient eco-chain. The idea is to hold annual exhibitions using MGM's exposure to support rising artists, in which MGM could acquire works from these events to constantly refresh and build its collection. Joining tourism and the creative industry, this collection aspires to serve as a common ground where the different industries of Macau can communicate. An advocate for the sustainable development and interaction of space, art creation and social resources, the Chairman's Collection is a cross-industry collaboration that grows to lead not only local, but also Chinese art, to a global audience.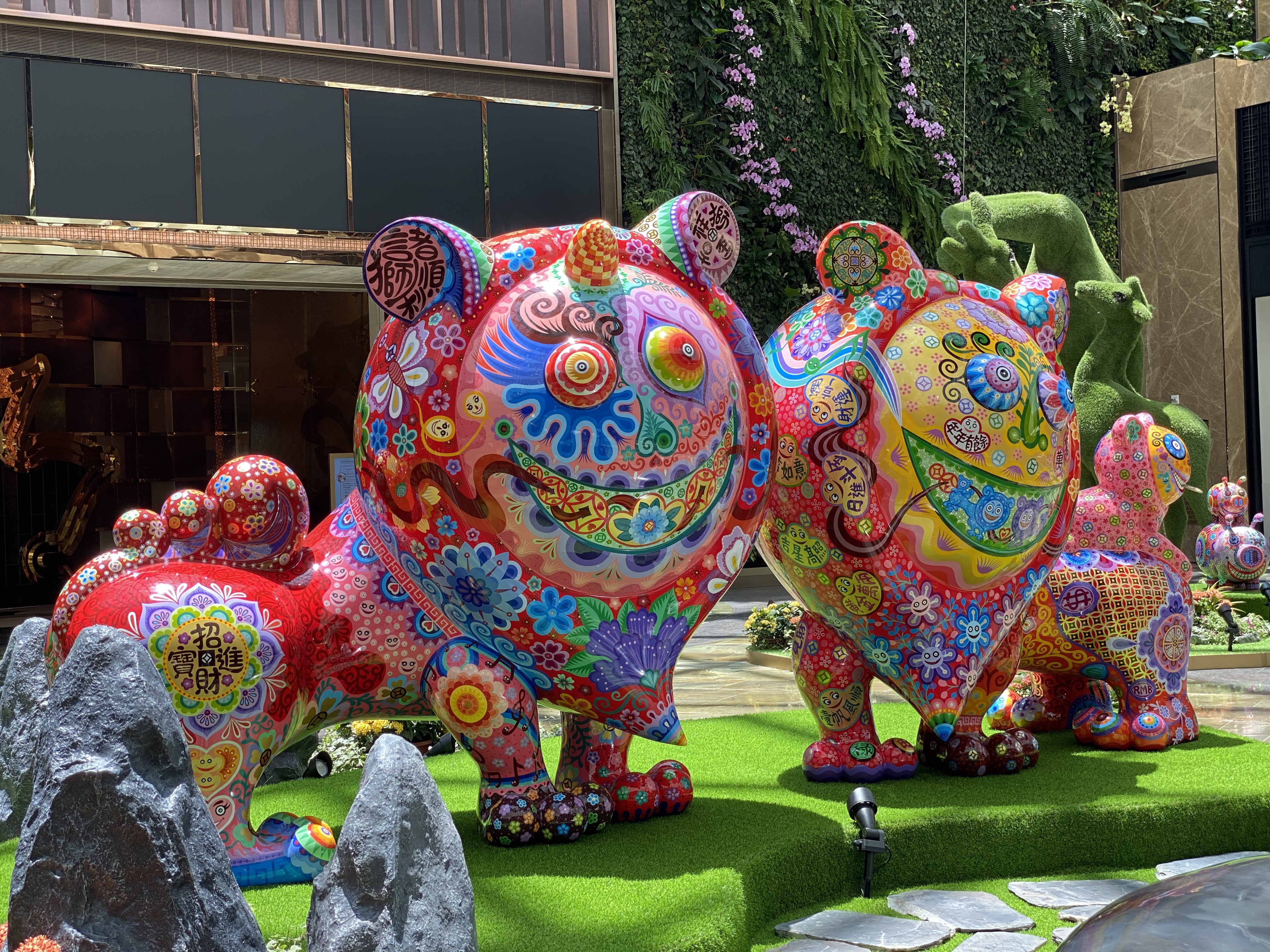 Hung Yi, Mr. Lion & Mrs. Lion, Baked enamel on steel plate, 2021