For this edition of ARTpiece we will explore the works of renowned British artist Francis Davison and Chinese contemporary artist Yu Yang. Their most iconic artworks are on view now at our 10th anniversary exhibition After Nature part II.
"In 1983, Damien Hirst saw an exhibition at the Hayward Gallery of the collages of Francis Davison which 'blew him away'. He spent the next two years trying to emulate them, in vain. As he discovered, although Davison's works might look casually thrown together, they are in fact immaculately crafted orchestrations of colour, shape and tone." ——Julian Spalding, museum director, curator and author of the award-winning book The Art of Seeing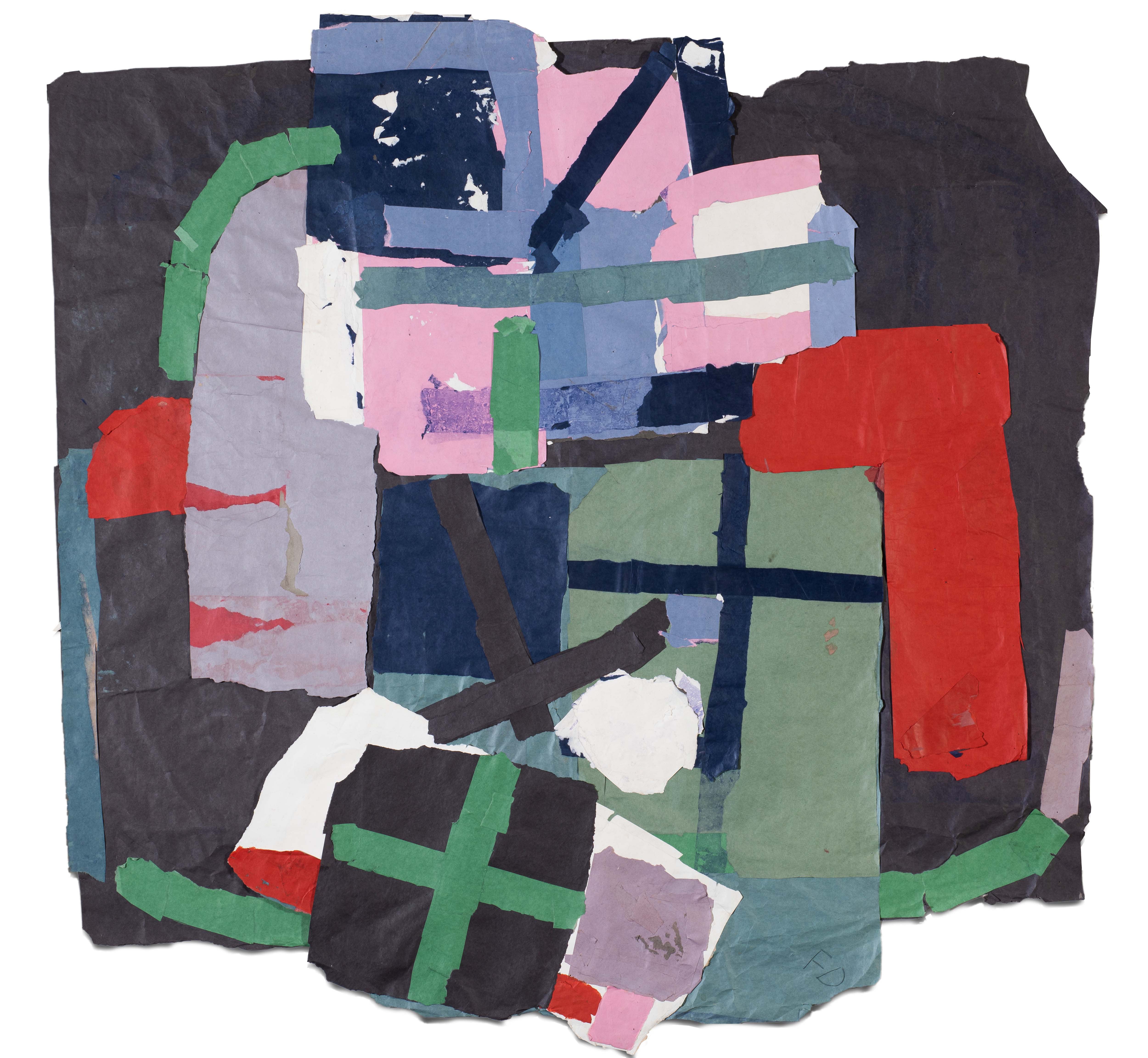 Francis Davison, Navy, Red Blue Pink Green, circa 1970s
Collage, 120 x 118cm
Although born and living thousands of miles apart, they focused on exploring the new forms and mediums when developing their abstract artworks and concepts. We will focus on Davison's 'Navy, Red Blue Pink Green, c.1970s' and Yang's 'Ink Object – Green Gradient, 2019'.
Francis Davison was a pre-eminent British abstract artist practicing in the second half of the 20th century. After World War II, Davison relocated to St Ives and was introduced by Heron to Margaret Mellis, who became his partner after an extended period of tentative friendship. After 1950, having been influenced by the distinctive style of many 'St Ives'artists, he gave up painting and started making collages, developing his iconic artistic style. 'Navy, Red Blue Pink Green' is a striking example of his collage works. Collage originated from the creative methods of Pablo Picasso and George Braque in the Cubism period and through the use of ready-made objects — newspapers, photographs, coloured paper and other available items glued together on paper or canvas. Davison developed his extraordinary language of large collage in the 1950s, building structures, divisions and edges mainly using torn colored paper strips. In 'Navy, Red Blue Pink Green', the thin, light structure of the coloured paper allows the artist to divide the canvas into simplified elements of abstract language. The unrestricted overlapping of lines, polylines, and crosses that appear repeatedly in the collages, create a sense of multiple spaces and the artist's rational design and composition.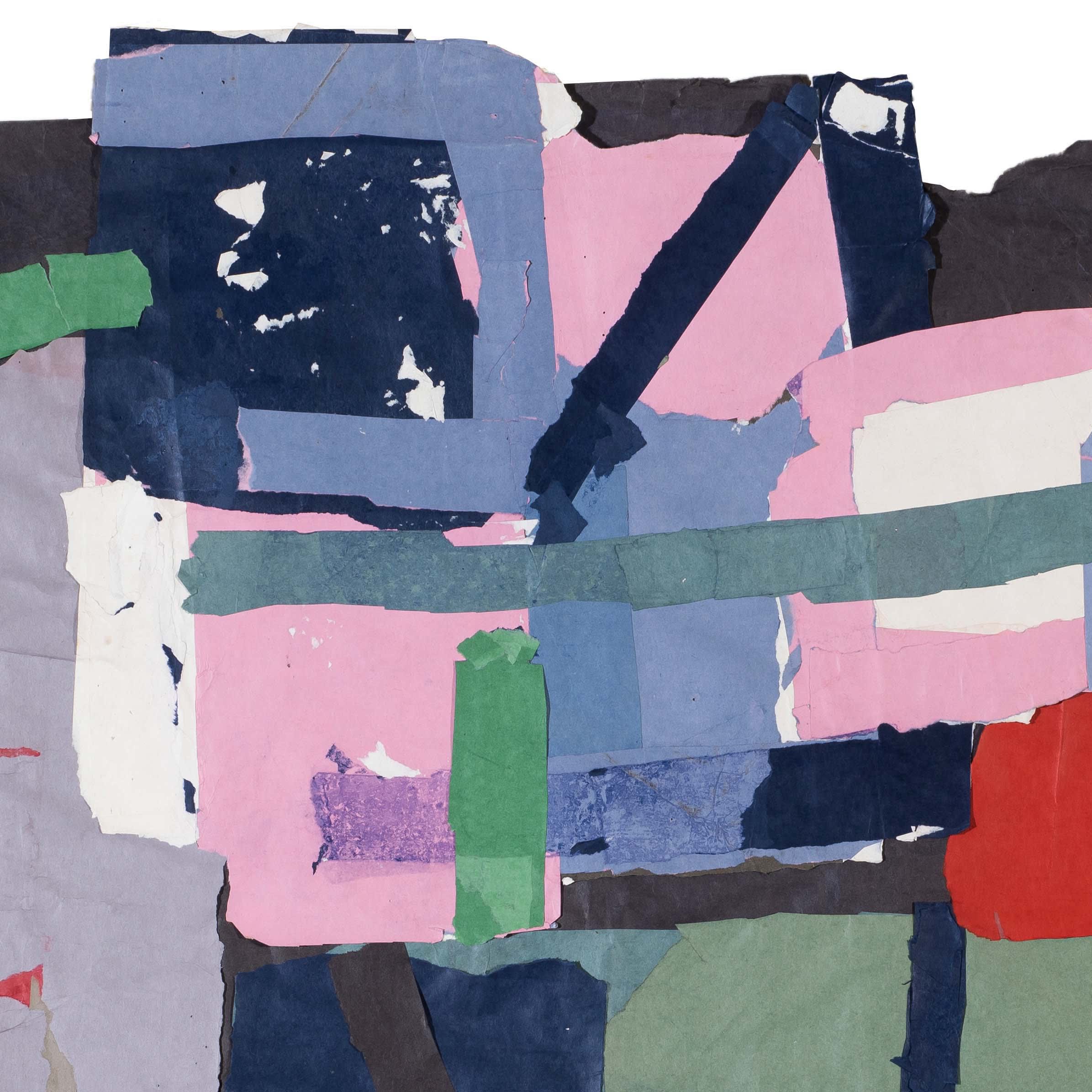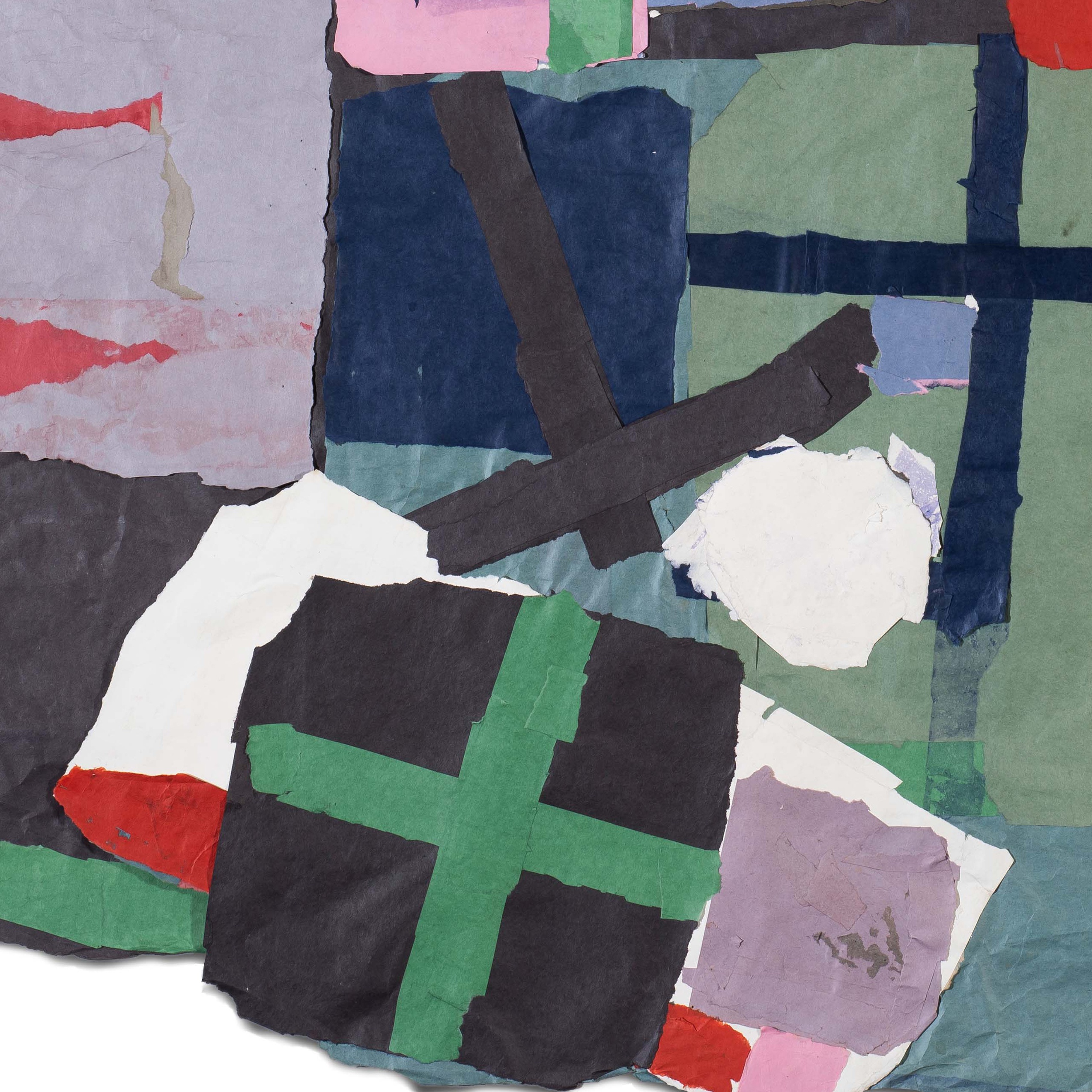 Navy, Red Blue Pink Green, circa 1970s (detail)
Davison's collages are remarkably painterly in their use and application of colour. His work sometimes has strong colour collisions where the saturated colours of printing paper are torn-off and grouped. The red, green, brown, and blue forms in 'Navy, Red Blue Pink Green, c.1970s' express a warm, rustic flow and dynamism through their the arrangement of colour. Davison never added pigment, instead using colour blocks and overlapping and interweaving papers to create multiple layers and depth. The irregular and torn edges, random cracks, contours and shapes reveal Davison's tension. As Andrew Lambirth says:
"Davison was a master of the edge: not simply in the ragged outside edges of his collages which, while remaining roughly square or rectangular, frequently take on a new and radical dynamic through an unexpected rhythm of projections and protrusions matched by gaps and absences; but also within the collage, as different edges of paper are lapped and abutted in lyrical and often quite complex patterns and layers."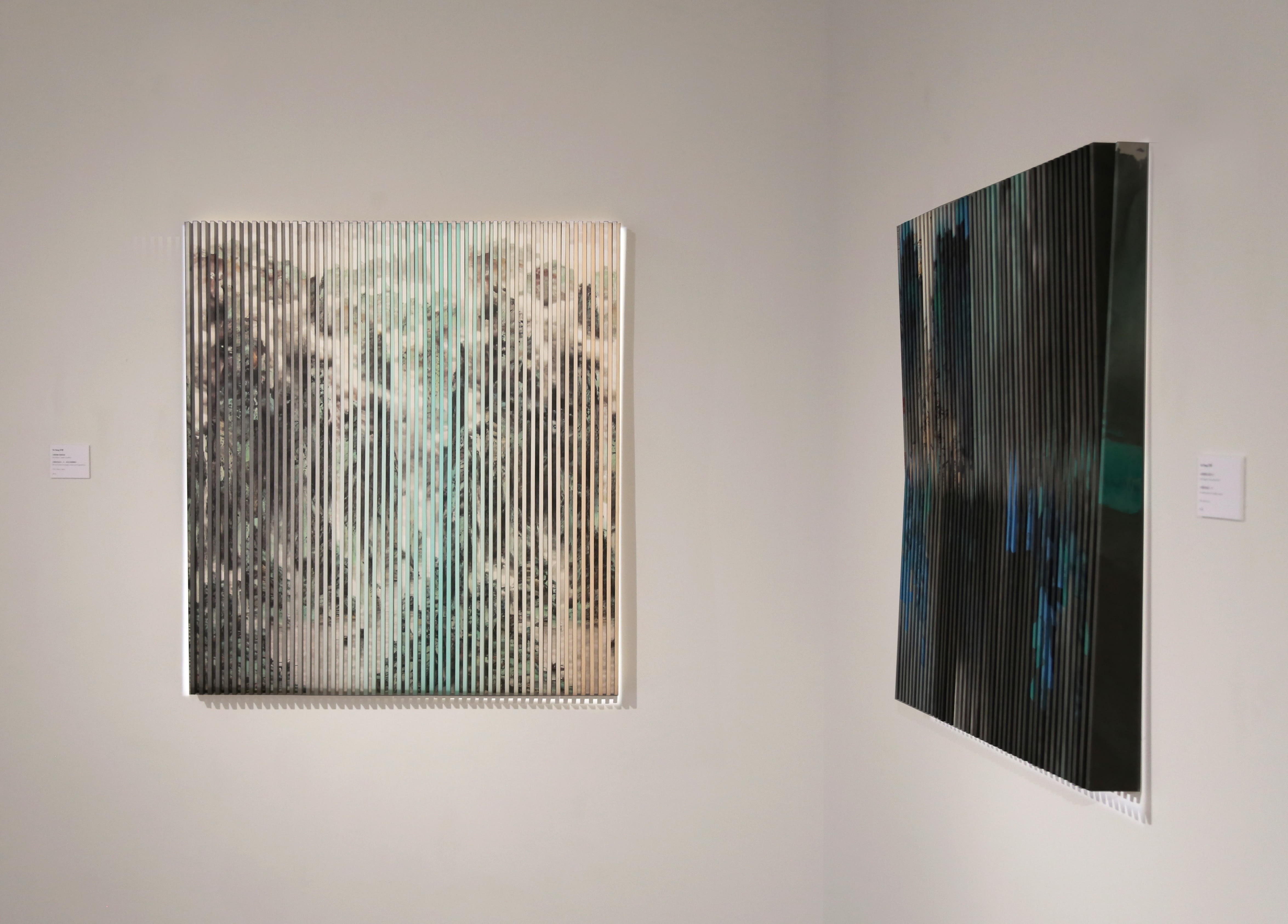 Artwork on left: Yu Yang, Ink Object - Green Gradient, 2019
Ink and colour on paper, reproduction painting, wood, 110 x 100 x 7.4cm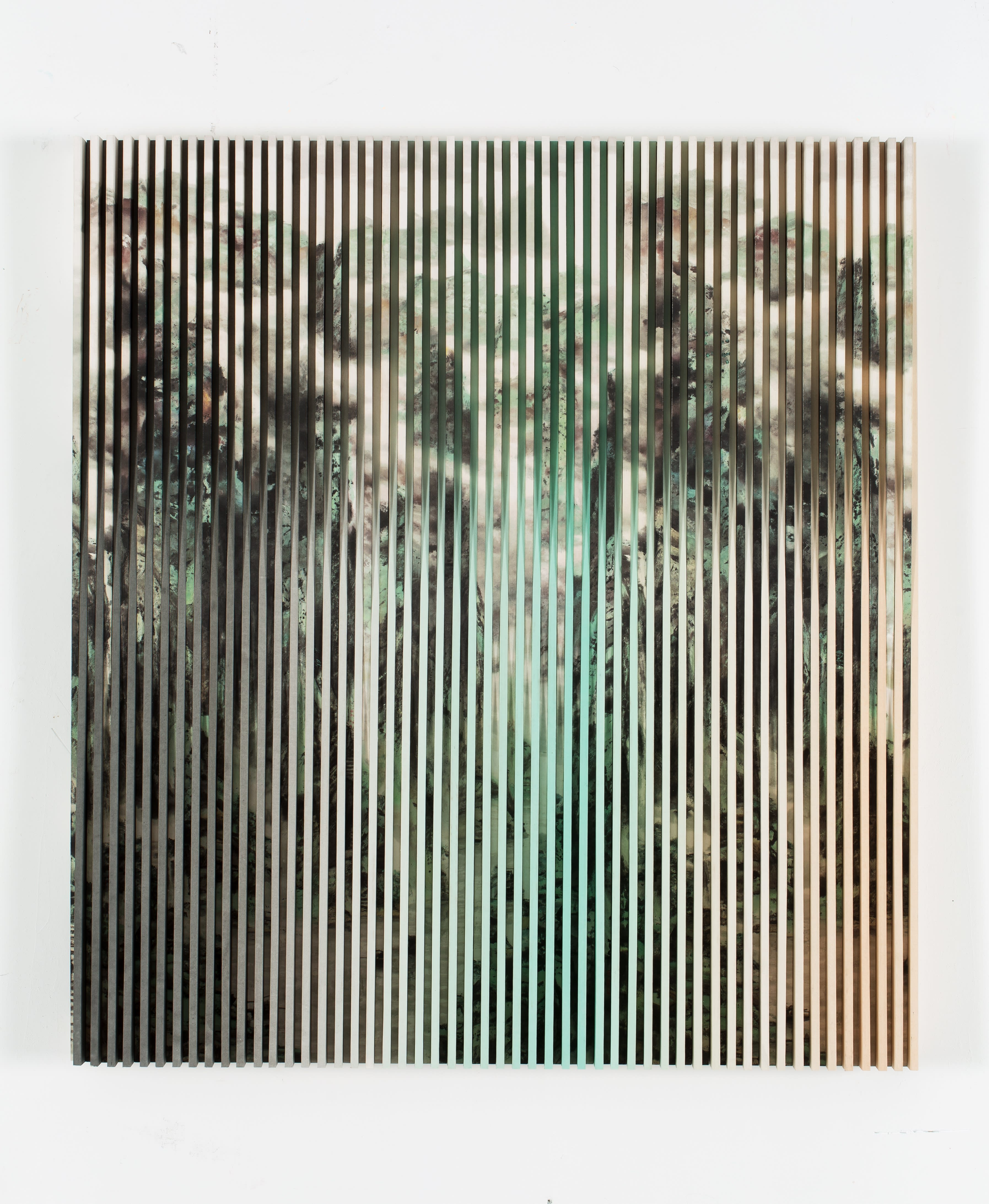 Yu Yang, Ink Object - Green Gradient, 2019
Ink and colour on paper, reproduction painting, wood, 110 x 100 x 7.4cm
If Francis Davison's collages look back to the classic modern abstract traditions, Yu Yang's abstract works are more inclined to use contemporary concepts and materials to expand the possibilities of contemporary art. In his installation 'Ink Object – Green Gradient, 2019', the spacing between the wooden stripes, the transition between the stripes of colours in sturdy wood, ink and stone green, and the overlapping of space and colours within the frame form a unique aesthetic sense of space. Yu Yang's works take us to the in-between space where rationality and creativity converge, an imagery of the engagement between traditional culture and contemporary vision, permeating the wisdom of "Lyric Expression Through Scenery" in the Chinese garden architecture.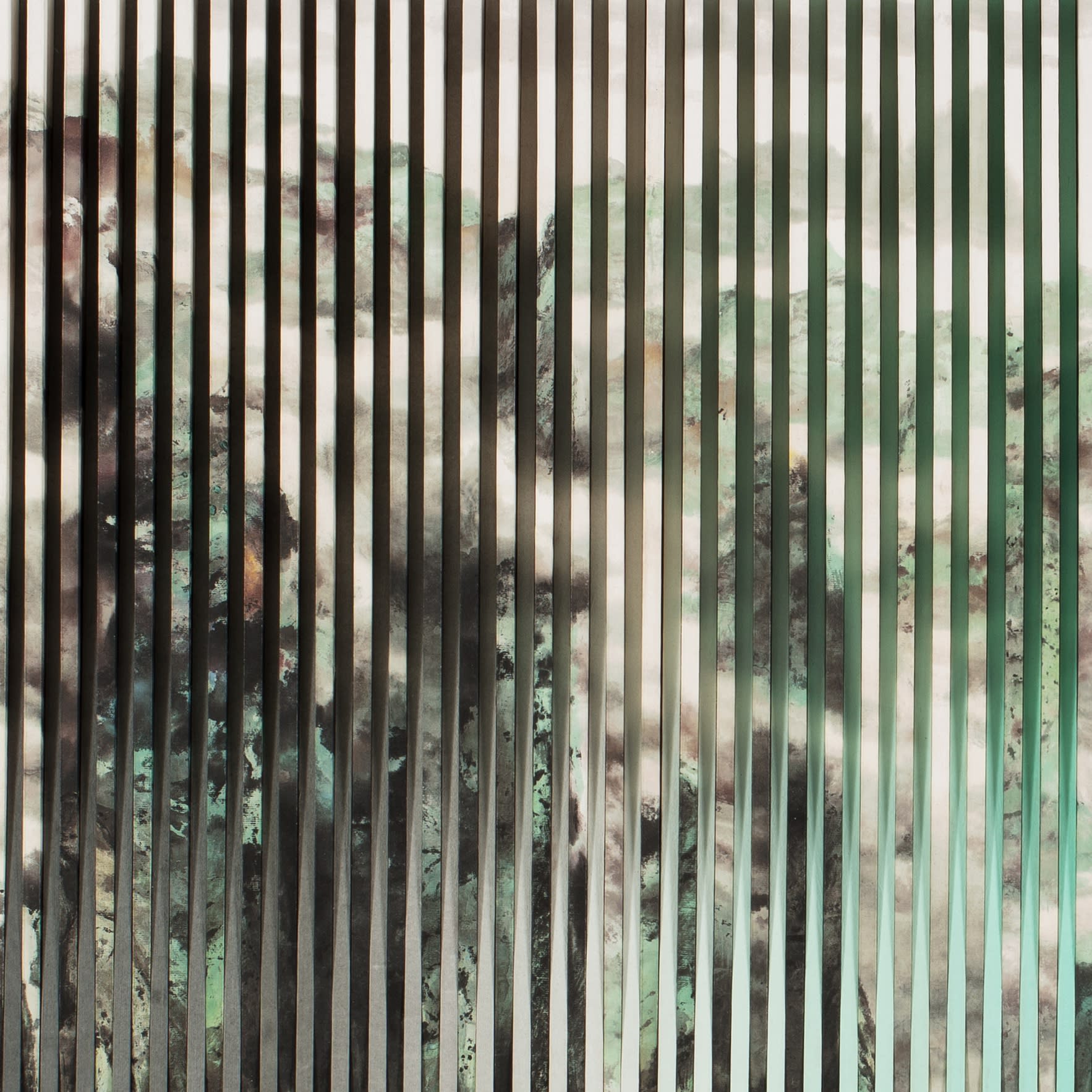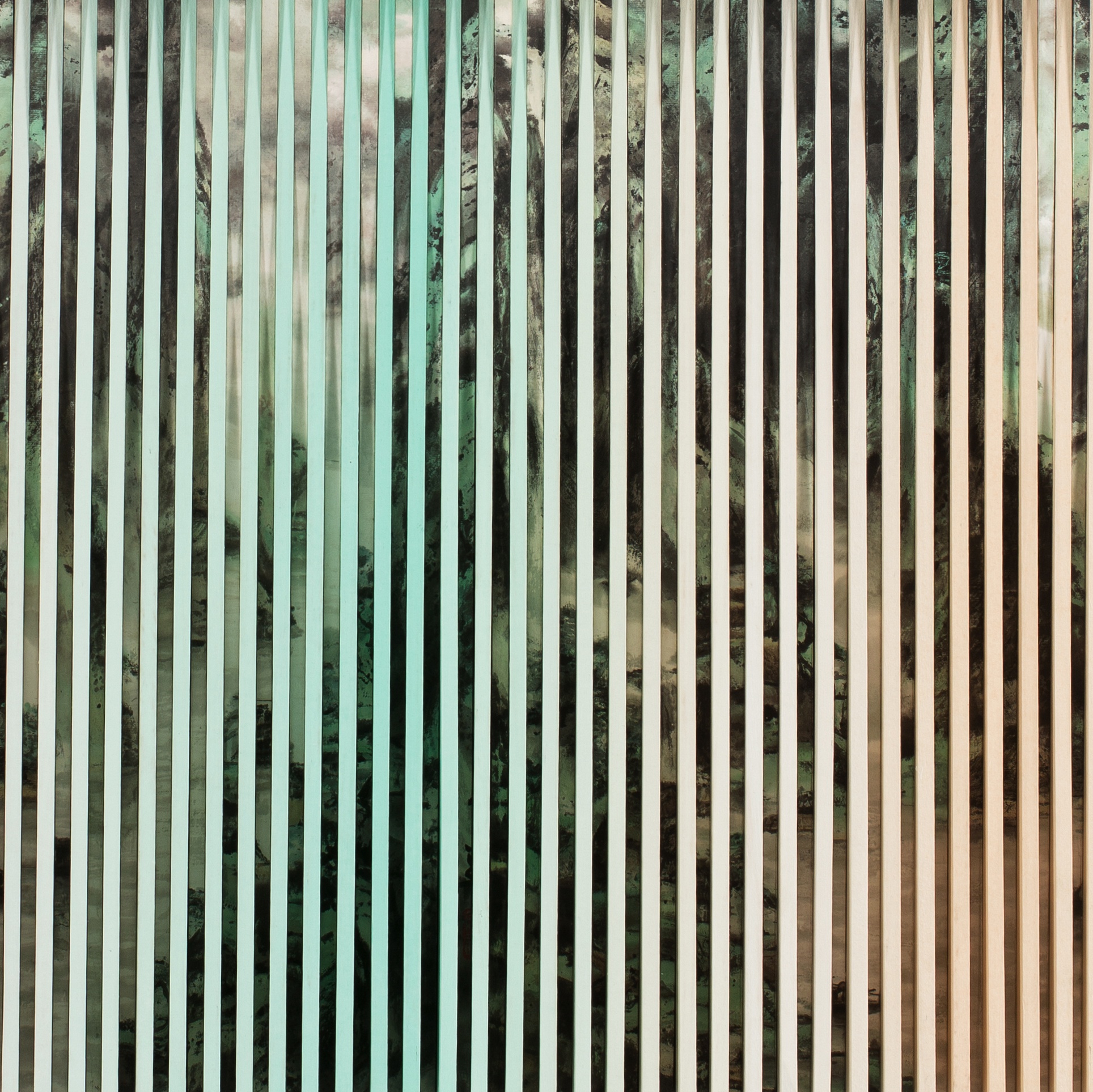 Ink Object – Green Gradient, 2019 (detail)
Bringing the oriental imagery of "viewing mountains and rivers from a distance" into contemporary art, Yu Yang embodies the 'Qi' and vital rhythmic flow through the subtle layers of brushstrokes, light and shadow, expressing ethereal Taoism. This work retains the traces of traditional Chinese ink art — it is created layer by layer with heavy colours of stone blue and stone green to pay tribute to landscapes of the Sui and Tang dynasties. It perfectly interprets an abstract relationship of oriental poetry with a strong, contrasting narrative between reality and colours.
In the compositional form of installation and painting, 'Ink Object - Green Gradient' reflects the complexity of natural and artificial order, and epitomises Yang's belief that "If non-being turns into being, being becomes non-being" and an "absolute atmosphere of creation". Yu Yang explored this relationship between mankind and nature, trying to reconcile the special relationship between Chinese ink art and Western abstract art. As a result his works encompass his own personal rhythm and a sense of musicality, to invite viewers to enter his visual mazes and return to the peaceful landscape.
After Nature II, 3812 Gallery Hong Kong, installation view, 2021