In Yu Yang's ink and colour painting Ink Object - Rhythm of china No.1, the azure blue blocks which carry the rhythm of ink are set against a light-colored background, referencing the Chinese blue-and-white porcelain. The hollows and overlaps between the colour bars echo the landscape seen from the window panes. And this dislocation reflects the artist's control of structure and the sense of order.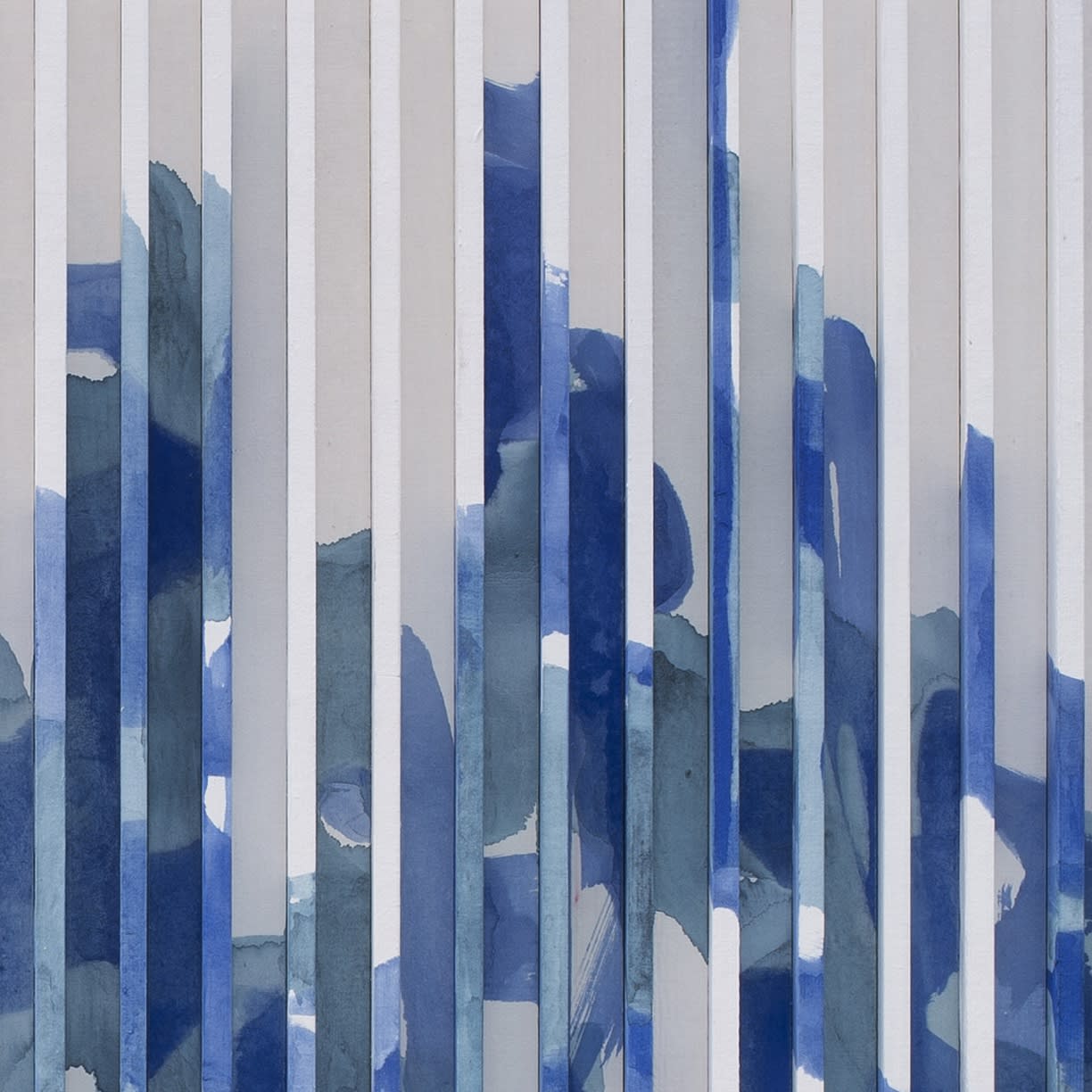 Yu Yang, Ink Object - Rhythm of china No.1, 2015
Ink and colour on paper, 94 x 88 cm, Details shown
It recalls Op art's simple composition putting lines, shapes and colours together in a way of optical illusions. If we look into the Achæan by British artist Bridget Riley (1931-), who is one of the representatives of the movement, the vibrant colour strips mixing warm and cold colours are juxtaposed in a dizzy way to make the image look like it's moving.
Bridget Riley, Achæan, 1981
Oil paint on canvas, 239 × 202.3 cm
© Bridget Riley 2018. All rights reserved.
Digital photograph: Photo © Tate
Compared with Riley's easel painting, Yu's painting installation follows the strict geometric order and balances the relationship between the pictorial and three-dimensional through a precise structure. At the same time, he also creates tension between controlled and free expression through his spontaneous variations and re-constructions, as well as captures the aesthetic essence of Chinese ink painting. Through the subtle control of colours, Yu reveals a kind of musical rhythm in his experimental ink artworks that lead people into a unique space of Eastern culture standing from the contemporary perspective.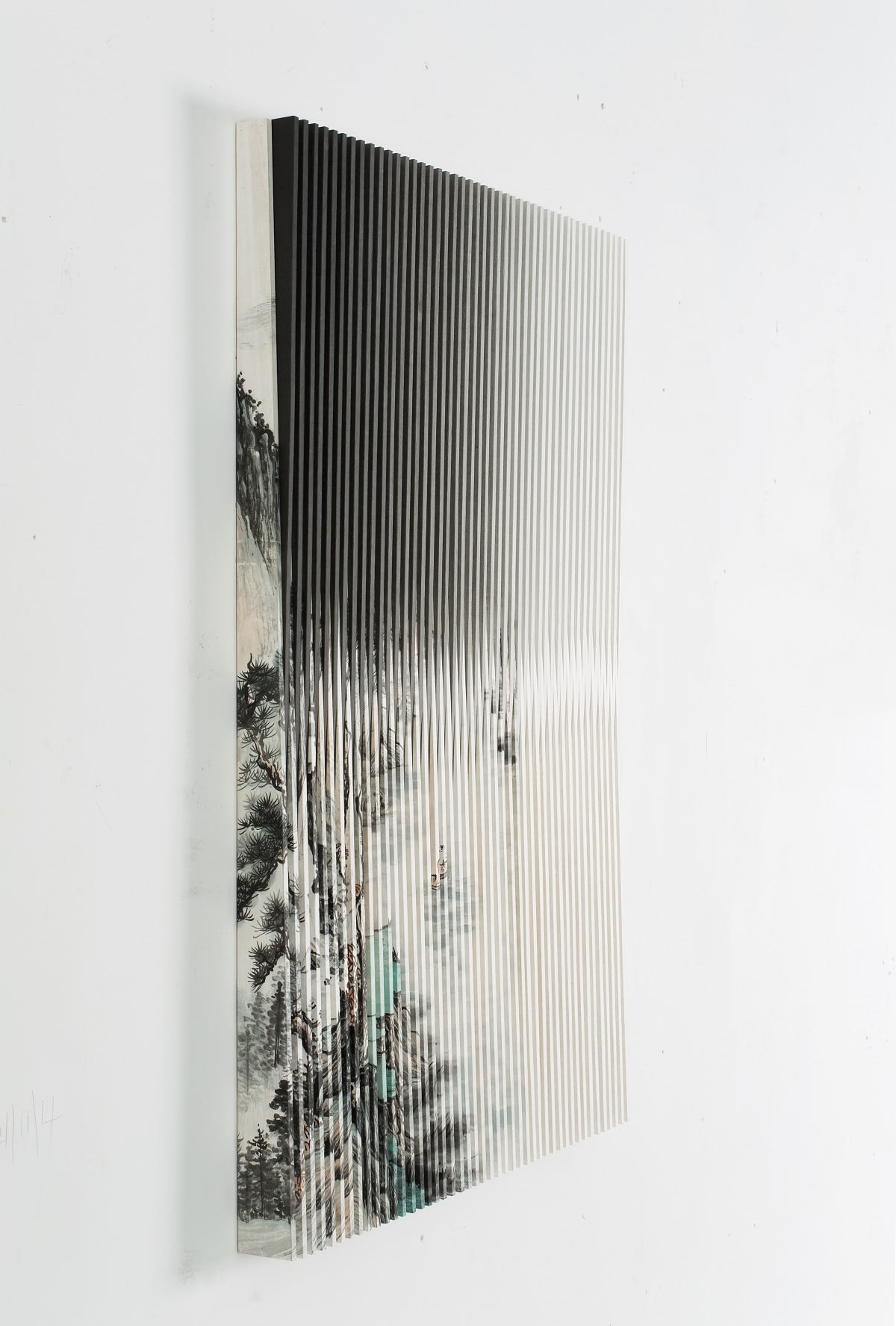 Yu Yang, Ink Object - Misty Rain on the River, 2019
Ink on paper, wood, 120 x 80 cm
Yu Yang's works, as the artist himself said, 'combine the elements from cold abstract in the West and ink art in the East, simplifying and deconstructing the painterly concepts of traditional art, which interprets the essence of ink itself, and also brings out an overlapping sense of depth'.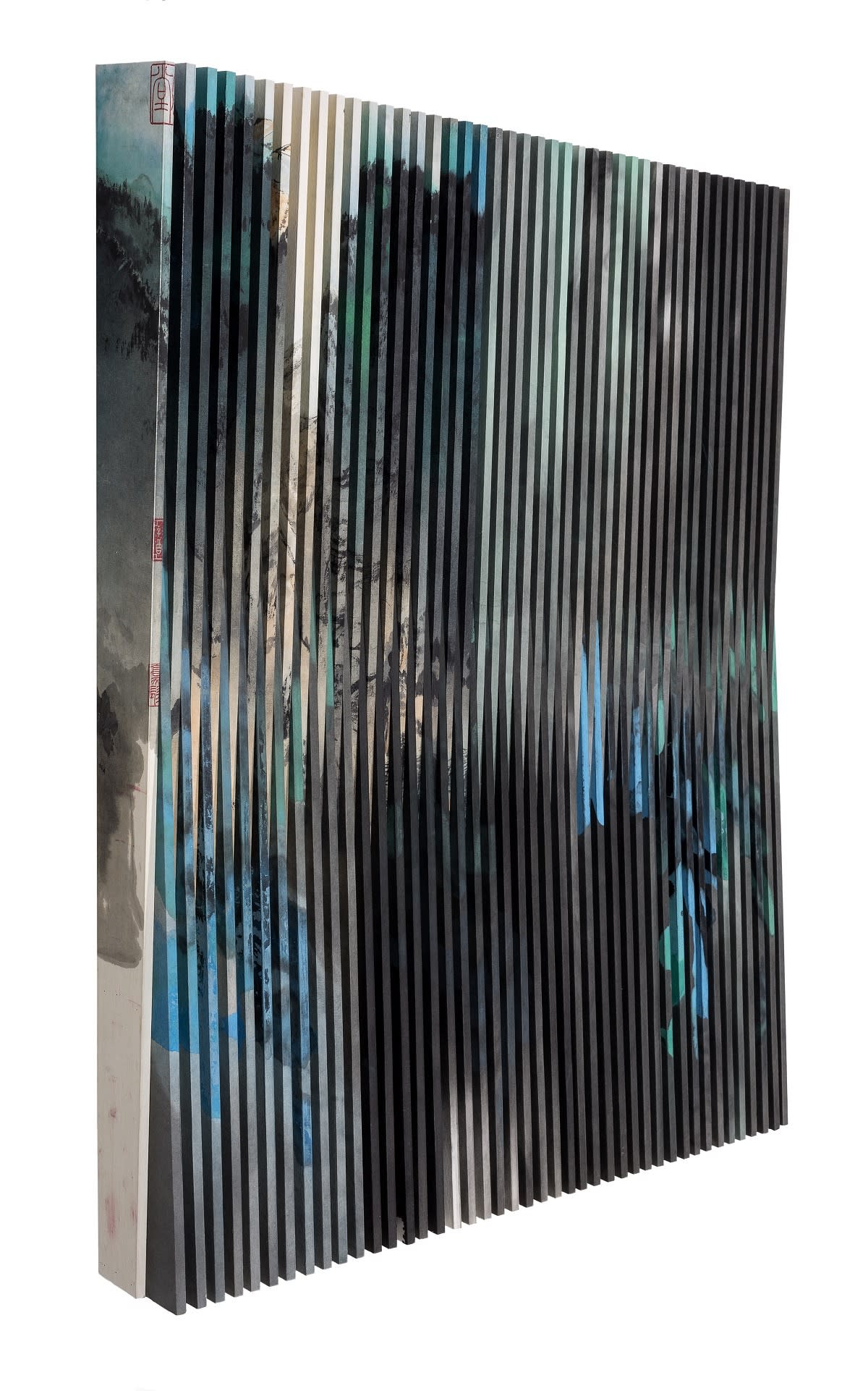 Yu Yang, Ink Object - Encounter No.1, 2020
Ink and colour on paper, wood, 90 x 78 cm
As the art critic R. A. Suri wrote, 'The minimal executions of Yu Yang suggest that we return to a pivotal epoch where the refusal or negation of the figurative and compositional colorism employed by the post-20th century avant-garde diffused amid an internationalist foreground, a historical music which sundered the naturalist, impressionist and realist modality of the act of painting.'