ARTicle is a feature curated by 3812 Gallery, presenting must-read articles by curators, scholars and art critics focusing on Eastern Origin in Contemporary Expression for your weekend digest.
In this week's ARTicle, we are presenting an essay from the exhibition catalogue Hsiao Chin - Infinite Universe by Sotheby's Hong Kong, to walk you through his extraordinary journey.
CONNECTING ASIA, EUROPE, AND AMERICA AFTER THE WORLD WAR
Hsiao Chin was born in Shanghai in 1935 to a family that originated from Zhongshan, Guangdong province. His father, Hsiao You-mei, was an esteemed figure of modern music in China, and his uncle, Wang Shih-chieh, was a prominent Chinese Republican politician and scholar. In 1949, power changed hands in mainland China and many people of talent and stature, especially those who were feted during the late Qing dynasty and early Republican period or those with close ties to the Republican Government, moved to Taiwan. In the art world's perspective, this exodus meant that Taiwan received a huge transfusion of fresh blood from mainland China after 1949, which mingled with local talent from the Japanese era in Taiwan. In recent years, the two major post-war Chinese art groups, the Ton Fan Group and the Fifth Moon Group, have been the focus of enthusiastic discussion as they reflect the results of the collisions and communications between artists from mainland China and Taiwan. Riding the grand tide of history, Hsiao Chin followed his uncle Wang Shih-chieh to Taiwan. Hsiao joined the studio of Li Chun-shan in 1952 and began his artistic training. Li hailed from Shaoguan, Guangdong province, and studied in Tokyo during the 1930s, receiving instruction from Japanese modern master Léonard Tsugouharu Foujita. From 1942 to 1946, Li taught at China's flagship institution for modern art, the National School of Fine Art (now the China Academy of Art). He moved to Taiwan in 1949, representing the continuity of Chinese modern art in Taiwan after World War II. While Li was living in Taiwan, he liked to teach in coffee shops, emphasizing progressive teaching methods that were directly influenced by Foujita. In addition to Hsiao Chin, artists under Li Chun-shan's tutelage included Ho Kan, Hsia Yan, Li Yuan-chia, Wu Hao, Ouyang Wen-yuan, Hsiao Ming-hsien, and Chen Taoming. In 1957, these eight artists held the first Ton Fan exhibition in Taipei, where they exhibited their own work and introduced Spanish avant-garde art. Their bold style earned them the name the "Eight Great Outlaws" by the United Daily News. Their only equal at the time was the Fifth Moon Art Group, represented by Liu Kuo-sung, Chuang Che, Fong Chung-ray, Chen Ting-shih, and Ku Fu-sheng; supported by the professor of National Taiwan Normal University, Liao Chi-chun.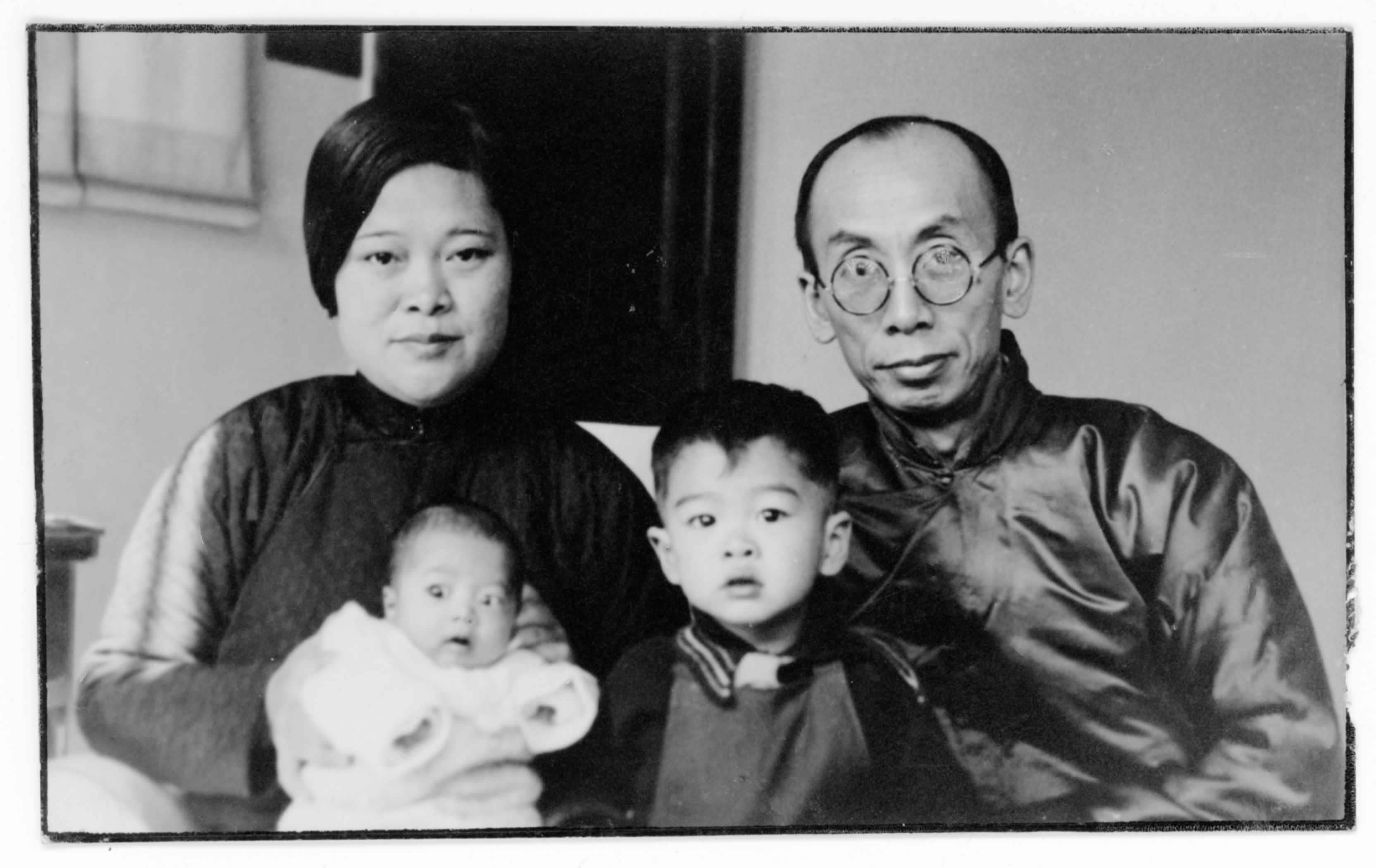 Family photo of Hsiao Yu-mei couple, Hsiao Chin and his sister Hsiao Xue-zhen at Shanghai home, 1937
The first Ton Fan exhibition sparked intense debate in Taipei. Hsiao Chin however was not present at the debut despite being a founder of the group. The year before the exhibition, he had received a scholarship from the Spanish government to study in Madrid. The 1950s saw the second great wave of Chinese artists traveling to Europe and America to pursue their careers, yet unlike their predecessors of the 1920s, this group of artists did not share the focus on formal art education. Instead, they emphasized the exchange of avant-garde ideas in a free and open environment, as well as interaction with Western artists on equal footing, in a bid to inject new life into Eastern art. For this reason, Hsiao arrived in Madrid to discover local art academies that were stale, conservative, and of little use to him. He then gave up his scholarship, and moved to Barcelona, then later to Paris. In 1959, he established his base of operations in Milan. In the course of his exploration, Hsiao met Catalan abstract artist Antoni Tàpies and learned about French Lyrical Abstraction. He wrote articles bringing news of European avant-garde art to Taiwan, and he organized exhibitions in Europe and America for the Ton Fan Art Group and other Chinese artists of his generation.
In the 1950s and 1960s, the world was blanketed under the shadow of the Cold War between the United States and the Soviet Union, and the Chinese society in both the mainland and Taiwan was closed off to the rest of the world. As a result, Hsiao Chin strove to connect the Eastern and Western art worlds, and he made great contributions to that effort. He curated "Modern Chinese Artists" (Chinesische Künstler der Gegenwart) in 1963 and founded the Movimento Punto from 1961 to 1966. In both instances, he had no commercial support. He arranged everything from contacting artists to collecting artworks, from finding sites to organizing shipping and installation. "Modern Chinese Artists" was held from 10 April to 9 June 1963 at the Municipal Museum of Leverkusen (Städtisches Museum Leverkusen) in Germany. The museum was located in the southern part of Düsseldorf, the centre of German post-war art. Hsiao received significant support from renowned scholar Udo Kultermann who did his utmost to promote the development of post-war art, and who was well known for curating "Monochrome Painting" (Monochrome Malerei) in 1960, a historic exhibition featuring Yayoi Kusama, Mark Rothko, Lucio Fontana, Yves Klein, and Piero Manzoni. In "Modern Chinese Artists", Hsiao included works by many members of the Ton Fan Art Group, as well as Richard Lin, Ku Fu-sheng, Hsiung PingMing, Walasse Ting, I. M. Pei, Chu Teh-Chun, and Zao Wou-Ki. This was an extremely rare and historic exhibition of modern Chinese artists at the time.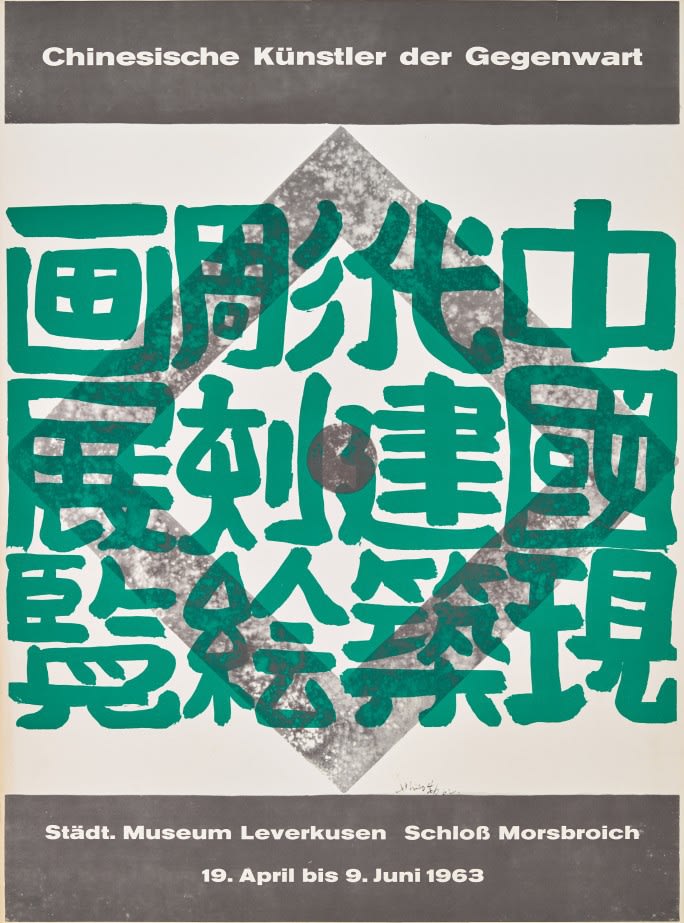 Poster of Chinesische Künstler der Gegenwart, 1963
POST-WAR LEGENDS: MOVIMENTO PUNTO
Movimento Punto may be the most important cultural counterattack in 20th century Chinese art history. During the early days of Chinese modern art in the late Qing and early Republican period, artists went abroad as students to Europe, America, or Japan. After World War II, many outstanding Chinese chose to go overseas, immersing themselves into local avant-garde scenes and introducing Chinese elements. For a long time, the academic community did not have a clear account of whether Chinese art had developed its own avant-garde ideas or produced movements in post-war art history akin to Abstract Expressionism in the U.S., Lyrical Abstraction in France, or even Gutai in Japan and Dansaekhawa in Korea. In 1961, Hsiao Chin founded Movimento Punto in Milan with Italian artist Antonio Calderara and Japanese sculptor Azuma Kenjiro, advocating the mindful spirit of Tang and Song Buddhism, which would rescue the post-war art world from the aimlessness and indecision that had resulted from an overabundance of movements. Taking the point as its symbol, the group wanted its members to establish a starting point toward a clear scope and defined goals. Since the beginning, Movimento Punto had an international structure; they held 13 exhibitions from 1962 to 1966 in more than a dozen European cities including Milan, Albissola, Barcelona, Florence, Macerata, Venice, Bologna, Zurich, Rome, Mestre, and Ancona. The fifth Movimento Punto exhibition even travelled to Asia, showing in Taipei in 1963 and creating a connection between Europe and Asia; in terms of international artist participation, Movimento Punto was at the forefront of the unpredictable world of post-war art movements. Participants in the 13th Movimento Punto exhibitions included:
China: Hsiao Chin, Li Yuan-chia, Ho Kan
Japan: Azuma Kenjiro
Italy: Antonio Calderara, Lucio Fontana, Dadamaino, Enrico Castellani, Mario Deluigi, Getulio Alviani, R. Rossello, Pia Pizzo, Bolognese, Umberto Peschi, Sergio D'Angelo, Mario Nigro, Ettore Sottsass
Spain: Cubells, Faixa, Magda Ferrer, Maria Assumpció Raventós, Josep Hurtuna
France: François Morellet, Joël Stein
Germany: Klaus Jürgen-Fischer
Netherlands: Henk Peeters, Jan Schoonhoven, Armando
Belgium: Wout V
Polland: Maria Papa Rostkowska
Yugoslavia: Ivan Picelji
Slovenia: Zoran Antonio Mušic
Venezuela: Jesús Rafael Soto, Carlos Cruz-Diez
Brazil: Almir da Silva Mavignier
Argentina: Julio le Parc
As seen from the list above, artists from Asia, Europe, and Latin America participated in Movimento Punto, including some giants of other important post-war art movements. Spatialist master Lucio Fontana, Azimuth founder Enrico Castellani, design heavyweight and Memphis Group leader Ettore Sottsass, and others were first presented to a Chinese audience at the Movimento Punto exhibition in Taipei; many of the Western members of Movimento Punto had a close relationship with ZERO, a group that was founded in 1957 in Düsseldorf and rapidly expanded to Italy, the Netherlands, and France. Lucio Fontana, Dadamaino, Enrico Castellani, and Getulio Alviani from Italy, Henk Peeters, Jan Schoonhoven, and Armando from the Netherlands, and Jesús Rafael Soto from Venezuela all simultaneously participated in Movimento Punto and ZERO. From Hsiao Chin's artistic process, post-war Chinese art had carried on the legacy of the pre-war National Academy of Art, and it created a clearly-developed connection between East and West by exploring the connections to important Western post-war art groups through the Ton Fan Group and Movimento Punto.
Members of the Ton-Fan Art Group with Li Chun-shan (From the left: Ouyang Wen-yuan, Li Chun-shan,
Chen Tao-ming, Li Yuan-chia, Hsia Yan, Huo Kang, Wu Hao, Hsiao Chin, and Hsiao Ming-hsien)
During his Punto period (ca. 1961-1966), Hsiao Chin encountered Spatialism, Op Art, Kinetic Art, ZERO, and other avantgarde European movements. At the same time, he devoted himself to exploring Eastern Buddhist and Daoist philosophies, which balanced the great Western discourses. His work from this period reflect both collisions and fusions of the two major cultural systems of East and West, creating a distinctive mode of philosophical abstract painting. These interests shaped his first mature stylistic period. In analysing Hsiao's paintings, we cannot rigidly apply Western binaries of The Cold/Hot abstraction or The Geometric/Lyrical abstraction without missing the real meaning of his work. At the time, he stated that his exploration of the mysteries of the universe and his pursuit of living energy resulted in the pictorial development of his philosophical ideas and joyous emotional expressions. The circular and square symbols seem to echo "heaven is round and earth is square," an Eastern concept of the universe that underpins the works. In L'unione (1962, p.53 ), and La Forza (1962, p.55 ), rectangular symbols draw the eye into the paintings, and the spaces are structured by curving lines. Grande terre (1963, p.57 ), and Due tondi (1964, p.61 ), were obviously inspired by the hexagrams. The six violet rectangles in Grande terre, form the kun (earth) symbol from the I-Ching. To quote that text, "The power of the earth is what is denoted by kun. The superior man, in accordance with this, with his large virtue supports (all) things." The shapes in the painting also resemble the side of a cong, a classic rectangular jade vessel. Due tondi, is a painting divided into two parts placed one above the other. The two circles symbolize the duality of yin and yang and the four green lines in the centre represent the four cardinal directions; together, these symbols allude to the two polarities and the four directions, radiating endlessly. In La luce della riflessione (1964, p.63 ), the two circles with three concentric layers, placed to the left and right, reflect the artist's study of Tibetan thangka mandalas, which he has simplified into a geometric abstraction, namely a symbol for the universe that radiates light. Throughout Hsiao Chin's oeuvre, his enthusiasm towards the usage of new acrylic pigments that are intensely coloured and almost fluorescent; can on one hand be accounted to his love for gorgeous, intense hues since he was a child, and on the other hand he himself may also have been influenced by Op Art and Kinetic Art, which were also popular at the time and pursued dazzling visual effects. Of the members of Movimento Punto, François Morellet, Jesús Rafael Soto, and Carlos CruzDiez were also involved in these other movements, and traces of their interaction are faintly visible in Hsiao's work.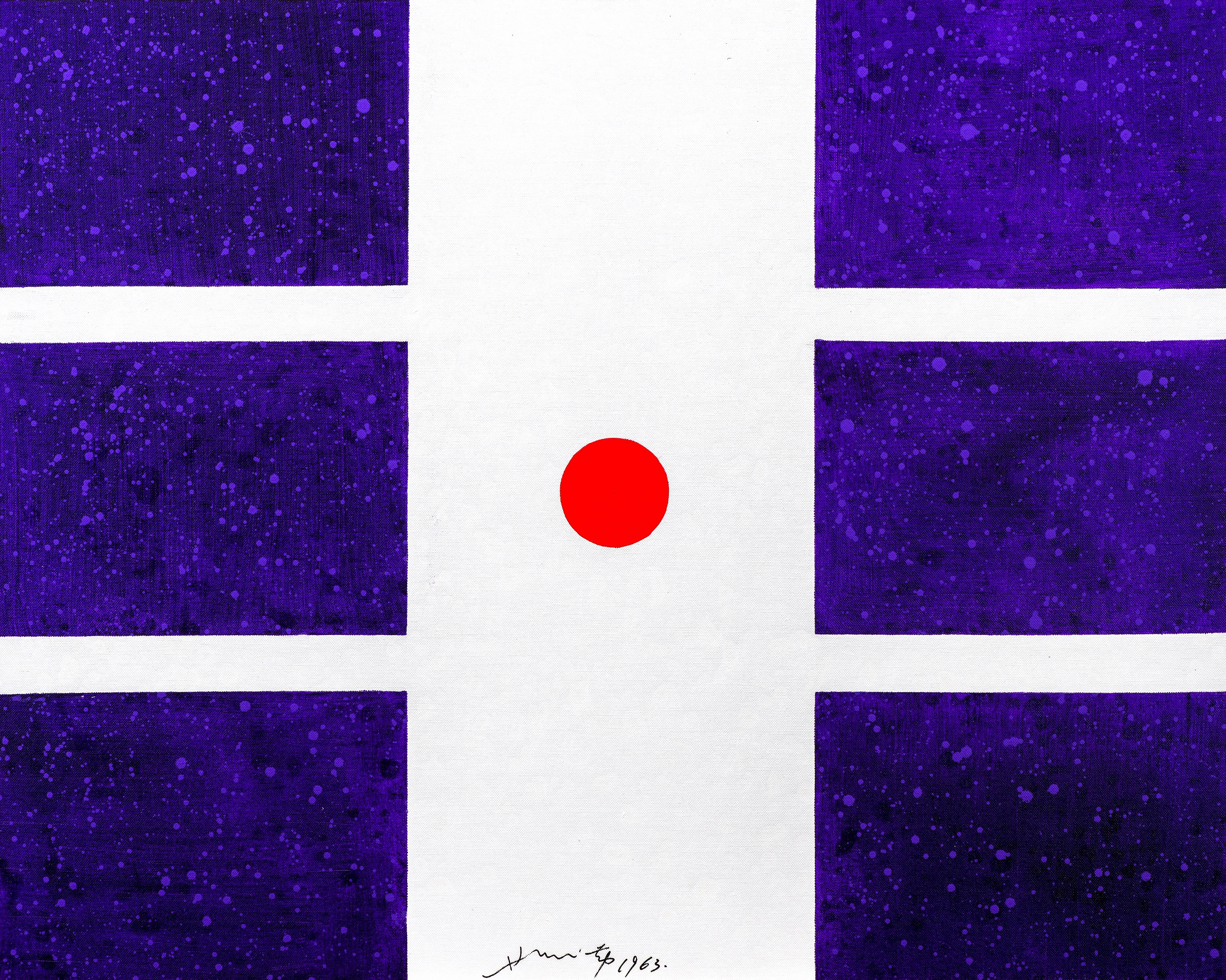 Hsiao Chin, Great Earth, 1963, Acrylic on canvas, 80 x 100 cm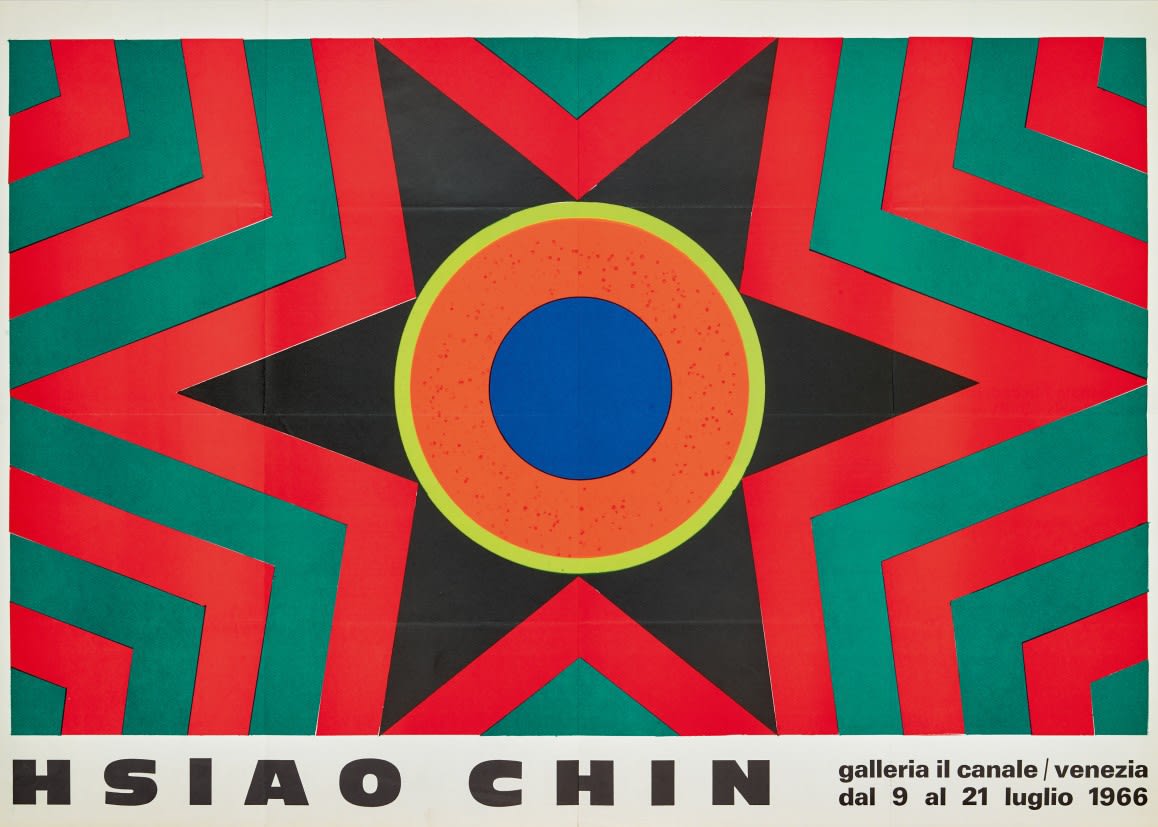 Poster of Hsiao Chin's Exhibition at Galleria Il Canale, Venice, 1966 (coincided with Movimento Punto - The Thirteenth Exhibition)
Hsiao Chin's paintings from the Movimento Punto period are best represented by his Dancing Lights series. There are only 19 works in the series, which makes it his rarest from this period. In summer 2017, I visited Hsiao in Kaohsiung and asked him about the importance of Dancing Lights. He said, "Dancing Lights was the strongest manifestation of my spiritual energies in the 1960s; it brought together my experiences and views on life. During this process, I gained understanding as I painted, and I was finally elevated to another realm." In the piece La danza di Luce-5 (1963, p.59), shown in this exhibition, the rectangular symbols represents the earth, occupying the lower center of this piece. Sapphire blue lines leap and surge in the upper portion of the painting, flowing like living energy or endless light. The purple space behind these lines is dotted with glittering flecks. Like stars shining in the night sky, they give the viewer infinite hope for life and the universe. It is worth noting that, in the Dancing Lights series, Hsiao began to divide his canvases based on a top-heavy 80-20 proportion. This compositional treatment made it easier for the viewer to connect the works with the visual experience of looking up at the sky, and he adopted this "high heavens and vast lands" compositions in his works throughout the 1980s and 1990s. This concept then became the compositional basis for Hsiao's The Eternal Garden series, which is very popular in Asia.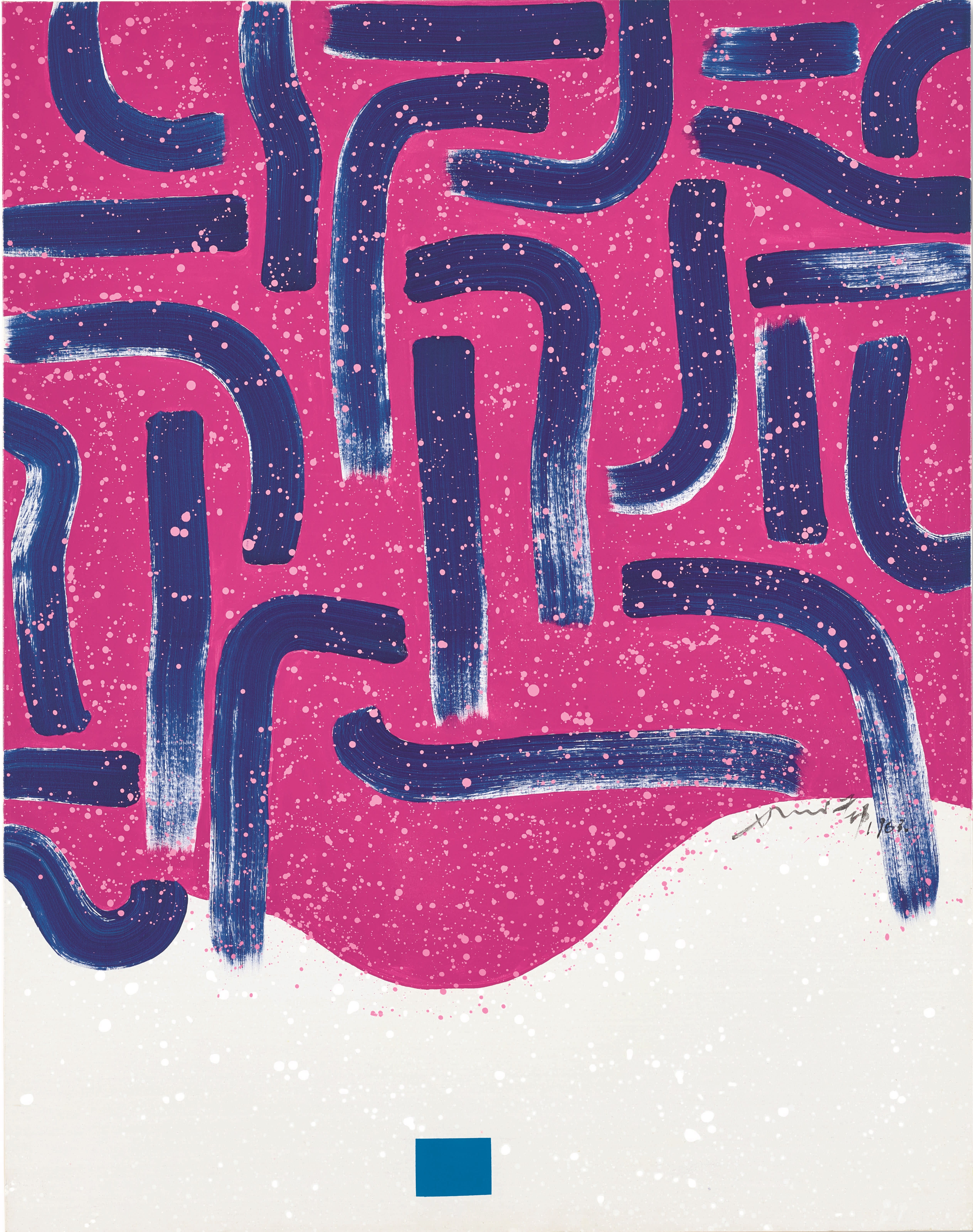 Hsiao Chin, Dancing Light-5, 1963, Acrylic on canvas, 140 x 110 cm
THE ETERNAL GARDEN SERIES: THE FINAL ASCENDANCE OF ZEN AND QI
Subsequent to the end of Movimento Punto in 1966, Hsiao Chin embarked upon a decidedly different professional journey, including working in London for six months. He also lived and worked in New York for six years before he returned to Milan in 1972. In 1978 and 1980, he visited Taiwan and mainland China, places that he had not returned to for 20 to 30 years. Hsiao's travels during this time reflect his sensitivity to global developments in art and his broad range of activity. Although he only stayed in London for a brief six months in 1966, he showed at Signals London, an important avant-garde gallery at the time, and met Richard Lin, a Taiwanese artist living in the UK. In 1968 and 1969, he met Mark Rothko and Willem de Kooning. In addition, he founded the International Surya Movement in Milan in 1977 and the International Shakti Movement in Copenhagen in 1989, which could be considered extensions of Movimento Punto. Hsiao Chin's abstract painting continued to develop around the themes of Zen and qi.
In 1990, Hsiao Chin experienced a tragic twist in life when his daughter Samantha unexpected passed away in Los Angeles. This blow devastated the artist, leaving him unable to create for a time. However, he emerged having come to an epiphany and painted his classic series: The Eternal Garden, Beyond the Great Threshold,
The Sublimation of Samantha, Samadhi and The Bright Side. Although these series have different names, the works embody Hsiao's realizations about life brought on by the immense pain of his loss. He discovered that the beginning and end of life are just changes in a person's form of existence. He truly melded a rational understanding of Zen and Daoist philosophy, which he had cultivated since the 1960s, into the softest emotions in his life. In 1990, he began Light-Homage to Sublimation (1990, p.67), symbolizing a new beginning in his work and life. Warm orange tones fill the painting, representing the energy of the universe and the elevation of human life. The compositions of both this piece and La danza di Luce-5 are derived from the same source, but the Dancing Lights series tends toward rational expression, while The Eternal Garden series, which developed from Light- Homage to Sublimation. could be considered warmer and happier, showing the artist's THE ETERNAL GARDEN SERIES: THE FINAL ASCENDANCE OF ZEN AND QI emotional and spiritual state. After being tested, he ascended to a higher realm and transformed the regrets of his life into general good wishes. This generous, contented mood makes the already bright and vigorous colour palette of the works more magnificent and profuse, full of beautiful and good wishes. La forza di Vita-1 (1999, p.71) and La forza di Vita-2 (1999, p.73) are some of Hsiao Chin's classical "high heavens and vast lands" compositions; their pale green and pale pink strokes were painted with a round-tipped Chinese brush. The brief and powerful brushstrokes have abundant emotion and flashes of joyful life, and the paintings are reminiscent of Emperor Huizong of Song's Auspicious Cranes. It was said that on the 16th day of the first month of the second year of the Zhenghe era of the Northern Song dynasty (1112 CE), auspicious clouds hovered over Bianliang (now Kaifeng) and a flock of cranes circled and called over the palace for quite a while. Two red-crowned cranes even stopped to perch on the roof of the palace. Emperor Huizong of Song was very excited, and he committed this auspicious sign to silk. Although Auspicious Cranes was made 1000 years before Hsiao Chin's work, both show a longing for what lies beyond the human world. The works are rather different, and it is just a happy coincidence that a refined ancient court painting and vigorous post-war abstract artworks have compositions that echo one another. There is a faint trace of a decidedly different colour at the top of La forza di vita-1, which seems to be a symbol of the artist's child. After tangible life leaves the world and ascends, it moves freely and happily about the universe. Transcending the great Threshold-7 (1999, p.79), To the Eternal Garden-39 (1992 - 2018, p.37), Beyond the Eternal Garden-5 (1993, p.75), and Concerto-6(1999, p.77) were developed around the same ideas and balanced flowing lines, embodying Hsiao's understanding and interpretation of the energy of the universe. Il potere dell' Universo Nuovo (1997, p.69), Raccolta dell' autunno (canto delle 4 stagioni) (2008, p.83) and L'estabilità (2014, p.85) further reflect his contemplation of and innovation in composition. In order to cast off his awareness of the Self, Hsiao Chin completely immersed himself in exploring the mysteries of the universe, and as a result, his works seem to expand in space, becoming even more magnificent.
Hsiao Chin, Bright Light - Homage to Ascendance, 1990, Acrylic on canvas, 140 x 90 cm
GLASS MOSAICS: CREATING ACROSS BOUNDARIES
If the Movimento Punto and Eternal Garden works in this exhibition have a retrospective quality, then the twelve glass mosaic works represent the first series to be presented intact. Hsiao Chin's work with glass mosaics began in 2005, when reporter and art critic Luciana Schiroli introduced him to the mosaic expert Lino Reduzzi, a graduate of the Accademia Carrara di Belle Arti and the Department of Architecture at Politecnico di Milano. At age sixteen, Reduzzi became an assistant at the famous Fratelli Taragni workshop. He gained a solid foundation in traditional Italian art, and he particularly excelled at stained glass, and mosaic production and restoration. Since the 90s, he has worked with more than fifty artists and architects, giving new life to traditional techniques. Though Hsiao and Reduzzi have built a deep friendship, but they also have great respect for each other's art. Reduzzi first saw Hsiao's work in 1976. He was deeply touched, and since then the two got to know each other. After Hsiao visited Reduzzi's studio, he liked what he saw; the two then decided to work together, creating mosaics for the next fifteen years.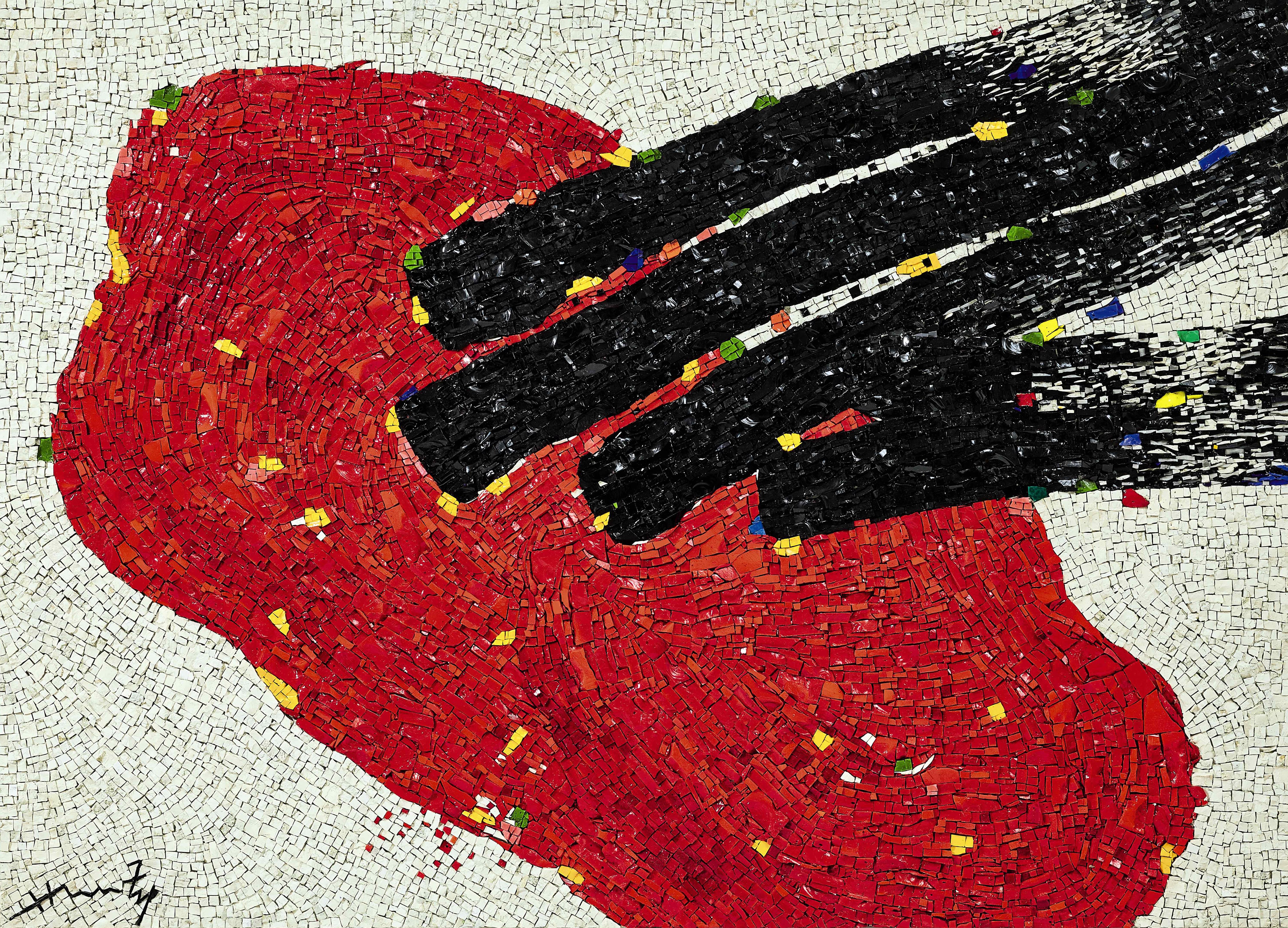 Hsiao Chin, The Grand Cloud, 1986 - 2018, Mosaic glass, 118 x 85 cm
Creating mosaics is complex and time-consuming, making them very rare; but he really enjoys making them. Since 2005, Hsiao Chin has made only twenty glass mosaics. His paintings serve as the blueprints for his mosaic works, so every mosaic has two dates. The earlier date is for the painting, while the later date is for the mosaic. In this special creative process, Hsiao engages in dialogue with himself; spanning space and time, he connects to a past creative state and elevates his past work with his present self. Studio Reduzzi provides specialized technical support, but Reduzzi himself, as an appreciator of Hsiao Chin's art, often makes suggestions and points out which paintings would be best suited to mosaic. Hsiao has mastered all parts of mosaic creation; he rigorously chooses colours and forms in the most appropriate materials to achieve the ideal effect. Through glass mosaics, Hsiao's abstract paintings move from the two-dimensional to the three-dimensional. In addition to highlighting the limitations of two-dimensional painting, he elevates glass mosaics from a traditional technique to a purer mode of artistic creation. Glass mosaics, as a classic European artistic material, can be traced back to Mesopotamia in the third millennium BCE. The medium persisted in ancient Greece, ancient Rome, and the Byzantine Empire, until it became popular in the Republic of Venice and the Kingdom of Sicily in the twelfth century; in this way, mosaic became a part of the Italian artistic tradition. For a long time, mosaics have been an integral part of European religious art, and their pure, lustrous qualities are excellent vehicles for the transcendent character of Hsiao Chin's painting; forming a perfect combination of physical material and metaphysical spirit. He cleverly connects and fuses Eastern philosophies of the universe with Western religion and theology through his mosaic works.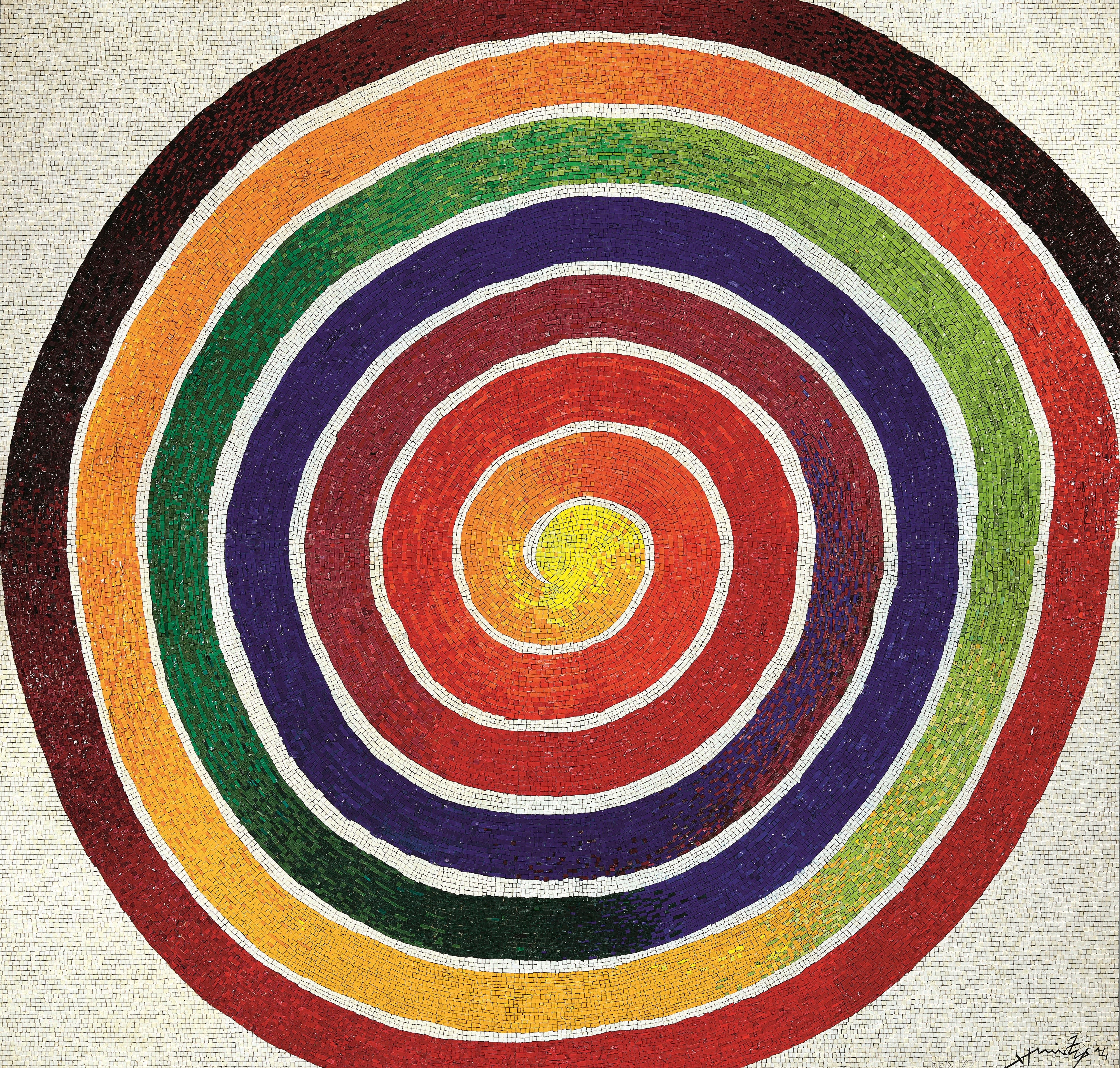 Hsiao Chin, Enormous Cosmic Whirlpool, 1983 - 2014, Mosaic glass, 227.5 x 238 cm
Hsiao's glass mosaic works were first formally presented in 2015 at the "Eighty Years of Energy: Hsiao Chin's Retrospect and Prospect" at the National Taiwan Museum of Fine Arts in Taichung. In 2018, the mosaics were also shown at the "Hsiao Chin: Coming Home" in the China Art Museum in Shanghai. In these two major museum exhibitions, only a few of the glass mosaics were shown. With their considerable size and integrated imagery, they will take the lead in the Sotheby's exhibition. Hsiao's mosaics were primarily modelled on paintings he made from the 1980s onward. The Grand Cloud (1986 - 2018, p.33 ), Between sky and earth (1987 - 2018 - 2018, p.35 ), Tornado-100 (1998 - 2018, p.45 ), Cosmic Vortex (2005 - 2018, p.47 ), and Enormous Cosmic Whirlpool (1983 - 2014, p.31 ), have rich, riotous colours and innocent, naïve compositions. When the mosaic inlays replace the colours and brushstrokes of the painting, the tone shifts from light-hearted to forceful, making viewers feel as if they are standing in a medieval church. Through these works, viewers can reflect on the epic power of nature. In The Root of Sky and Earth (1992 - 2018, p.39 ), To the Eternal Garden-39, New Spiritual Magnetic Field (1993 - 2018, p.41 ), Hope-2 (1994 - 2018, p.43 ), Blue Introspection (2007 - 2018, p.49 ), Hsiao left very few voids, and these highly saturated, monochrome, and colour-driven images take better advantage of the brightness and texture of the glass mosaics. The relief-like effects give the colour gradations and additional richness. The mosaics are resplendent yet contemplative, glittering like gems; they refine and elevate the spiritual qualities that the artist has infused into the works. Enormous Cosmic Whirlpool, at 227.5 x 238 cm, is Hsiao Chin's largest single mosaic work. The blueprint for this piece was Enormous Cosmic Whirlpool, painted in ink and colour on canvas in 1983. Hsiao was very happy with this large painting from the 1980s, so after the work was accidentally damaged, he recreated it in a similarly sized glass mosaic in 2014, giving the piece new life. Enormous Cosmic Whirlpool is very large, and the colour shifts are gradual yet rich. It seems to contain almost every colour; from a technical perspective, this is extremely difficult, and the final effect is very successful. Grand imagery, resplendent colours, and rich textures contribute to this intense artistic effect, gently drawing viewers into an inspiring magical scene that stands apart from time, space, and reality. The work could be considered a notable peak in Hsiao Chin's courage and creativity.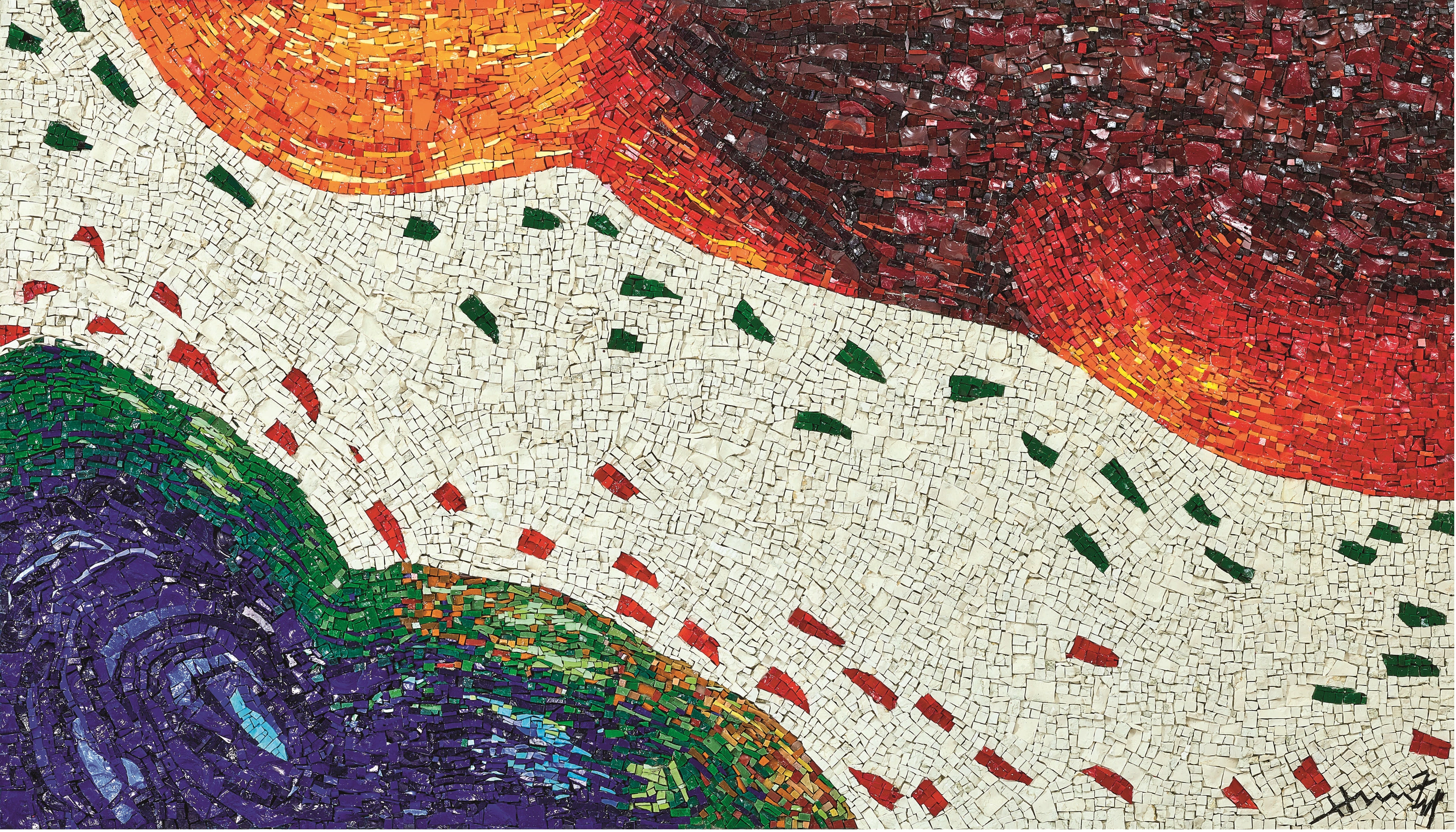 Hsiao Chin,
Between Sky and Earth,
1987 - 2018, Mosaic g
lass
,130 x 75 cm
Hsiao Chin, Blue Introspection, 2007 - 2018, Mosaic glass, 90 x 120 cm