In the biweekly series ARTpiece, we are highlighting one artwork from 3812 Gallery's collection, to inspire you to add it to yours.
This week, we have selected Liu Zhuoquan's Story of Insects, and his contemporary version of "neihua" or "inner painting", a perfect example of Eastern Origin and Contemporary Expression.

Liu Zhuoquan draws upon the traditional craft of Chinese snuff bottle painting, painting on the inside of glass bottles known as "neihua" or "inner painting", and has transformed it into a contemporary art form. The beautiful painted detailing of the subject matter, be that nature, animals, landscape, or people, have all been transformed from the traditional to a social commentary on contemporary life. Also present in his work is Liu's unique sense of humour, which he offers the viewer in order to shed light on the charming and amusing elements of contemporary life, both in his native China and beyond.
A rare inside-painted Chinese glass snuff bottle auctioned in Christie's New York in 2017, sold at USD25,000
The snuff bottle is a marriage of craftsmanship and artistry that evolved in ancient China and Mongolia. Even with a practical purpose in mind, these functional items quite often feature detailed and elegant designs that artfully reflect their cultural origin.

The origin of snuff's arrival in China is a topic of debate. According to some historians and historical records, members of China's imperial families and social elite were introduced to snuff by European missionaries and merchants. This reportedly occurred during the Ming Dynasty (1368-1644).

By the middle of the Qing Dynasty, the use of snuff and snuff bottles had spread throughout China and into nearly every aspect of society. The bottles were appreciated not only as a means for carrying and accessing snuff anywhere, but also for their artistry and decorative appeal, according to an article by Zhixin Jason Sun, curator, Department of Asian Art at The Metropolitan Museum of Art.

Inner painting is the practice of painting the inside surface of the glass of Chinese snuff bottles, many of which have carvings or are painted on the outside. In "neihua", bottles are painted on the inner surface of the glass by manipulating a specialised paint brush through the neck of the bottle. The earliest inside painted bottles are thought to have been made between 1820 and 1830.
Detail, Liu Zhuoquan, Story of Insects, 2011
Calvin Hui, 3812 Gallery Co-founder and Chairman, explains Liu's thought process and production method behind this fascinating artwork: "Story of Insects is comprised of eight individual cabinets, themselves comprised of row upon row of small bottles each painted with an astonishingly realistic and unique insect. In a deliberate move, many of the insects that Liu has chosen are in fact already extinct. In preparation for creating this work, Liu embarked on a profound journey of research into Entomology - the scientific study of insects. He spent years studying insects, including site inspection, in order to learn about their life and existence. This subject had always fascinated him, and through immersing himself in his study, he observed how nature is being challenged by humankind's existence."
Detail, Liu Zhuoquan, Story of Insects, 2011
Hui continues, "Story of Insects is an installation of uniformly arranged bottles in uniformly arranged cabinets. The overall impression is reminiscent of the European "cabinet of curiosities" of the Enlightenment era, referring to notable collections of objects belonging to natural history (sometimes faked), geology, ethnography, archaeology, religious or historical relics, works of art (including cabinet paintings) and antiquities. Not simply a reference to this, Liu imbues in the work a subtle and critical message to challenge the viewer's perspective. Are the bottles of insects purely beautiful and decorative, or in painting and "preserving" the extinct species and presenting them to the viewer a means of drawing attention to the critical status of the endangered species during the process of human modernisation and the destruction it causes?"
In his essay Thousands of Worlds: Liu Zhuoquan and the Archeology of Objects, Huang Du wrote that "Liu Zhuoquan uses the method of archeology of objects to establish his own language system, and tracks down daily life and folk culture by microscopic study. He subjectively filters or amplifies the control, oppression, temptation, separation, obstruction, possession and domination of these objects to people in today's society."
"My work is like a scientific laboratory"
- Liu Zhuoquan
Liu experimenting in his studio
Mark Peaker, Co-founder and CEO of 3812 Gallery, writes "Liu Zhuoquan's bottles capture time and memory in perhaps a romantic way; a letter cast into the vastness of an ocean to be washed ashore perhaps in another century, a message in a bottle that the finder discovers linked him or her to a time and a memory foreign to them. Yet the discovery creates a new time and memory, the past becomes the present with a future yet to unfurl."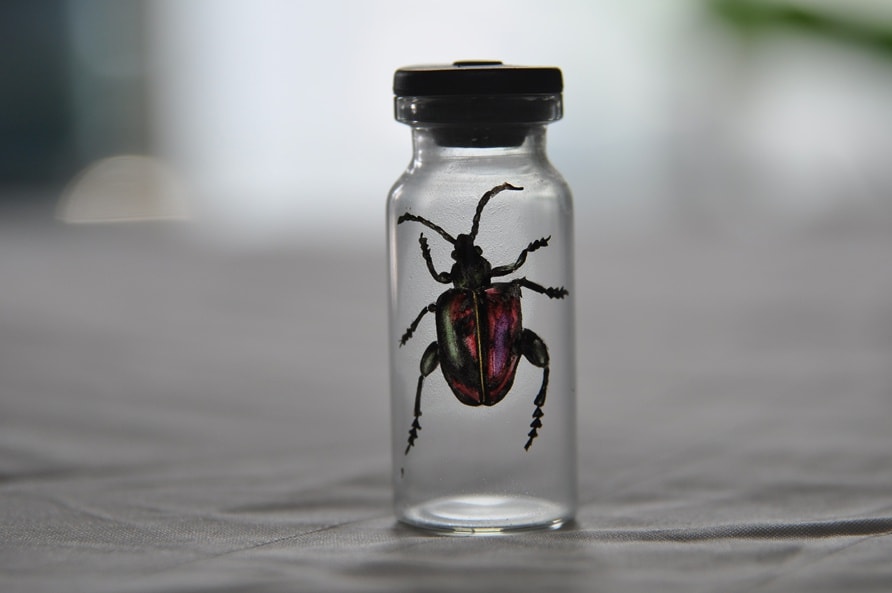 Details, Liu Zhuoquan, Story of Insects, 2011