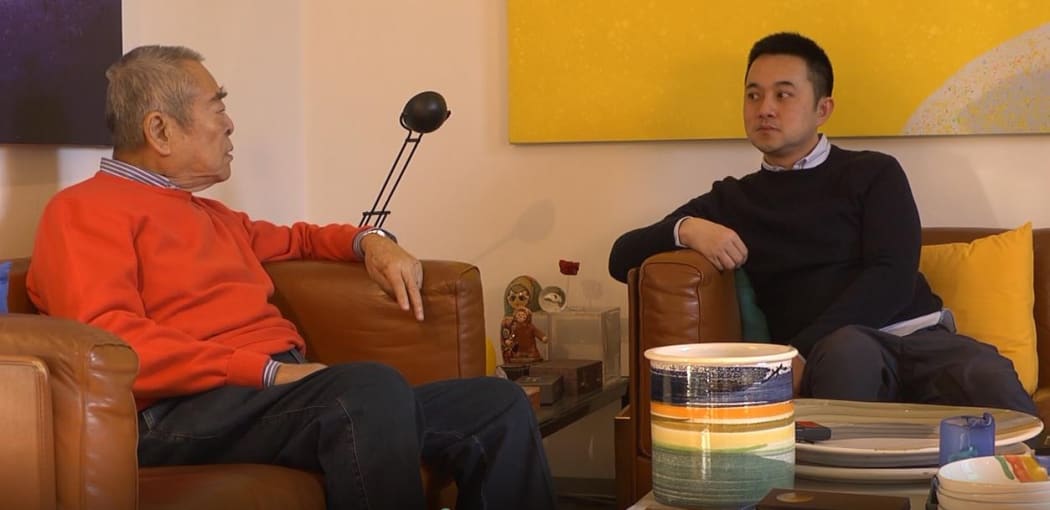 A conversation between renowned Post-war artist Hsiao Chin and 3812 Gallery co-founder Calvin Hui, first published for Hsiao's retrospective exhibition "Hsiao Chin Coming Home", Shanghai China Art Museum, March 2017 and re-published in the catalogue of "The Colours of Ch'an - Tribute to Hsiao Chin", Guimet Museum, Paris, 2019.
Hsiao Chin: I started learning to paint with Master Li Zhongsheng in 1951. Master Li was a Chinese artist who stayed in Japan, he was very poor but an exemplary art educator. He knew how to guide every young soul to learn about art.
Hsiao Chin with Li Chun-shan in Changhua, Taiwan, April, 1981
He lived alone in the attic above his studio, located in An Dong Street, Taipei, which was a barren place fifty or sixty years ago. There were no roads, just dirt, and your feet would be in mud when walking in a rainy day. No lights, and only one plaster statue we had to draw, but which was no longer white because it was so dirty with dust.
At the beginning Master Li did not teach us techniques, he just told us: "Draw however you want when you first see the statue." At that time, we didn't know anything about art, so we were clueless about how to express it. "That is the inner struggle I want you to show," he said. "You must express yourself in your own way from the beginning. You should not imitate others. What you draw is about yourself."
I believe Master Li was right. After that I didn't focus on drawing plaster statues. Everyone in the class tried to create something on their own. We might have imitated some Western artists or were influenced by them. But everyone made some unique singular choices, such as Ho Kan, who chose to depict something surreal. And I chose something linked to Fauvism.
Hsiao Chin, Pittura-CB, 1959, Oil on canvas, 70 x 50 cm
Then I went abroad. I knew what I needed to explore. I visited the art school in Madrid and I found it too traditional. Later, I visited the one in Barcelona and had the same feeling. So, I decided to not waste time. That's why I didn't go to art school. As I didn't have a scholarship to live on, I started writing an art column for the United Daily News - about four or five articles each month. Later, in Barcelona, I made a new friend who was a painter and a wealthy publisher. He introduced me to one of the most famous galleries in Barcelona, Sala Gaspar, which had exhibited artworks by Pablo Picasso, Antoni Tàpies and Joan Miró. The gallery agreed to buy three artworks from me every month.
I went to Italy to attend the 1958 Venice Biennale, and I realised the art events in Italy were more engaging than in Spain. So, I decided to find a way to move to Italy, and I arrived in Milan in 1959, but I couldn't afford to rent a place, so I settled in a small hotel. I finally sold a painting at the end of the month and it helped my financial situation.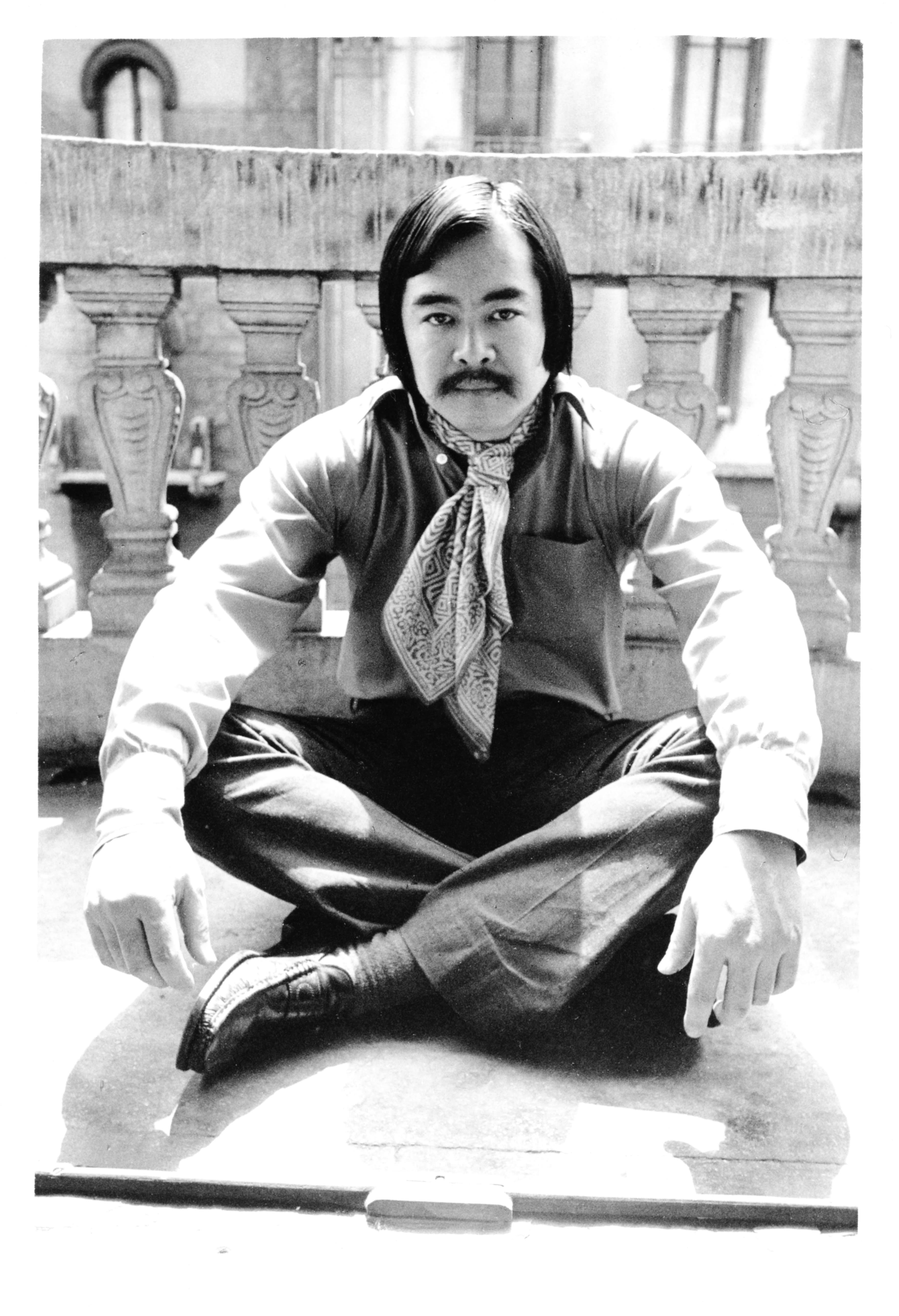 Hsiao Chin in Milan, 1969
Calvin Hui: Could the Italians understand the Eastern abstract concepts?
Hsiao Chin: Yes, they have a good sense of art. It was indeed a little strange that Europeans could understand our culture. Later, I also went to Germany and other places in Europe to organise art exhibitions featuring the Ton-Fan Group.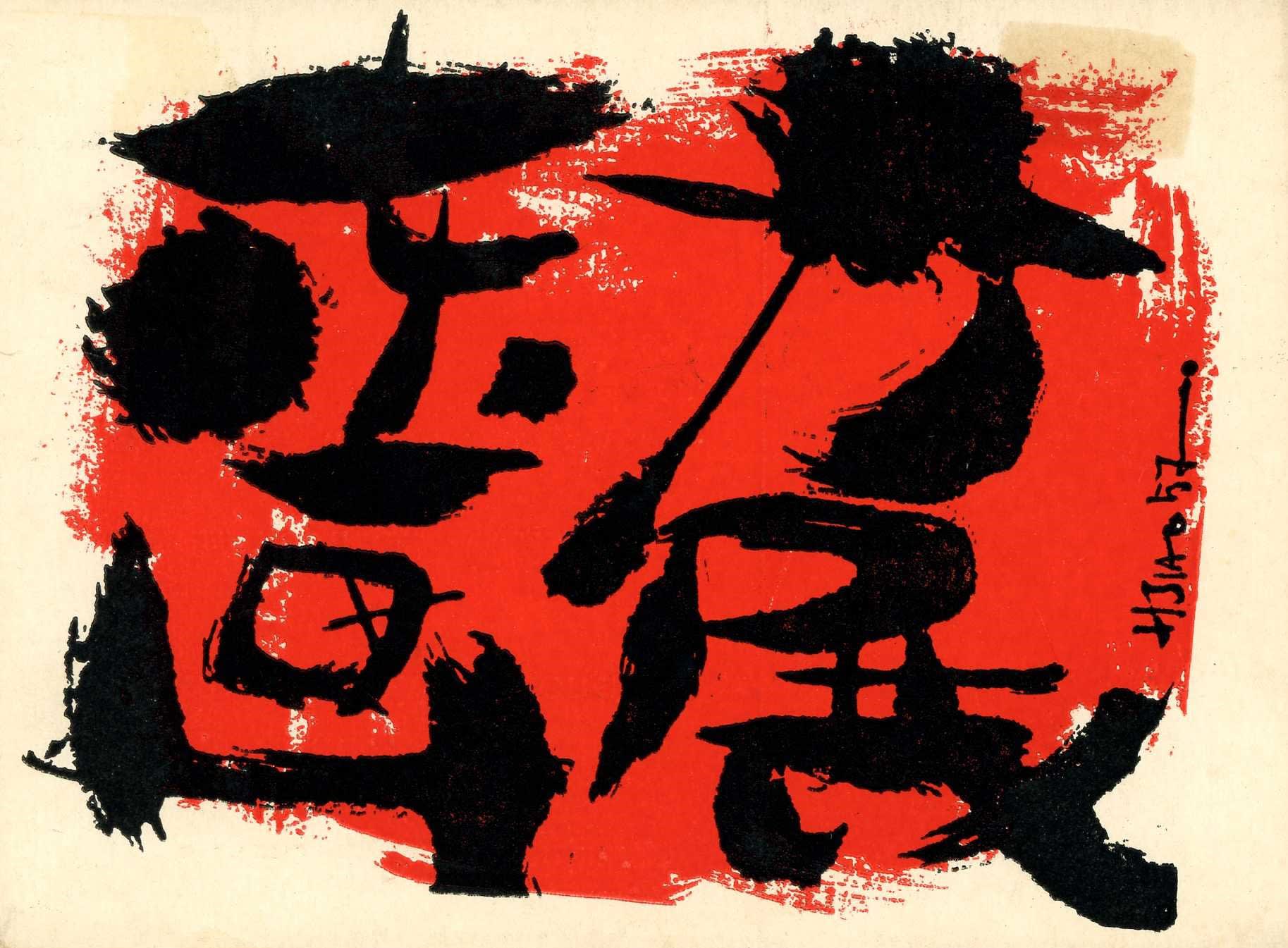 Invitation card of the Ton-Fan Group exhibition, Galerías Jardin, Barcelona, 6 to 16 December 1957
I started the international art movement Punto in 1961. It was hard to begin with as no one understood the concept. We needed to find galleries to help promote our artworks. Meanwhile, we also needed to find more friends to support the idea.
The first Punto exhibition was organised by seven of us in Milan, at Galleria Cadario. The second one took place in Barcelona, in a place called Palacio de Exposiciones - a centre for exhibitions owned by the city government. The exhibition had more than twenty works, by many different artists. Friends from the Ton-Fan Group also sent me their works; they wanted me to organise an exhibition, but we didn't plan to sell any paintings: the artists didn't ask for the money back. They wanted me to use it as a fund to organise other exhibitions.
Calvin Hui: When did you and Antonio Calderara meet?
Hsiao Chin: We lived in the same street; we met and became friends. The idea of Art Informel was very popular at that time and we talked about it, and we both disagreed with the idea. So, I thought our art minds were similar, and Calderara suggested we form a small group, and then we could find more people with the same belief. That was the starting point of the Punto International Art Movement.
Photo taken during the exhibition at Suzanne Bollag gallery in Zurich, Switzerland, 1967 From left to right Calderara, Peschi and Hsiao Chin
Calvin Hui: How did Calderara feel about your expression of the spirit of Punto? As your concept was purely Eastern but he was from the West, how could he understand and merge the ideas?
Hsiao Chin: He supported my concept, which both of us understood, the East and the West. We first organised a Punto exhibition together. We invited other artists to participate, such as Lucio Fontana and Dadamaino, whom I met when I first came to Milan.
Calvin Hui: Between 1961 and 1963, Li Yuan-chia also went to Milan, and he lived with you, didn't he? Did you work together?
Hsiao Chin: I encouraged many people to come to Europe. Li Yuan-chia was the first to come. Although he did not speak much, he had a clear mind. I introduced him to a friend in a famous furniture business in Bologna.
Calvin Hui: Did you travel to Paris too?
Hsiao Chin: Several times. I once worked with a very good gallery in Paris, the Galerie Internationale d'Art Contemporain. I was the youngest artist exhibited in the gallery. At that time, my works depicted something dealing with geometric abstraction. The gallery helped me to organise a big exhibition in Paris in 1964. Everyone was jealous of me; even Zao Wou-Ki looked at me differently afterwards.
Calvin Hui: Do you remember how many artworks were exhibited?
Hsiao Chin: At least thirty or forty.
Calvin Hui: It was really a huge event!
Hsiao Chin: Indeed. Even Zao Wou-Ki attended the exhibition. I had brought all of my works to Paris. I even painted in the dealer's house, to save on transportation costs.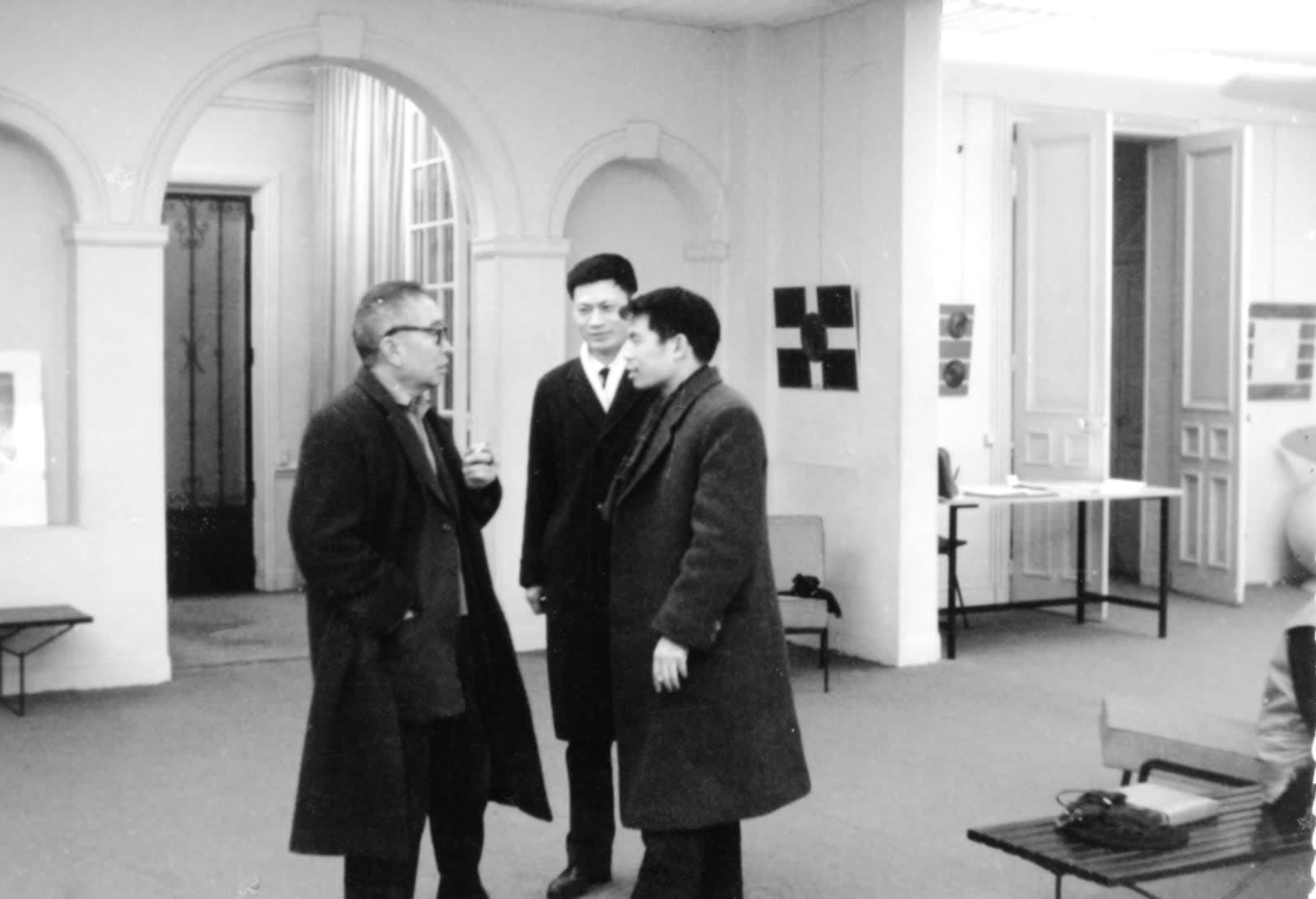 Sanyu and Hsia Yan visited Hsiao Chin's solo exhibition in Paris, January, 1964
Calvin Hui: The Punto Art International Movement was almost at an end in 1965 and 1966, and you then went to the United States.
Hsiao Chin: Yes, I spent four months in the US in 1966. In the post-war period contemporary art was growing in the United States, but the galleries there were different. If European galleries were interested in your works, they might buy them directly from you. In the United States, if they were interested in your works, they would help you organise an exhibition and see if customers liked your artworks.
When I first went to New York, I met Gordon Bailey Washburn, who organised four of the Carnegie International exhibitions and travelled around the world looking for artists. He had been to Milan, and he was a director of the China Institute. He generously introduced me to a gallery in New York, Rose Fried, which was the first American gallery to present geometric abstraction.
Calvin Hui: During that time did you keep in touch with Li Yuan-chia, Hsia Yan or Ho Kan? They were still in Europe, and you were the first one to travel to the United States.
Hsiao Chin: I first brought Hsia Yan to New York. At that time, I was renting two apartments there. The smaller one was very cheap, so I told him that if he came over, I could let him live there. He then found a studio-like factory workshop. New York was harsh for me. I almost gave up being a painter.
Calvin Hui: Was it in the United States that you started teaching?
Hsiao Chin: Teaching had a good salary. I taught in Long Island University. I taught there for four months, and had no exhibitions. I found it difficult to live in New York, but my daughter was born there - when I arrived in New York with my first wife, she was already pregnant.
Calvin Hui: You tried the hard-edge style when you were in the United States, but after returning to Milan you went back to the "Ch'an" series. What happened during this period?
Hsiao Chin: I think it was related to my style of living. My life was intense in the US. It was difficult for me to find a way out. And I had some defensive urges to protect myself. I created the "Hard-Edge" series this difficult time. You were bound by many restrictions, so eventually your subconscious made you approach hard-edge painting.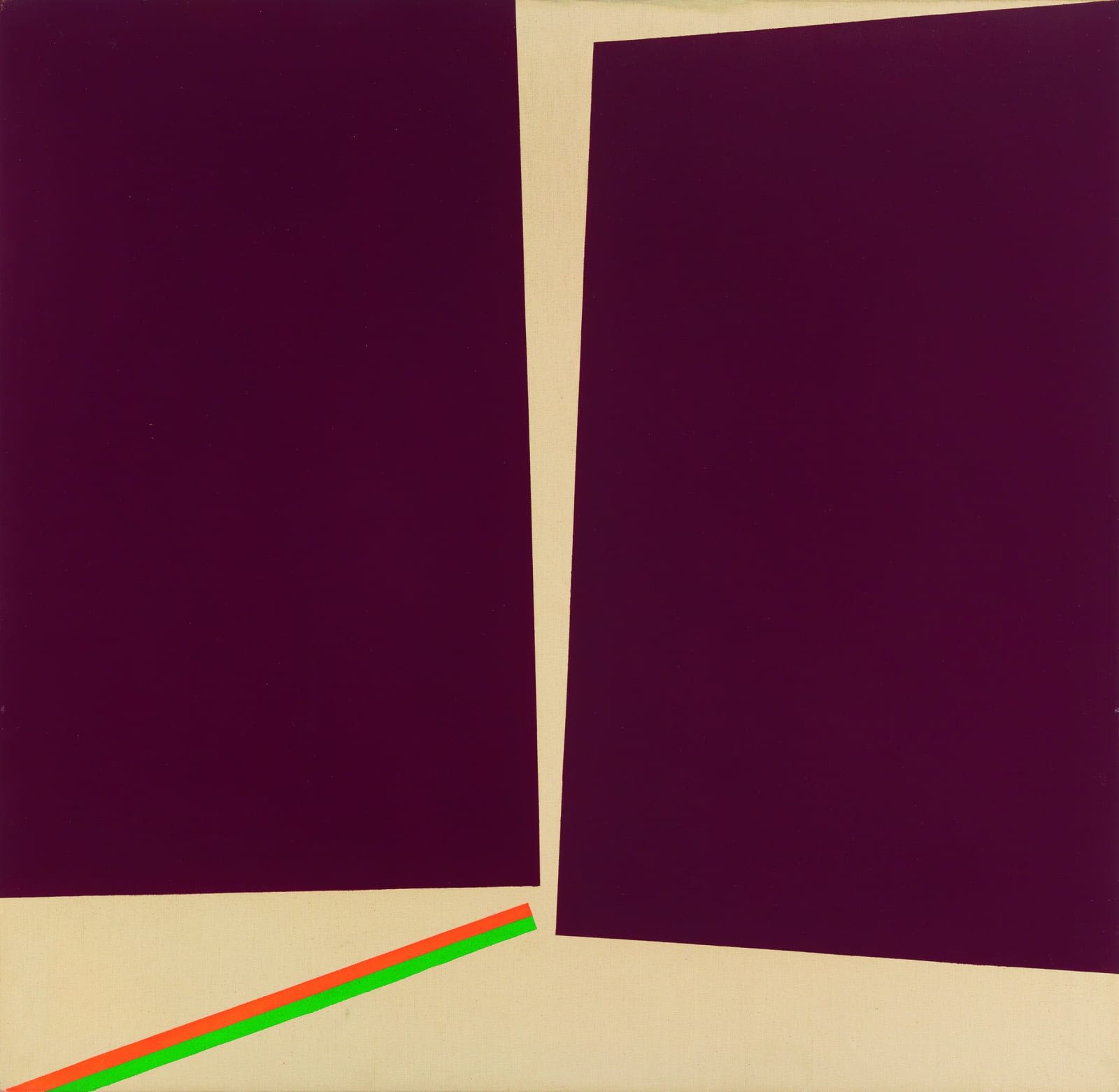 Hsiao Chin, Tension - VI, 1968, Acrylic on canvas, 86.5 x 88.5cm
After that, I had a profound feelings about Ch'an thinking, which directly affected the style of my works.
I started the "Sun" series around 1963, 1964.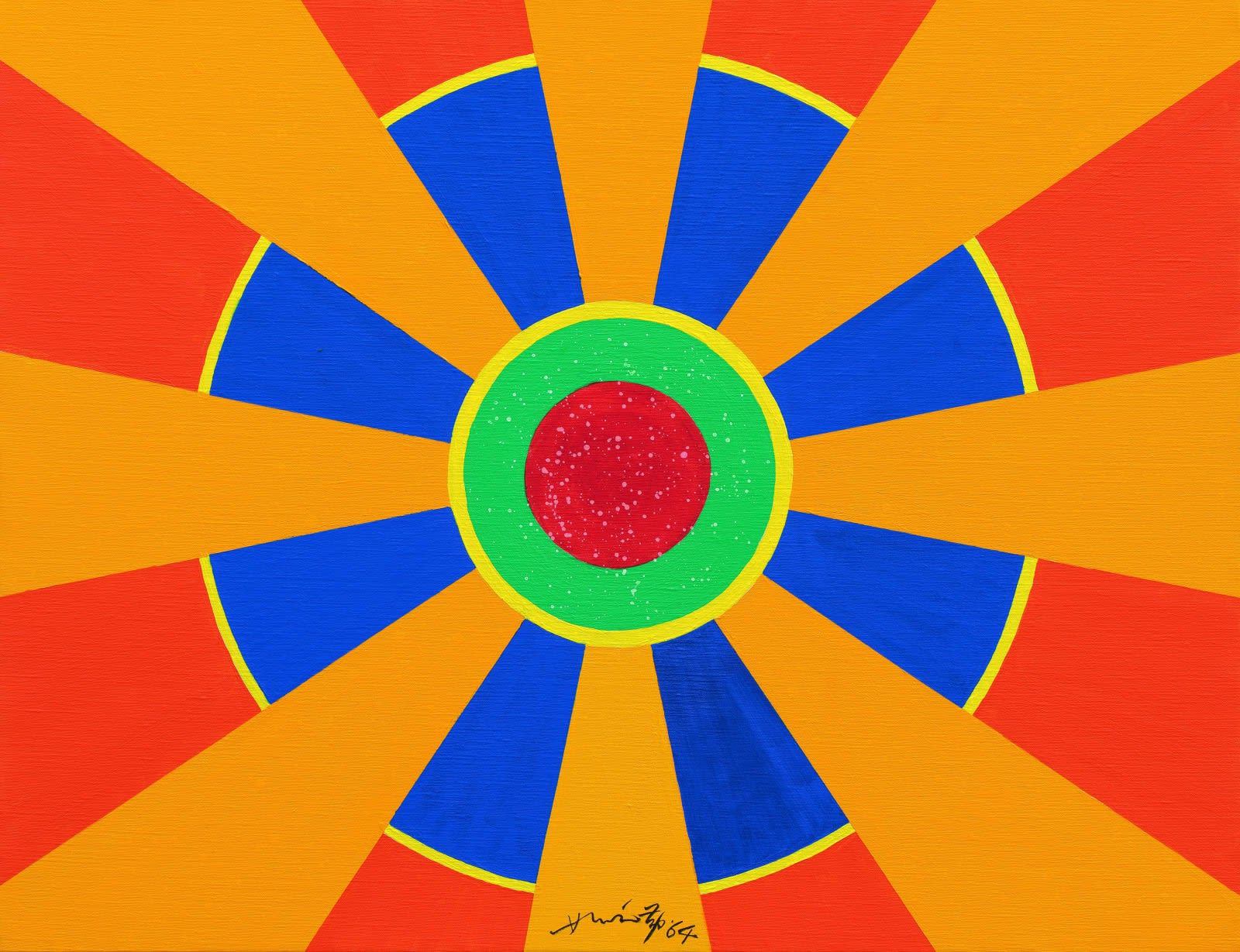 Hsiao Chin, The Sun - 7, 1964, Acrylic on canvas, 100 x 130 cm
Calvin Hui: What inspired this series?
Hsiao Chin: I had been interested in Tibetan philosophies since 1962, and I had started reading books about Tibet. Some temples in Tibet have abstract paintings, for example Potala Palace. I started to see that murals in Tibet had some resemblance to modernism. The modernism portrayed in my works could be in Western or Eastern. At the time, the exploration of the moon was a hot topic.
Calvin Hui: Did you also explore the idea of space and the universe? What is that called? Telepathic communication?
Hsiao Chin: I read an article about a woman in Turin who had this ability. I also went to visit her. She became a good friend. She received alien messages every day at 2 pm. She would sit in front of her typewriter and messages would be delivered to her.
Calvin Hui: What were the messages about?
Hsiao Chin: She could tell you every planet's situation. Several aliens maintained conversations with her. Very interesting! A planet may tell her how their lives were, what they looked like and how their systems functioned. Many of these messages were about the universe. She would tell me about the other planets. My mind became more and more unrestrained. And since then, my artworks have not just been about things on earth. There are no dimensions in the universe. It could be unlimitedly big or small.
Sometimes I didn't know where to start my paintings. But when I added the first colour to it, inspiration would follow. It is difficult to explain; I cannot tell you exactly what happened, or how it happened. Not all people could understand the relationship between the theme and notion behind it. I started a series on paper, I painted these works while I was meditating, with a free mind, so my hands were moving themselves without my command. Completely automatic. Very spiritual!
Calvin Hui: Why did you start the Surya International Art Movement?
Hsiao Chin: The movement was initiated in Copenhagen, by friends from Denmark and Northern Europe, and me.
It was another international group, after the Punto International Art Movement.
Surya means the sun in Sanskrit. It means awareness of the energy of the sun. In the movement we made solar energy the focus, to unleash our potential.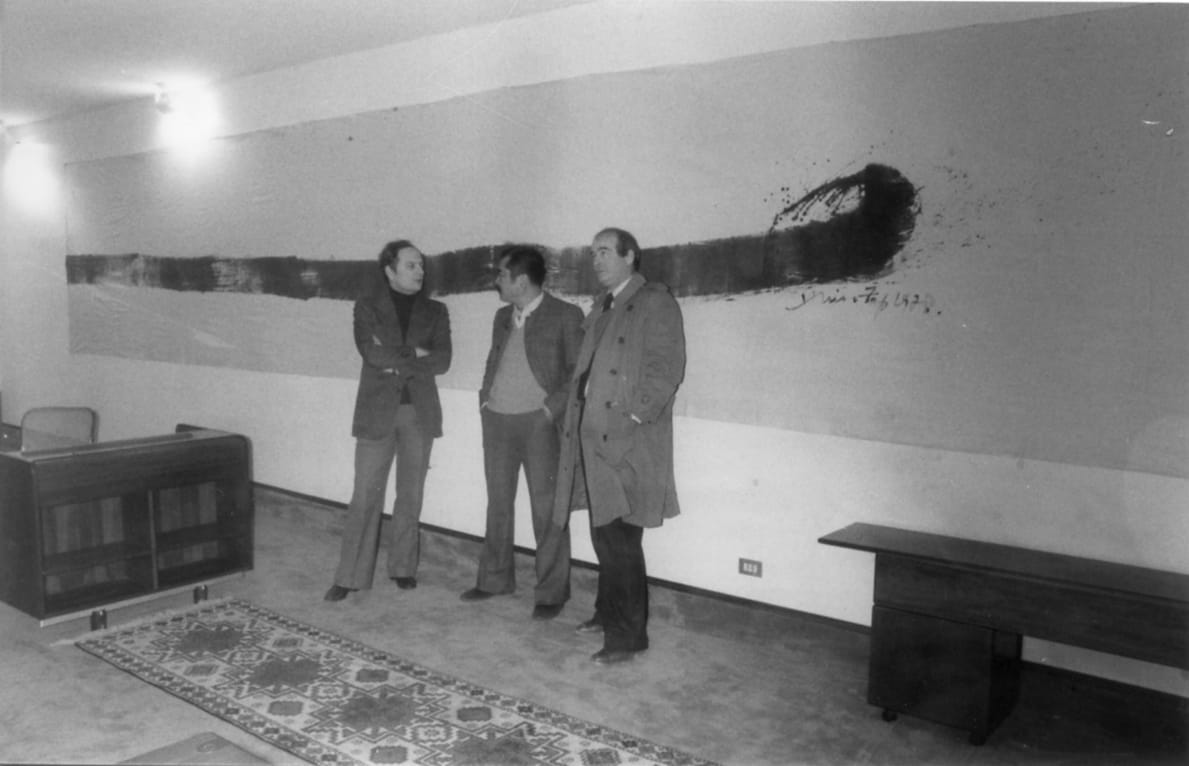 The Surya group exhibition at the City Museum of Macerata in Italy, 1978
Calvin Hui: How many artists participated in the movement?
Hsiao Chin: At the beginning, we were five or six. We later organised a big exhibition. The participants increased to around twenty. Some were from Germany, Northern Europe, Spain and Italy. I organised another big exhibition in Spain, which attracted more people. And it brought more people into the group.
Calvin Hui: Why do you choose the sun as the theme?
Hsiao Chin: The sun is the source of all sorts of energy. We only have several decades to live. It is important for us to think cosmically. Otherwise you cannot understand what you are truly doing.
Hsiao Chin, Purple Sun (IL SOLE VIOLA), 1964, Acrylic on canvas, 80 x 100 cm
Calvin Hui: Now let's look at your development from a historical perspective, from the 1960s to the late 1970s. In these two decades you instigated two important international art movements.
Hsiao Chin: My artworks before the 1960s were close to symbolic and informal styles. After 1960 I thought that was not enough. I thought I had to have my own way of thinking, so that I could build my own art form.
When I became interested in these ideas, I sent a letter to Taiwan, asking Ho Kan to send me the Chinese classics of Taoism. I also asked him to send me some ancient Chinese philosophy books. It was the first time that I had read those books. It really helped to expand my creative space. Since then, I have begun to develop further, based on these philosophies thoughts. Gradually, I shaped my own art form. Between 1961 and 1962, my works started to have their own form.
When my daughter Samantha passed away in 1989, I wasn't able to paint for the next eight or nine months. After that I suddenly realised that life could be eternal; it wouldn't end. When I thought this through, I felt like I had gained a strong energy. With this positive feeling, I created a new series, "Eternal Garden", which conveys the meaning of heaven and paradise.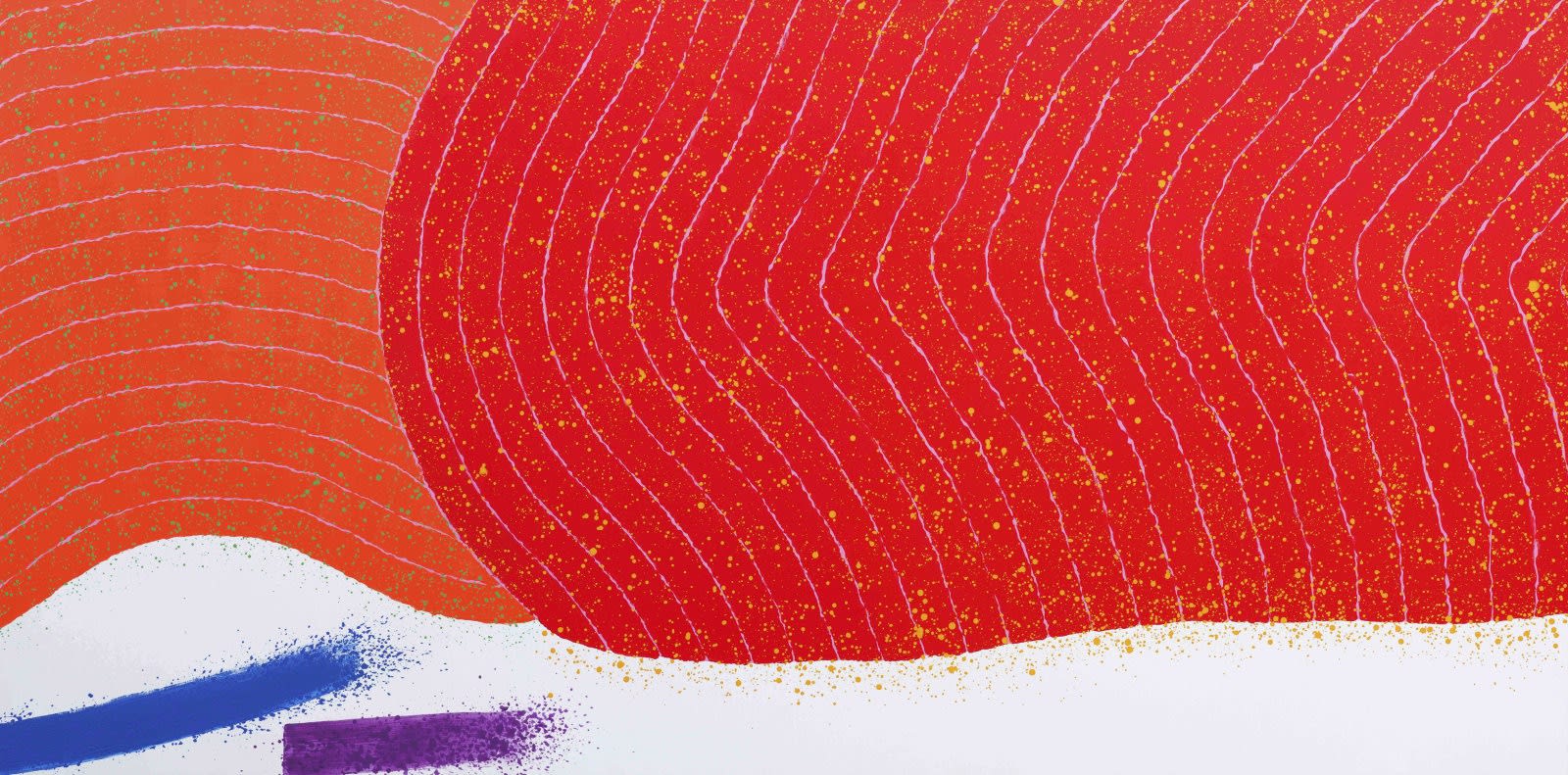 Hsiao Chin, Transcendence the Eternal Garden - 2, 1993, Acrylic on canvas, 140 x 280 cm
Samantha and I are more than just a daughter and a father. Fate bonded us together in a past life.
Hsiao Chin and his daughter Samantha in Copenhagen, April 1986