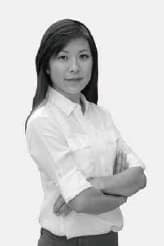 Katherine Don
Deputy Director, Head of Contemporary Ink Art, Sotheby's Hong Kong
"AFTER SEEING AN EXHIBITION OR ART DISPLAY, CLOSE YOUR EYES TO REMEMBER WHAT STANDS OUT THE MOST - THAT IS ONE WAY OF DEVELOPING A PASSION FOR ART YOU COULD LIVE WITH AND ART THAT YOU LOVE."
Since the first Contemporary Ink auction in 2013, could you describe the development of the market?

Sotheby's has a pioneering role in introducing contemporary ink art to the international marketplace, which gives this innovative category extraordinary momentum with collectors. Contemporary ink art encompasses a wide range of art works that transcend geographic boundaries and the traditional ink medium paradigm.

In Sotheby's sales of contemporary ink works, we see the range of explorations by 20th century Chinese artists who used acrylic, collage, back-painting, etc techniques to build upon the ink tradition. It was a privilege for me to showcase art of historical importance and from prestigious collections of Asian works of art. In addition, it was exceptionally exciting that the sale engaged seasoned collectors to enter a contemporary category for the first time at auction. I aspire for our Contemporary Ink auctions to continue to introduce and inspire a discerning audience with works of such quality and innovation.
When it comes to collecting contemporary ink art, which aspect should one focus on?
For all contemporary art, there are many aspects that attract collectors, such as history, rarity, provenance, size, subject matter, quality, or even fashion. Here are my thoughts on a few:

Quality. Ink as a medium has been around for thousands of years and patiently trained artists who understand their medium are able to perpetuate the same quality that has endured for centuries.

Rarity. Seek advice from trusted collector friends, ethical dealers, and other experienced art professionals - especially artists themselves - to both ask and answer the questions about an artist or specific work. Specialists are always eager to share their passion for the arts with collectors and patrons.

Fashion. No one knows how history will judge the future value of a work. If value is of great importance, aim to make a market, don't just follow one. Like being a part of an angel fund, it is exciting to be on the ground for an emerging market with undervalued or overlooked works.

For contemporary artists using ink, many apply innovative and creative processes to the traditional media - mixed with acrylic, mounted as sculpture, merged with video/animation, etc. Some provide a historical or social narrative in their works - refer to classical concepts, combine multi-cultural influences, etc. It can be difficult to put your finger on what exactly strikes each collector, be it aesthetics, technique, narrative or a combination of these things. After seeing an exhibition or art display, close your eyes to remember what stands out the most - that is one way of developing a passion for art you could live with and art that you love.
What conclusion could you draw from the last Contemporary Ink sale? What do you think is the future of Contemporary Ink art?

In 2016, Sotheby's held two ink art auctions totaling HK$73.5m, which was more than double the aggregate total for the previous year. That year we were able to feature the world's first single owner collection of ink art, The Origo Collection, which brought a greater variety of artist's works to market from our category, including the delicate brushwork by academic painter Zhu Daoping, the monumental calligraphies by Wei Ligang, and the abstract conceptual works by Zheng Chongbin. In addition, we set the current world's auction record for Poppy by Liu Dan selling at HK$6.92m. However it is interesting to note that comparable private sales of works by such masters are often even higher, sometimes double than the records achieved at auction. This suggests that even today there is room for increased value and growth for artists at auction now.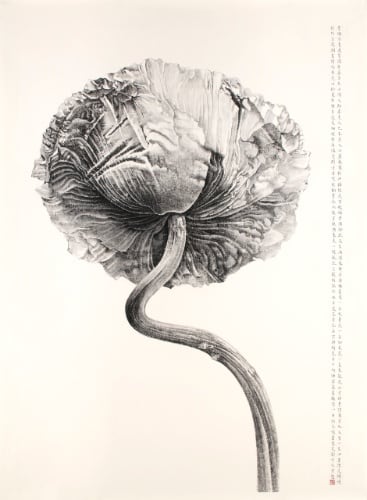 Liu Dan, Poppy, 2008, Ink on paper (Courtesy of the artist)

In contrast to previous years, the most recent sale in April 2017 sold distinctive early period works by established artists including C.C. Wang, Liu Dan and Qiu Deshu.

These results point to a strong auction market for historically relevant, technically virtuosic, and conceptually rigorous works of art. And among galleries and institutional exhibitions there is even greater variety for works of art in the ink medium. As demonstrated by the 2013 exhibition of Ink Art at the Metropolitan Museum of Art in New York, if just looking at China alone, there are dozens of important works of art and masters who challenge the traditional notions and framework of evaluating ink painting and the ink medium.

In the future, I believe we will see a progressive influence of intercultural dialogue on scholarly traditions in artistic styles over time. While the geographical boundaries and definitions of ink art may be blurred with pieces categorised as everything from written calligraphy, to landscape painting, to abstract and conceptual art--its history and influence are clearly richly felt in the fantastic breadth of artists that have indulged in the medium over the centuries.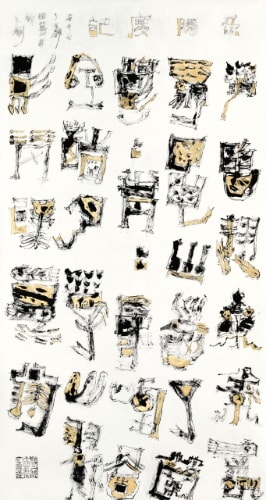 Wei Ligang, Record of Yue Yang Tower, 2007, Ink and acrylic on paper (Courtesy of Sotheby's)
Do you believe one needs to understand Chinese history and its culture in order to appreciate contemporary ink art?
One should appreciate the ink medium for its inherent qualities and sophisticated historical legacy in Asian cultures. Ink as a medium transcends cultural boundaries. To appreciate contemporary art from China today, it is useful to understand the historical and current context in which it is created. However such issues may relate to cultures around the world. For example, one may draw parallels to the Islamic tradition of the written image and use of ink as a medium for calligraphy, or to the historic Indian tradition of using ink for fine miniature paintings. Just as history provides an endless source of inspiration, so does the innovation of contemporary artists today.
Do you believe the rise of contemporary ink art brings traditional ink art en vogue?
Make a market, don't follow it. The focus on contemporary ink art is a well deserved spotlight on highly innovative artists creating works against a unique backdrop of a rich artistic tradition. There are unlimited ways that artists, not only in Asia, are creating works that may be related to, inspired by, a reaction to, the ink tradition and philosophy. Contemporary ink art provides continuity to the past. As witnessed for centuries, the best works will challenge established notions and provide innovation for creativity in the future.
The article was first published in Collect Art Journal (issue 2) in June 2017.