This year marks the first public exhibition of MGM Chairman's Collection, a response to modern China's vision for the future. Titled 'Awakening', the exhibition echo's MGM's adherence to promoting cultural awareness and sets dynamic, new milestones of artistic creation.

Featuring works from Cai Guoqiang, Chloe Ho, Hung Yi, Liu Guofu, Liu Jianhua, Wang Huangsheng, Xue Song, Yu Yang, Yuan Jai and Zhang Dawo, curator Calvin Hui introduces Chinese art of "Eastern Origin and Contemporary Expression" to the global market. Macau, the southern gate of the country, is the perfect place to empower and build on this notion.

The exhibition will take place from 16 July - 31 October, at MGM COTAI Spectacle and the Lion and Emerald Lobbies.

We are delighted to invite you to the exhibition, to bring us together with positivity, energy and confidence for the future.
Xue Song, Awakening Lion, Mixed media collage, 2021, 250 x 250cm

Liu Guofu, Awakening, Oil on canvas, 2021, 200 x 500cm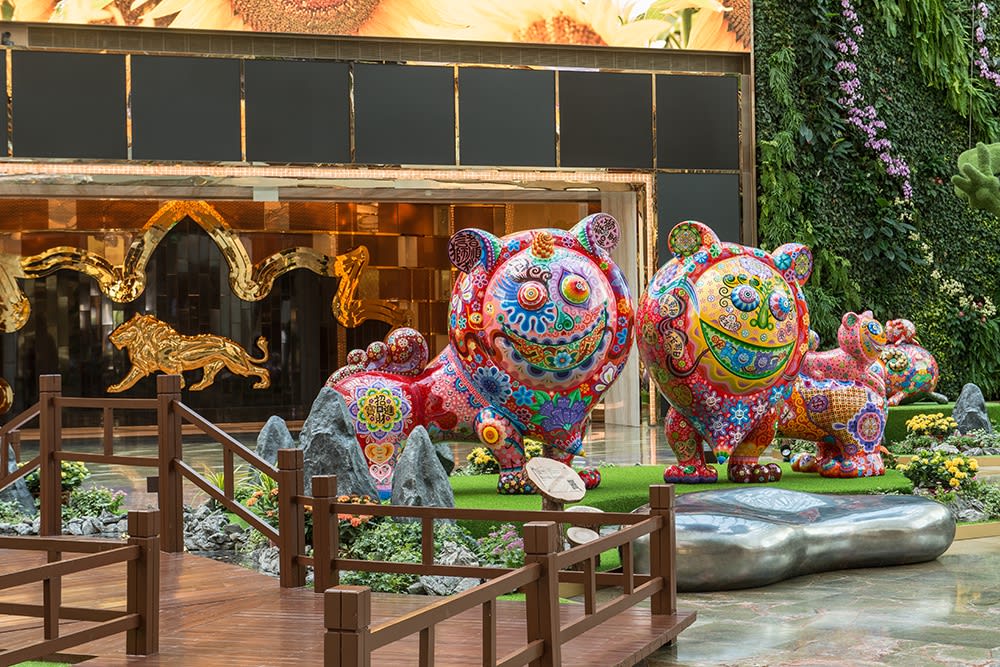 Left: Hung Yi, Mr Lion, Baked enamel on steel plate, 2021, 245 x 136 x 220cm
Right: Hung Yi, Mrs Lion, Baked enamel on steel plate,2021, 232 x 133 x 215cm
---
On 16 July, our artists Liu Guofu, Wang Huangsheng and Xue Song will join Pansy Ho, Co-Chair and Executive Director of MGM China Holdings Limited and Calvin Hui, Curator of MGM Chairman's Collection, to share Contemporary Dialogues of Chinese Cultural Awakening.
---
Awakening: Like a Lion
Curator: Calvin Hui
"Man is but a reed... a thinking reed." This is a famous maxim from philosopher Blaise Pascal. It means that since its birth, humanity has harbored an innate yearning. This primal yearning drives us to break down barriers and engage in intimate interaction, and this in turn has caused language, art, and even the vast history and civilization of humanity to sprout from within the nourishment of the organic cycles and exchanges, growing into giant trees that provide shade and comfort to posterity. If we cannot remember the "giants" who first plowed the land, then we will be unable to clearly see the fate of humanity in the increasing encounters amidst the irreversible trends of globalization, let alone stand within the contemporary Chinese context, as the Covid-19 pandemic disperses and many more matters remain unattended, to reexamine the place for the ideas, culture and art of this ancient civilization in Asia and the greater world.
From 2014, when Chairman Pansy Ho invited the author to serve as the curator for that year's installment of the MGM Biennial of the Lions, to the establishment of the "Chairman's Collection" project, the time has kept passing by, and the world stands transformed. To present the corporation's art collection to the public for the first time in the form of an academic exhibition is all the more meaningful and important at this time. With the title of "Awakening," this exhibition of the MGM Chairman's Collection not only uses the imagery of the "waking lion" as a passioned response to longstanding historical and cultural roots, but also as a response to humanity's most primal, instinctive yearning to create beauty and expression. Let us now consider the advance and retreat of the shared cultural community of mankind.
Trade and cultural exchange are two key junctures through which we come to understand the world. Zhang Qian's Han dynasty ambassadorial mission across Central Asia to establish the Silk Road created a pathway for China's trade and exchange with the world. Thanks to this bridge spanning East and West, Chinese culture developed over thousands of years, growing through the Song, Yuan and early Ming dynasties to reach the height of development. Macao, Quanzhou and Guangzhou became key ports on the Maritime Silk Route. The Portuguese, those pioneers of the European age of discovery, settled in Macao early on, turning it into an important hub for global trade. At that time, all of the trading vessels one could see came from China, and were loaded with dazzling cargoes of Chinese porcelain, tea and silk. In the Qing dynasty, due to its geographic advantage, Guangdong became an essential stop for all international trade. Even during periods in which maritime traffic was banned, Macao was the sole port that remained open. Macao has long been linked by maritime routes to all the major continents and oceans, making it a center for exchange between Chinese and Western civilization. In the late 1970s and early 80s, Deng Xiaoping's policy of "Reform and Opening" left an indelible mark on Chinese history. As the structure of global trade shifted, developed countries shifted production to developing countries, and China stepped onto the international stage in the role of "the world's factory." Macao, playing its role as the nation's "southern gate" as a special economic zone, helped the nation take off.
As the times have moved forward, digital tools have rewritten the means of human exchange. The key terms of the "Internet spirit," openness, equality, cooperation, and sharing, are an affirmation of the arrival of this new cultural state of affairs. China's overall influence has continued to rise in recent years, and now her every move attracts international attention. We realize that the desire to use comprehensive national strength to reshape traditional regional politics has been a driving force behind our constant introspection and quest for change. The proposal of the Belt and Road Initiative is a continuation of China's long diplomatic history, calling for the establishment of a Silk Road for the 21st century. Beyond economic trade, it advocates for sweeping cross-cultural dialogue rooted in respect for rich cultural diversity to enhance mutual recognition, connecting past and future in the present through mutual respect and unity. The establishment of the Guangdong–Hong Kong–Macao Greater Bay Area amounts to a deepening of the Belt and Road. In recent years, the government of Macao has worked to push forward "Zhuhai–Macao unification" and the establishment of a "deep cooperation zone for Guangdong–Macao–Shenzhen," further affirming Macao's future role as a key center for cultural exchange due to its unique status as an international hub.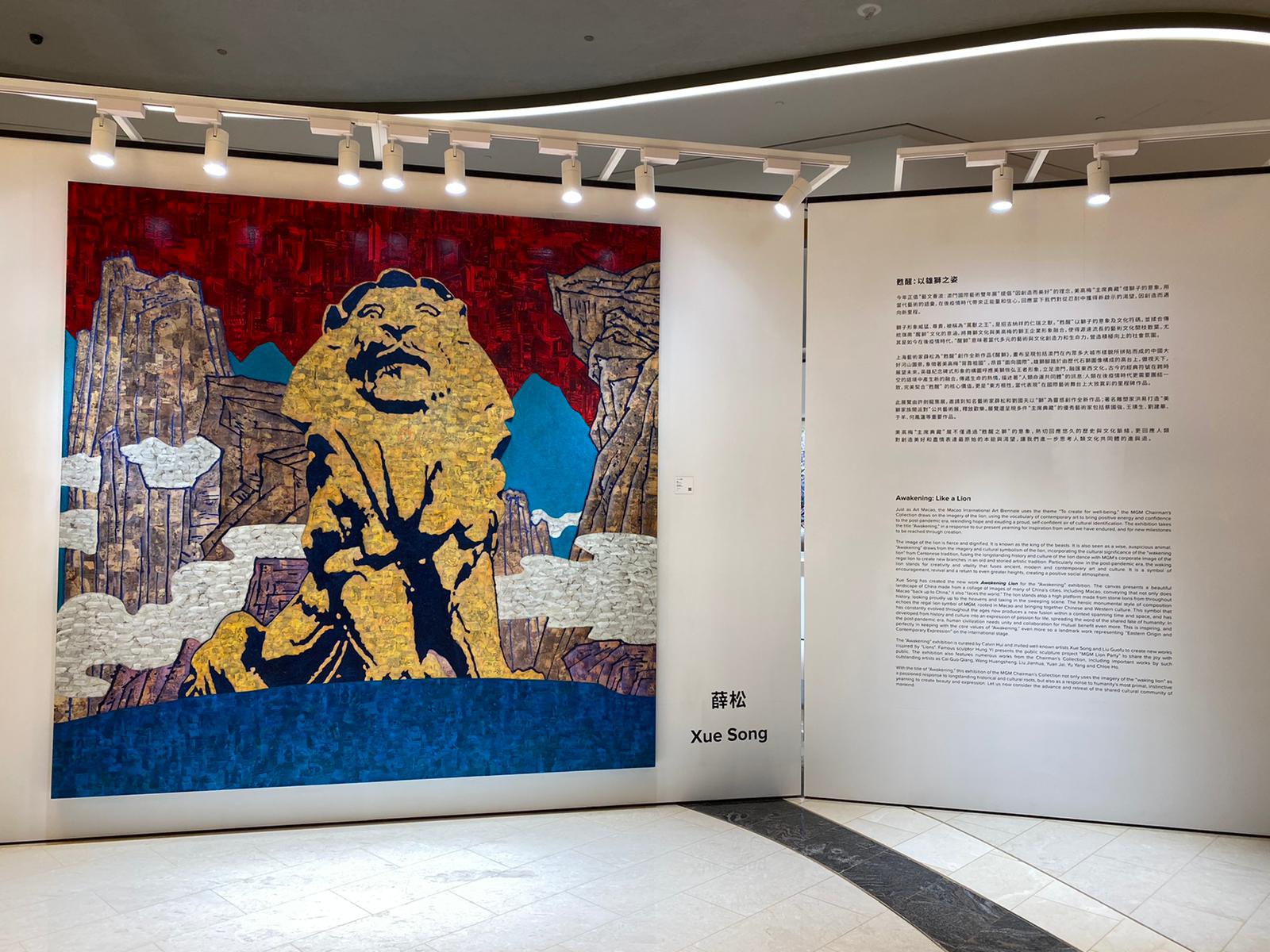 The MGM Chairman's Collection—Eastern Origin and Contemporary Expression
Famed contemporary critic and philosopher Arthur C. Danto's concept of "post-historical art" posits that the Western mainstream narrative is growing increasingly obsolete amidst the waves of globalization, and a new paradigm of contention between a multitude of voices is becoming the new mainstream. Danto held that if we wish to convey meaning that transcends time, we must find our own methods, the expressive methods most suited to our own times. This concept is in accord with the idea of "Eastern Origin and Contemporary Expression," which the author proposed in founding "Ink Now," as a beacon for Chinese contemporary art and culture, reflecting its significance to the times and its urgency. The artistic linguistic system established by Chinese artists since the Song and Ming dynasties is entirely different from the conceptual logic of the West. They advocated the expression of individual emotions, using presentations of aesthetic taste to elucidate ancient Eastern philosophical thought. This emotional yet highly philosophical aesthetic is a profound understanding of art's essence, turning artistic expression into a study of the sacred and a carrier of the literati spirit. Liu Xizai of the Qing dynasty wrote, "Art is the shape of the Tao." The fusion of aesthetics and ideas to guide social mores and artistic practices using new spiritual content is creation beyond the level of artistic technique. Perhaps it is only through the study and innovation of the precious art systems of our predecessors that new support can be found for postmodern art facing the unprecedented challenges of the "post-historical" era.
"Eastern Origin and Contemporary Expression" is aimed at deepening Eastern aesthetic values and positioning Eastern aesthetics within the developmental environment of contemporary art. In other words, the "contemporariness of Eastern aesthetics." In an era when multinational social media has become the mainstream, the wave of Western contemporary art remains a strong current occupying the field of vision of the masses. The question now is how to take the outstanding traditional content of Chinese contemporary art, combined with the contemporary creative experience of the artists, and create a contemporary expression of uniquely Eastern artistic aesthetics to blaze our own path apart from the monotonous mainstream discourse, thereby enriching the diversity and differences of the world cultural ecosystem. That is the core value conveyed by the MGM Chairman's Collection and "Awakening."
The Chairman's Collection is deeply rooted in Macao, that window to the south, and carries on in the long history of Guangdong as a port province, playing an indispensable role in promoting the cultural self-confidence of the Chinese people. On the occasion of the 50th anniversary of Sino-French diplomatic relations, President Xi Jinping remarked on Napoleon's famous line about China, that "China is a sleeping lion. Let her sleep, for when she wakes, she will shake the world." He responded, "Today, the lion has woken, but it is peaceful, pleasant and civilized." In 2016, in commemorating the 95th anniversary of the Communist Party of China, President Xi precisely defined China's image in the world, saying, "China will always remain the builder of world peace, a contributor to global development, and upholder of international order, hoping to expand the points of shared interest between nations, to promote the construction of new international relationships built on cooperation and mutual benefit, and to promote the formation of a community of shared human destiny and shared interests." Today, as the "lion" that is China begins to awake from the torment and slumber of history, the yearning for cultural self-confidence awakens alongside it. The lion is also the symbol for the MGM Group. Just as Art Macao, the Macao International Art Biennale uses the theme "To create for well-being," the MGM Chairman's Collection draws on the imagery of the lion, using the vocabulary of contemporary art to bring positive energy and confidence to the post-pandemic era, rekindling hope and exuding a proud, self-confident air of cultural identification. The exhibition takes the title "Awakening," in a response to our present yearning for inspiration from what we have endured, and for new milestones to be reached through creation.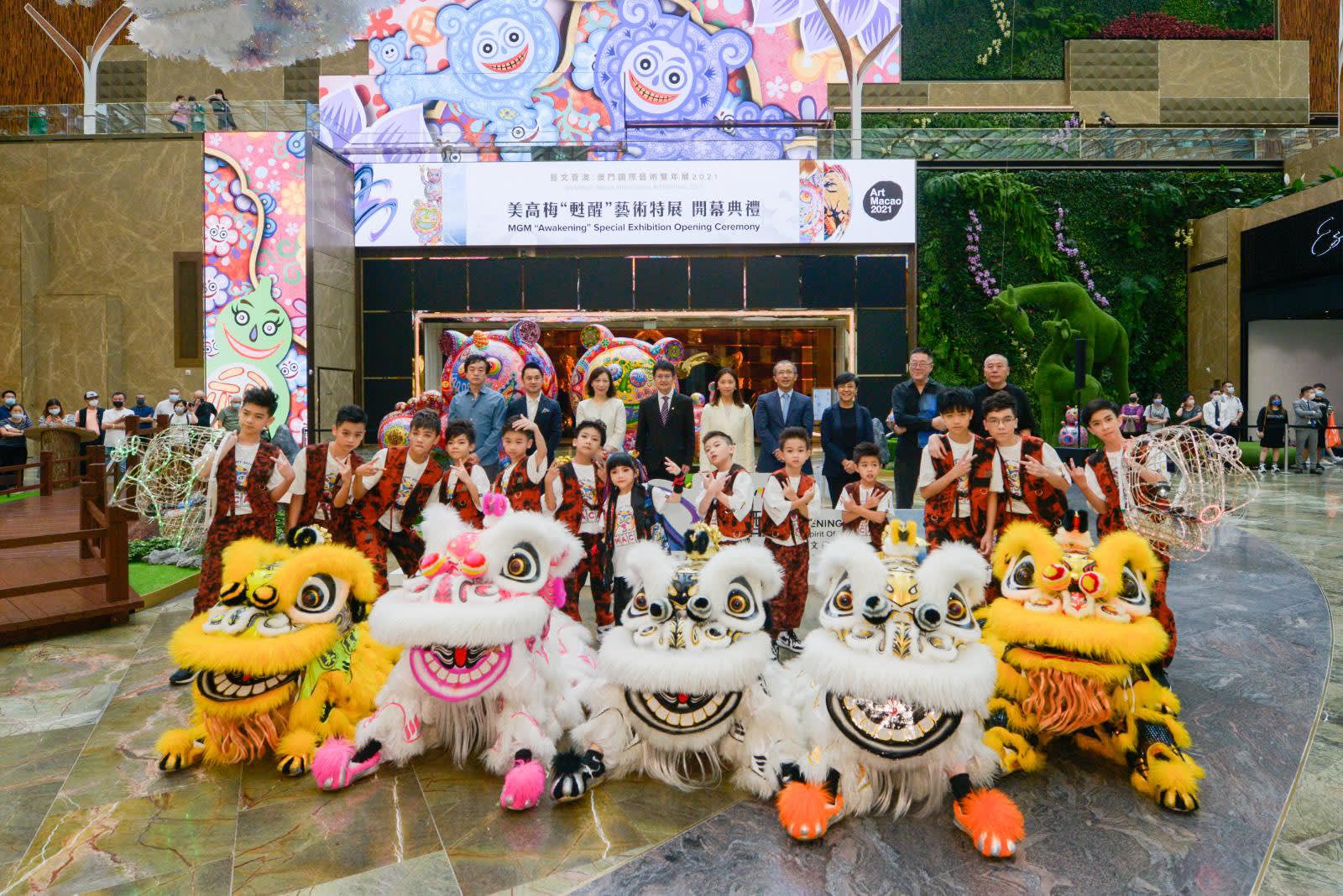 MGM "Awakening" Special Exhibition Opening Ceremony
Awakening: Like a Lion
The image of the lion is fierce, mighty and dignified. It is known as the king of the beasts. It is also a powerful talisman for warding off evil and bringing good fortune. It is seen as a wise, auspicious animal. The lion originated in Africa, but has appeared in Central Asia, Western Asia and northern India, and was introduced to China from its western neighbors. Statues and images of lions are deeply rooted in Chinese folk tradition, and closely connected to Buddhism. Shakyamuni, the founder of Buddhism, has been described as a lion among men, and the Bodhisattva Manjushri rode a lion. For this reason, the lion has become a symbol for bravery, wisdom and enlightenment. As history progressed, various images of the lion entered into Chinese art, architecture, fengshui, folk customs and dance, the result of Sino-Western cultural exchange and cultural creativity.
"Awakening" draws from the imagery and cultural symbolism of the lion, incorporating the cultural significance of the "waking lion" from Cantonese tradition, fusing the longstanding history and culture of the lion dance with MGM's corporate image of the regal lion to create new branches in an old and storied artistic tradition. The Cantonese "waking lion" is a southern offshoot of the Chinese lion dance, which has spread to overseas Chinese communities the world over as an authentic Cantonese folk tradition recognized across the globe. It was originally called the "auspicious lion." During the Opium Wars, people with a strong national consciousness, realizing that the Cantonese word for "auspicious lion" sounded like "sleeping lion," chose to rename it "waking lion" in an expression of hope for national rejuvenation. When disease breaks out, the people use the lion dance to ward off pestilence and disaster. The waking lion conveys an electrifying spiritual state. Particularly now, in the post-pandemic era, the waking lion stands for creativity and vitality that fuses ancient, modern and contemporary art and culture. It is a symbol of encouragement, revival and a return to even greater heights, creating a positive social atmosphere.
Every cultural discourse has its own historical backdrop. "Awakening" speaks of "Eastern Origin" responding to the specific context of the times. It is an expression of concern for the future, a forward-thinking, development-oriented mindset. "Awakening" is also a stance of "contemporary expression," of interaction and collaboration between art, scholarship, collection and a glocalized market that pushes forward the development of the Chinese contemporary art ecosystem. The participating artists are rooted in Eastern aesthetics while being inspired by various cultural threads and ideas in the global era to create unique, forward-thinking and representative works of Chinese contemporary art, using art to express cultural self-confidence while reflecting their sense of cultural responsibility as artists.
Acclaimed Nanjing artist Liu Guofu is obsessed with calligraphic traditions that capture the essence of Chinese culture, and constantly seeks out a pure spiritual language within brushwork. He effects incredible fusions between the elementality of ink and the elementality of oil, forming unique accumulations of countless layers of brushstrokes. Liu Guofu's art follows in the footsteps of Ni Zan and Gong Xian while engaging in a dialogue with such Western masters of abstraction as Giacometti, Cezanne and Twombly. He is the epitome of "Eastern Origin and Contemporary Expression." Roberta Smith describes Liu Guofu's artworks as "Primitive in its emphasis on direct old-fashioned mark making, except that his feverish scribbles and calligraphic scrawls made that process seem new and electric. And part of that electricity came from his ecstatic response to history, literature and other art, and the raw emotionalism that his mark making conveyed." For the MGM Chairman's Collection, Liu Guofu has created a new work in a giant, five-meter-long format. Awakening, the title work for the exhibition, presents the stance of a lion awakening in nature, drawing inspiration from the textures of the lion's mane and the undulating lines of its body, tracing back along the traditions of Chinese shanshui landscape painting, capturing the beautiful flowing curve of the lion's body with a calligraphic, abstract brushwork. The mottled marks appear thin and light like smoke, yet transparent and substantial like jade. Up close, all of the brushstrokes appear chaotic and without order, but from a distance, they are firm, tranquil, poetic and jade-like, filled with a cold yet powerful tension, conveying the regal allure of the lion. The painting has a dark blue hue, the most beautiful tone of Chinese culture. The reclining lion appears amidst a Chinese shanshui landscape painting, the lion king returning to the land, becoming one with nature. The vocabulary of Eastern art and the techniques of modern Western painting convey spiritual meaning that marks out a great cultural height. Here we see true modern qualities in Chinese painting. Awakening is Liu Guofu's largest, most spectacular painting to date.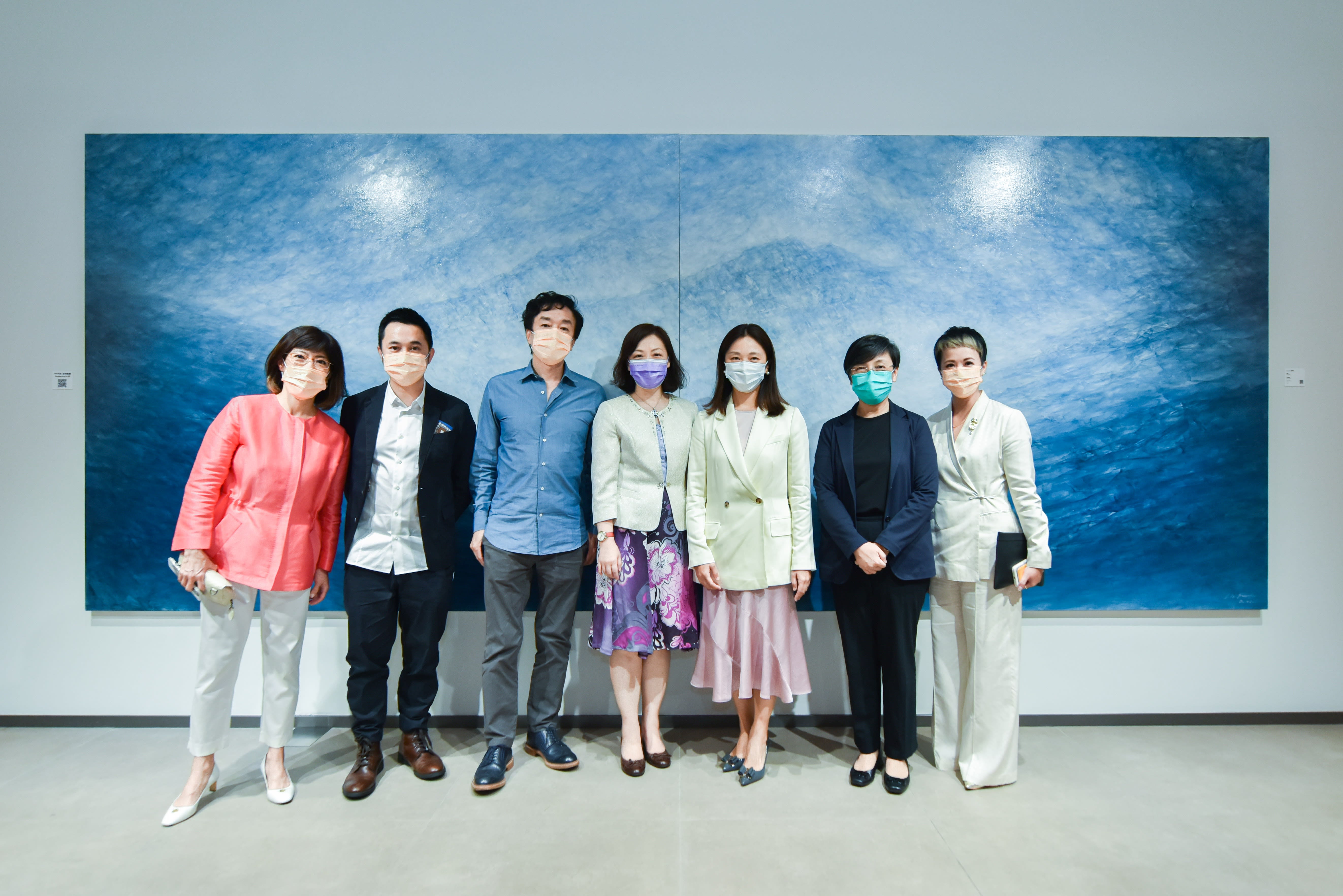 Liu Guofu, Awakening, Oil on canvas, 2021, 200 x 500cm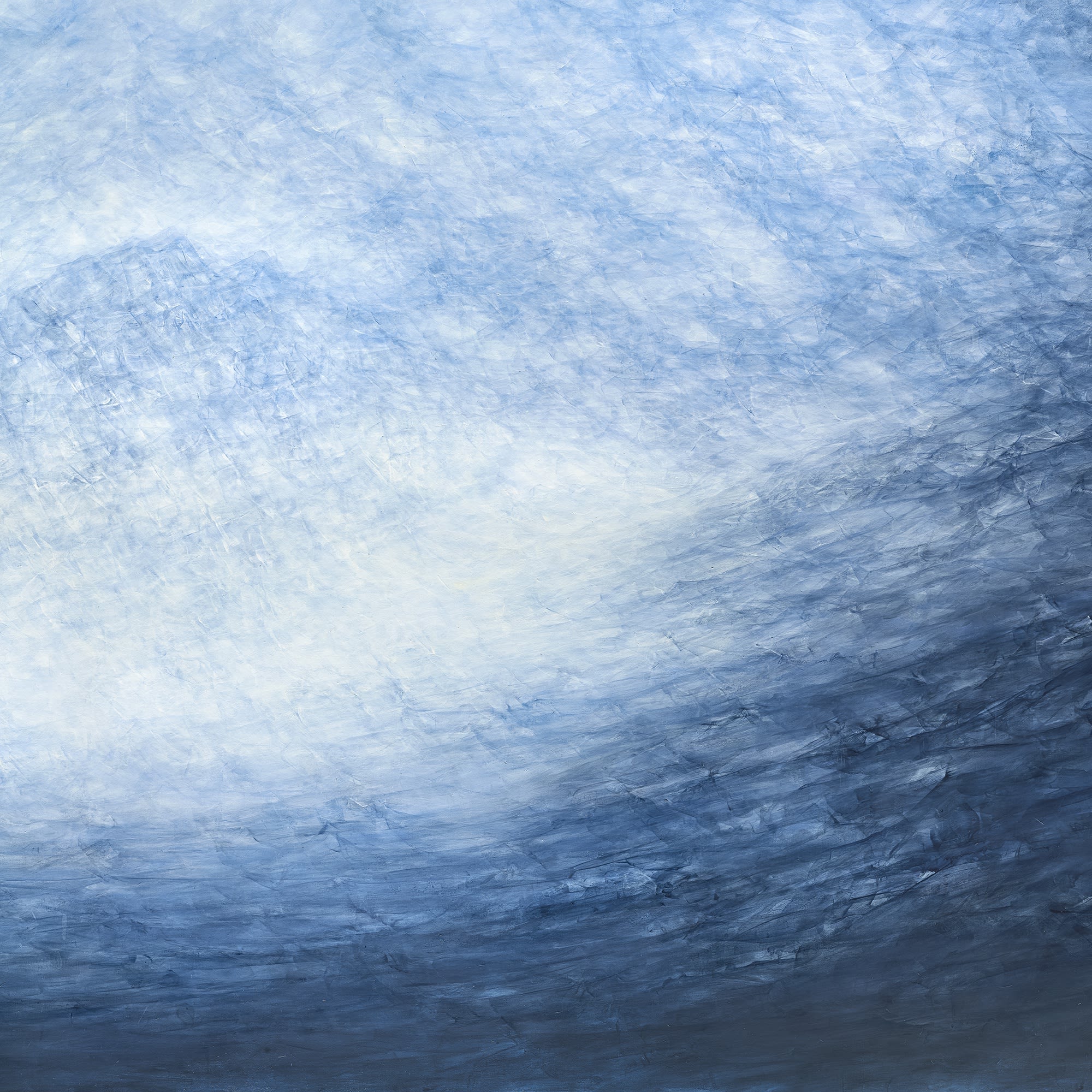 Liu Guofu, Awakening, Oil on canvas, 2021, 200 x 500cm (Details)
Shanghai artist Xue Song has blazed a unique path for himself in the contemporary art scene, combining Chinese-style Pop art with collage, and bestowing his works with critical and reflective qualities. Fire is one of his signature elements. He turns burned shreds of magazines and art catalogues into dramatic literati landscape scenes, drawing people into his aesthetic of dislocation and clashes of culture. Drawing on cultural signs and silhouettes ancient and modern, Chinese and international, he engages in a satirical exploration of contemporary social issues, sometimes drawing on history to speak to the present, or the present to revisit history. The refined, vivid brushwork and rich colors express the cultural mindset of a generation, at once conveying a passion for traditional Chinese cultural aesthetics and wonder at the changing times. On the path of practicing contemporary Chinese cultural values, artists such as Xue Song are taking a different path of dazzling creations that awaken a sense of cultural affinity among a new generation of Chinese youth. This is the most vivid interpretation of "Eastern Origin and Contemporary Expression" today.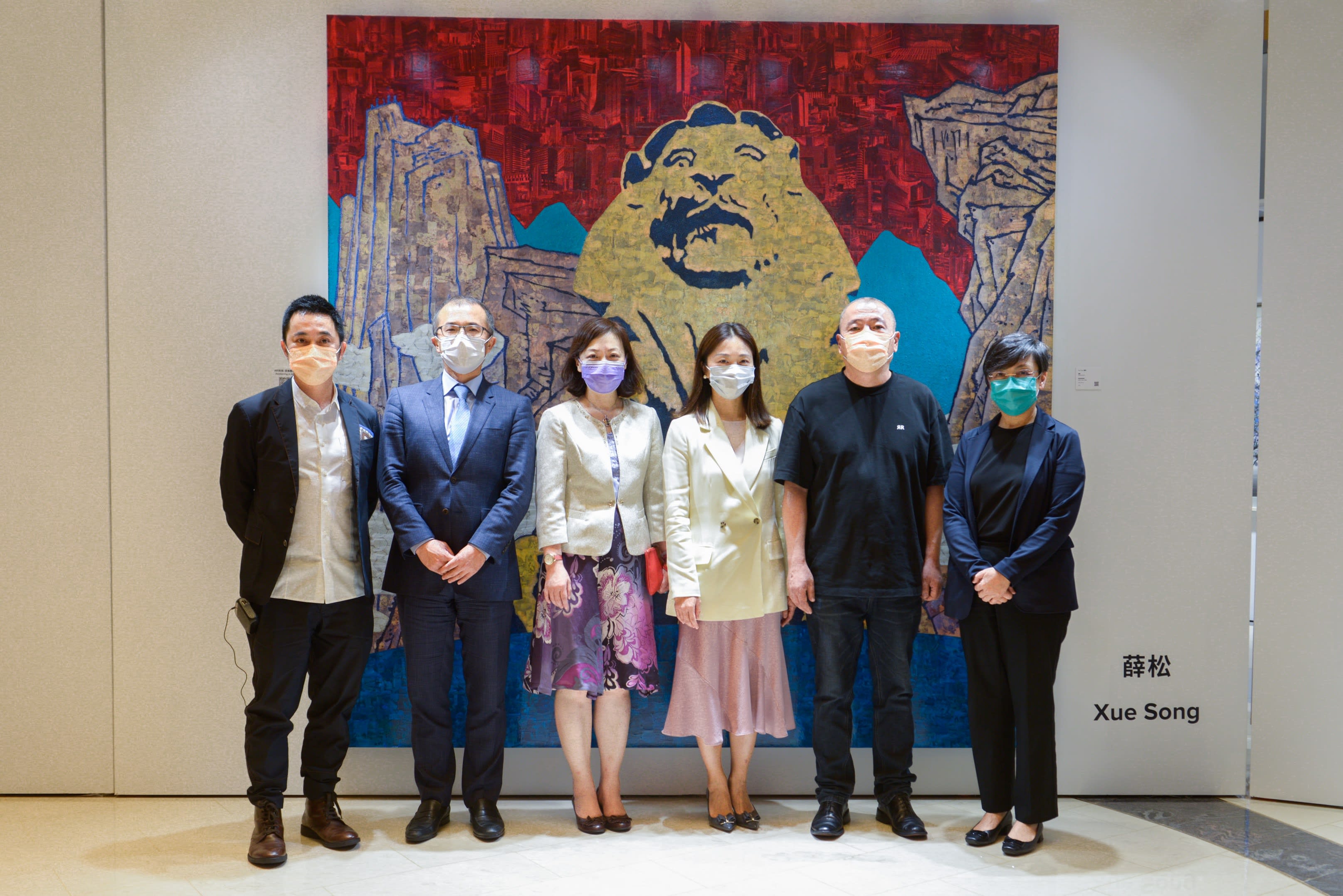 Xue Song, Awakening Lion, Mixed media collage, 2021, 250 x 250cm
The new work Awakening Lion that Xue Song has created for the "Awakening" exhibition is a new line of experimentation to follow the massive work Eight Scenes of Macao he created for the Chairman's Collection in 2017. The canvas presents a beautiful landscape of China made from a collage of images of many of China's cities, including Macao, conveying that not only does Macao "back up to China," it also "faces the world." The lion stands atop a high platform made from stone lions from throughout history, looking proudly up to the heavens and taking in the sweeping scene. The lion seems to have just awakened from a deep slumber; its gaze cast out into the future as it lets out a great roar. The heroic monumental style of composition echoes the regal lion symbol of MGM, rooted in Macao and bringing together Chinese and Western culture. This symbol that has constantly evolved throughout the ages now produces a new fusion within a context spanning time and space, and has developed from history and culture into an expression of passion for life, spreading the word of the shared fate of humanity: In the post-pandemic era, human civilization needs unity and collaboration for mutual benefit even more. This is inspiring, and perfectly in keeping with the core values of "Awakening," even more so a landmark work representing "Eastern Origin and Contemporary Expression" on the international stage.
Another highlight of the exhibition is the first "Lion" sculpture series in the career of famous sculptor Hung Yi, an expression of the concepts of family and filial piety in Chinese culture, and the public sculpture project "MGM Lion Party" at the Guinness World Record-winning MGM COTAI Spectacle.
Hung Yi has a very distinctive individual character, and is also very much a person of the times. His works are at once both sculptures and paintings. The forms of these works are familiar things from everyday life, but through his unique creative approach, these sculptures are richly embedded with traditional culture, signs, stories and totems, creating works that are approachable and enjoyable, while incorporating the symbolism and metaphors so beloved in Chinese tradition. This is exactly the kind of celebratory energy we need at a time when everything is reawakening.
The central figures in the "MGM Lion Party," Mr and Mrs Lion, are something of the protector figure. Since ancient times, the lion has been seen as an auspicious keeper of peace and protector of wealth. This regal lion greets visitors with a wide grin, coins held in its mouth to attract wealth, and coins on its paws, symbols meant to ward off evil and bring good business. It stands in a strong, steady stance, energy waiting to burst forth, with an auspicious cloud (its tail) by its side. Copper coins and silver bells ring out sharply with the flicks of its ears. The lion mother has a smile on her face, her eyes filled with love, and her heart with compassion, symbolizing motherly love. A lion cub sits behind her with an air of mischief, coins clutched in its mouth, innocent and without a care in the world. The lion father stands on a golden ingot, controlling the family fortune, while clutching a drinking gourd, a symbol of familial fortune and rectitude, protecting the family's happiness.
Hung Yi says his works are local, but in a joyful, radiant way. With rich colors, fascinating shapes and whimsical spatial constructs, he brings a joyful, positive energy. In terms of creation, he is fastidious in every aspect from material to execution. Every sculpture is welded, forged, polished and electroplated in an exacting process. His sculptures use the Chinese aesthetics of objects to realize contemporary transformations, carrying on spiritual meaning from Eastern culture to establish a bridge across time and space, between past and present, China and the West. He gives free rein to his most direct impressions, and has always believed that art should enter deep into the human environment, into the crowd, making its mark in time once the viewer has entered into the artwork. Rooted in the Eastern conceptual context and local cultural background, his works go out into the world with their fresh distinctive traits, finding broad resonance.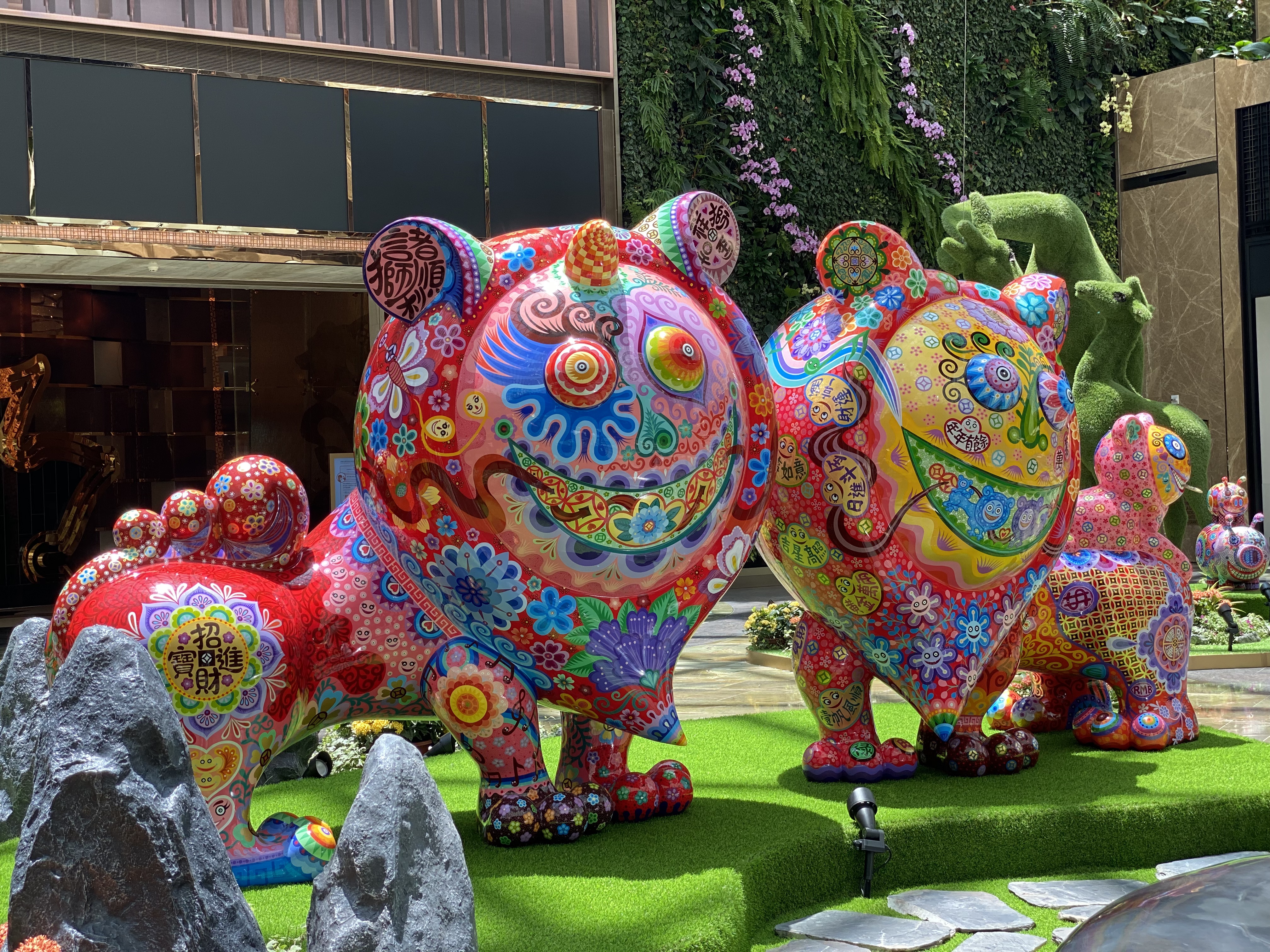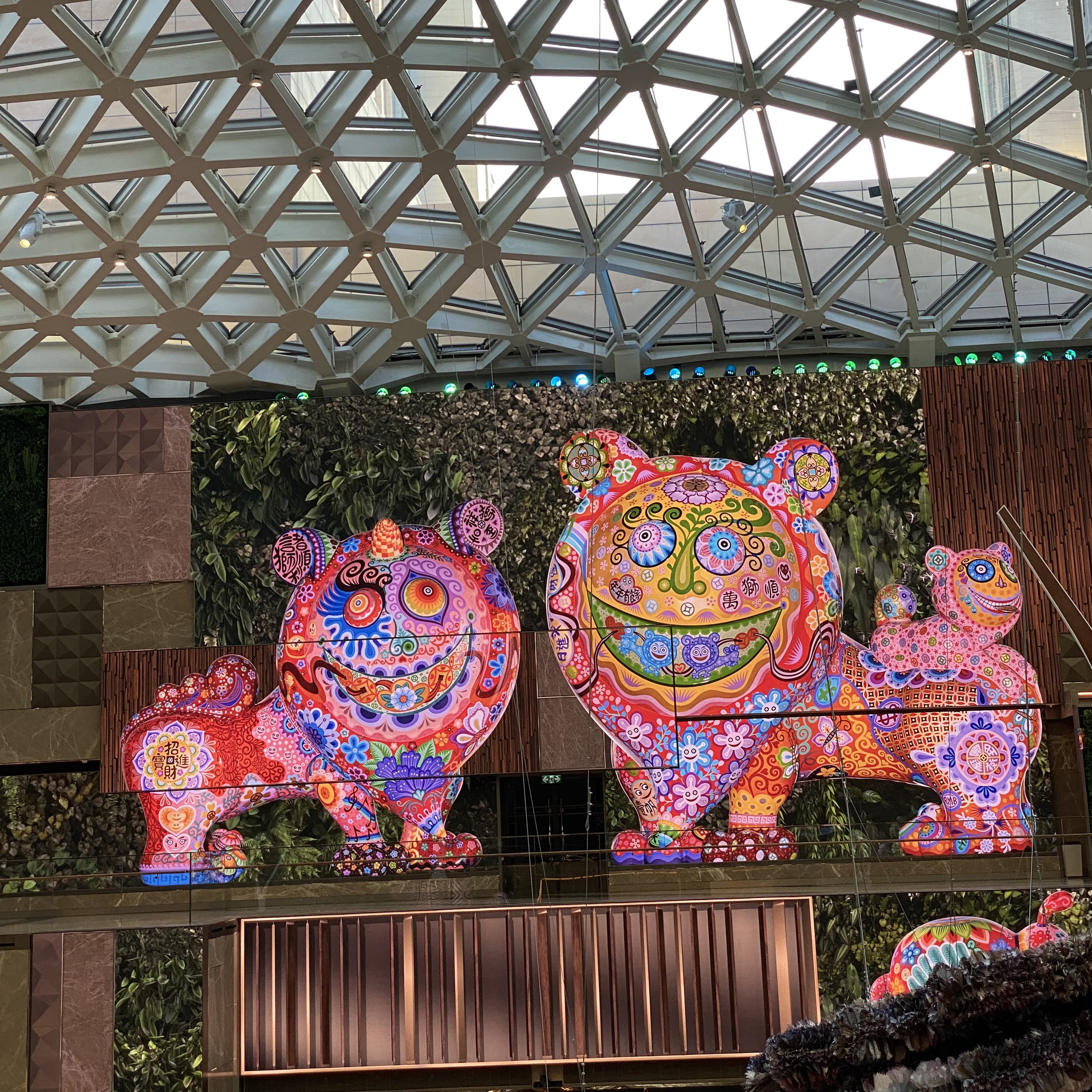 Left: Hung Yi, Mr Lion, Baked enamel on steel plate, 2021, 245 x 136 x 220cm
Right: Hung Yi, Mrs Lion, Baked enamel on steel plate,2021, 232 x 133 x 215cm
It is wonderful that in the post-pandemic era, there could be a large corporation as supportive as MGM China of the comprehensive exploration of the influence, capacity and plasticity of art, and the demonstration of art's power to bring mankind together toward a better future. "Awakening" is a proactive awakening, an awakening of the yearning within us to break through our limitations and strive for beauty. It is also the use of a uniquely Chinese aesthetic bringing together East and West to awaken cultural self-confidence and breathe new life into the global art market. The exhibition will also feature numerous works from the Chairman's Collection, including important works by such outstanding artists as Cai Guo-Qiang, Wang Huangsheng, Liu Jianhua, Yuan Jai, Yu Yang and Chloe Ho, continuing to share its outstanding collection on the international stage, and presenting the aesthetic heights and cultural values of Chinese contemporary art to the world. Among them, Yuan Jai's silk painting Lion Cub uses delightfully bright colors while retaining an air of prosaic reservation, at once childlike and elegant, capturing the vitality of a newborn lion cub. Born in Chongqing, Yuan Jai grew up in an intellectual household, steeped in Chinese art. She studied art history and conservation in Europe, and worked at the Palace Museum in Taipei for more than thirty years, giving her a deep academic foundation. She mainly works in ink on silk, experimenting with abstract compositions and different color combinations to break through the limitations of traditional art and transcend the boundaries of time and space. Her ink-on-silk paintings have been warmly received by the market for their sincere reflection of the modern visual experience and material culture. She actively explores new creative themes, and enjoys working with blue-green landscape painting, allegorical animals, portrait elements and contemporary signs, weaving the colors and lines of traditional crafts such as painted pottery and silk textiles with contemporary artistic thinking. She combines Chinese and Western techniques and cultural meaning into her creations, carrying on the deepest spiritual essence of Chinese culture while bringing the viewer on a journey through tradition and modernity, East and West.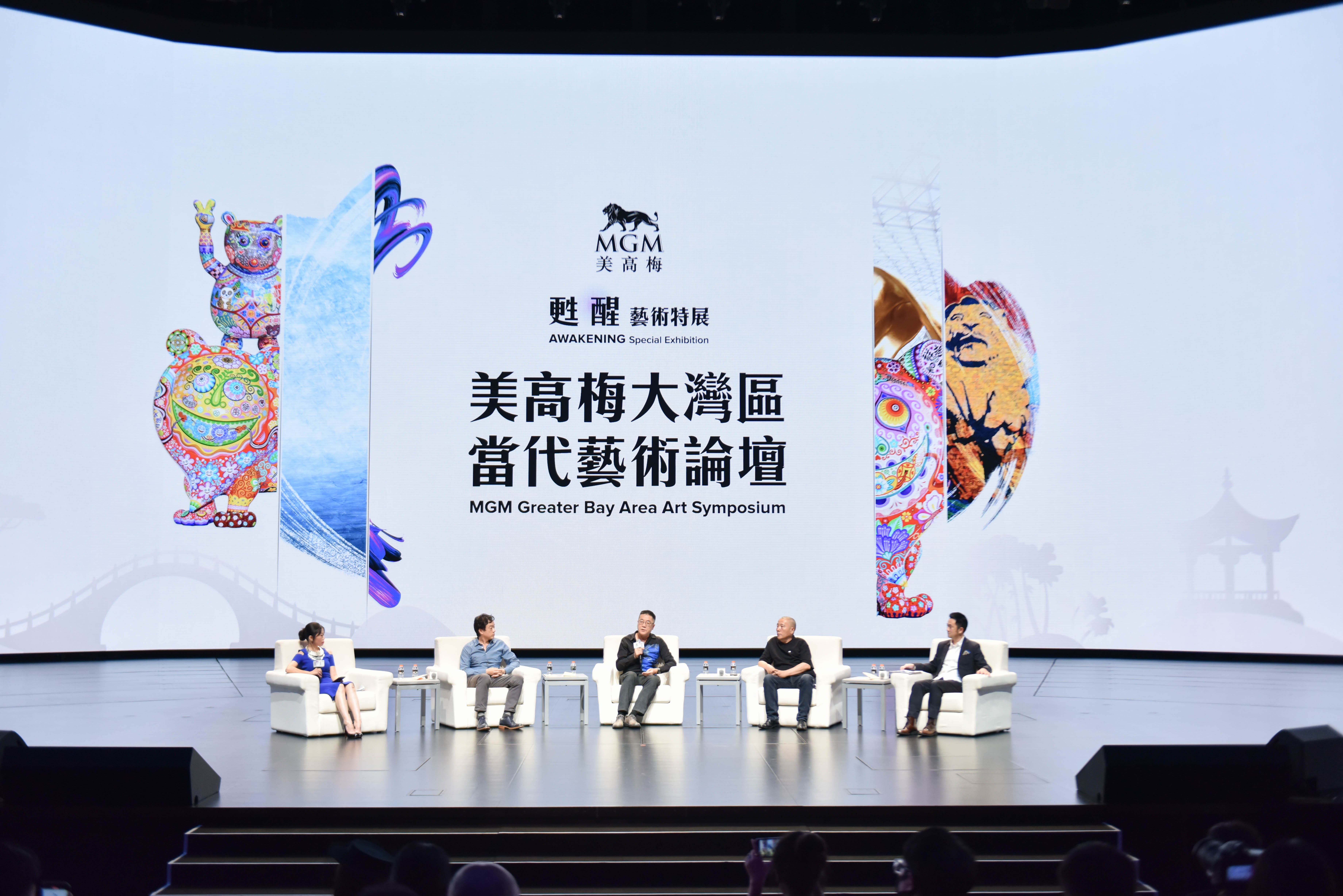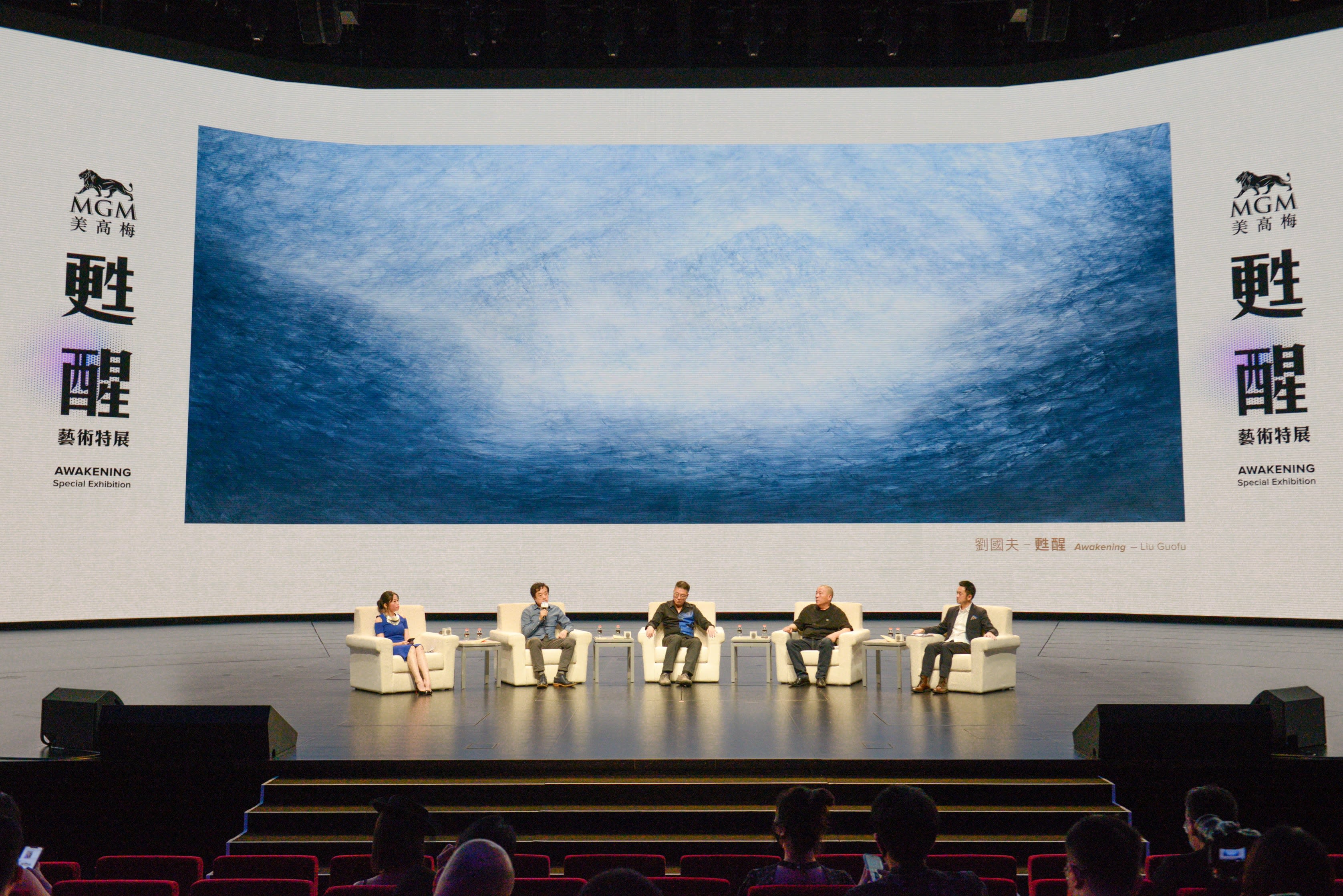 This exhibition will also host the first Greater Bay Area Forum on Contemporary Art, which will invite the participation of curators, artists and figures from across the art scene, in hopes that these stakeholders will join with the organizers in grasping, like "waking lions," the opportunities of the new Guangdong–Hong Kong–Macao Greater Bay Area, support the nation's cultural policies, and give voice to a vision of nurturing and reviving Chinese culture, and reshaping cultural identity and the national image.
Calvin Hui
June 1, 2021
On the occasion of "Awakening: The MGM Chairman's Collection Exhibition"
13 July 2021