In Praise of Blandness | Liu Guofu
Past exhibition
"Blandness is elegance, sophistication, aftertaste and eternity."


Liu Guofu was born in Nanjing China in 1964. His artwork melds motions of light with air. While "light" brings out its depth, "air" helps disperse the "light" to every corner of the work. His use of his symbolic blue-greyish colour is fundamental to his works. Up close, the brushstrokes are chaotic and fragmented, yet from a distance the brushstrokes gather to form a poetic tranquillity.

In Liu's new series, "Flower" and "Rock", the cold blue mottled brushstrokes build in rhythmic layers, resulting in a uniquely translucent beauty. His abstract calligraphic-style, with deliberately illegible markings, overlap in tens of layers to create a fragile texture, reassembling dreams and illusions, smoke and water.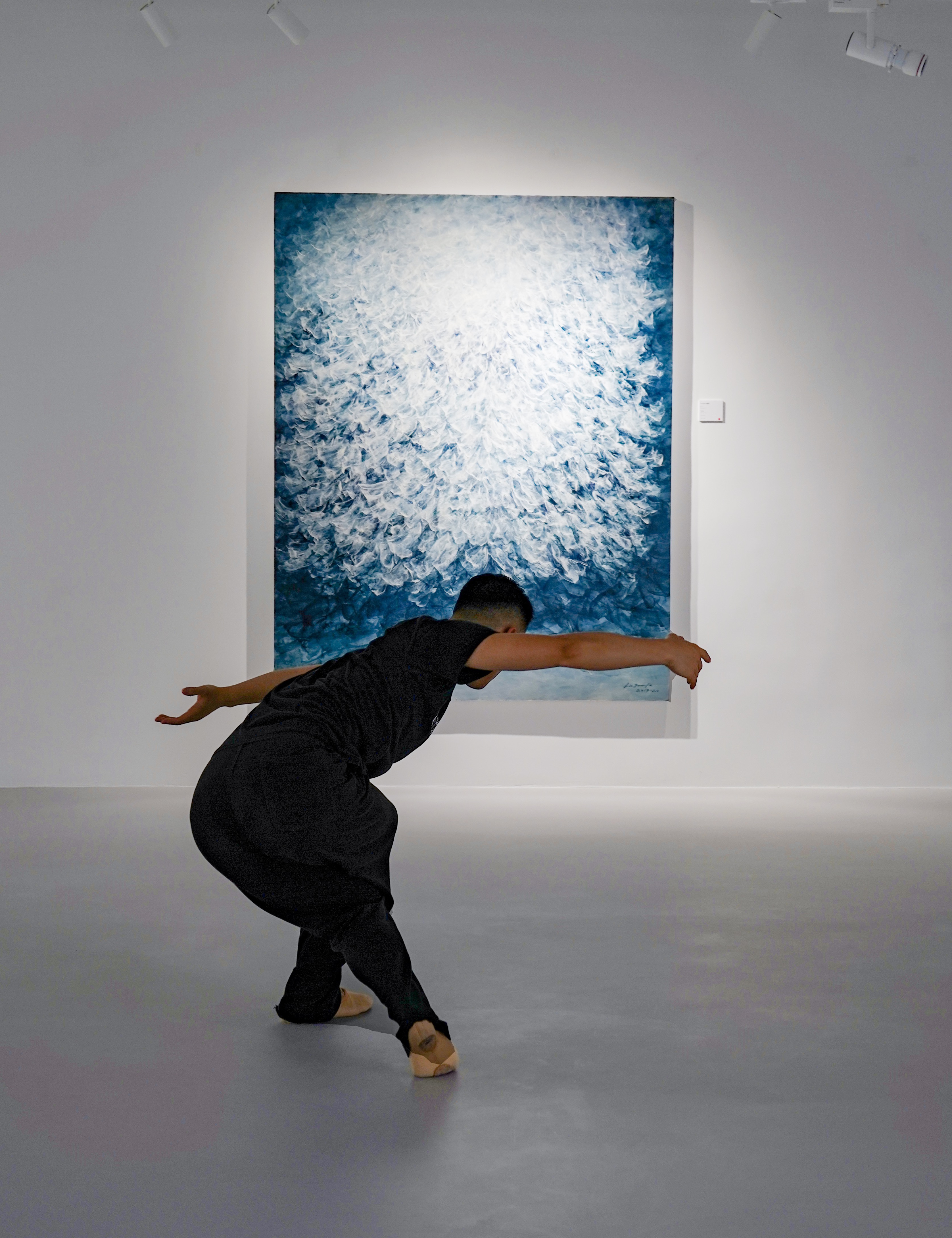 In conversation with Liu's stunning new works, acclaimed Chinese Contemporary dancer Yan Xiaoqiang, accompanied by renowned sound therapist Paul Yip, presents a 15-minute contemporary style Chinese dance performance, resonating with the elegant fluidity and rythmic movement of Liu's paintings.
Liu's oil paintings have been exhibited in many major cities. Highlights include a solo exhibition in 3812 Gallery (Hong Kong and London) in 2016 and 2018, a group exhibition in Kunstraum Villa Friede, Bonn (Germany) in 2014, and a solo show in 2011 that toured the Jiangsu Provincial Art Museum (Nanjing), Today Art Museum (Beijing), and the Shanghai Art Museum; In the same year, he also participated in the Parallel Exhibition at the 54th Venice Biennale. Liu's paintings were widely collected by private and institutional collectors, such as MGM Cotai Chairman's Collection (Macau), Shanghai Art Museum and Jiangsu Provincial Art Museum.