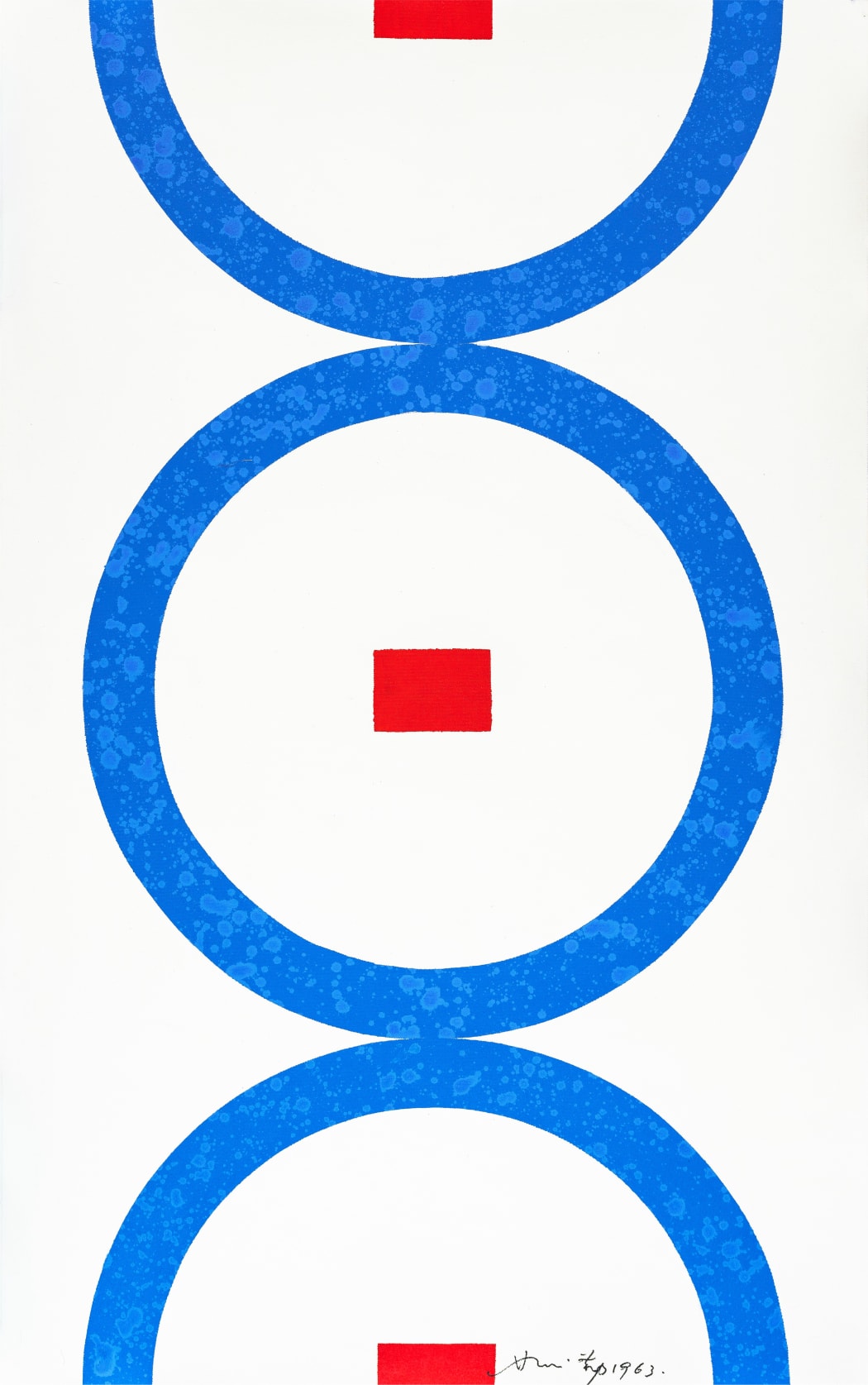 Exhibited
The National Taiwan Arts Hall, Taipei, Movimento Punto - The Fifth Exhibition, 28 July, 1963
Masterpiece Art Fair, London, Masterpiece Online, 2020

Literature
Hsiao Chin and Punto - Mapping Post-war Avant-Garde
Published by Unicorn, London, 2020
ARTpiece #6: this week we have chosen to highlight another exemplary artwork from Hsiao Chin's Punto period, The Cycles (1963), to inspire you to add this outstanding painting to your collection.
In The Cycles (1963), rectangular symbols draw the eye into the painting divided into three parts placed one above the other, and the spaces are structured by curving lines. The two semi-circles symbolise the duality of Yin and Yang and the full circle in the centre represents the origin of the universe; together these symbols allude to the two polarities and the infinite directions, flowing like endless energy or eternal light, and suggesting the Taoist 'circle of life".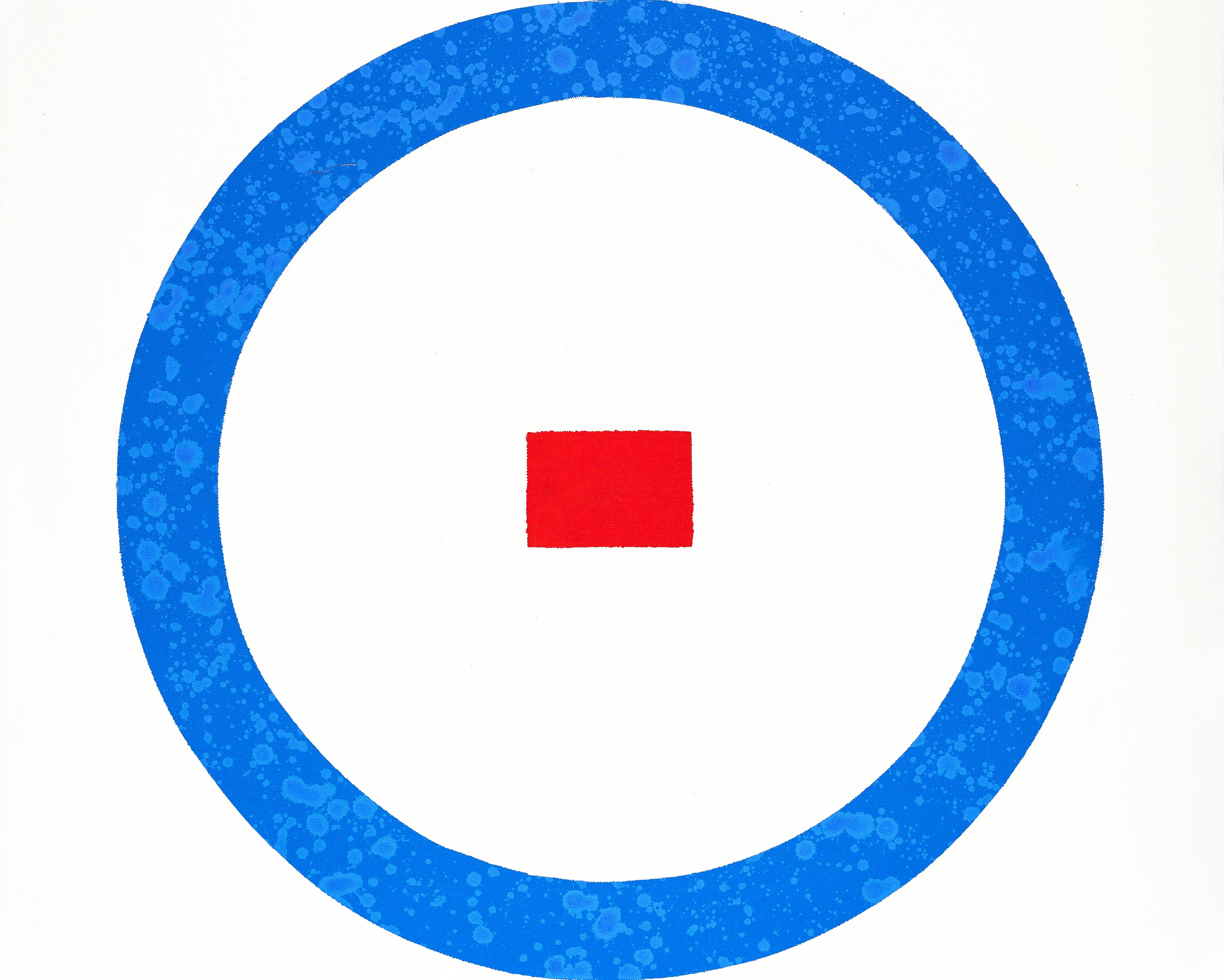 Hsiao Chin, The Cycles (Il Cicli), 1963, Acrylic on canvas, 120 x 76 cm, Detail shown

In the 1960s, Hsiao Chin developed his interest in Ch'an (Zen) and Taoism, especially in the ideas of Laozi and Zhangzi. He adopted the Eastern philosophies into his abstract paintings, highlighting the contrast and harmonious balance between dichotomous elements. Inspired by Taoism, Hsiao Chin took "Punto (Point)" as a major symbol in his paintings, the basic element as well as the beginning and the end of all things in the universe, encompassing all things in between in a philosophical perspective.
In 1961, Hsiao Chin co-founded the Movimento Punto with Antonio Calderara and Azuma Kenjiro in Milan, advocating the Eastern thinking of "calm observation or calm contemplation" as its manifesto, which lasted until 1966. He had organised 13 Punto exhibitions across Europe between 1962 and 1966, marking the first international avant-garde art movement founded by a Chinese artist in the 20th century art history.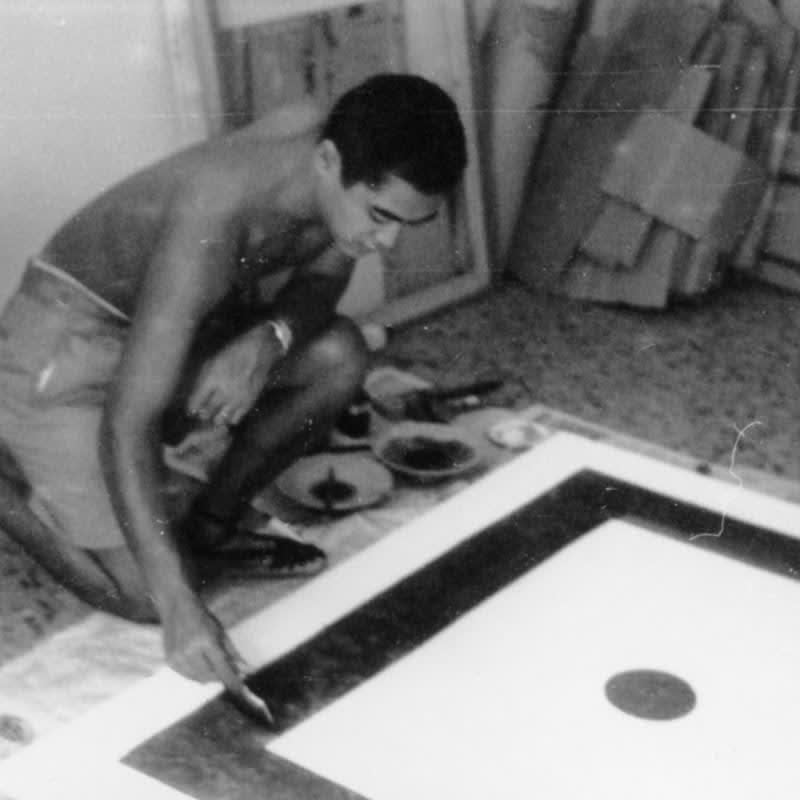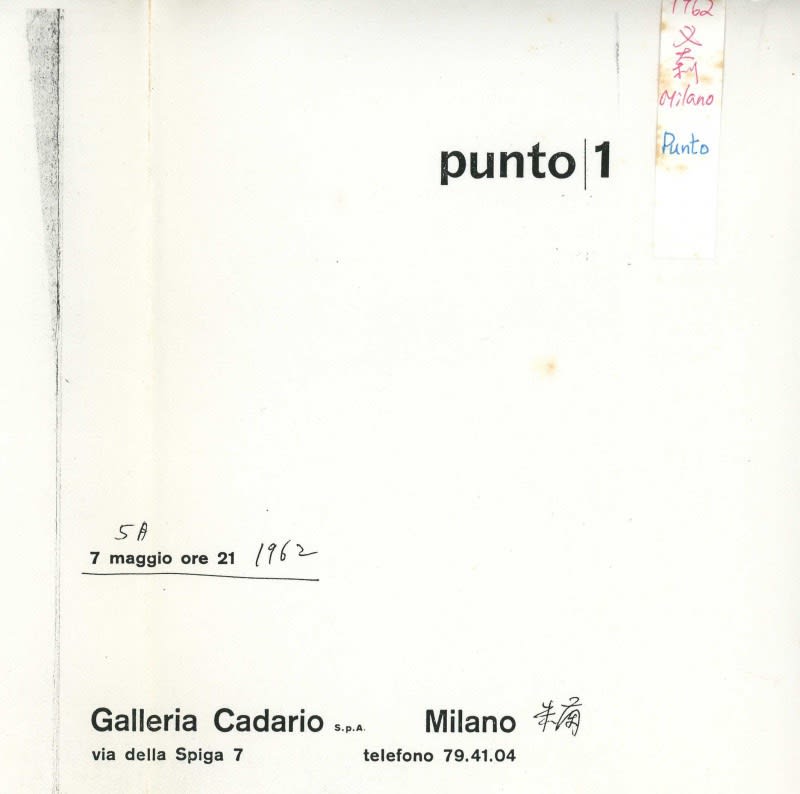 Hsiao Chin initiated and founded Punto International Art Movement in Milan in 1961
In the composition of Hsiao's iconic paintings from Punto period, The Cycles (1963), Contemplation (1962), Il Silenzio (1962) and Great Earth (1963), a circular or square patch of colour invokes the ancient Chinese idea of the 'domed heavens and square earth', while the meandering circular dot and ring vividly presents his metaphorical expression of Ch'an (Zen) thought, representing Hsiao Chin's manifestation of philosophy and art.
Hsiao Chin, Great Earth, 1963, Acrylic on canvas, 80 x 100 cm
The Great Earth (1963), is obviously inspired by the hexagrams (from I Ching). Looking at the painting, it gives the sense of seeing through a window to the universe, revealing a strange, distant realm that has never been seen before.
Hsiao Chin said, 'The ethereal state of Taoism triggered the composition of the virtual and solid space in my paintings; the basic concept of Chinese Yin and Yang also appeared in my paintings as dual shapes, such as dynamic and static, virtual and actual, strong and weak, black and white, cold and warm, and so on.'


Hsiao Chin, The Cycles (Il Cicli), 1963, Acrylic on canvas, 120 x 76 cm, Detail shown
'Hsiao is the first and only post-war Chinese artist to attempt to convey Eastern philosophical ideas and concepts of mindfulness and self-contemplation in the Western pictorial language of abstraction. Hsiao's works are not only artistic representations of Asian philosophy but, in a broader context, are an intellectualized expression of Asian ideas in their essential forms.' (Hsiao Chin and Punto - Mapping Post-war Avant-Garde, published by Unicorn, London, 2020)
Hsiao Chin and Punto: Mapping Post-War Avant-Garde, published by Unicorn in 2020
We hope you have enjoyed this study of Hsiao Chin and his The Cycles. Hsiao Chin's retrospective In my beginning is my end: the art of Hsiao Chin at the Mark Rothko Art Centre, curated by Philip Dodd, opens on 31st July. 3812 Gallery will be hosting a parallel online exhibition, please stay tuned for further details.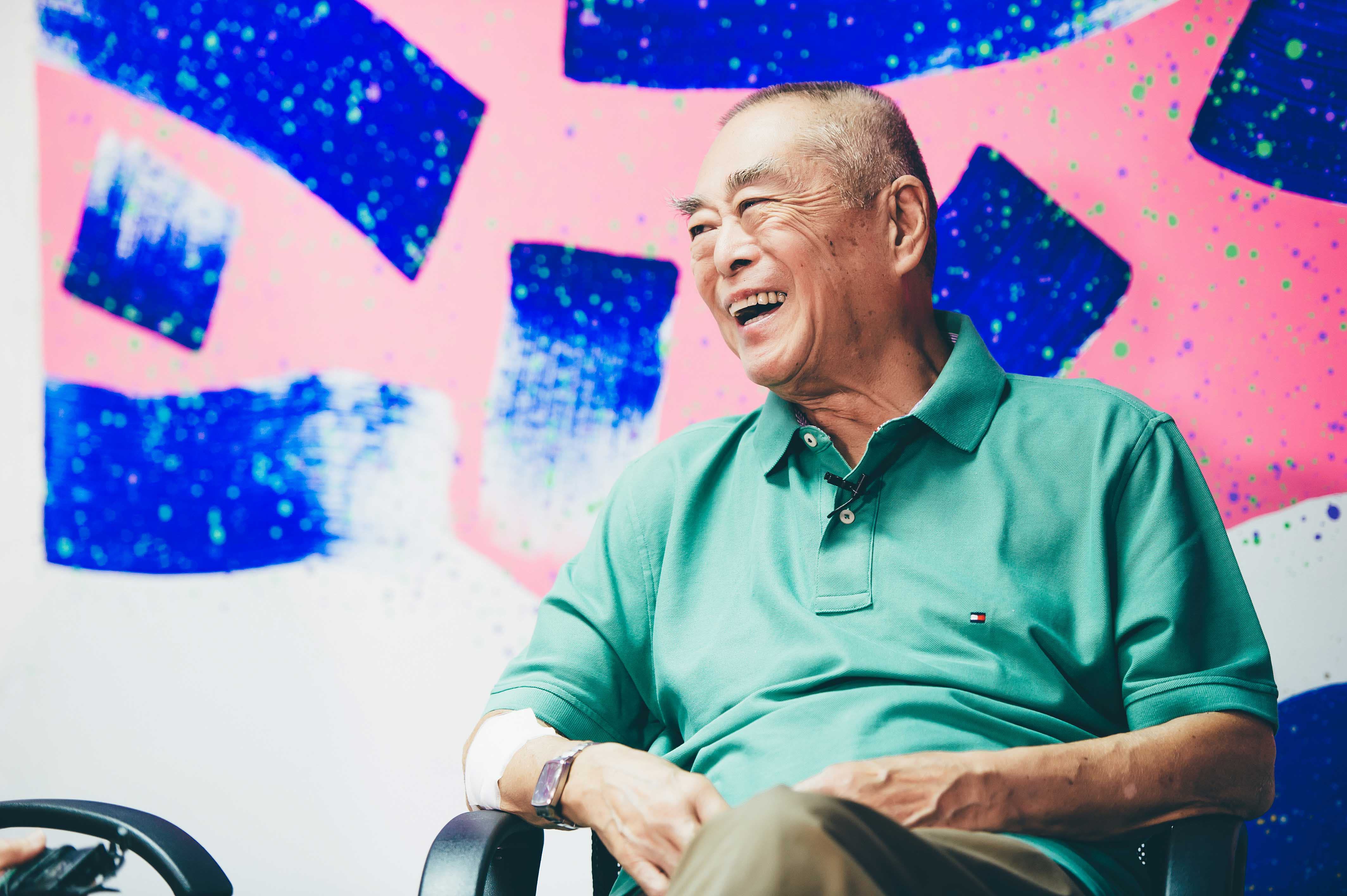 Hsiao Chin is an Asian abstract master artist and a leading figure in post-war European and Chinese Art. He spent much of his life in Europe and is celebrated as the only Chinese artist to establish a modern European art movement, as known as the Punto International Art Movement. He has gained international recognition for his unique paintings, which fuse motifs and techniques from the East and West to create a language of spiritual painting for a commodified world. His work can be found in major collections around the world, ranging from New York's Metropolitan Museum of Art to M+ Museum in Hong Kong.