MGM is demonstrating confidence and optimism in the local tourism market with a range of special events and promotions in the coming months, themed around the iconic MGM Lion brand image.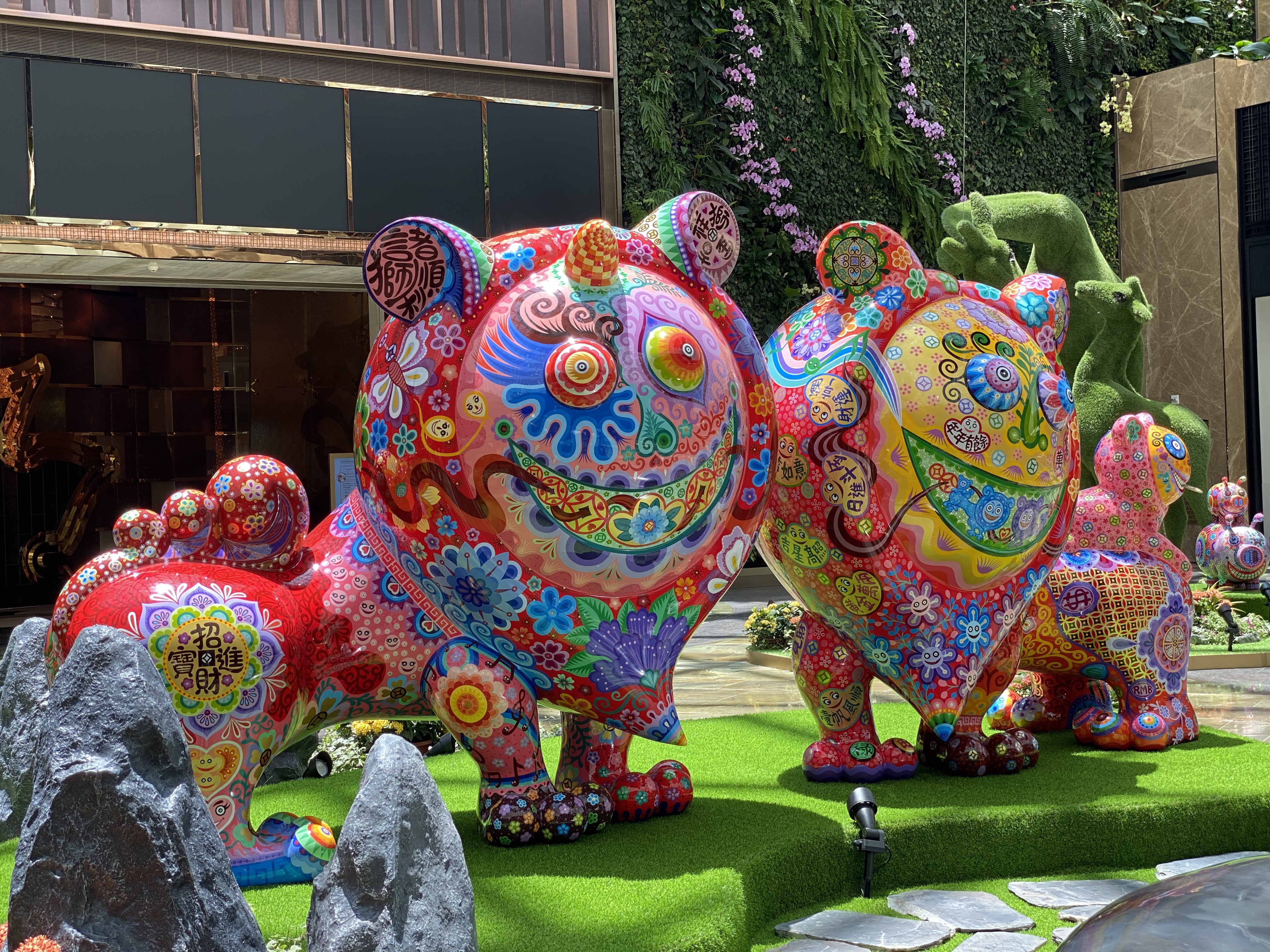 Hung Yi - Mr. and Mrs. Lion
Prestigious, courageous, tenacious and confident - the lion is also a highly symbolic part of traditional Chinese culture, and represents all the characteristics and qualities that are needed to thrive in a competitive and dynamic tourism environment.
The aptly named Special Exhibition Awakening, currently on display at MGM Cotai as part of Art Macao: Macao International Art Biennale 2021, combines the symbolic characteristics of the lion with the traditional Lingnan culture of 'dancing lion' and the brand image of MGM, bringing world cultures together through contemporary art.

"We are striving to shape tourism through culture, and present culture through tourism, creating a uniquely alluring cultural tourism experience of Chinese culture," noted Ms Pansy Ho, co-chairperson and executive director of MGM China Holdings Ltd., in her speech at the opening ceremony of Awakening. "In keeping with the spirit of the lion, MGM promises to help Macau to become a base for exchange and cooperation, furthering the fusion of cultural tourism in the Greater Bay Area, and promoting the enhancement of the region's socio-cultural development."

MGM believes that cultural art is an essential core value for its long-term development, and is pioneering the concept of 'tourism+', infusing cultural elements and leveraging on innovative new artistic trends to diversify the existing tourism industry offerings and build a diverse array of new and in-depth cultural
experiences.

As part of this strategy, and in addition to the Special Exhibition Awakening, MGM Cotai will also host MGM Awakening Lion, from October 8 to 10, an exclusive and tailor-made version of the award-winning Chinese ethnic dance drama, Awakening Lion. The long-established Lingnan dancing lion art form will be presented with renewed vigour, thanks to the ingenious arrangement by the Guangzhou Song and Dance Theatre and the cutting-edge technology and lighting of the MGM Theater.
"We will continue to adopt an innovative approach to promote the inheritance of traditional culture, spreading its unique allure and breathing long lasting vitality into the cultural arts, making Macau a cultural tourism destination," noted Ms Ho. "For centuries, art has always been important for bringing humanity together. In this post-pandemic era where the world is gradually returning to normal, we must all muster our courage, and use the shared language of arts and culture to rekindle hope and revive our self-confidence."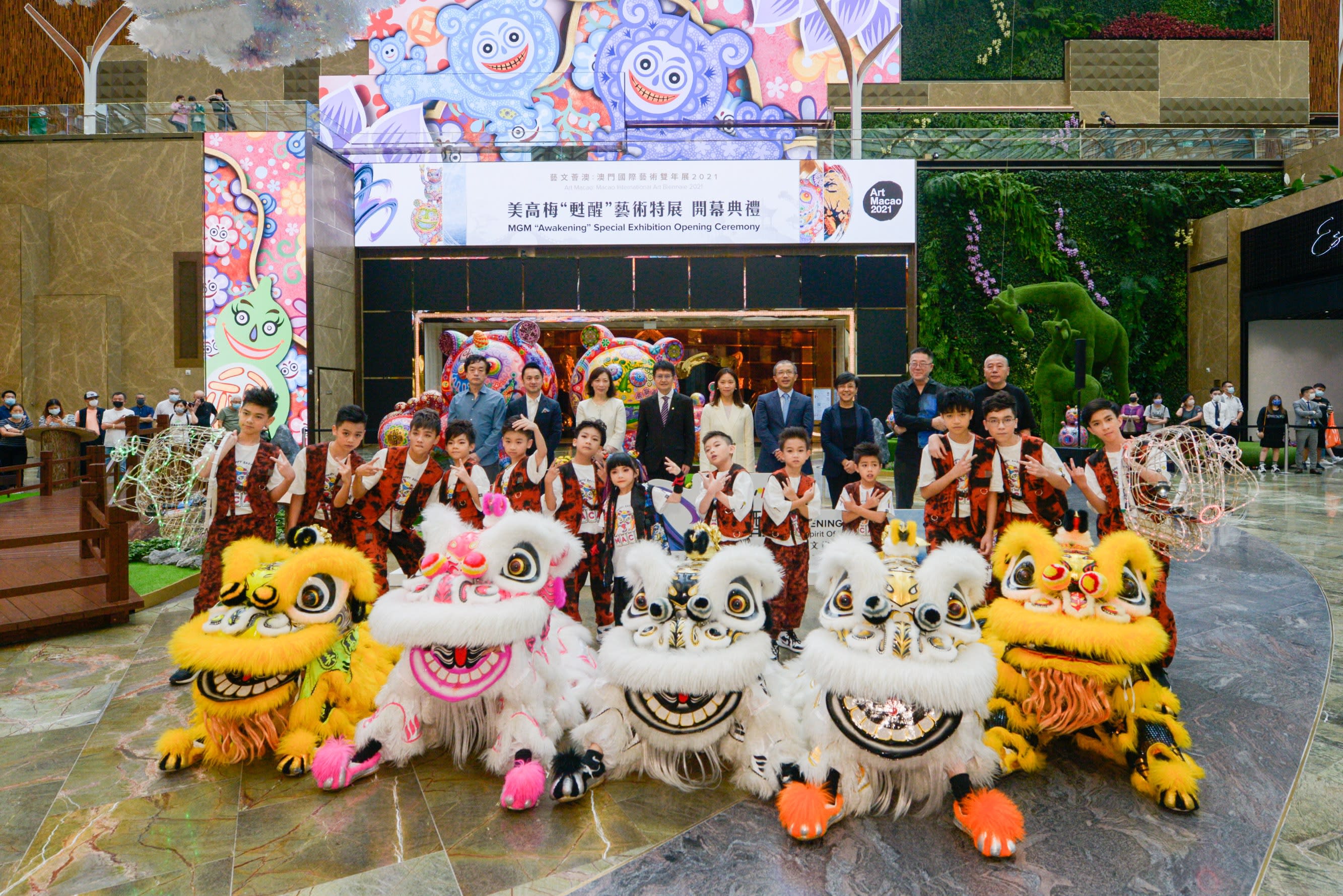 Opening ceremony of Awakening
"It's also very daring to use the hotel public spaces for art displays. It shows a commitment to really enhancing public engagement." - Calvin hui, curator
Curated by Calvin Hui, the Special Exhibition Awakening presents newly commissioned works by renowned artists Xue Song and Liu Guofu, who took inspiration from the symbolic traits of the lion. It also showcases the sculpture project MGM Lion Party by Hung Yi in the Spectacle. In addition, the exhibition features a number of outstanding works from the MGM Chairman's Collection that have not previously been made public, including iconic paintings and installation works by famous contemporary Chinese artists such as Cai Guo-Qiang, Wang Huangsheng, Liu Jianhua, Yuan Jai, Yu Yang and Chloe Ho. The imperial carpet Five Lions from the Qing Dynasty is exhibited for the very first time, linking the past and the present through art.

"MGM has built up a large corporate art collection with the Chairman's Collection, so when discussing with Ms Pansy Ho, we wanted to make use of this collection, which is a cultural asset not just of the corporation, but also the stakeholders and residents of Macau's local art industry," comments Cristina Kuok, Vice President of Arts and Culture at MGM. "Through Awakening, we want to embrace the essence of Chinese culture and tradition, while allowing the artists to express new ideas and creativity and to share their experiences in this modern day."

Located in the Lion Lobby of MGM Cotai, renowned artist Liu Guofu's new work Awakening is his largest painting to date. Taking inspiration from the lion's mane and the undulating lines of its body, this work shows the posture of an awakening lion in dark blue, which is one of the most beautiful tones in Chinese culture. The abstract nature of this piece allows a renewed perception of Chinese landscape painting in a contemporary way, within the theme and spirit of this exhibition.
Liu Guofu - Awakening
Also in the Lion Lobby is Xue Song's collage artwork Awakening Lion, which combines elements of art from the present and the past, and presents a beautiful landscape of China made from a collage of images of China's cities. The lion stands atop a high platform composed of stone lion pictures, looking proudly up to the sky and taking in the scene, which implies Macau facing the world with the backup of its motherland.
"Xue Song's artwork carries so many different cultural meanings, through the unique collage, and the influence of western pop art, so for me I think this is the diversity of art forms and artistic language that can enrich the Awakening theme, and also bring something unique for Art Macao as well," comments Calvin.
Arguably the most colourful and interactive artwork in the Awakening exhibition are the pieces by famous sculptor Hung Yi, located in the expansive space of the Spectacle. Viewed as both sculpture and painting, Hung Yi uses bold and lively primary colours, together with smooth lines and imaginative patterns, to create a unique visual language characteristic of his works. Hung's first-ever lion sculpture Mr. and Mrs. Lion joins his other iconic animal sculptures of MGM Lion Party with a total of 14 characters, embedded with traditional culture, signs, stories and totems, and integrating the auspicious symbols of happiness in Chinese tradition to bring joy to the public. The lion has been regarded as an auspicious keeper of peace and wealth in China for centuries, and Mr. and Mrs. Lion is an expression of happiness and harmony in family life, and a conveyance of filial piety in Chinese culture.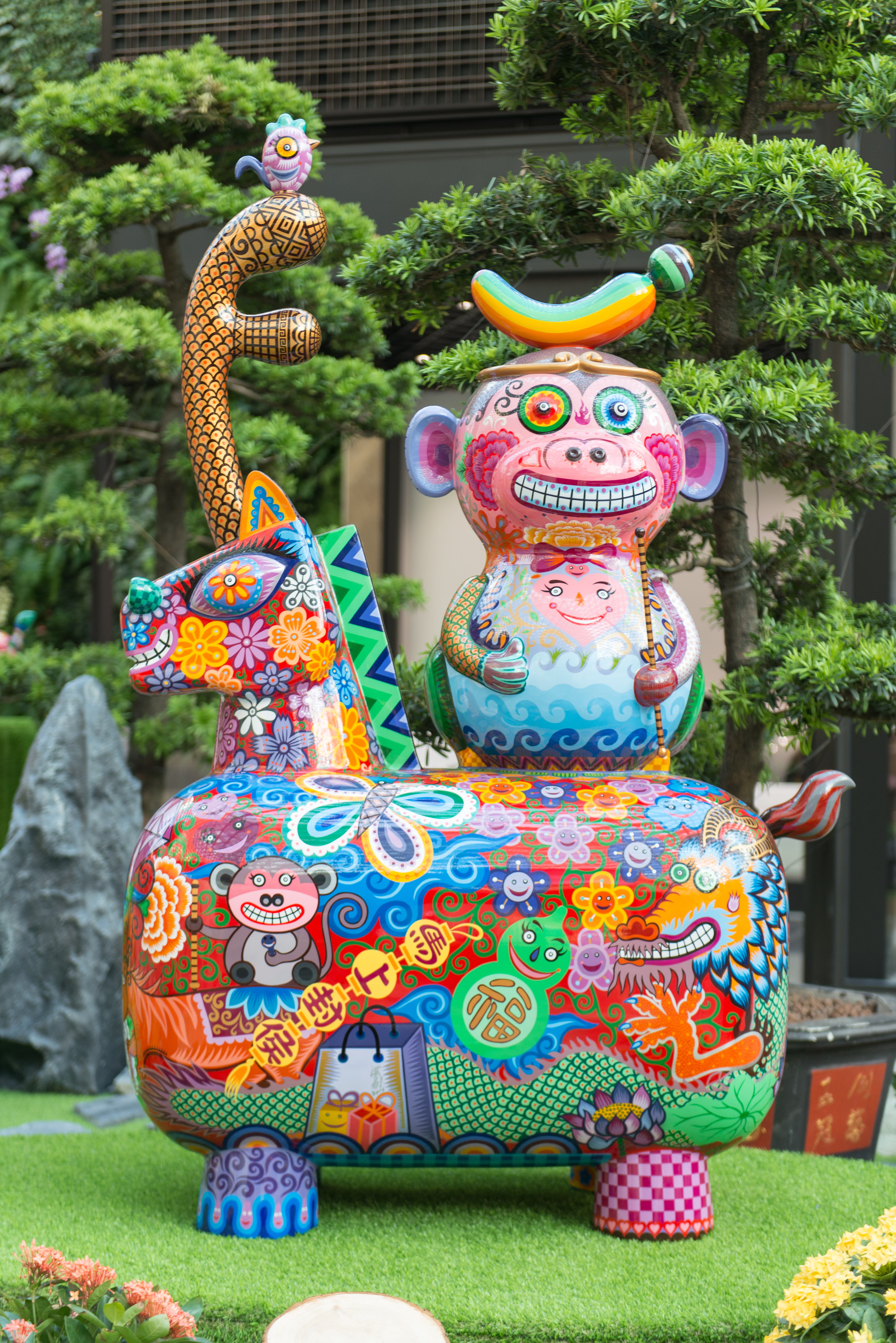 Hung Yi - Climbing to a Promotion
"Hung Yi's artistic language is very unique. The sculpture itself is three dimensional but it's also a painting. The motifs that he uses are about folk art and convey a lot of traditional meanings and stories, and it's also like a form of pop art, so it's a perfect example of East meeting West," explains the curator. "This artist is very clear, he wants to bring happiness and positivity to everyone through his art. It's also very daring to use the hotel public spaces for art displays. It shows a commitment to really enhancing public engagement."
"Each and every piece is special, and they are all very different, but each has such a meaningful story," observes Cristina Kuok. "I think the one that amazed me the most was actually Mr. and Mrs. Lion, because of the scale. Each sculpture weighs 400kg each. The Spectacle is so huge, that anything you put there can seem small, but this artwork is perfect."
Enhancing the overall public art encounter, the artworks in the Spectacle are surrounded by animated lion themed images on the world's largest area of permanent indoor LED screens.
"This is a public space which is basically open 24/7, so whenever we put artwork in the Spectacle, we have to take into consideration the LED screens because it's a part of the whole experience," notes Cristina. "When these artworks arrived, we unpacked them and took special 360 degree photos so we could make animations. We even have special background music, so everything completes the experience."
Another artwork of note in Awakening is Collected Letters by renowned contemporary artist Liu Jianhua, a site-specific piece comprised of suspended, commingled white porcelain letters and Chinese characters.

"We are particularly proud to have the chance to invite this artist to create this set for the MGM Chairman's Collection because it's really a museum quality piece, but in this context it becomes public art," comments Cristina Kuok. "After we briefed Liu Jianhua on the vision for the exhibition, he was very passionate about it because he never thought of having this piece in a commercial space rather than in a museum."
The work is made up of over 2,500 characters and letters crafted out of ceramics altogether and took the team six days to install.
"As a conceptual installation, the artist is trying to unite humanity through these letters and characters. It gives us an opportunity to reflect on what history and humanity is about," Calvin adds. "From my observation, people really like to take photos of this piece and process what it's all about, and this is the meaning of public art, that you bring inspiration and space for people to develop their own interpretations and experiences."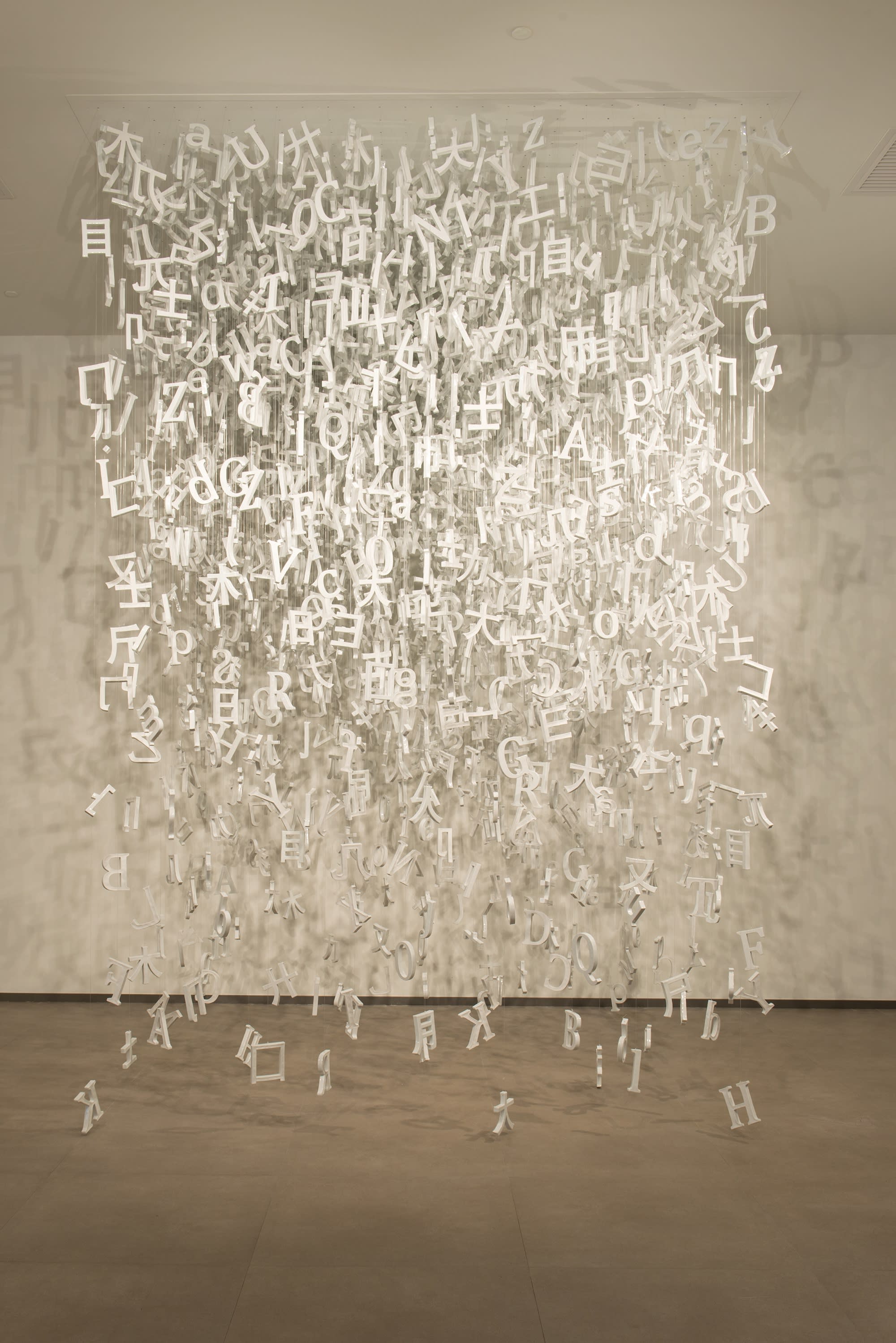 Liu Jian Hua - Collected Letters

MGM has always been dedicated to promoting an appreciation of tradition, culture and art in its public spaces, and through the Special Exhibition Awakening and the Chairman's Collection, as well as regular art symposiums and community activities, this mission is well on track and set to continue.

"In terms of the development of arts and culture in Macau, we really believe we need to continue to pioneer new ideas," observes Cristina. "Moving forward I think it's very important for us to continue to work with our Chairman's Collection artists, and at the same time look into opportunities, with our neighbours in the Greater Bay Area. There are many fine young talents, and I think there are many ways to work with them in terms of exchanges and symposiums, in order to provide them opportunities and nurture them for the future."