In My Beginning Is My End: the Art of Hsiao Chin, a major retrospective of the renowned abstract artist, will take place at the Mark Rothko Art Centre in Latvia, from 31 July to 25th October 2020, as part of the celebratory programme for the artist's 85th year.
Philip Dodd, curator of the exhibition, sits down with Sotheby's to discuss the ways in which the art of Hsiao Chin and Mark Rothko converge, and shares insights on the interconnected nature of modern art. Mr. Dodd has curated many exhibitions across China, including a Sean Scully retrospective which toured five cities. Art+Auction named him "One of the 100 Art Innovators". The conversation was first published on sothebys.com on June 29 2020.
PHILIP DODD, CURATOR OF "IN MY BEGINNING IS MY END: THE ART OF HSIAO CHIN"
Thank you, Mr. Dodd, for sharing your views with us. In February, you wrote an article in The Art Newspaper about the art world's response during coronavirus. The upcoming exhibition of Hsiao Chin and Rothko seems to have an international scope, perhaps gesturing toward the ways art can figuratively bring people together even as the world now seems to focus on distancing?
Hsiao Chin is one of the very few artists who belongs both to the history of European art and of the history of art in China. It is one of the extraordinary things about him. To do this show at this moment is a kind of metaphor for what the art world needs to do. It needs to step up and insist on its global credentials, and one of the ways it can do that is to bring artists from Asia to the West.
In the present circumstances, it is marvelous to take Hsiao Chin, a Chinese artist who worked in Milan and the U.S. to the place where Mark Rothko was born and where he was known by his Russian name, Marcus Rothkowitz. It was only when he went to the U.S. that he became Mark Rothko. It feels a genuinely global occasion.
What are the connections between Hsiao Chin and Rothko, and how do the ideas guiding the two artists converge?
When Hsiao Chin met Rothko in the U.S., Hsiao Chin remarked that Rothko didn't speak a great deal because everything he had to say was in his paintings. I think that is wonderful. What brings them together is less what I might call the grammar of their aesthetics. Of course, both are abstract artists, but more significantly, both are trying to use abstraction to explore a spiritual domain.
LEFT: MARK ROTHKO, UNTITLED, 1960. PHOTO: COURTESY OF THE MARK ROTHKO ART CENTRE, DAUGAVPILS, LATVIA. RIGHT: HSIAO CHIN, IL SILENZIO, 1962, INK ON CANVAS, 80 X 70CM. COURTESY OF HSIAO CHIN FOUNDATION.
Famously Rothko was commissioned to make the Seagram paintings for a restaurant and a hotel. He was in the end horrified by what they intended to do with the paintings, so he refused the commission. This was because Rothko thought his painting was a place for meditation. That is what connects Hsiao Chin and Rothko, although their resources are very different. Rothko is part Jewish, part American Abstract Expressionism. Hsiao Chin is part Taoist, drawing on the aesthetics of Lao Tzu, and part European modernist. What both of them try to achieve through abstraction is a way of representing spiritual states.
HSIAO CHIN, SENZA TITOLO , 1962, ACRYLIC ON CANVAS, 114.5 BY 146.5 CM
Of course this has a long history. Going back to Wassily Kandinsky who wrote Concerning the Spiritual in Art, the first great account of abstraction, Kandinsky was influenced by Arthur Schopenhauer, who was in turn influenced by Chinese aesthetics. Kandinsky's book was first translated into Chinese in 1981. Everything is so mixed together.
The spiritual is now again a domain you can talk about in art-in a way that was not true twenty or 30 years ago when it was slightly embarrassing. Rothko and Hsiao Chin both share that commitment to the spiritual, and now they feel more contemporary than they did fifteen years ago.
As you mentioned, Hsiao Chin was in search of a visual language that can express spiritual concepts. What was the role of his cross-cultural experiences and spirituality in his art?
During a recent interview with Xu Bing in London, he told me it was only when he got to America did he truly understand the extraordinarily rich cultural resources that Chinese culture offered him. Similarly, Hsiao Chin, like many artists, had to leave home in order to recognize the richness of the culture he had left. What happened to Hsiao Chin is this: he arrives in Milan, and it is then that he reconnects with Lao Tzu, marking an important personal moment. It's interesting to note that Hsiao Chin was baptized by a protestant grandfather. He's got Christian/Western cultural resources as well as Chinese cultural resources. In his paintings during the '60s, he is often mixing Chinese brushstrokes with what I would call "Western colors" - high-toned colors, perhaps derived from Fauvism.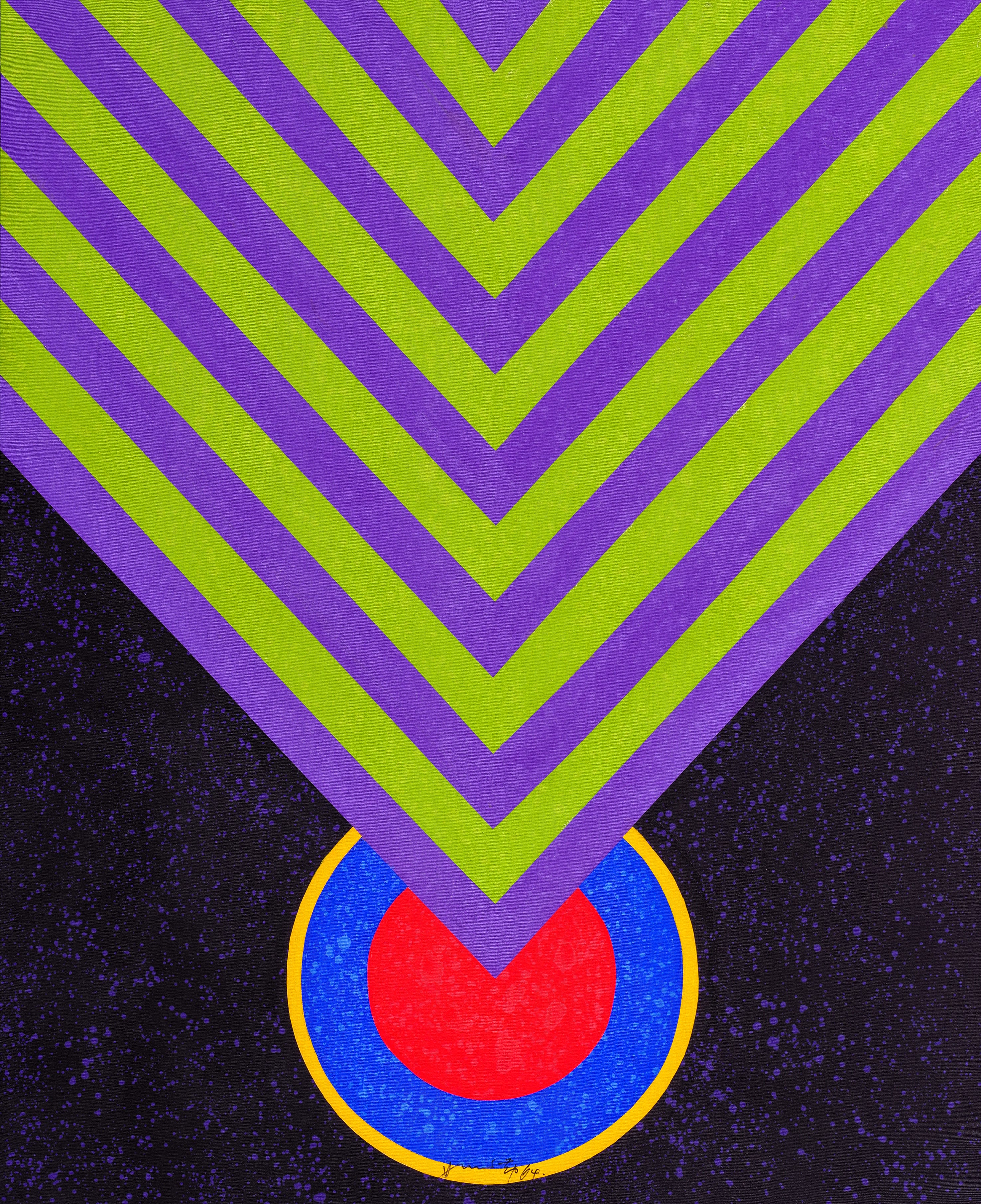 HSIAO CHIN, LA FORZA DELLA MEDITAZIONE, 1964, ACRYLIC ON CANVAS, 160 X 130CM, SOLD AT SOTHEBY'S HONG KONG MODERN ART EVENING SALE ON 31 MARCH 2018 © SOTHEBY'S
Hsiao Chin brings those together to reconcile both East and West in general terms and in painterly terms. The paintings are always trying to reconcile yin and yang, light and dark, weak and strong. They represent the equilibrium underlying the world, according to Lao Tzu. Take for example Hsiao Chin's The Power of the Light, which is a great painting. It is a mix of circles and rhombuses, and in terms of Chinese culture, the circle represents the sky and the square (related to the rhombus) is the earth. All the time, Hsiao Chin is trying to find symbols and a painterly language that would provide balance, hold in tension yin and yang.
HSIAO CHIN AT HSIAO CHIN ART FOUNDATION IN 2016
Hsiao Chin is often described as the only Chinese artist to establish a modern European art movement, often with the emphasis on "Chinese." Is it at all instructional to focus on an artist's identity or origin?
It is better to think beyond those terms. Traditionally, art history and even the markets have wanted to divide the world into what I call "Either / Or." Is Rothko European or American? We are beginning to see that Hsiao Chin is a very important member of a group who aren't "Either / Or" but are in fact "Not-Only, But-Also." In that sense, he is not only Chinese, he is not only European, but he is also forging a new language out of both resources.
Once we begin to look at art historically, a lot of modern artists do not fit well into the "Either / Or" category. The next display at Tate Britain is of Kim Lim, a sculptor who was born in Singapore and worked in Britain. Zao Wou-Ki: is he French or is he Chinese? Richard Lin is another example. Twenty or maybe even ten years ago, I could have bought Richard Lin's works for 500 pounds because nobody wanted his work. Now auction houses are selling his work for serious sums of money, showing an interest in the "Not-Only, But-Also" kinds of artists. The most famous English ceramicist of all time, Bernard Leach, was born in Hong Kong and studied in Japan, but he is regarded as a deeply English artist. Maybe he is not. Maybe he is "Not-Only, But-Also."
INTERIOR OF MARK ROTHKO ART CENTRE. PHOTO: COURTESY OF THE MARK ROTHKO ART CENTRE, DAUGAVPILS, LATVIA.
Why is the exhibition titled "In My Beginning Is My End?"
It is a quotation from a set of poems "Four Quartets" by T.S. Eliot, who also wrote "The Waste Land." An American poet who lived in England, he also happened to be profoundly influenced by Buddhism.
The quotation"In My Beginning Is My End" has two kinds of relevance for Hsiao Chin. Hsiao Chin is always beginning and ending. He is born in China, he moves to Taiwan, he moves to Spain, he moves the Italy, he moves the America, he moves back to Italy, he goes back to Taiwan.
So "In My Beginning Is My End" has a biographical meaning. But it also contains an art meaning.
I don't think Hsiao Chin ever forgets anything, and as he moves through his various artistic idioms, his beginning flows into his end. He took his Chinese history into his European history, and when he returned to Asia, he took his European identity into his Chinese painting.
I am trying to suggest the world is not "Either / Or," and that Hsiao Chin is one of the most distinguished examples, representing a kind of art that now feels much more contemporary. Did you know that that Pablo Picasso had a book of Qi Baishi's paintings open in his studio for ten years? Did Picasso learn from Chinese painting? The answer is yes. Does that make Picasso a Chinese painter? No. It does suggest that the intercourse between China and Europe has been long and complex.
What was your approach in designing the upcoming retrospective?
Kate and Christopher Rothko loaned six of their father's paintings on a two-yearly cycle to the Rothko Art Centre, in the town of Daugavpils where Mark Rothko was born. Most the paintings loaned by the Rothko family are from the '50s and '60s. For those reasons, I've weighted the exhibition towards those two decades. It will be wonderful to see Rothko next to Hsiao Chin and Hsiao Chin next to Rothko. They were painting at the same moment.
MARK ROTHKO, AEOLIAN HARP NO.7,1946. PHOTO: COURTESY OF THE MARK ROTHKO ART CENTRE, DAUGAVPILS, LATVIA. PAVEL
The museum where these works will be shown has a chapel-like quality that lends itself to a meditative response, appropriate both to Rothko and Hsiao Chin. We will hang the paintings in a way that they appear as icons. These paintings are designed to be places of meditation.
Along with Rothko and Hsiao Chin, there will be a smaller exhibition of the British abstract artist Terry Frost, who also knew Rothko. So we will have three important abstract artists from across the world: Hsiao Chin, a Chinese pioneer who traveled across Europe; Rothko, a European who went to America; and Frost, an Englishman who was immensely influenced by America.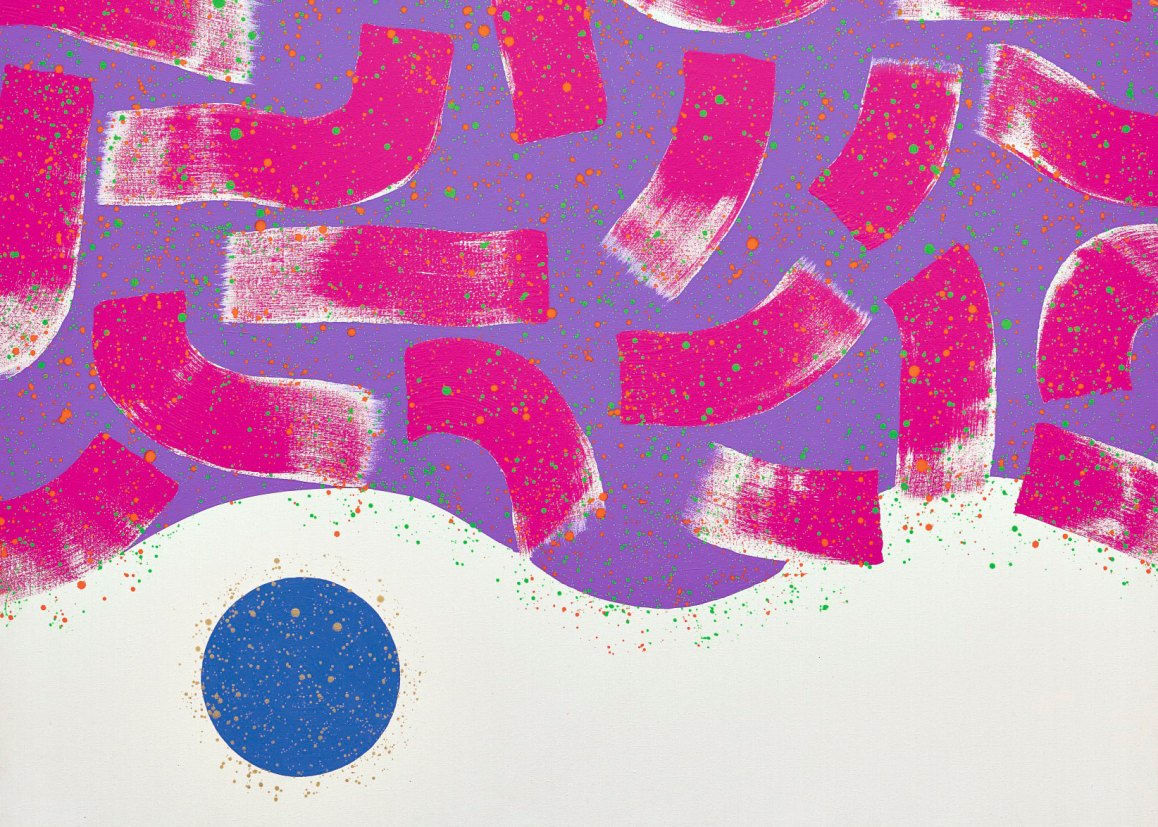 HSIAO CHIN, DANCING LIGHTS 17, 1964, ACRYLIC ON CANVAS, 130 BY 160 CM, SOLD AT SOTHEBY'S HONG KONG MODERN AND CONTEMPORARY ART EVENING SALE ON 30 SEPTEMBER 2017.
HSIAO CHIN, LA PROIEZIONE DELL'UNIVERSO-3, 1965, ACRYLIC AND INK ON CANVAS, 100 BY 140 CM, SOLD AT SOTHEBY'S HONG KONG MODERN ART EVENING SALE ON 30 SEPTEMBER 2018.
Hsiao Chin is part of a global abstract story. Most abstract shows tend to give priority to America, as if American Abstract Expressionism fed all of the rest of the world. A friend of mine who used to be at the Tate said that you cannot understand Western abstraction without understanding Eastern philosophy. Think about a painter like Robert Motherwell, who spent a lot of time trying to learn how to use Chinese ink. When I asked Hsiao Chin why he moved from oil to acrylic, which was a very new medium in the 1960s, he said something very interesting. He said he didn't like the torpid nature of oil. I think he regarded acrylic as a Western medium that is fast, much like Chinese ink. It is another sign of Hsiao Chin's sophistication that he finds a new western medium that in a sense is analogous with the tradition of ink that he grew up with.
When seeing the two artists side by side, their stories make it clear that Hsiao Chin is not indebted to Rothko, but he found in Rothko a peer who was similarly interested in making spiritual work. Both resisted the deeply materialist, deeply commercial world surrounding them.
1 July 2020