Gazing at Sirius
:
Hsiao Chin Memorial Exhibition in Taipei
Past exhibition
"There is no death, but just non-presence"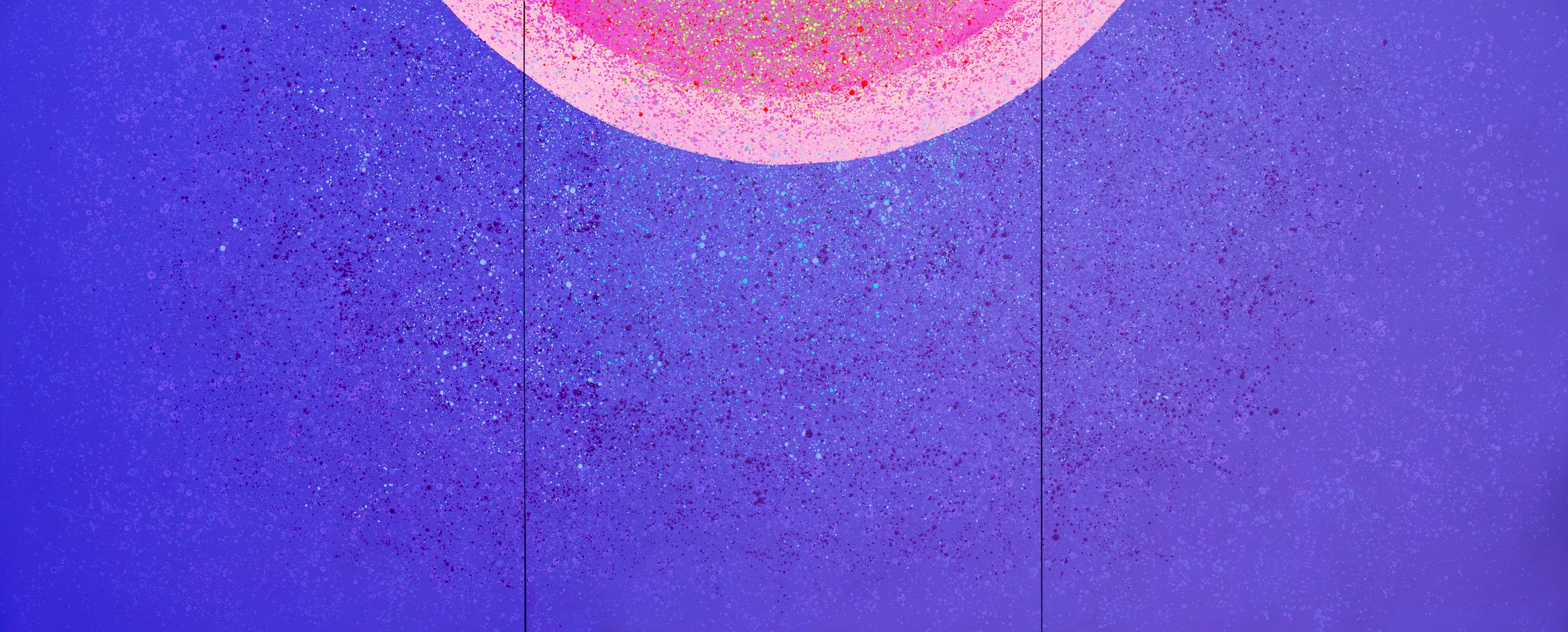 Hsiao Chin, Purple Heart, Acrylic on canvas, 160 cm x 390 cm, 2016
In commemoration of the 100 days of Hsiao Chin's passing, 3812 Gallery presents a memorial exhibition - 'Gazing at Sirius' in Taipei from 20-22 October 2023.

Since 2016, it has been a great honour for us and our gallery 3812 to represent Hsiao Chin and become the most important partner in his late artistic journey. On the 100 days of Master Hsiao's demise, we hereby hold the 'Gazing at Sirius – Hsiao Chin Memorial Exhibition' in Taipei. Co-organised by the Hsiao Chin Art Foundation and supported by MGM Macau, the exhibition pays a final tribute to the post-war international abstract art master in the 20th century.

'Gazing at Sirius' is not only the first memorial exhibition after Hsiao's demise but is also said to be the most important parallel exhibition of the 30th anniversary of ART TAIPEI. This exhibition brings together Hsiao's significant works exhibited in international touring exhibitions in recent years to Taipei for the first time, including the masterpieces in the MGM Chairman Collection, such as the monumental mosaic work Light of Divinity, Hsiao's auction record piece The Energy of Meditation, and Dancing Light – 17. Moreover, this exhibition also features the artist's last voice recording as well as his first art film – Light of Hope and The Suite of Universe, collaborated with the renowned Hong Kong tech artist Victor Wong, previously debuted in the To Infinity and Beyond: The Art of Hsiao Chin, a large-scale immersive art exhibition held at MGM Cotai in the recently concluded Macau International Art Biennale 2023. We hope to provide Taiwan with a macro perspective to review Hsiao's outstanding achievements as a post-war abstract master in the international market.

We are committed to promoting Hsiao's artistic legacy globally, and your continuous support will be our driving force. We sincerely look forward to seeing you in Taipei!

Gazing at Sirius - Hsiao Chin Memorial Exhibition

Exhibition date:
20 - 22 October 2023 (Fri-Sun)
11:00-21:00

Venue:
Art Gallery, BELLAVITA, B1, No. 28, Songren Road, Xinyi District, Taipei City, Taiwan 110.